Women Who Soar: Climbing Aconcagua
EPIC ADVENTURE WEBINAR BY
This webinar is finished. Sign up to get the free recording.
Test your mettle on Argentina's Sentinel of Stone
Register for free and join us November 18th, for this free live info-session with Sunny Stroeer, professional athlete and multiple speed record holder on Aconcagua.
Welcome to Aconcagua—Queen of the Americas, Roof of the Andes, and one of the fabled Seven Summits. Standing at 22,838 feet (6961m), this rugged wind-swept peak in western Argentina is actually one of the most accessible climbs of its kind. Though lacking in steep slopes, the mountain's extreme conditions make climbing it a true feat of high-altitude mountaineering.
In this one-hour session, veteran Aconcagua guide Sunny Stroeer will show you the ins and outs of tackling Aconcagua, including gear, physical training, and mental preparation required to embrace this often underestimated challenge. An advocate of women's empowerment, Sunny is dedicated to bringing more female athletes into the world of outdoor sports. She'll be introducing the Summit Scholarship Foundation and its annual scholarship program, which provides funding for women from all walks of life to climb mountains like Aconcagua at close to no cost.
This webinar is designed for those who want to learn, ask questions in a welcoming space and connect with other outdoors women who share the same passion for adventure and the mountains.
WHAT YOU GET IN THIS ONE-HOUR SESSION
SUNNY WILL SHARE
Aconcagua's main climbing routes
High-altitude climbing and weather endurance
Physical and mental challenges of tackling Aconcagua
A comprehensive gear list and practical tips
Her mission to involve more women in outdoor sports
Stories from her two speed records on the mountain
Beautiful mountain imagery from the Andes
LIVE Q & A SESSION
Sunny will follow up with a live Q&A session, where you can ask her anything you want to know about climbing Mount Aconcagua.
Get free professional advice from a multiple speed record holder dedicated to leveling the gender playing field in outdoor sports.
After hearing Sunny's story, you'll be inspired to start planning your own big adventures for next year.
Webinar host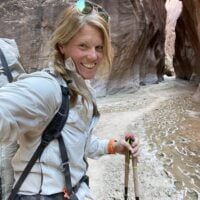 Sunny Stroeer
Owner of AWExpeditions
Sunny led a career-oriented life as an international strategy consultant with a Harvard MBA until a formative adventure on Aconcagua made her drop everything and take on the outdoors full-time. Before long, her exploits on high-altitude hiking and climbing routes saw her breaking speed records worldwide. When she's not traveling and setting FKTs left and right, Sunny organizes guided adventures, celebrates the sporting life and promotes female empowerment through her writing and photography.
By signing up you will also subscribe to the 57hours newsletter. You may opt out anytime.