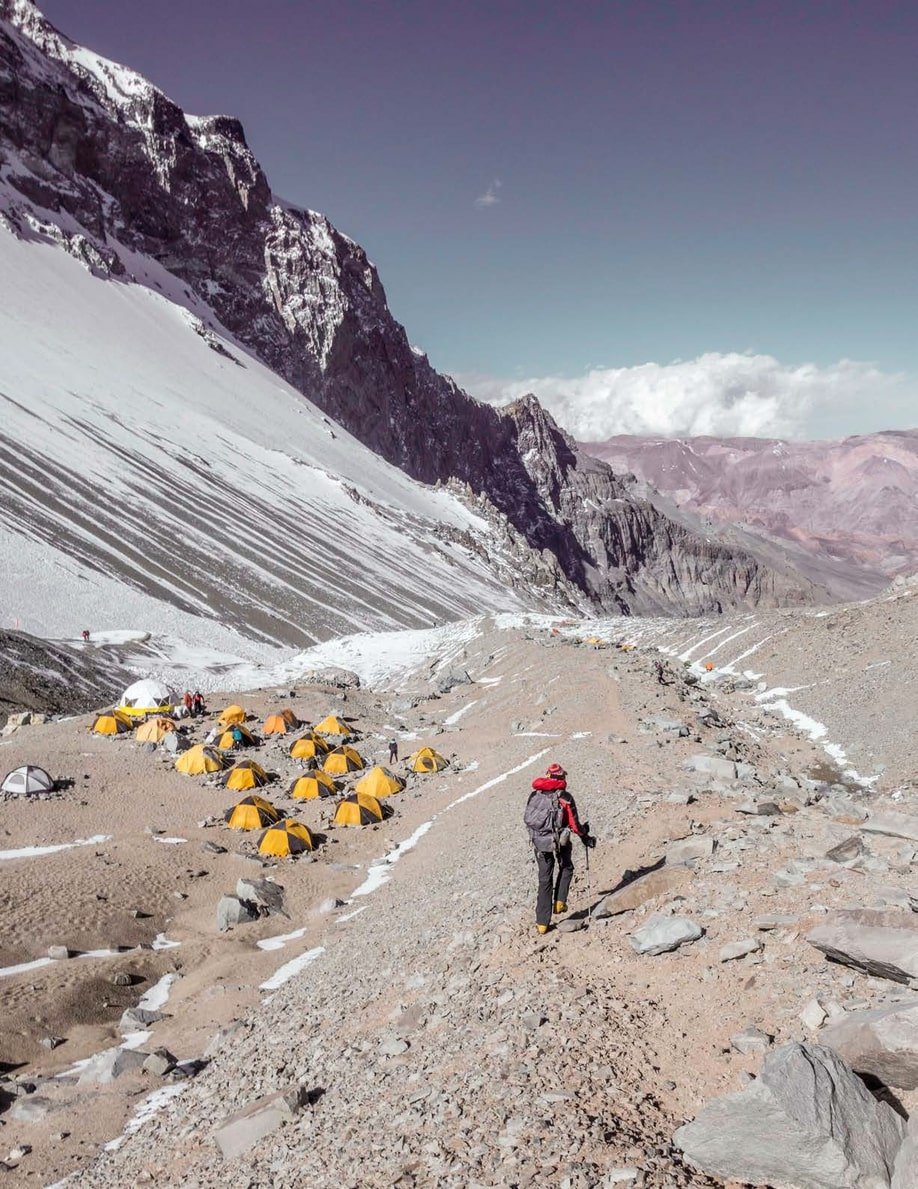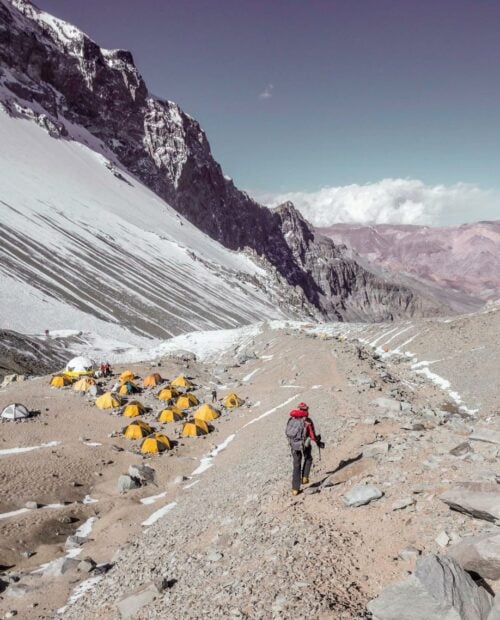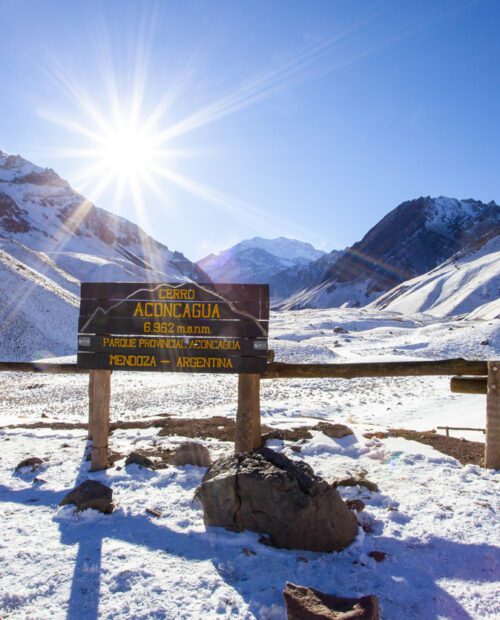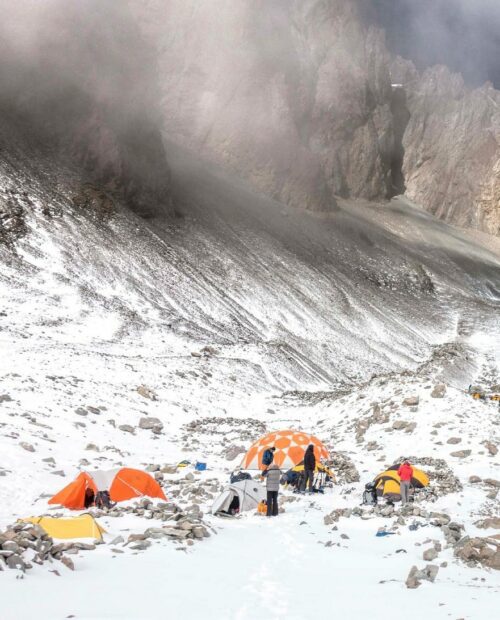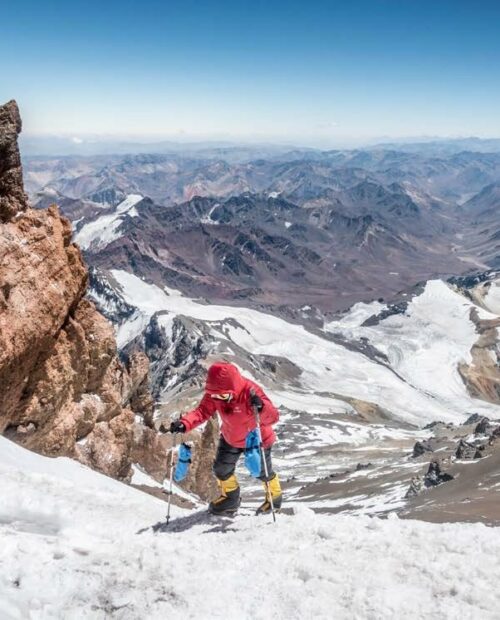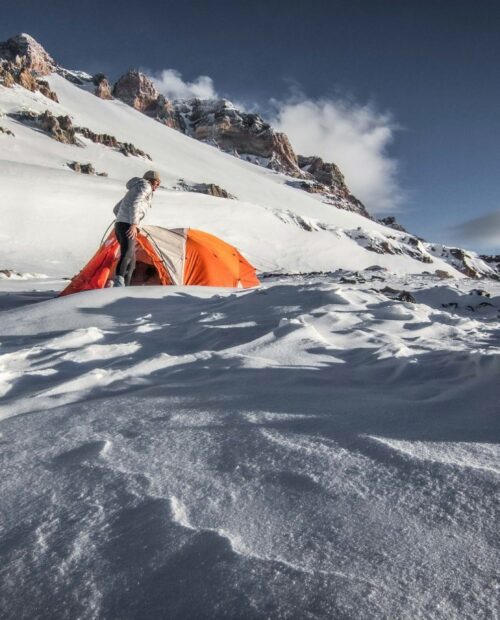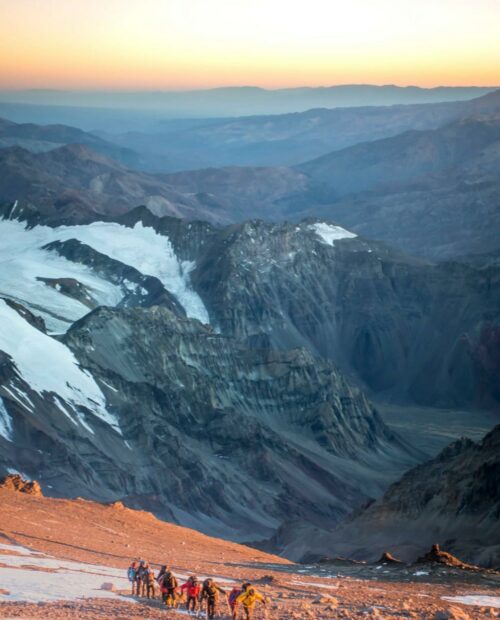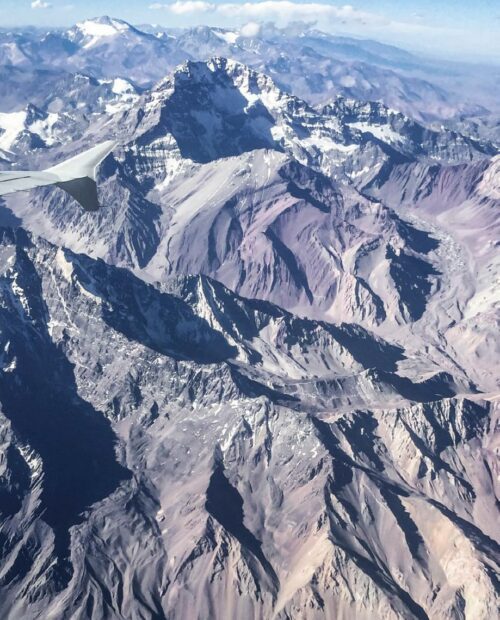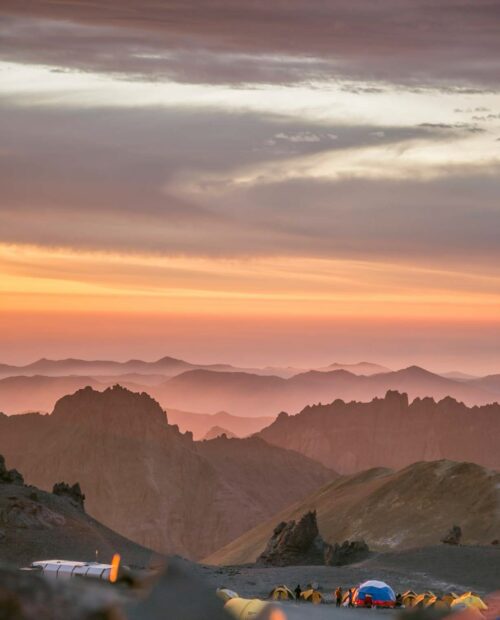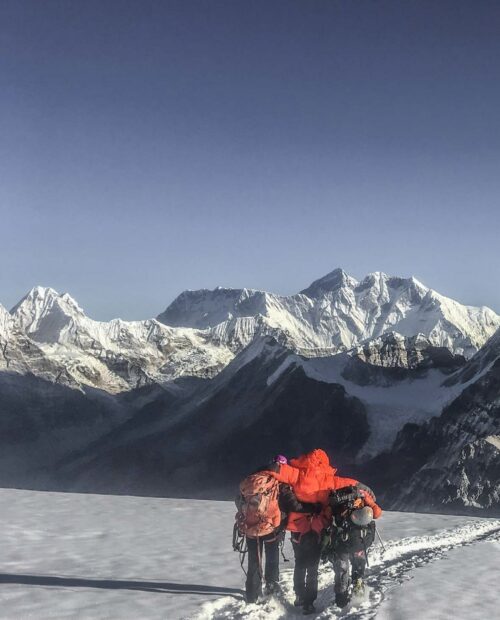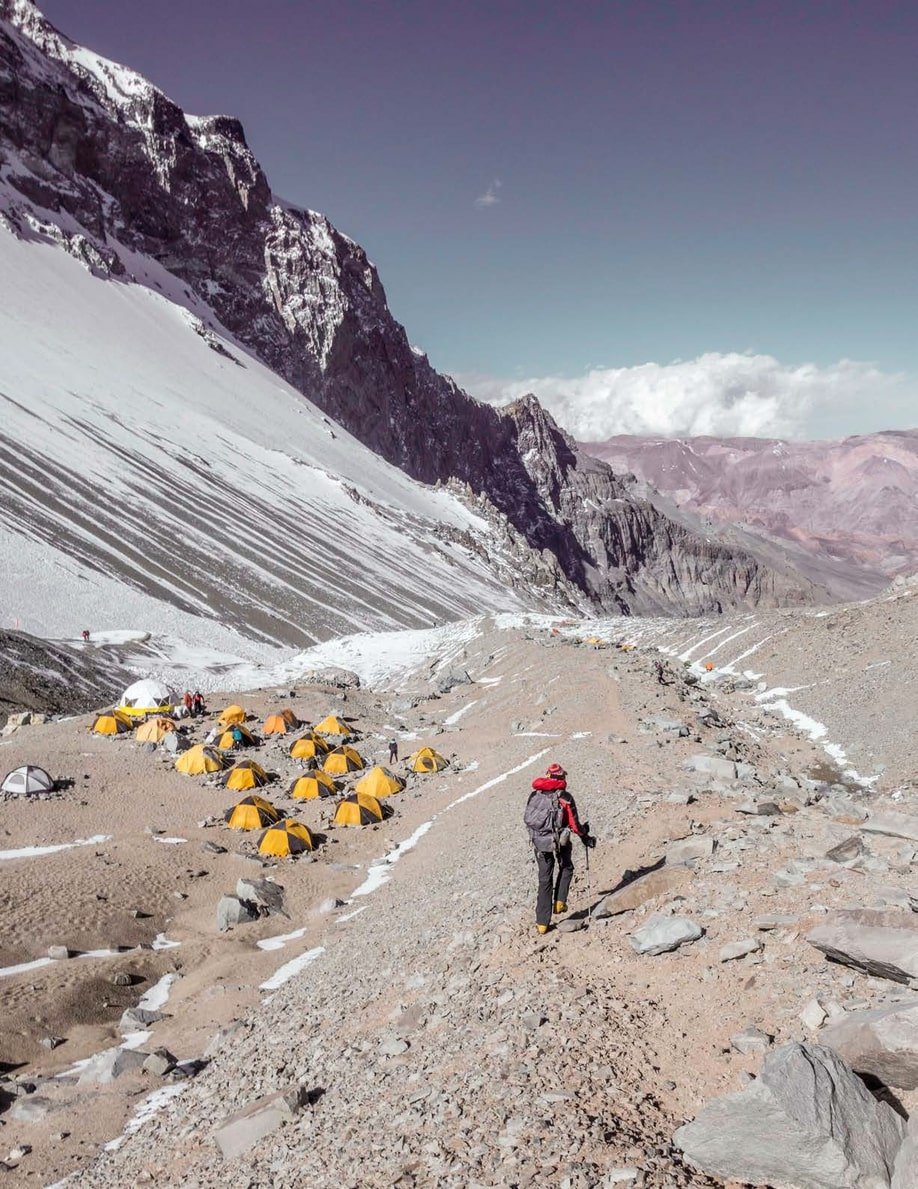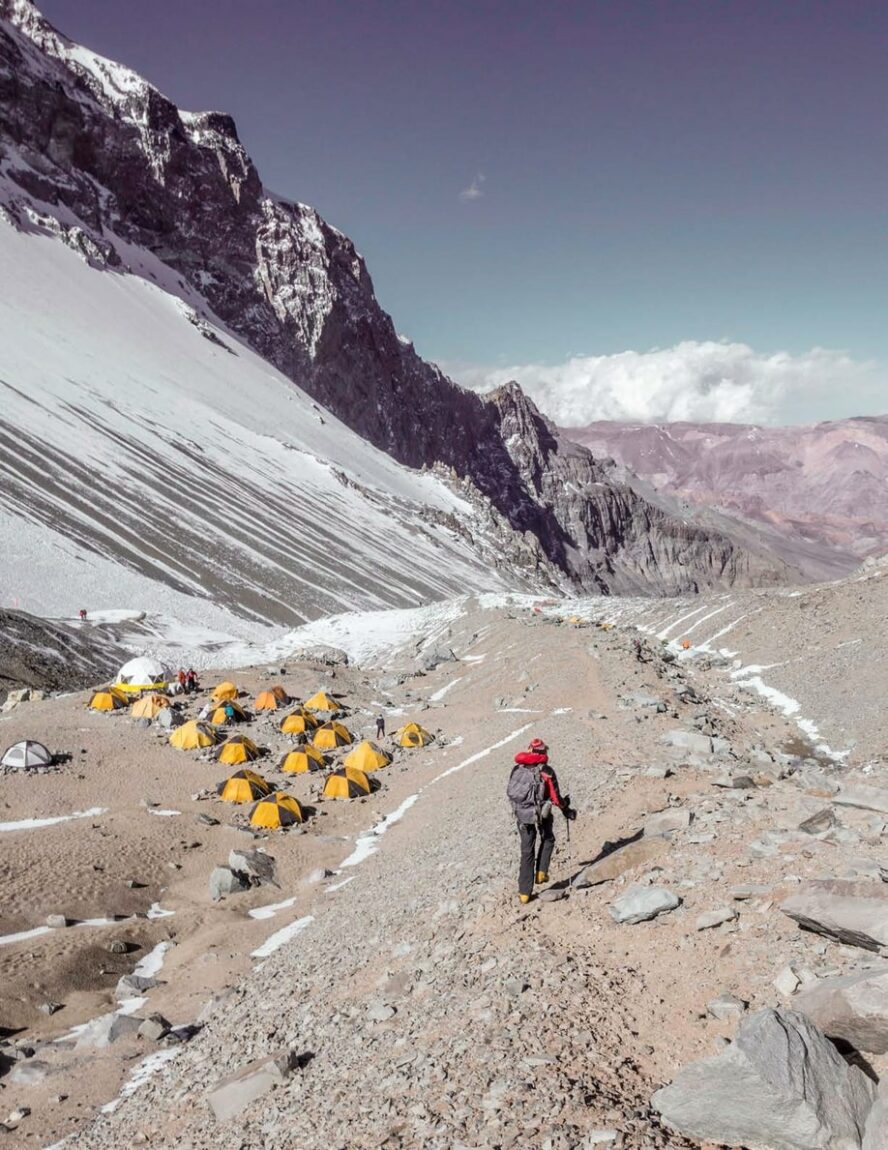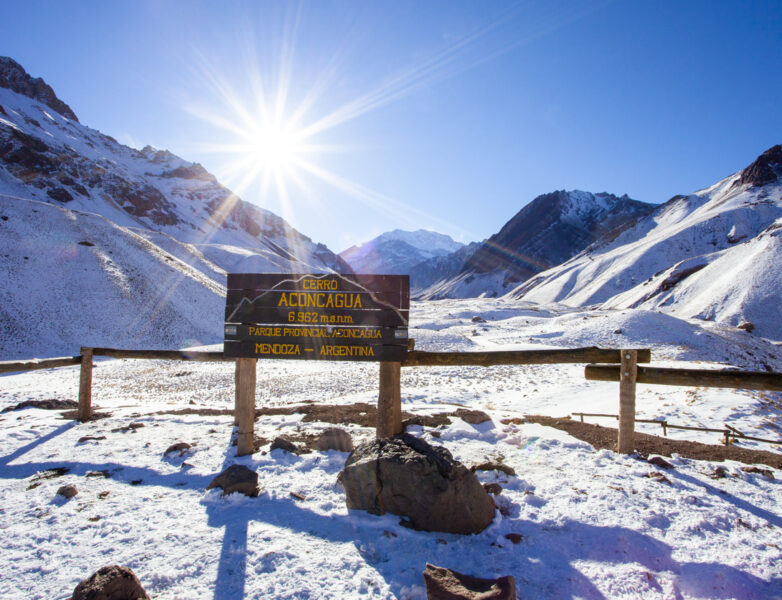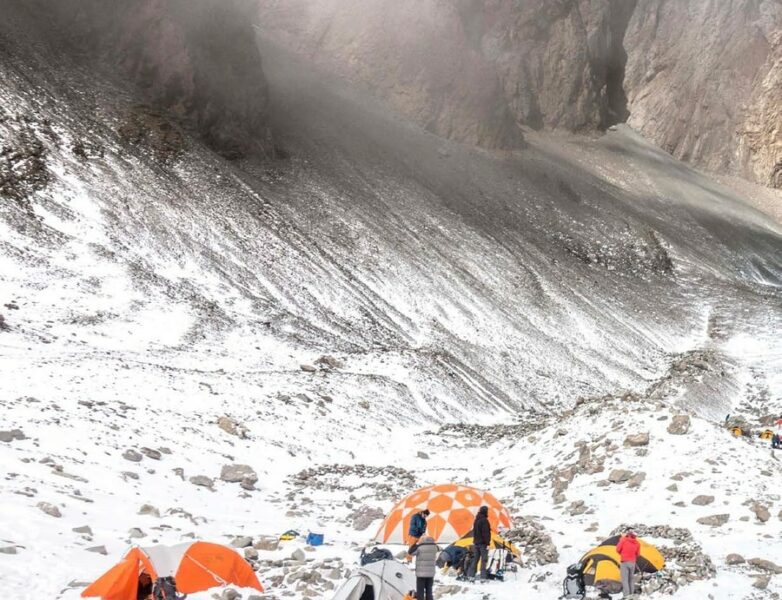 Standing at a majestic 22,837ft (6,961m), Aconcagua is the second tallest of the Seven Summits. Located in the Andes in the north of Argentina, this is a climb that shouldn't be taken lightly. You won't be facing any hardcore technical challenges, and when it comes to technical prowess, understanding how to use an ice ax and crampons should be enough. However, conditions on the upper slopes of Aconcagua are always rough; there are long stretches of steep scree and some snowfield crossings, and the route permeates an all-around harsh and unforgiving atmosphere. But as you face the challenges that Aconcagua throws at you, you will experience a burst of confidence and self-reliance like you've never felt before! Face Aconcagua head-on and show your hidden strength.
Discover Argentina's wonderful culture, food, and people

Experience the Andes on the majestic and remote Aconcagua 360 route

Tackle the summit of the second tallest of the Seven Summits (the highest peaks on each continent)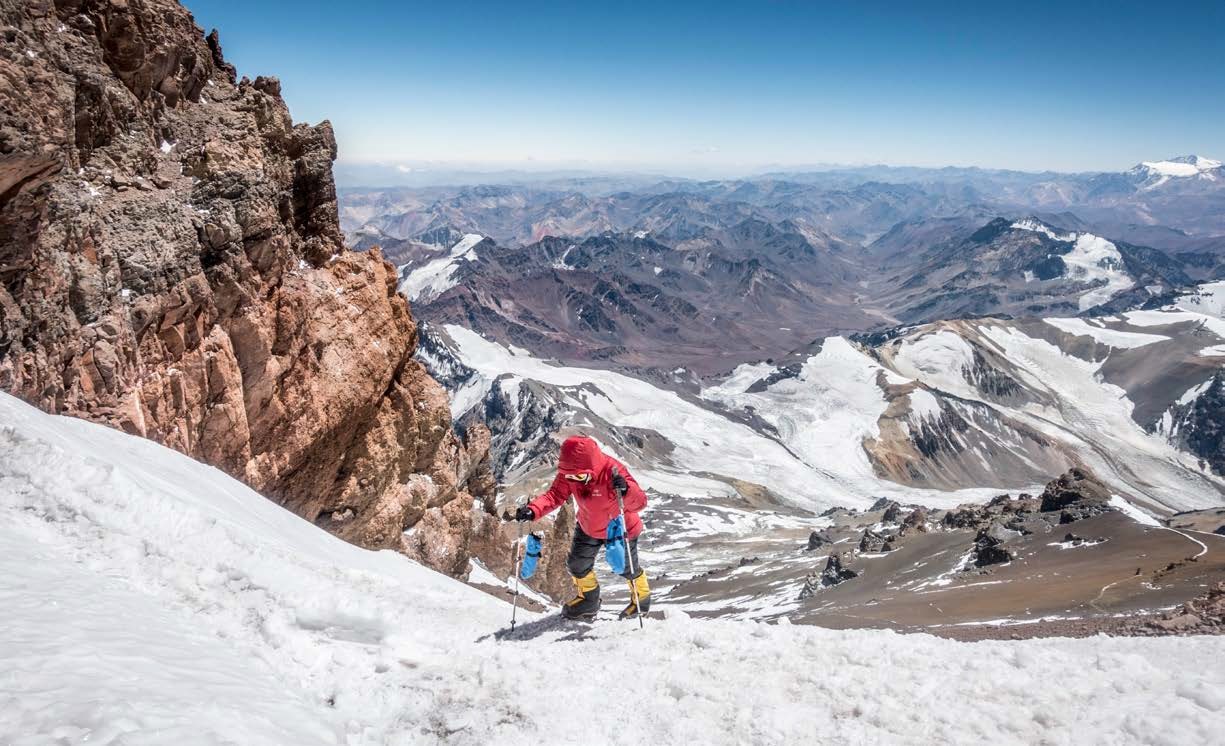 Itinerary
Conquer the highest peak in Argentina and uncover your feminine strength in this women's mountaineering tour of Aconcagua! Ascend the mountain via the longer, rugged, less crowded, and much more beautiful 360 route with an experienced guide keeping you safe. Experience Argentina's fascinating culture, stunning nature, and breathtaking vistas with a group of like-minded strong women!
Arrive at Mendoza in the stunning Cuyo desert region. Meet the folks you'll spend the following three weeks with, get rested, and prepare for the climb ahead.

On day 2, obtain your government climbing permit, which is mandatory for climbing in the Andes. Drive to Penitentes, a town at the entrance to the valleys leading into the Aconcagua route.

Enter the park at Punta de Vacas or "Cow's Point", a picturesque hamlet in the Mendoza Province. and trek to Pampa de Lenas, the first section of the trail leading to Aconcagua's backside.

Today you'll trek to Casa de Piedra at 11,000ft (3,350 m). From there, you can experience spectacular views of the mountain.

On Day 4, prepare to trek for 5-6 hours up the Relincho slope to Plaza Argentina, the final stop before the glaciers. Enjoy your last glimpse of Aconcagua's native vegetation before.

Take the chance to rest and acclimatize at Plaza de Argentina. Walk around the camp, explore the area, and take a well-deserved shower. At the end of the day, prepare the loads you will be carrying to Camp 1.

The transportation of food and climbing equipment on Day 7 will happen at a moderate pace, as you get the chance to acclimatize to the altitude. After transporting all of the goods to camp 1, return to Plaza de Argentina.

Prepare for the 5-6 hour hike to Camp 1 via the first portion of the Polish Route on Day 8. The food and equipment you brought the day before will be waiting for you. You will assemble the camp and spend the night here.

Rest day! Take the chance to sleep in, recover your energy, and get well-fed and well-hydrated. Prepare the food and equipment for tomorrow's transport to Camp 2.

Transport the load you prepared yesterday to camp 2, gradually adapting to the altitude some more. You're in for a strenuous 5-6 hour ascent on relatively forgiving terrain. Retreat to Camp 1 for the night.

Ascend to Camp 2 to meet the load you brought there the day before. Assemble the camp, rest, and enjoy a filling meal before an upcoming rest day.

Another rest day! Take the chance to recharge your batteries from the previous two days. You can also take the chance to acclimatize to the altitude some more. Your guide will recommend the best course of action. Prepare your equipment for transport to camp 3.

You know the drill—on Day 13, transport your equipment to Camp 3. Another challenging day, but it's the last time you'll have to lug your gear up the mountain! Return to Camp 3 for a good night's sleep.

It's time for the 4-hour ascent to Camp 3, hitting a junction with the Normal Route. At this point, you'll hit a height of 19,200 feet (5,850 meters) and all the acclimatization will really pay off. Get ready for another rest day, followed by the highlight of the tour—the summit.

Use this day to sleep, eat, drink, and rest as much as possible. You need to be fresh for the summit attempt!

Time for the most challenging day of the expedition. You'll climb the North Ridge to a height of approximately 21,300ft (6,500m) and ascend the Portezuelo del Viento, climb La Canaleta and the Filo del Guanaco. At this point, all that's left is to conquer the summit and marvel at the stunning panoramic views! After you finish taking in the vistas, retreat to Camp 3 for the night.

In case of bad weather or anything else going wrong, your guides have included an extra summit day. Don't worry, you won't leave empty-handed.

Descend to Plaza de Mulas Base Camp, the biggest camp in Aconcagua, from Camp 3. Celebrate your triumph with a big, delicious dinner!

On Day 19, descend from the Plaza de Mulas Base Camp to the Penitentes, where you'll wait for your transport back to Mendoza.

On Day 20, get transferred back to Mendoza City, where you get one final day to explore and take in the local food and culture.

The next morning you will depart Mendoza, concluding this trip.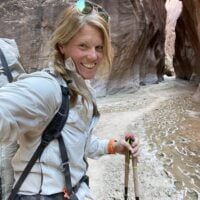 Sunny Stroeer
Lead guide and the owner of AWExpeditions
Lead guide and the owner of AWExpeditions
Sunny led a career-oriented life as an international strategy consultant with a Harvard MBA until a formative adventure on Aconcagua made her drop everything and take on the outdoors full-time. Before long, her exploits on high-altitude hiking and clim...
View details
AWExpeditions organizes mountaineering, high altitude and backcountry adventures for women, by women. AWE decreases barriers of entry to the world of big mountain adventures for women from all walks of life by providing a platform for women and organiz...
View details
Yvonne L.
about
AWExpeditions
on Facebook
Sunny Stroeer is THE reason I summited Aconcagua on this expedition. She's an excellent communicator, a thorough planner, rarely lets any minor detail slip through the cracks, and is attentive to everyone's experiences on the mountain. Whether she's hugging a fellow guide or describing past rockfalls and lessons learned on previous climbs, her expansive expertise and understanding of Aconcagua shines through at every moment. For anyone who wants to summit the biggest mountain of your life, I couldn't recommend Sunny and AWExpeditions more.
Karin H.
about
AWExpeditions
on Facebook
Sunny Stroeer is a fantastic guide. I had the best time climbing with her on Aconcagua. She does a great job carefully selecting a team that meshes well, and she provides just the right amount of expertise and the right style for each person to thrive. She's also all-around an incredibly talented and wonderful person. I highly recommend going on one of her trips!
Teresa W.
about
AWExpeditions
on Facebook
I would follow Sunny anywhere! She is a strong, intelligent leader with a realistic understanding of the circumstances and limitations of the group in the moment and over the course of the expedition. Before the expedition, she set forth some expectations of ability with training milestones to meet to be set up for success. During the expedition, she will encourage and push for your own inner strength to shine through but will also suggest a descent if needed. That is why I'd follow her anywhere – I trust her level of awareness and knack for safety!!
Things to know
57hours is committed to providing safe outdoor adventure experiences. We require all guides using our platform to have a COVID-19 safety plan and to make the details of that plan accessible to travelers. In most cases, group sizes will be reduced, guides will avoid overcrowded locations, and other safety measures will be met depending on the location and activity.

We also expect clients to respect local regulations and take measures to protect themselves, guides and the communities they're travelling to. For more information on COVID-19 measures in Aconcagua, Argentina, please refer to the key information for travelers to Argentina.

Please contact us if you have any questions or require further information. We are happy to provide you with the most up-to-date information!

What you get on this adventure:

An experienced English-speaking guide with extensive knowledge of the area
Twenty days of mountaineering
Accommodations in Mendoza and on the mountain (double occupancy)
Transport from Mendoza to the trailhead and back
All meals and drinks on the trail/mountain
Breakfasts in Mendoza
Mules (up to 20kg per person) to support the approach to base camp
Team gear including mountaineering tents, cooking gear, team medical kits, radio equipment,
GPS tracking & communication

What's not included:

International transportation to Mendoza
Government climbing permit ($950, payable in USD on arrival)
Personal porter assistance on the upper mountain
Personal gear including mountain boots and sleeping bags
Personal snacks (bars/gels for on-trail and climbing sustenance)
Personal costs on the trail (beverages, souvenirs, battery charges, hot showers)
Lunches and dinners in Mendoza
Rescue insurance

This is an extremely demanding trip that may be suitable for first-time mountaineers as long as they possess a penchant for cold weather and suffering. Even though it is not difficult from a technical perspective (there is no extremely steep or glaciated terrain), Aconcagua's ruggedness and fierce weather make it a real endurance challenge. Summiting Aconcagua via the 360 route involves long stretches of steep scree and – depending on the season – snowfield crossings, but no meaningful high angle climbing.

Here's a list of the equipment you need to bring:

Long-sleeve base layers
Breathable T-shirts
Fleece or softshell jacket
Extra down jacket for base camp
Lightweight down jacket
Hardshell jacket
Climbing helmet
Balaclava
Beany
Glacier glasses (regular sunglasses do not suffice)
Ski goggles
Thin gloves/liner gloves
High altitude mitts
Sleeping bag rated at least down to -30 degrees Fahrenheit
Sleeping bag liner
Foam and inflatable sleeping pads
Camp booties
Long underwear bottoms
Softshell pants
Hardshell pants
Down pants — optional (but highly recommended)
Underwear
Thick wool socks
Trekking socks
Approach shoes — light hiking boots or trail runners
Mountaineering double boots (can be rented)
Crampons lightweight with horizontal front points (can be rented)
Ice ax (can be rented)
Expedition backpack (between 55L and 75L)
Duffel bag — large & sturdy, for mule transport
Headlamp with spare batteries
Bowl, cup & spork
Swiss Army knife
Snacks (6,000 calories of your favorite climbing snacks)
Nalgene bottles — min. 2L capacity
Insulated (neoprene) bottle sleeves
2-4 stuff sacks for organization
Repair tape
Trekking poles
Set of town clothes
Personal first aid kit & personal medicines
Sunscreen (SPF 50+)
Chapstick with SPF
Toiletries
Lightweight microfiber towel — optional
Several Ziplock bags
Paracord for repairs
Health and rescue insurance info
Solar charger and/or power packs — optional
Camera — optional
GPS watch — optional

Select pieces of equipment are available to rent locally in Mendoza. This includes climbing gear such as double mountaineering boots, basecamp down jackets, ice axes, and crampons. Inquire with your guide about gear rental possibilities.

Group sizes and prices:

For this group adventure, the max client-to-guide ratio is 6:1.
The cost does not decrease as the group grows.

Mountaineering on the Aconcagua 360 route can be arranged for larger groups. Contact us to make arrangements.

Min. age requirements:

If you are older than 18, you're good to go.
Minors younger than 18 may be permitted to join the tour on a case-by-case basis, but must be in the presence of a parent or legal guardian.

If your group has mountaineers under the age of 18, contact us prior to booking to make arrangements.

Registration for an adventure with your guide requires a $500 USD deposit. The balance of program fees will generally be due 120 days prior to the starting date of the program. It is your responsibility to adhere to the fee payment schedule. Late payment will result in cancellation of program reservations and forfeiture of all fees paid. 

The $500 deposit is non-refundable. All other program fee payments are refundable upon request unless the expedition has already incurred costs on behalf of the applicant.

In some cases, if you are required to forfeit your spot, you may find an acceptable replacement in which case your deposit and fees would transfer to your replacement without penalty.

Participants agree that beginning on the first date of the program itinerary, there will be no refunds of program fees for any reason whatsoever.

Though unlikely, an expedition may be canceled for any reason prior to departure. In that event, the deposit and expedition fees pay by the participants will be refunded.  In circumstances where the expedition has already made payments to foreign agencies (climbing permits / logistics support) for a program, some portion of program fees may not be fully refundable.

In the event of cancellation of a program and upon refund to participants of all program fee payments, the expedition organizer shall be released from any further liability to participants, including but not limited to liability for additional costs participants may have incurred.

Expedition participants acknowledge that during the program, certain events may occur which may necessitate certain additional costs not contemplated at this time, including but not limited to the cost of evacuation during any part of the program, medical treatment, body recovery and/or repatriation, and other related matters. Participants agree that those additional costs are not responsibility of the expedition organizer and that the participant is responsible for payment of those costs.

To get to Mendoza, Argentina, the starting point of the tour, most people fly into Governor Francisco Gabrielli International Airport 5 miles northeast of the center of Mendoza. From there, you can take a cab to the Diplomatic hotel in Mendoza.

Once you and your guide agree on the details of your itinerary, your guide will suggest the best place to meet, whether that's at The Diplomatic hotel in Mendoza or a predetermined location. The guide will choose the appropriate terrain dependent on conditions and the ability of the group.