Sunny covered:
Why Mount Shasta is the perfect place to upgrade your skills
The technical knowledge you'll need for conquering glaciers
The physical and mental challenges of glacier climbing
Why it's crucial to introduce more women into the world of mountains
Exciting stories from Sunny's epic Shasta expeditions
Stunning mountain imagery and how to find the best photo-ops
Towering above the black forests of California, the icy flanks of Mount Shasta represent one of the premier mountaineering objectives on the West Coast. Thanks to its top-notch accessibility and varied topography, this volcano in the southern Cascades is the perfect playground for emerging mountaineers looking to grow into their crampons.
Sunny Stroeer, trail-blazing female mountaineer and FKT pioneer, is on a life-long mission to bring more women into the great outdoors. In this one-hour session, she introduced you to the untamed beauty of Mount Shasta, shared inspiring stories from her record-breaking climbs, and showed you awesome pics from her previous mountaineering exploits.
The realm of big mountains has long been reserved for men, but Sunny is fighting to change that. With countless peak bags under her belt, she's well-familiar with the confidence boost you get from pursuing epic projects. For her, Shasta isn't just a summit—it's a chance to break boundaries, make life-long bonds, and open people's eyes to a whole new world of adventure!
If you're looking to learn about mountaineering from a genuine pioneer in the fight for outdoor equality, you're in the right place!
Webinar host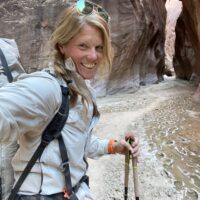 Sunny Stroeer
Mountaineer and owner of AWExpeditions
Sunny led a career-oriented life as an international strategy consultant with a Harvard MBA until a formative adventure on Aconcagua made her drop everything and take on the outdoors full-time. Before long, her exploits on high-altitude hiking and climbing routes saw her breaking speed records worldwide. When she's not traveling and setting FKTs left and right, Sunny organizes guided adventures, celebrates the sporting life and promotes female empowerment through her writing and photography.