Mount Tantalus | British Columbia
3-Day Tantalus Alpine Climbing Tour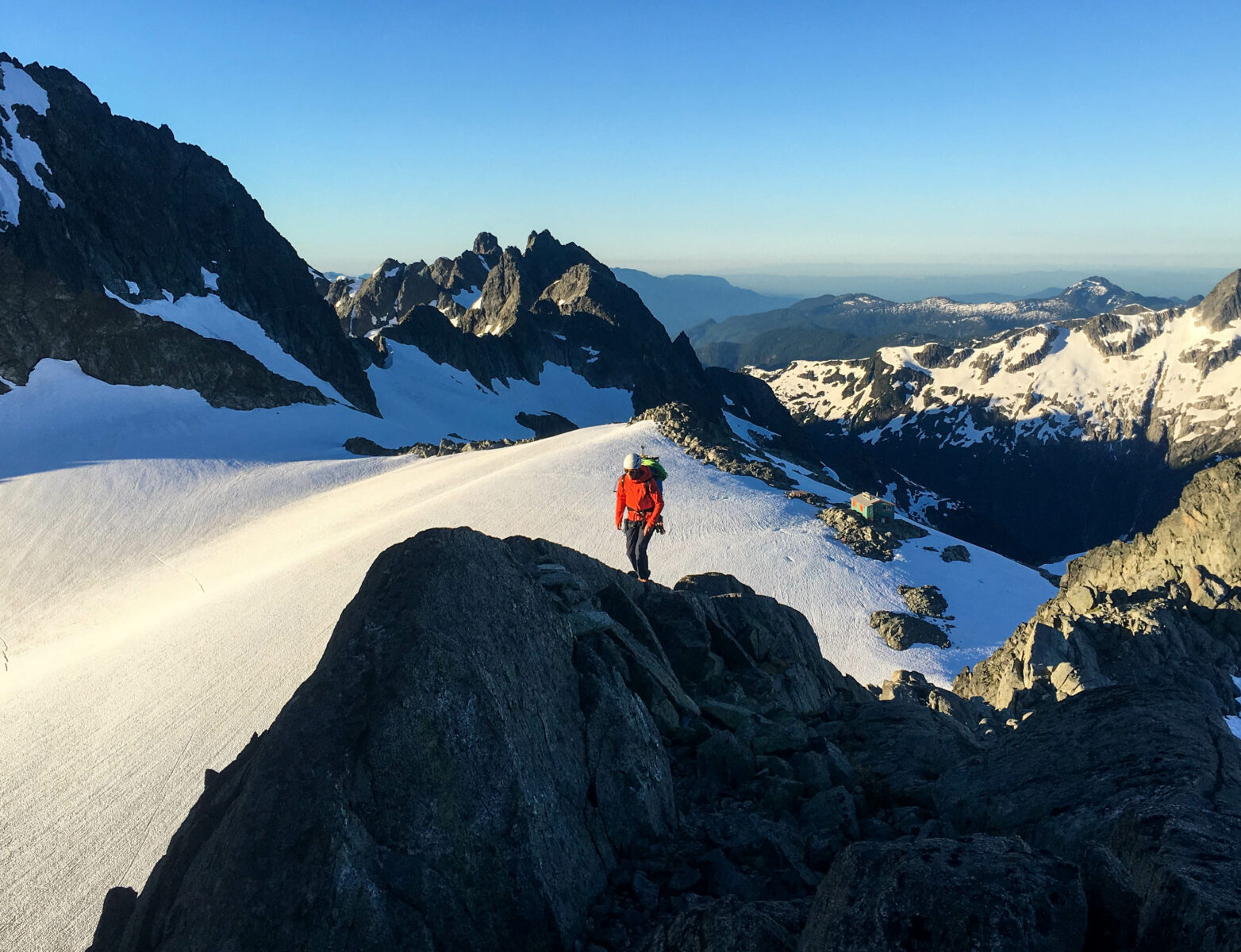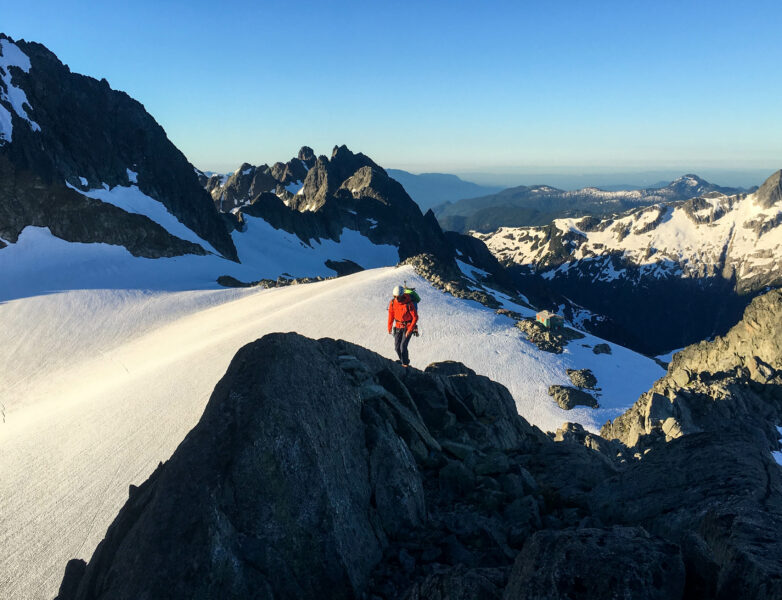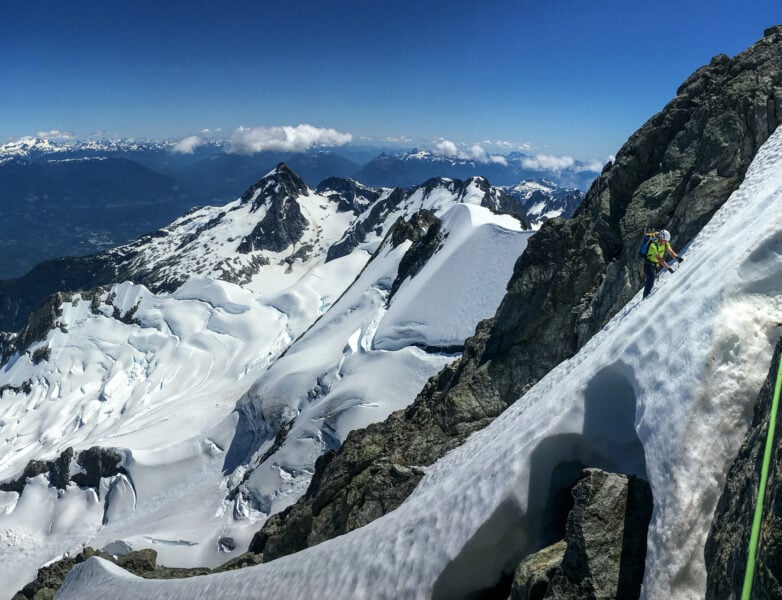 Season

Summer through fall; July and August are peak

Skill level

There are routes for all skill levels
This granite wonderland is a well-kept local secret
Climbers flock to Squamish, BC for the impeccable climbing, but just outside this outdoor town lies a little known secret. Don't let the lack of hype fool you — Tantalus Range is a true hidden gem. The only guidebook that charts this area is over 25 years old and it only covers a fraction of what's here! This remote destination is accessed via helicopter — an exciting adventure in itself. Exhilarating routes, ranging from rookie-friendly to challenging 5.9s await. Spend the days on these granite walls and the nights at Haberl Hut with a guide who knows just which routes to tackle to suit your skills.
Book This Adventure
Alpine Climbing and Mountaineering Adventure
$1499 per person
·
3 days
Tantalus is a remote alpine playground, and yours to discover over three days. Looking for a challenging but manageable 5.6 peak to scale or a technical 5.9 ridge you'll need every tool in your box to traverse? Tantalus has it and then some! Chopper in, stay in a mountain hut, and explore routes to suit your skill level.
Tour Highlights
Once you step out of the hut, you'll be surrounded by glaciers and granite rock, and just a donned harness away from your alpine adventure. There are summits where you'll need all of your alpine skills to ascend, as well as less technical routes beginners can enjoy. A wide variety of routes exist on peaks like: Tantalus 2,603 m (8,540 ft), Dione 2,590 m (8,500 ft), Alpha 2,305 m (7,562 ft, and Serratus 2,326 m (7,632 ft). If you're game for the ultimate adventure, you and your guide will overnight traverse the main part of the range to access even more of the area's iconic peaks.
Guides we recommend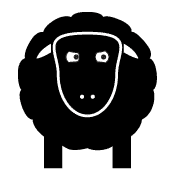 Black Sheep Adventures
Black Sheep Adventures
ACMG Certified Rock, Alpine & Ski Guides
ACMG Certified Rock, Alpine & Ski Guides
Black Sheep Adventures is a team of local ACMG Certified guides and experienced pro...
View details
Things you need to know
COVID-19 measures
Prior to showing up on your trip, you will fill out a declaration of Health. When possible, your guide will practice distancing. You will need to wear face covers and eye protection, as well as bring your own hand sanitizer. Unless you're in a family pod, overnight accommodation will be separate tents. Common touch points will be sanitized right after being handled.
Official COVID-19 updates by the Canadian Government for British Columbia are available here.
Why should I book with 57hours?
With us, it's all play and no work for you! 57hours is an open platform that connects you with trained and certified outdoor adventure professionals all over the world. Using our tech-savvy, we make it super easy to find and book adventures worth tackling, with guides worth booking, all gathered from the first-hand experiences of the locals who adventure in these amazing locations.
Why should I go rock climbing?
Rock climbing is more than just a sport; it's problem solving on-the-go. It's a balance of intuition and fluidity of movement. The fun comes from the possibilities — each route with a variety of options and only a fraction of them leading to success. When you finally master a climb, after hours of persistence, it transcends mere sport and is akin to art.
What's included?
What you get in this adventure:
An certified ACMG climbing guide with extensive knowledge of the area
2 nights of mountain hut accommodation
All meals at the hut
Black Sheep Adventure Sports hat
What's not included:
Helicopter shuttle (typically around $450 round trip)
Transportation to the staging area (there are shuttles available for transportation from the airport to Squamish)
Personal mountaineering equipment (rentals are available)
Technical gear list
All technical climbing equipment is available to rent. However, if you have your own gear, feel free to bring it. You'll need:
Helmet
Harness with a locking carabiner, draws, belay device, and chalk bag
Rock & glacier shoes
Crampons
Ropes
Climbing hardware (quickdraws, cam devices, stoppers, etc.)
What do I need to bring?
Here's a list of the equipment we suggest you bring:
Day pack large enough to carry all the items listed (around a 40L bag)
Water bottle
Toiletries (sunscreen, bug spray, toilet paper, etc.)
Sunglasses
Camera — optional
Dress comfortably and for the weather in clothes you can move in. Layers are best and don't wear jeans.
What if I've never climbed before?
No prior experience is necessary. Whether you've never donned a harness or you're a seasoned climber, a guide will help you meet your individual objectives. Above all, your instructor's number one priority is your safety.
What does a typical day look like?
Day 1
3:30pm: Meet at the Staging Area
4:30pm: Helicopter ride to Haberl Hut
5:00pm: Alpine skills refresher course
7:00pm: Back at the hut for dinner
Day 2
5:30am: Breakfast
6:30am: Head out the door for a local peak like Dione
3:30pm: Back at Haberl Hut
5:00pm: Dinner
Day 3
5:30am: Breakfast
6:30am: Bag another peak like Serratus
12:30pm: Back at the Lodge to pack up & get ready for the helicopter
2:30pm: Catch transportation back into Squamish
How fit do I need to be?
This alpine climbing adventure requires that you have a moderate level of fitness. You will be spending two full days climbing in alpine conditions. While rock climbing is all about using good movement technique rather than muscling up a cliff using brute strength, you will need to have a good level of endurance to enjoy full days on the mountain. Safety is always your guide's top priority, and they will ensure that route selection matches your fitness and skill level.
What about group sizes and pricing?
Group size is one to two people per guide. Groups of larger than two can be accommodated.
This 3-day adventure is $1599 per person (price is based on two people). Added extension days are an additional cost. Contact us prior to booking.
What about bad weather?
As the saying goes, "there's no such thing as bad weather, only bad preparation," and you can expect your guides to be fully prepared for anything. Inclement weather can always get in the way of climbing, but your guide will know the best spots to move to if the weather takes a turn.
On the rare occasion of truly bad weather, your guide will present you with suitable alternatives. The most common practice is to reschedule your climbing to a more favorable day or suitable location nearby, if it exists.
If no options presented were viable to you, you will be issued a full refund.
Cancelation policy
The guiding service reserves the right to modify or cancel any trip or course at any time due to unfavorable weather conditions and such. In the unlikely event your trip is cancelled, you will be notified as soon as possible and may be eligible for a partial refund and/or be able to reschedule.
If the cancellation is made more than 30 days prior to the trip, deposits are non-refundable, but potentially transferable. If your cancellation is due to COVID-19 related border closures and travel restrictions you will be fully refunded. Otherwise, guest cancellations made less than 30 days before the trip departure date are non-refundable but potentially transferable.
Getting there and meeting location
If you're coming from the Vancouver International Airport, shuttles are available to and from Squamish. You will meet your guide in the staging area in Squamish. Then, it's a short helicopter ride to your alpine adventure!