Smith Rock State Park | Oregon
Rock Climbing in Smith Rock State Park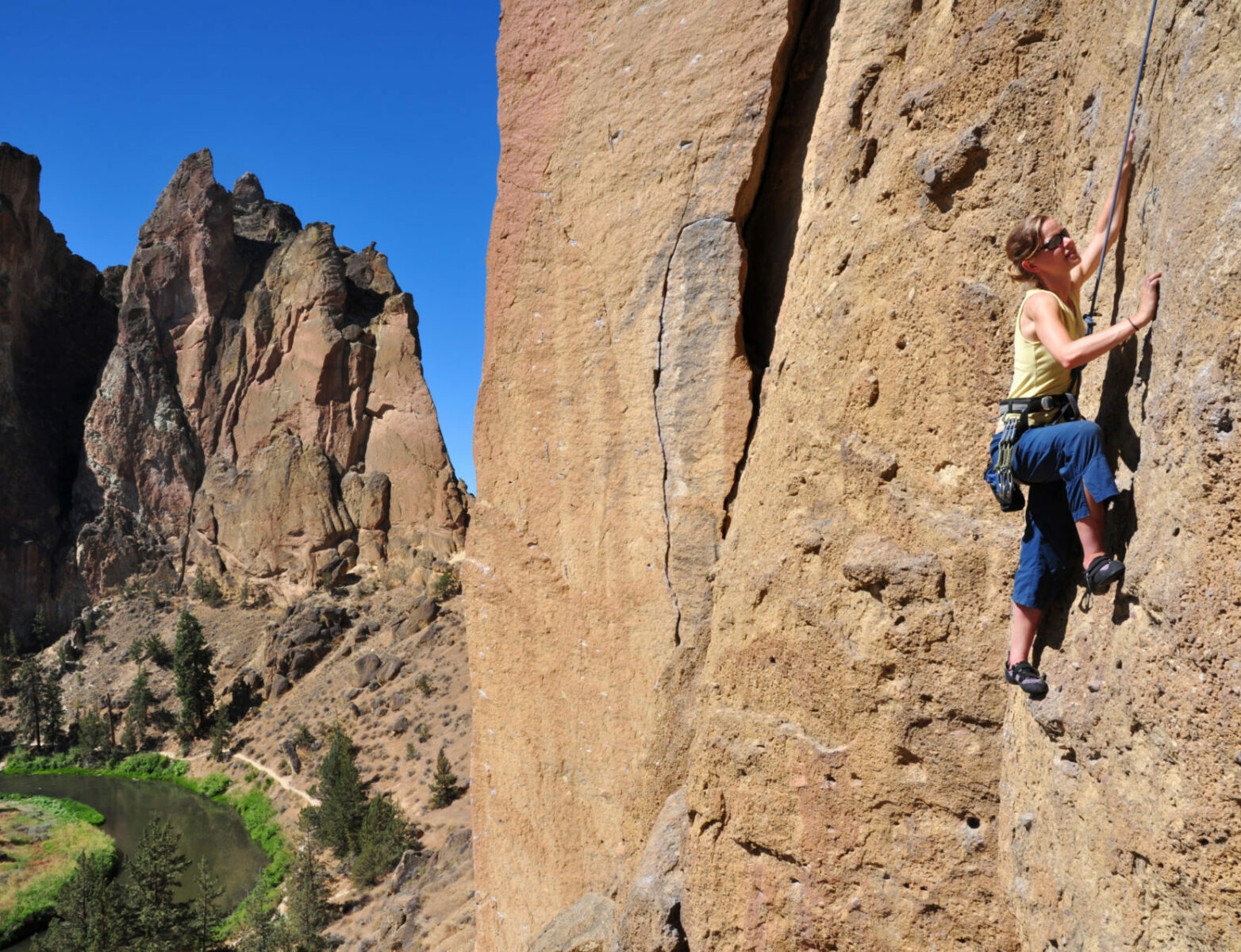 Nearest city
Bend, OR a half hour's drive
Discover the birthplace of U.S. sport climbing in Oregon's high desert
Smith Rock State Park, in central Oregon's High Desert, is considered by many as the birthplace of American sport climbing with over 1,500 routes. But if sport climbing isn't for you, there's also trad climbing, multi-pitch climbing, and bouldering. The area is composed of volcanic basalt and tuff to keep climbers of all abilities coming back for more. The park is also home to Scarface, the U.S.'s first climb rated at 5.14. Because of Smith Rock's destination status for climbers, central Oregon has seen tons of development since the 1960s, establishing new routes over the ensuing decades.
Most Popular Itineraries
A Customized Day of Climbing With a Private Guide
Whether you're just gaining your climbing legs or you're already experienced, a custom day of guided climbing will have you accomplishing your objectives. You'll feel challenged by the variety of holds you'll encounter in vertical terrain and discover hidden gems. Focus on skills instruction or tick one of the areas classics off your list, all while getting major vertical surrounded by the natural scenery of the Crooked River Gorge.
Half-Day of Climbing With a Private Guide
Do you have specific objectives in mind, climbing with a specific focus? This half-day climb at Smith Rock is yours to customize. Rock climbing guides provide expert instruction on your climbing movement, foot-work, and balance. You'll also be advised on specific hand-grips to go further with safety and confidence.
Multi-Pitch Rock Climbing day
Work with an expert to find the ideal itinerary for climbing Smith rock to match your skill set and goals. Discover classic multi-pitch routes with plenty of options for the perfect day of climbing. With hundreds of climbs from two to eight pitches, there's something for everyone in Smith Rock — let your guide show you around the best routes.
Family Rock Climbing Adventure
Spend the day together as a family and tailor your climbing adventure to fit with even the youngest members of your group. Take a simple day trip from Bend to see the gorgeous natural formations in central Oregon and experience the park's incredible climbing. Build trust and self-confidence as a family, while giving your kids a lasting memory of a great experience.
Things you need to know
Covid measures in Smith Rock State Park
57hours is committed to providing safe outdoor adventure experiences. We require all guides using our platform to have a COVID-19 safety plan and to make the details of that plan accessible to travelers. In most cases, group sizes will be reduced, guides will avoid overcrowded locations, and other safety measures will be met depending on the location and activity.
We also expect clients to respect local regulations and take measures to protect themselves, guides and the communities they're travelling to. For more information on COVID-19 measures in Smith Rock State Park please refer to the Smith Rock State Park website.
Please contact us if you have any questions or require further information. We are happy to provide you with the most up-to-date information!
Why should I book with 57hours?
With us, it's all play and no work for you! 57hours is an open platform that connects you with trained and certified outdoor adventure professionals all over the world. Using our tech-savvy, we make it super easy to find and book adventures worth tackling, with guides worth booking, all gathered from the first-hand experiences of the locals who adventure in these amazing locations.
Why should I go rock climbing?
Rock climbing is more than just a sport; it's problem solving on-the-go. It's a balance of intuition and fluidity of movement. The fun comes from the possibilities — each route with a variety of options and only a fraction of them leading to success. When you finally master a climb, after hours of practice, it transcends mere sport and is akin to art.
What's included?
What you get in this adventure package:
An experienced, local rock-climbing guide with extensive knowledge of the area
4.5-8 hours of rock climbing each day (depending on your chosen itinerary)
All technical climbing gear
What's not included:
$5 per vehicle parking fee
Technical gear list
All technical climbing equipment will be provided by your guiding service. However, if you have your own gear, feel free to bring it. You'll need:
Helmet
Harness with a locking carabiner, belay device, and chalk bag
Rock shoes* (included in the price, but we recommend bringing your own if you have them)
Ropes
Climbing hardware (quickdraws, cam devices, stoppers, etc.)
What do I need to bring?
Here's a list of the equipment you need to bring:
Daypack large enough to carry all the items listed (a 20-35L bag)
Water bottle or hydration pack
Food you can eat on-the-go
Toiletries (sunscreen, hand sanitizer, bug spray, toilet paper, etc.)
Sunglasses
Camera — optional
Dress comfortably and for the weather in clothes you can move in. We suggest bringing clothing appropriate for the season. Layers are best and don't wear jeans.
What if I've never climbed before?
Smith Rock has plenty of options for beginner climbers. Whether you've never climbed before or are transitioning from the gym to outdoor climbing, your guide will customize the day to suit your skill level and objectives. With a guide by your side, you'll learn something new, stay safe on the rocks, and most importantly, have fun!
For intermediate to advanced climbers, Smith Rock has loads of routes to spend the day on. Your guide will discuss your objectives and customize the day to your goals. Let your guide plan the day so you can focus on developing your skills while climbing the classic routes or best hidden gems the area has to offer.
What does a typical day look like?
Your climbing itinerary will be fully customized to match your skill level and objectives. You and your guide will discuss route selection, skills development, and whatever else you'd like to focus on. From there, your guide will plan the perfect day tailored just for you.
Depending on your objectives, full days may start earlier and end later, but in general, your day will look like this:
8:30 am: Meet your guide at the guide's recommended location [add exact meetup location if it exists]
9:00 am: Gear up and head to the crag
9:30 am: Start climbing your objective for the day
12:30 am – 1:00 pm: Lunch (bring snacks and plenty of water)
1:00 pm – 4:30 pm: Build upon techniques developed in the morning session and explore additional terrain as time allows
4:30 pm: Back to the cars for debriefing and high fives
For half-day trips during hot weather, we recommend meeting either in the morning at 8-9 a.m. or afternoon 2-3:30 p.m. to take advantage of cooler temps and shade in the climbing area.
How fit do I need to be?
If you can climb a ladder, you're good to go. Being in good shape is always a plus but far from necessary. Rock climbing is all about using good movement technique rather than muscling up a cliff using brute strength. To ensure you have a fun day, your guide will choose routes that best suit your skill and fitness level.
What is the minimum age requirement?
If you are older than 18, you're good to go.
Teens aged 14-17 can go on their own, but a guardian will need to provide a signed waiver before an outing with the guide.
There is no minimum age restriction for the family day of climbing in Smith Rock, so even your toddlers can enjoy a day on the rocks with you.
What about group sizes and pricing?
For private guided climbing days in Smith Rock, the max client to guide ratio is 5:1 and cost is per person.
For the family day of climbing, the max client to guide ratio is 6:1.
For multi-pitch climbing days, the max client to guide ratio is 2:1.
Costs per person will decrease as the group grows for private tours, so it's the perfect opportunity to climb with friends and family.
Climbing days can be arranged for larger groups. Contact us to make arrangements.
What about bad weather?
As the saying goes, "there's no such thing as bad weather, only bad preparation." You can expect your guides to be fully prepared for anything. Inclement weather can always get in the way of climbing, but your guide will know the best spots to move to if the weather takes a turn.
On the rare occasion of truly bad weather, your guide will present you with suitable alternatives. The most common practice is to move to a nearby location if it exists, or to reschedule your climbing to a more favorable day.
If climbing is not possible on your scheduled day and no options presented are viable, you will be issued a full refund.
Cancellation policy
With 57hours, you benefit from both our own cancellation policy as well as that of the individual guiding service that delivers your adventure. All policies regarding cancellation will be clearly laid out by your guide after booking your adventure, but rest assured that our own cancellation policy will work on top of what is provided by your guide.
For this adventure, 57hours offers a Moderate Cancellation Policy, which states:
If Client cancels the Booking anytime prior to thirty (30) calendar days in advance of the trip contemplated by the booking, Client is entitled to a full refund. For cancellations fourteen (14) to twenty nine (29) calendar days in advance, Client is entitled to a refund in the amount of fifty percent (50%) of the total amount paid when Booking. For cancellations zero (0) to thirteen (13) days in advance, the Client is not entitled to any refund.
For more information on terms and conditions, please visit our Terms of Service page.
Getting there and meeting location
Smith Rock State Park is located in Central Oregon; the town of Redmond is 8 miles away and Bend is 23 miles to the south.
You will meet your guide at the Smith Rock State Park within walking distance of the rock. The exact climbing spot will be discussed after the booking as guides make that decision after considering the skill level of the group and factors such as crag traffic and weather.
Chris Simmons
IFMGA/AMGA Certified Guide
Chris is an IFMGA/AMGA Mountain Guide with almost 20 years of experience in the Pac...
View details
Smith Rock Climbing School
Smith Rock Climbing School
Accredited by the AMGA, Smith Rock Climbing School has been a staple in the area si...
View details
Smith Rock Climbing Guides
Smith Rock Climbing Guides
Since 2003, Smith Rock AMGA-certified climbing guides have been committed to provid...
View details
Oregon Adventure Guides Rock Climbing
Oregon Adventure Guides Rock Climbing
Oregon Adventure Guides provide guided rock climbing tours and lessons to all climb...
View details