Chamonix | France
Ski Touring In Chamonix's Historic Peaks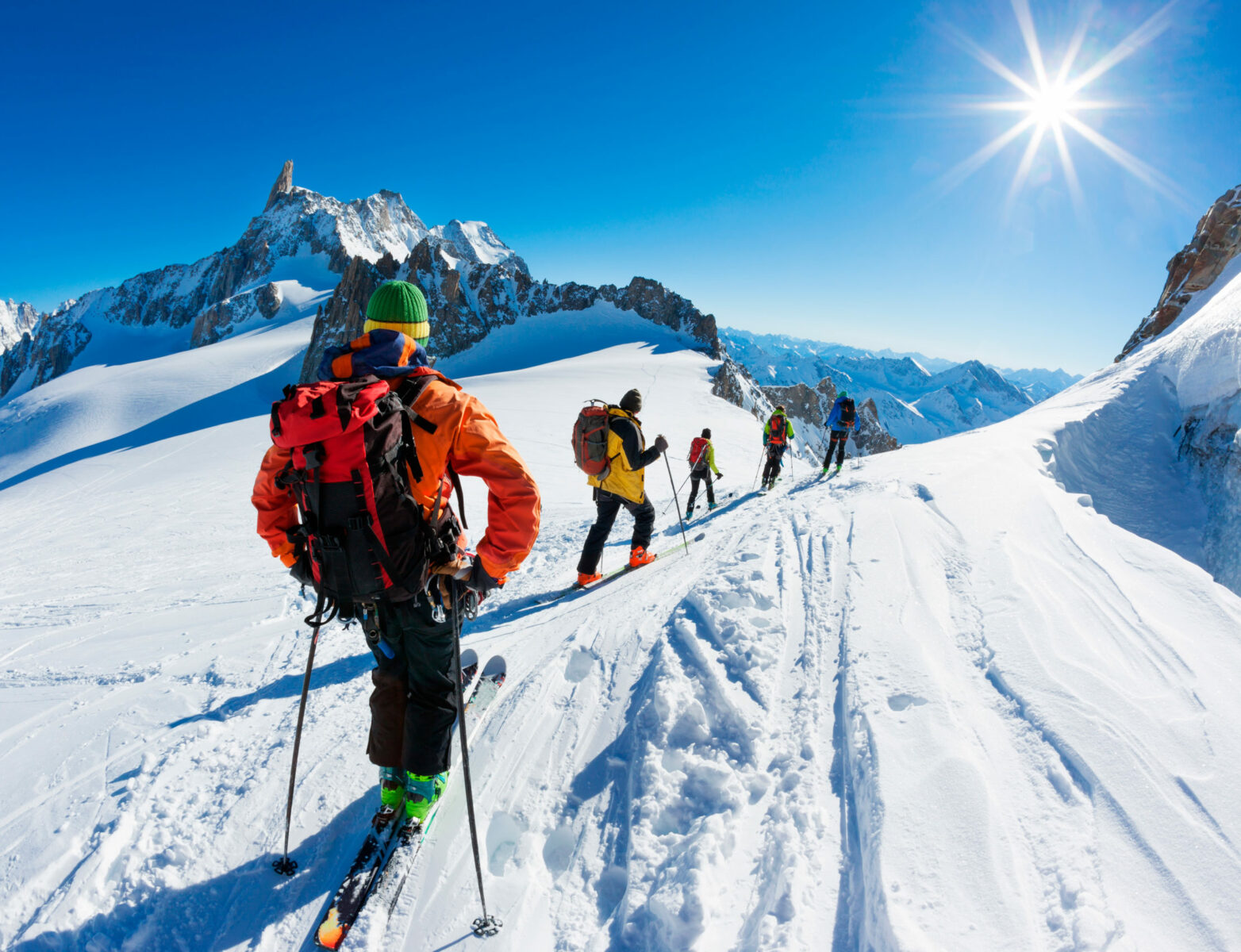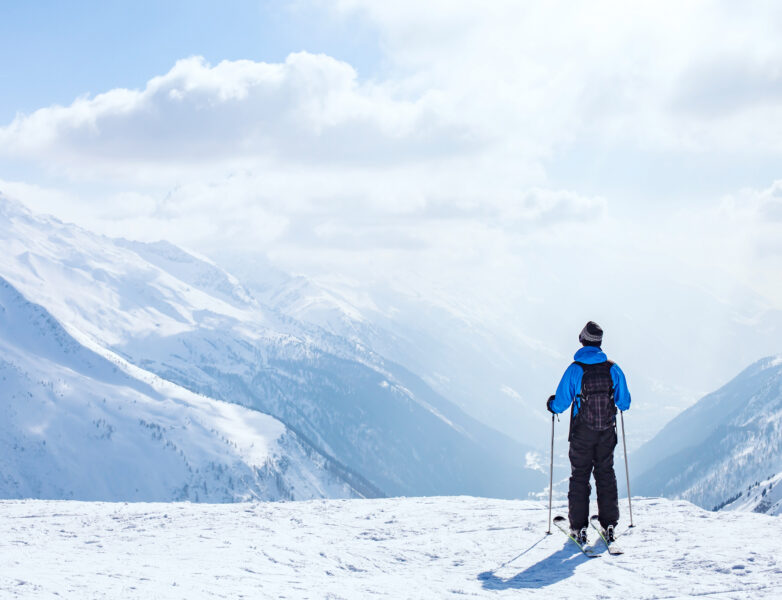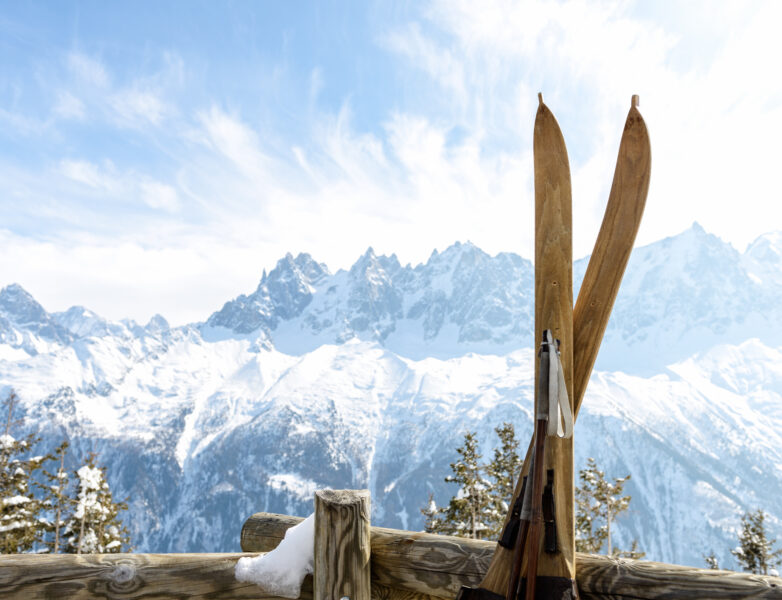 Season

Ski touring is best from December to mid-April

Nearest city

Geneva International Airport (GGV) is 1 hour from Chamonix
Birthplace of ski mountaineering, Chamonix is a vibrant mountain town known as both a world-class ski resort and a ski touring destination. Otherwise known as the French Alps, bordering both Switzerland and Italy, the incredible, jagged mountain chain towers over the town, offering spectacular scenery and snow-capped peaks reaching blue-bird skies. Drawing visitors year-round for its alpine sports, the area boasting high glaciers, couloirs and famous peaks provides plenty of leisure activities in this quaint mountain setting with some of the world's best après-ski spots to boot.
Most Popular Adventures
Private Day of Guided Off-Piste Chamonix Skiing
Enjoy a customized day to suit your goals and skiing ability with an experienced Chamonix ski guide. Go alone or with three of your friends and explore the best stashes the legendary area has to offer. Whether you're enjoying classic descents or secret powder spots, the Mont Blanc massif provides vertical drops you'll be dreaming about for years to come.
Ski the 15,000' Mont-Blanc
Dare to conquer the highest mountain in Western Europe? Not for the faint of heart, Mont Blanc will put even the most experienced skiers to the test. To conquer this well-known mountain, ski mountaineers must be in good physical shape, well-acclimated to the altitude and have strong technical knowledge. After an expected eight-hour climb, be prepared for a challenging and demanding descent in the breathtaking beauty of the Alps.
The World-Famous Haute Route
The most famous ski tour in the world, the Haute Route is a must-try for backcountry skiers with previous skinning experience. On this multi-day traverse through stunning high-alpine environment, discover wild, untouched routes with long descents that you'll remember for a lifetime. After full days of climbing and skiing, rest in beautiful Swiss huts at night as you make your way to the capstone of your journey: the long glacial ski descent right down to the streets of Zermatt.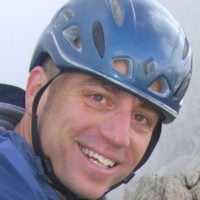 Rob Coppolillo
IFMGA/AMGA Certified Guide
Rob is a AMGA/IFMGA guide who runs ski and climbing trips all over the world — from...
View details
Jeff Witt
AMGA/IFMGA Mountain Guide
Jeff is a professional mountain guide with more than 25 years of experience in the ...
View details
Things you need to know
When is the best time to go?
The best time for backcountry ski touring in Chamonix is January through March to ensure a proper base-layer and the chance for deep powder runs.
What if I've never skied before?
Beginner Chamonix ski touring options are available through the guiding operations we've reviewed. If you've never been on a set of skis or it's been multiple years, consider taking a lesson before heading out in the backcountry in order to get the most enjoyment out of a guiding adventure.
Is there a minimum age requirement?
For off-piste options, some Chamonix guiding services will accept minors as young as 12, when accompanied by a parent. If you're travelling with minors, contact us for more details on specific adventures — we'll answer all your questions and let you know the options available for your whole party.
Group sizes and pricing
Group sizes are small, with generally no more than a 1:4 guide-to-client ratio. Pricing is per person and costs can decrease as the group size grows, making it a perfect opportunity to adventure with friends and family.
Cancellation policy
Each guiding service sets its own cancellation policy. All policies regarding cancellation, rescheduling and trip insurance will be clearly laid out by your guide prior to booking your adventure
What about bad weather?
Inclement weather can always get in the way of outdoor adventuring. In most cases, if you're prepared with the right gear, a little bad weather won't stop the fun. But, if Mother Nature hits you with an unexpected curveball, your guide will know the best course of action to take, determining whether it's safe to move forward with the trip, switch to a different local spot, or reschedule your adventure for a more favorable day.
Brief background of area
As the birthplace of mountaineering, modern skiing and mountain guiding, Chamonix is iconic. Nestled near the highest peak in the Alps, Mont Blanc, the French mountain town draws skiers, snowboarders and telemarkers. It hosted the first Winter Olympics, and it draws climbers and mountaineers by the tens of thousands from around the world. Plan accordingly and expect to rise early if you want to beat the crowds to get fresh tracks at one of the 11 resorts. Backcountry is beloved for this reason and many others, so consider hiring a guide to find couloirs, crevasses and multi-pitch runs safely. Avalanches and other errors are not something to risk, especially in unfamiliar terrain.
Do I need a permit?
No permits are required for off-piste adventures. Despite the accessibility, avalanches are a real threat off-piste in Chamonix, as with many mountain destinations. An avalanche transceiver should be switched on and secured under clothing, with quick accessibility. You need to know how to conduct a search using a transceiver and bring a shovel and probe. Rentals from a guide will be available and additional gear can be requested when booking your trip.
Getting there
Geneva International Airport (GGV) is 1 hour from Chamonix when driving by car. To avoid driving on mountain roads, consider hiring a driver to the site or taking a Shared Transfer in a minibus. Take note, the Geneva airport is also split between Switzerland and France allowing for confusion for first-time fliers to Chamonix. Passengers on flights to or from France don't need to go through Swiss customs, as long as they remain in the French sector of the airport.
Gear list
Alpine tour skis, ski boots and collapsable poles (can be rented)
Or Splitboard and bindings
Climbing skins (aka the stick-on type)
Wind and waterproof shell jacket with hood
Ski pants (Gore-tex recommended)
Synthetic or wool base layers, underwear and socks
Down jacket or vest
Either 35-45 litres daypack or up to 60 liter pack for overnight touring
Change of clothes for overnight trips
Hat or visor for the tour up
Helmet
Thermos flask and/or water bottle (full!)
Sunblock and lip cream
Repair kit and Leatherman for your equipment (can be shared between several people)
Safety equipment (can be rented):

Digital, 3-antenna avalanche transceiver
Lightweight snow shovel
Avalanche probe

In most cases, a guiding service can set you up with the equipment and technical gear you need to adventure safely. Prior to your trip, your guide will let you know what equipment you'll need to bring and what can be provided.