2. Palisades Tahoe-Alpine Meadows
Lake Tahoe is a stone's throw from San Francisco, making dependable backcountry skiing accessible for locals and travelers alike. The newly named Palisades Tahoe Ski Resort area, has long attracted a jet-setting crowd to the North Shore of Lake Tahoe. Tahoe's famous pow ranks among the top ski destinations in the U.S, not just the best skiing in California. Palisades Tahoe is a former Olympic village for the 1960 Winter Games, and for good reason. It has one of the largest terrain, good aprés, and a legacy that attracts extreme skiers looking to recreate Warren Miller movies. Its diverse terrain caters to all skill levels, but Tahoe's backcountry skiing reputation attracts pros and thrill seekers.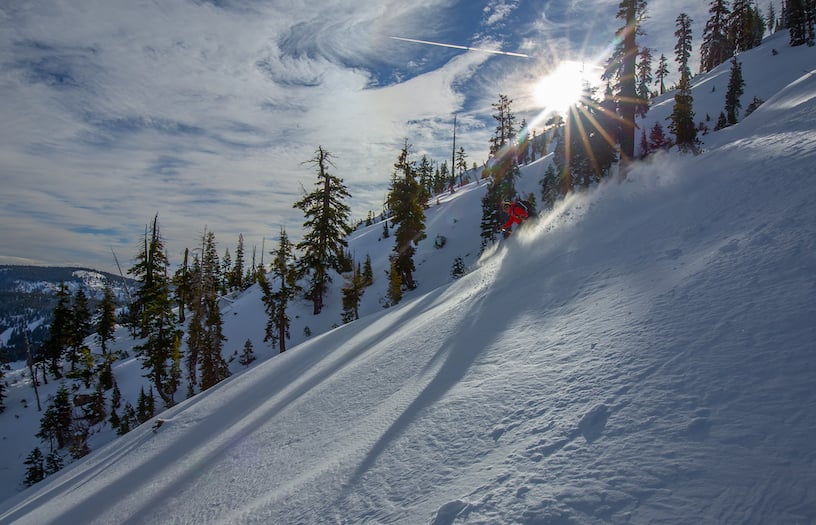 Tahoe skiing with two for the price of one
In 2011, Tahoe's most famous resort paired with neighboring Alpine Meadow and began to operate as one. You'll need only one season pass to get the goods. Although merged, they have distinct personalities. Each caters to different types of skiers. If you get tired of crowds, you can find a more relaxed atmosphere at Alpine Meadows. It's more focused on the ski experience and less on aprés and glamour. Alpine Meadows is also great for family vacations. This location sometimes gets overlooked because it's low-key compared to the other Tahoe resorts.
Head to these three zones for ski touring in Tahoe's backcountry
The resorts are connected with backcountry access gates and a shuttle service. The lifts give you access to three zones: Tram Ridge, Nat Geo Bowl and Munchkins, the latter of which is good for backcountry beginners. Backcountry access here is easy and convenient. The more notable places are Twin Peaks, and Grouse Rock for skiers and splitboarders looking for a tough climb. Beginners should look to Stanford Rock, which is mellower, but you still need to earn those turns. Easy access shouldn't lure you into riskier decisions — the backcountry is for intermediate to advanced skiers and riders. If you're unsure how to start backcountry skiing, make sure you have a solid foundation skiing at the resort then hire a guide. Trust us, it's more fun when learning with the pros (and friends, of course).
For anyone looking for more extreme Lake Tahoe ski touring, consider Granite Peak and the Palisades. With only a moderate hike, you can reach Granite Peak and ski wide bowls and steep chutes with full lake views. If you are looking for something more laid back, sidecountry options require minimal hiking.