1. Mount Rainier (Tacoma)
Mount Rainier needs little introduction. Rising from the continental shelf of the Pacific to an impressive 14,411ft, this volcano (yes, an active volcano) dominates everyone's skyline from Everette to Olympia. Home to some of the best hikes in Washington, Mount Rainier is so big that it creates its own weather, which should be top of mind for climbers once standing at its base. Weather determines how long you can be up there until the mountain's mood changes.
Mount Rainier is also the tallest mountain in the state of Washington as well as the tallest of the Cascade range. Originally known to the First People as Talol, Tacoma, or Tahoma, Captain George Vancouver of the British Royal Navy unceremoniously gave the mountain its current name. While sailing by the mountain in 1792, Vancouver named the peak after his friend, Rear Admiral Peter Rainier, a fellow officer who fought against the American Revolution. Non-native explorers first climbed Rainier in 1870 via the Gibraltar Ledges route. Ever since Mount Rainier is the lower 48's premier mountaineering objective.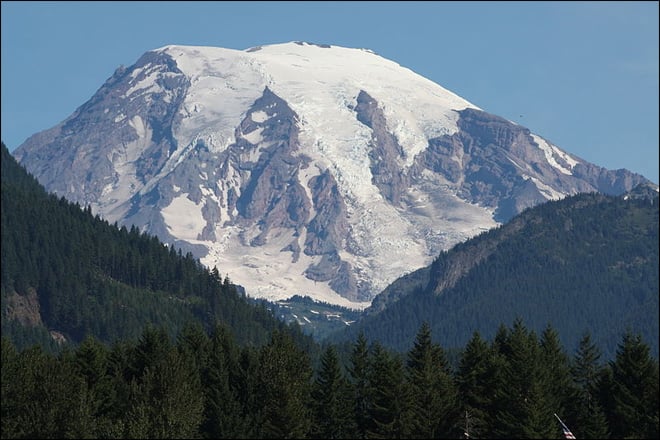 Prepare for unexpected weather when rock climbing at Mount Rainier
The most popular routes draw about as many people as the rock climbing in California and include Muir Snowfield, specifically as a path to Disappointment Cleaver, and the Emmons Glacier. Rainier season is year-round for its many enthusiasts. May through August is peak season for first-time visitors doing some of the more common routes (of which there are many). Late June to late August sees the majority of ascents because the glaciers reach a point of equilibrium with snow bridges and exposed crevasse hazards. Depending on the year, some crevasse hazards are impassable without the aid of ladders. For this reason, it's a good idea to check many sources for Mount Rainier's weather conditions before venturing toward the summit.
High-alpine temperature swings will keep you on your toes
In spring, it's possible to see snow flurries and winter-like storms followed by glorious and hot sunshine. Either contingency can make progress a chore. That said, the weather can be equally agreeable at any time. Typical averages at Camp Muir and Schurman can see highs in the 60s with lows in the 20s. Keep in mind, summit temperatures can sink well below freezing, even in the summertime.
Save your spot before you head to Mount Rainier
On your first visit to the mountain, be sure to acquaint yourself with the policies of the mountain regarding camping. Registration is required when going above 10,000 feet or onto any glaciers. Registration is $45 per person per calendar year at Paradise Ranger Station, White River Wilderness Information Center, and the Wilkeson Wilderness Information Center. Advanced reservations can be made online with the National Park Service for $20. This is in addition to the $45 permit fee and does not guarantee space in the public shelter at Camp Muir. These reservations can be made between May 1 and September 30, but not before or after those specific dates.
What to know before you go
As always, leave no trace and respect the rules of the mountain as put in place by the NPS. This emphasis on regulation may seem to detract from the experience, but remember, they are in place to protect this very popular mountain. It's popular for a VERY good reason. After a climb, I really prefer Base Camp Grill in the town of Ashford for my post-summit goodies. If you can time it right, the Rainier Mountain Festival is hosted every Labor Day. The perfect time to try some of those Mt. Rainier hikes everyone seems to be talking about.