Where to Go Trail Running in the Alps From a Local Guide
Sorry climbers, and move over skiers—the Alps are now the trail running capital for big mountain treks. Thanks to a vast network of routes and a well-developed hut system, runners are taking the sport to new heights.
Table of Contents
My pulse punches into higher gear and my calves yip as I crest another hill. Bidding bonjour to a group of hikers as I pass, I make my way towards a small clearing in the distance where the familiar outline of a mountain hut promises food and shelter for the night.
When I arrive, the endless vistas of the Alps unfold. To my right, a boulder-strewn pasture stretches down a mountain's shoulder. To my left, an alpine lake glints against a grassy meadow. And my breathing softens.
Up here everything is glacial—the valleys, the lakes, the pace of life. But we trail runners march to a different beat.
Yes, we strain and push our bodies, but it's less about grinding out miles and more about being in tune with nature and oneself. When trail running in the Alps, I find my own rhythm among the mountain landscapes. Since more runners are coming to the valley than climbers these days, I'd bet others agree.
Care to join?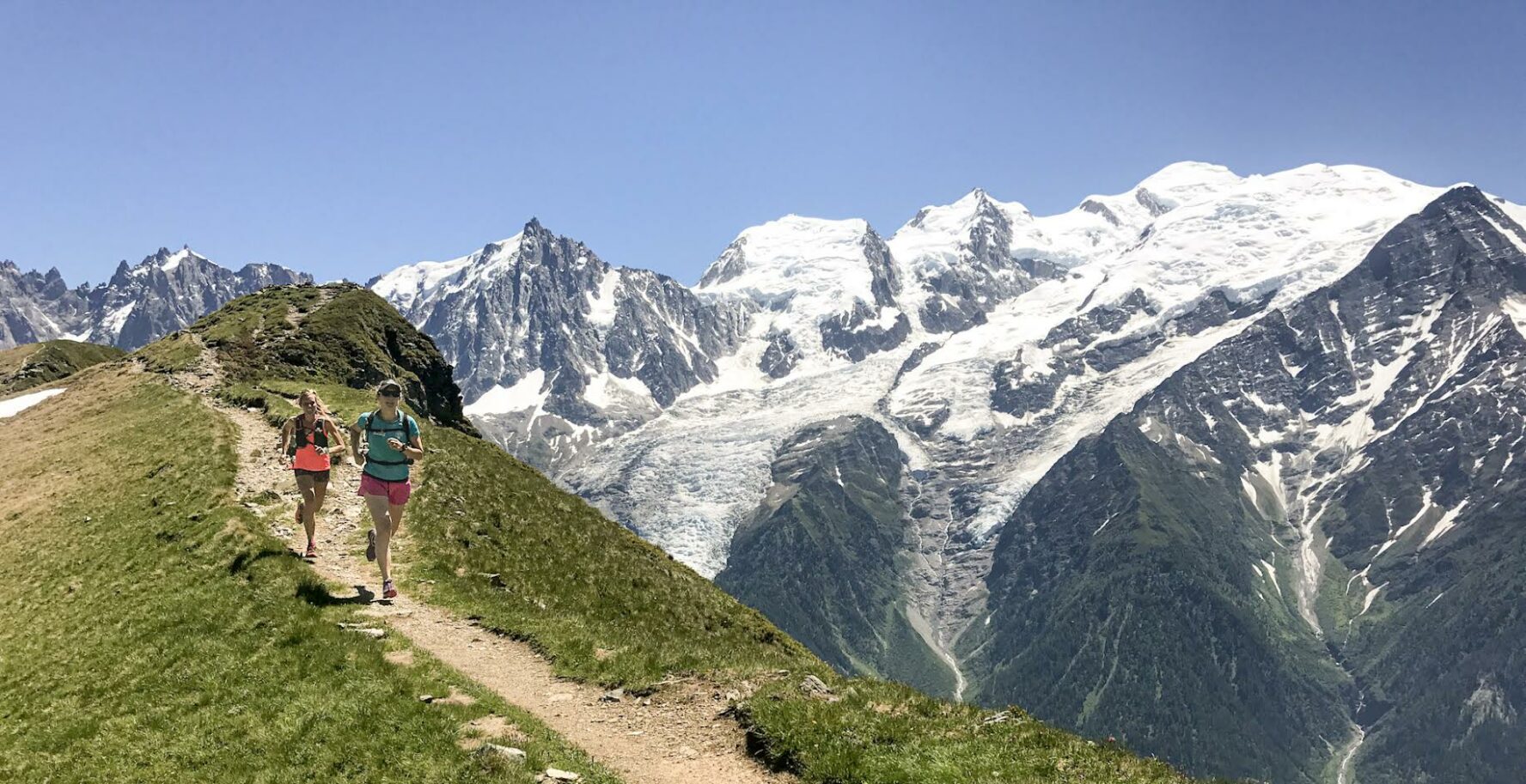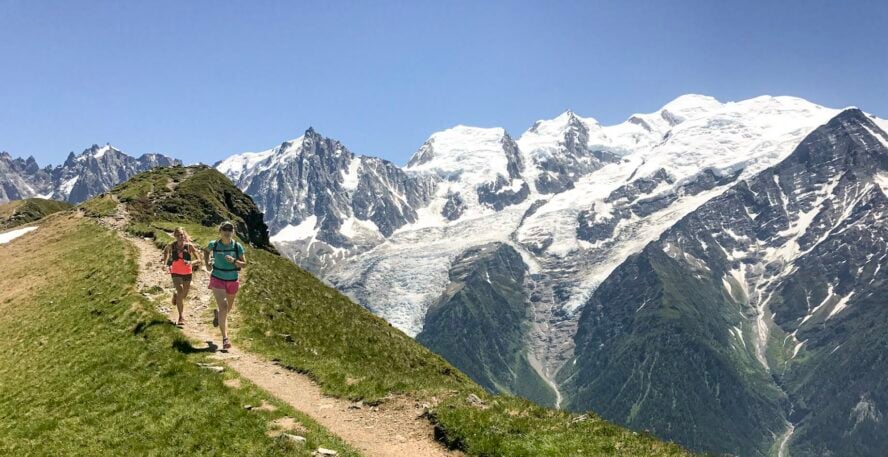 Enter the Rarified Air of the Alps
The Alps are Europe's most extensive mountain range, stretching across 1,200 kilometers (750 miles) and eight countries. Sprawling through just France, Italy, and Switzerland are over 100,000 kilometers (62,137 miles) of paths, many of which have been used for over a millennium.
In the Middle Ages, the trails acted as trade routes connecting secluded hamlets scattered across the range. A more contemporary example is in Italy, where WWI soldiers would spend weeks, or even months, hiking in the Dolomites on ancient footpaths.
In modern times, many of those traditional villages have transformed into tourist hotspots known the world over. Unassuming old trails and mule tracks leading to them are now premier sporting attractions, celebrated by hikers, bikers, and a new kind of wayfarer—trail runners.
Trail running in the Alps—a sport for everyone
For many mountain-loving people, the Alps are the quintessential high-altitude landscape thanks to a history of adventuring that dates back to the 1700s. The range has traditionally been the domain of mountaineers and skiers at higher elevations, and of hikers and mountain bikers on the lower-lying paths. However, trail running has sprinted onto the scene.
Let me offer some explanation. Combine dirt trails that are perfectly suited for running, an abundance of routes, along with an extensive system of huts and chalets, and you've got yourselves a pastoral paradise where there's always new areas to explore and exciting challenges to conjure up.
Further, trail running has grown immensely in the last two decades, attracting millions of runners worldwide with its appealing focus on endurance over speed, along with low physical and financial requirements.
Why Alpine runners go nuts for the huts
I arrive at the hut with sinking energy that's matching the movement of the sun—and look forward to the warmth and shelter. I greet those who arrived before me soaking in the last bit of light and head inside to find the keeper.
The rustic ambiance, wooden bunk beds, and friendly locals are just what one needs after a long run. I eat my hot meal, often starting with soup and cheese, and think about the day ahead. I go over the route, the weather, and finally our lodging for the following night.
The huts are reasonably well equipped, with basic amenities such as running water, blankets, and cooked meals, which is great for trail runners who want to travel light. The hut system in the Alps is sprawling and impressively connected, allowing you to travel to the most remote parts of the range and still have a place to stay for the night.
My Recommendations for Where to Go Trail Running in the Alps
For me, trail running and the Alps go hand in hand. While growing up in England, I was always an avid hiker and road runner, but my identity on the trails really grew when I moved to Chamonix. I first fell in love with the town when I visited as a part of a youth climbing expedition. The beauty of the place simply blew me away, and deep down I knew my return was inevitable.
I started leading trail running tours during the summer months—from the Tour du Mont Blanc to casual day trips, and became hooked on the numerous competitions held in the area. There's hardly a big trail I haven't left my footprints on.
If you'd like to know which ones are my favorites, you've come to the right place.