Rumney | New Hampshire
Rock Climbing in Rumney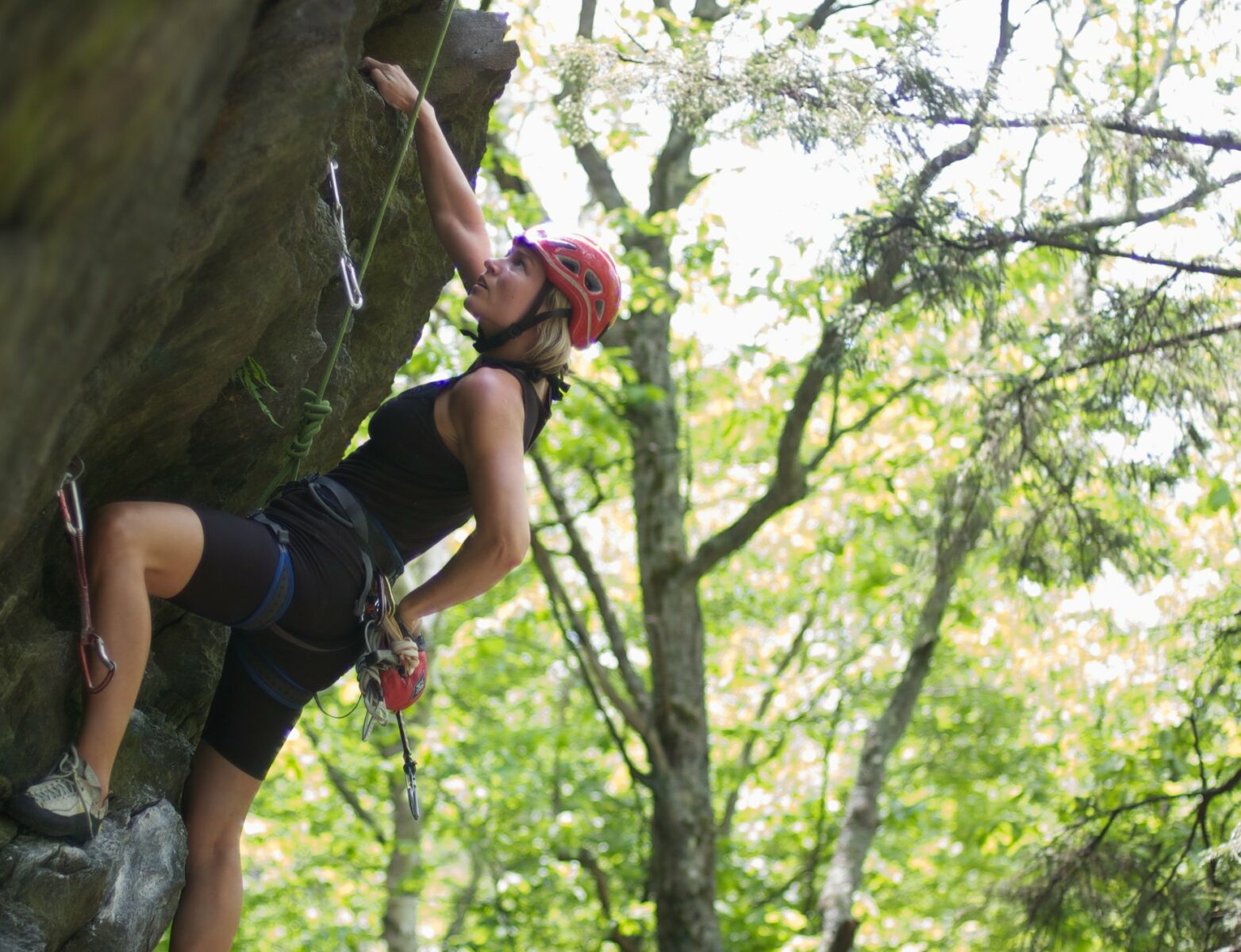 Nearest city
Portland, ME is 97 miles away
Epic rock climbing near the White Mountain National Forest
Tucked away in New Hampshire with Rattlesnake Mountain as its backdrop, Rumney offers some of the finest rock climbing in the Northeast. The crags have grades from 5.3 to 5.15a, so you'll find a route for every level of climber. Plus, those grades all have quality climbs associated with them. But it's not just the massive amounts of routes that are a draw to the area, it's the rock itself. Schist has a striking, woodgrain-like quality to it, adding to the already special allure of Rumney climbing.
Most Popular Itineraries
A Customized Day of Private Climbing With a Guide
New to Rumney rock climbing and don't know where to begin? This one-day class is for beginner to advanced climbers who want to get a head start on climbing Rumney's 30-plus crags and legendary schist. Let your guide eliminate any guesswork and get the most out of your climbing.
Gym to Crag Transition Class
Learn from experts who introduce basic skills for an exciting and safe day on the rock. Rumney is the perfect spot to experience single-pitch climbing, especially if you're used to a gym. You'll gain the fundamentals like belaying, clipping/unclipping, and anchor building on the crags at Rattlesnake Mountain.
Family Rock Climbing Adventure
Try something different on your next family vacation, like learning to climb at Rumney's world-famous crags. Work on the basics like belaying, knot tying and other fundamentals before working on single-pitch climbs. Customize your family trip, or groups up to 10, for beginner, intermediate and advanced options.
Introduction Class to Rock Climbing
Whether you've never donned a harness or you're an experienced gym climber looking to take your skills outdoors, you'll be introduced to the fundamentals of rock climbing with an experienced guide leading the way. Learn the basics, like belaying, building top-rope climbing anchors and managing risk on single-pitch routes. Gain new skills and confidence on the rocks under the safe watch of a professional as you work your way to becoming an independent climber.
Things you need to know
Why should I book with 57hours?
With us, it's all play and no work for you! 57hours is an open platform that connects you with trained and certified outdoor adventure professionals all over the world. Using our tech-savvy, we make it super easy to find and book adventures worth tackling, with guides worth booking, all gathered from the first-hand experiences of the locals who adventure in these amazing locations.
Why should I go rock climbing?
Rock climbing is more than just a sport; it's problem solving on-the-go. It's a balance of intuition and fluidity of movement. The fun comes from the possibilities — each route with a variety of options and only a fraction of them leading to success. When you finally master a climb, after hours of practice, it transcends mere sport and is akin to art.
What's included?
What you get in this adventure:
An experienced, local rock-climbing guide with extensive knowledge of the area
A full day of rock climbing
All technical climbing gear
What's not included:
$17.50 per day park fee. NC State Parks charge $35.00 per day for commercial climbing access. Your guide splits this expense with you.
Technical gear list
All technical climbing equipment will be provided by your guiding service. However, if you have your own gear, feel free to bring it. You'll need:
Helmet
Harness with a locking carabiner, belay device, and chalk bag
Rock shoes* (included in the price, but we recommend bringing your own if you have them)
Ropes
Climbing hardware (quickdraws, cam devices, stoppers, etc.)
What do I need to bring?
Here's a list of the equipment you need to bring:
Day pack large enough to carry all the items listed (around a 25L bag)
Water bottle
Food you can eat on-the-go
Toiletries (sunscreen, hand sanitizer, bug spray, toilet paper, etc.)
Sunglasses
Camera — optional
Dress comfortably and for the weather in clothes you can move in. We suggest bringing clothing appropriate for the season. Layers are best and don't wear jeans.
What if I've never climbed before?
No prior experience is necessary. Whether you've never donned a harness or you're a seasoned climber, a guide will help you meet your individual objectives. Above all, your instructor's number one priority is your safety.
How fit do I need to be?
If you can climb a ladder, you're good to go. Being in good shape is always a plus but far from necessary. Rock climbing is all about using good movement technique rather than muscling up a cliff using brute strength. So don't let your perceived lack of strength keep you away from rock climbing — you've got what it takes.
What is the minimum age requirement?
If you are older than 18, you're good to go.
Teens aged 14-17 can go on their own, but a guardian will need to provide a signed waiver before an outing with the guide.
Kids younger than 14 can easily go out and try climbing, but only in the presence of a parent or legal guardian.
What about group sizes and pricing?
Group sizes are usually up to 6 people. Also, remember that the costs decrease as the group grows, so it's the perfect opportunity to go climbing with friends and family.
What about bad weather?
As the saying goes, "there's no such thing as bad weather, only bad preparation." You can expect your guides to be fully prepared for anything. Inclement weather can always get in the way of climbing, but your guide will know the best spots to move to if the weather takes a turn.
On the rare occasion of truly bad weather, your instructor will present you with suitable alternatives. The most common practice is to reschedule your climbing to a more favorable day or suitable location nearby, if it exists.
If no options presented were viable to you, you will be issued a full refund.
Cancellation policy
All policies regarding cancellation, rescheduling and trip insurance will be clearly laid out by your guide prior to booking your adventure. Contact us if you'd like more information on a specific adventure.
Getting there and meeting location
The closest airport is Lebanon, NH (LEB), but as it's New England, most everything is seemingly a stone's throw away. Portland, ME is 97 miles away and the closest major airport, Portland International Jetport. From NYC, Rumney is about a five hour drive, and about two hours from Boston. Carpool!
Since it all depends on the itinerary you choose, your exact meeting location for your full day of climbing will be determined after booking.
Alex Teixeir
AMGA Rock Guide, AMGA Assistant Alpine Guide, Ski Guide Course, Advanced...
AMGA Rock Guide, AMGA Assistant Alpine Guide, Ski Guide Course, Advanced...
I am a full time guide based in New Hampshire. I work in New England, Red Rock NV, ...
View details
Mooney Mountain Guides
Mooney Mountain Guides
AMGA Certified Guides
Mooney's team of certified guides call the Northeast an adventure wonderland. Whate...
View details