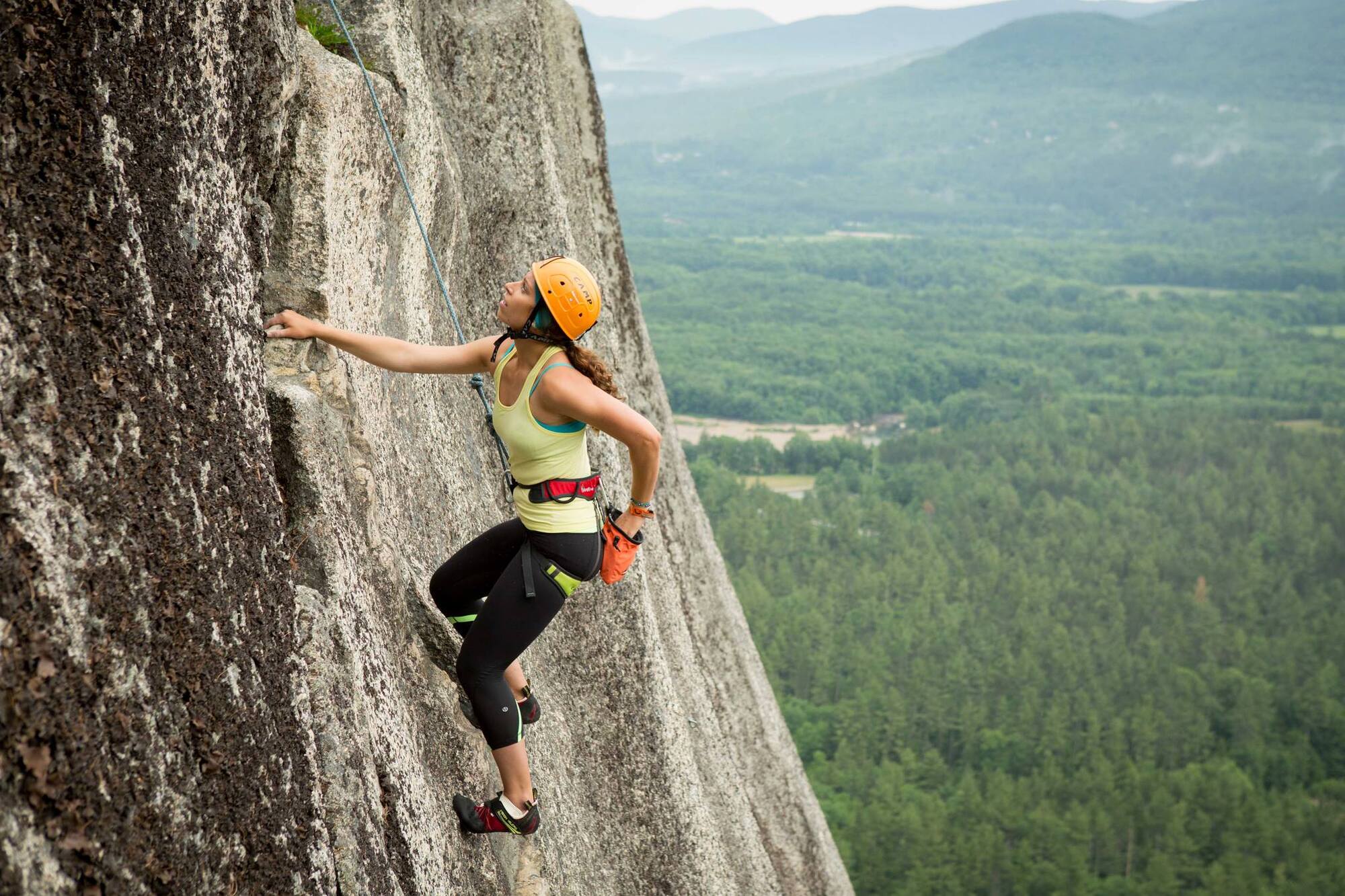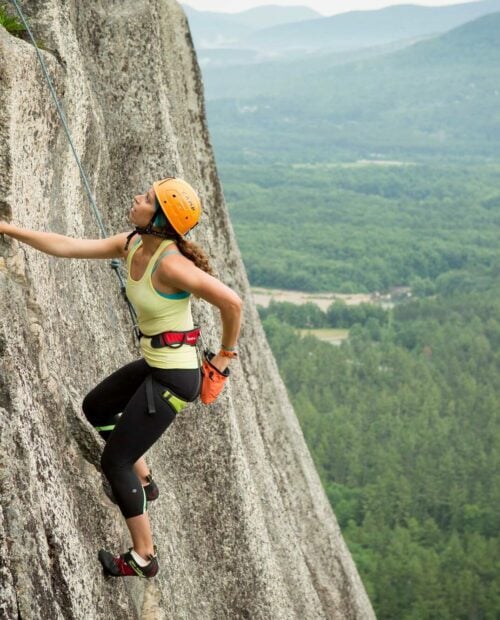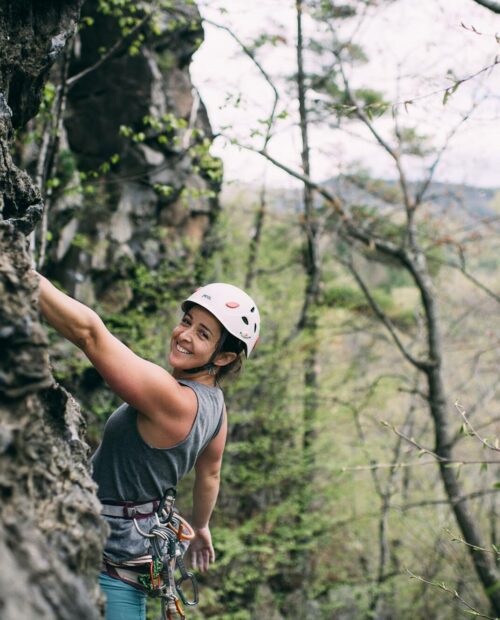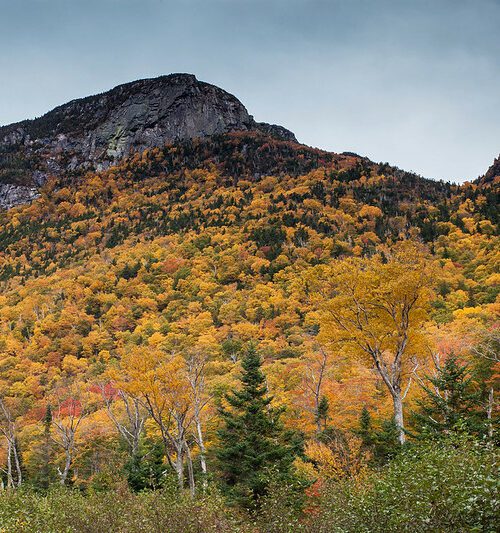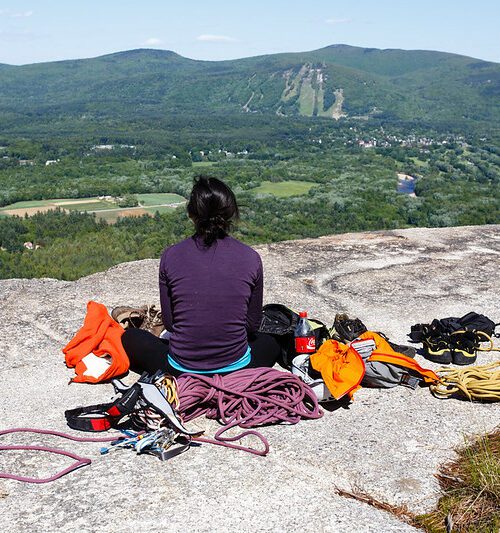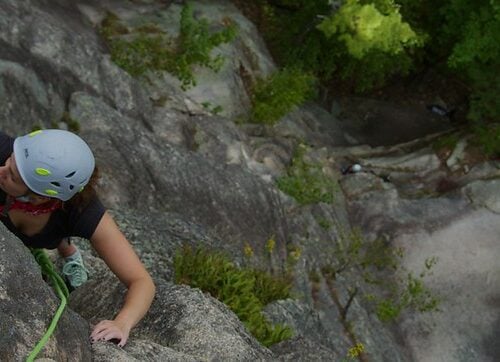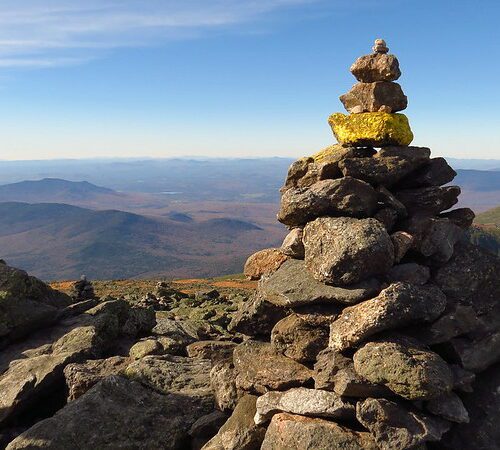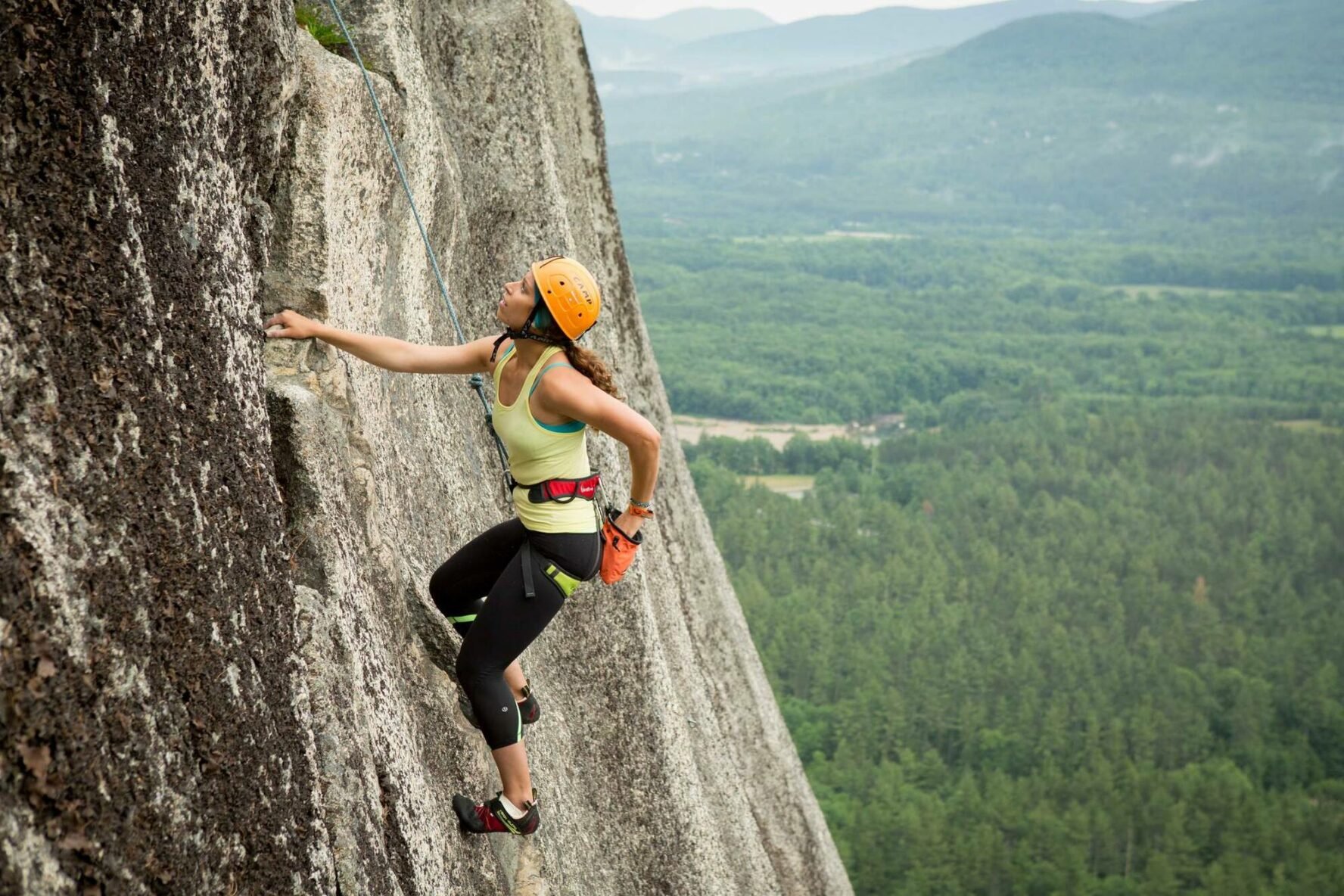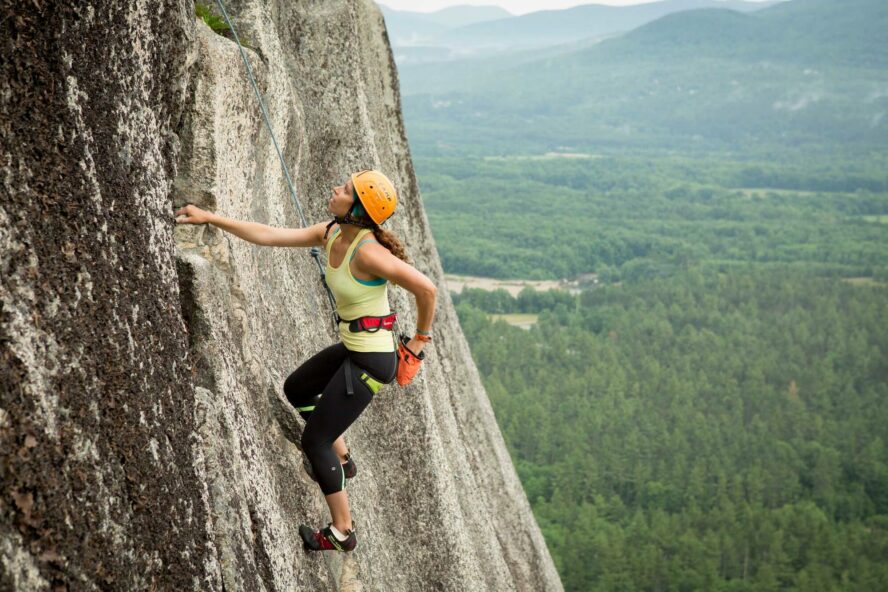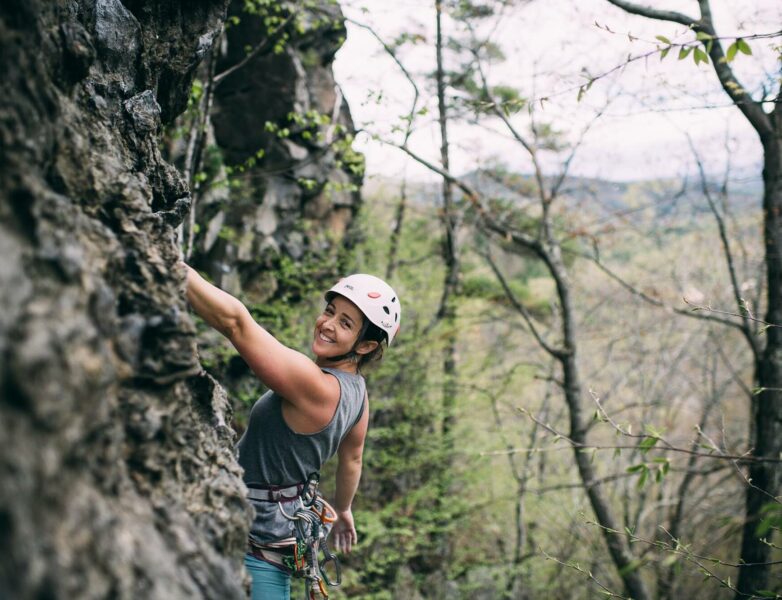 Rock Climbing in New Hampshire
5.00

()
New Hampshire is widely known as the "Granite State" and its state motto is "Live Free or Die"—this tells you everything you need to know about the character and the climbs of the Northeast's rock mecca. Rock climbing in New Hampshire is steeped in tradition and history, and its picturesque cliffs serve both as excellent training grounds for beginners and proving grounds for rock climbing veterans. With the abundance of climbable cliffs with routes ranging from 5.4 to 5.10a, you're guaranteed to find a climb you'll fall in love with. The widely visited Cathedral Ledge and Whitehorse Ledge are some of the best trad cliffs on the East Coast. The White Mountains area offers unparalleled route diversity, with a mix of sport, traditional and alpine climbs. The coastal parts house some phenomenal bouldering, while the Monadnock Region abounds with high-quality rock and ice. Nobody leaves New Hampshire's cliffs disappointed—come and see why!
Experience some of the greatest climbs on the US East Coast

Test your skill on Rumney's world-class sport climbing routes

New Hampshire's greatest routes are close and easily accessible from the towns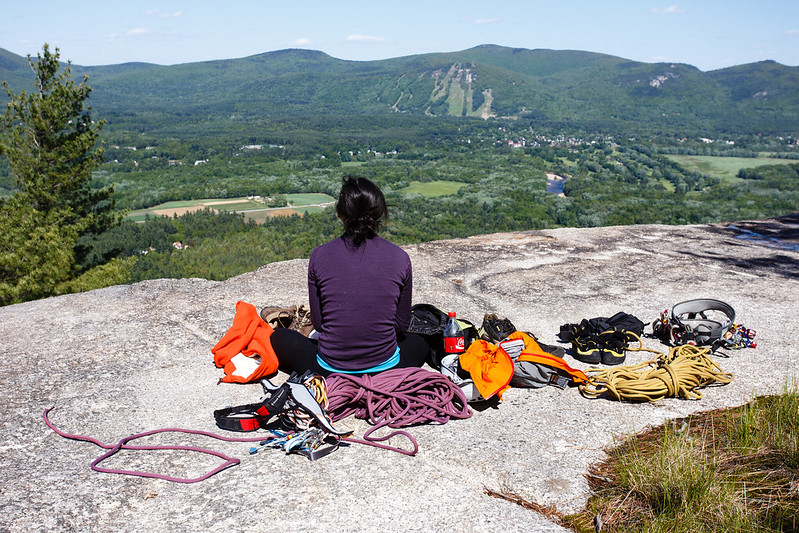 Itinerary
Experience some of the finest climbs in the American Northeast in this single-day rock climbing tour in North Hampshire. Choose between dozens of high-quality climbs—climb Cathedral Ledge, Huntington Ravine or Whitehorse Ledge's multi-pitch routes or top-rope some of New Hampshire's more challenging ascents. Your seasoned local guide will make sure that you choose a climb that perfectly suits your goals and needs!
Get free trip brochure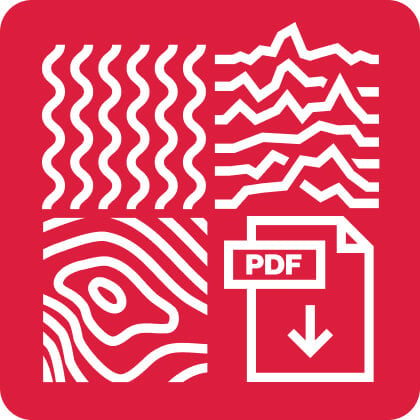 The brochure contains:
Adventure and location overview, itinerary, available dates, what's included, how to prepare, and much more.
Brochure sent, check your inbox
Talk with us
and let one of our adventure experts help you plan your perfect adventure.
Meet your guide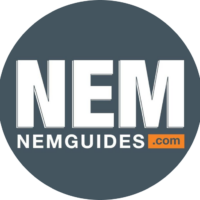 Northeast Mountaineering
AMGA Certified Guides
Northeast Mountaineering is a small group of highly trained and experienced guides with years of experience on rock, ice, and snow, from New England to Alaska to Yosemite, and Ecuador to Nepal. Despite their own personal ascents, they thrive on teaching their skills to others. Their programs are built on education, mentoring, and investing time and energy in the development of each skier and climber. At NEM you will get a relaxed and fun environment where you can reach your full potential.
Matthew V.
(source: Yelp)
Man, what's to say, these guys are awesome! I have ice climbed with Northeast Mountaineering 2 times this season and winter hiked Tuckerman's Ravine once. Brett and Corey are professional and incredibly knowledgeable about the outdoors along with bringing safety and experience; they let you learn in a seriously fun way the joys of these great outdoor sports. Their Bunkhouse facility is awesome, providing a cheap place to stay before and/or after any trips for a small fee. Their equipment rental is spot on and they often have some combo discounts and seem fair. The Bunkhouse is conveniently located in North Conway and is a perfect meeting point for the day's adventures. If you are looking to try ice climbing, rock climbing, mountaineering, etc. check these guys out. I have some winter mountaineering skills before signing up, but some great stuff was learned. Check out their website for some of their trips offered, really a great company to get in touch with. Thanks to Brett, Corey, and Hewitt for some great photos, and stories.
Two great trips with these guys – rock climbing and a waterfall rappel. Couldn't help but book an ice climbing trip with them for this upcoming winter. Guys are down-to-earth and very knowledgeable! Highly recommend NEM.
This isn\'t a review for some restaurant or clothing brand. This is a review for a uniquely life changing experience. Austin from Northeastern Mountaineering was my guide for the day. We climbed two multi-pitch trad climbs over 5.5 hours, set in the White Mountains on the Cathedral Ledge. I climbed Thin Air (5.6 300ft, 4 pitches) and Upper Refuse (5.5 200ft, 3 pitches) Austin gave me expert safety instructions and checks before we started climbing. He communicated clearly and confidently during our climb. When I wasn\'t sure what to do, Austin was always there to give me just the right amount of encouragement and help. He was such a pro that everything felt completely handled. I had complete confidence in Austin as a guide. This confidence allowed me to focus solely on what I needed to do. With Austin\'s expert guidance I was able to summit both climbs which were far outside my comfort zone as I have a minor fear of heights. It was truly a lifetime achievement and I have Austin to thank for that! Austin guided me to use my feet and look down at my placement rather than always looking up for hands. Therefore, my arms were never pumped and I felt strong the entire time. I rested when needed and practiced breathing to calm my nerves. Austin gave me all the tools to be successful and all that stood in my way was my own fear. I proud to say that while the fear of heights was ever present, it didn\'t win, my movements became more confident as the day went on and I had so much fun. I cannot express just how amazing this experience was. No one can know what I went through on that rock and just how much it meant to me to never quit or give up. I\'m already looking forward to my next climb. I indoor climbed in my late teens and went outdoor only a handful of times back then. It\'s been 19 years and I wouldn\'t consider myself a climber anymore. I\'m in above average shape but I\'m nowhere near elite physical condition. I really didn\'t know what to expect but I was blown away. I consider this was a lifetime achievement for myself! I have a mild fear of heights. My rock climb was set in the White Mountains on the Cathedral Ledge. I climbed Thin Air (5.6 300ft) and Upper Refuse (5.5 200ft) I\'m still can\'t believe I actually finished the climb while facing my fears. It will be hard for future adventures to compare. The mountain was absolutely beautiful and the challenges Cathedral Ledge offered me will continue to inspire me for years to come.
Things to know
57hours is committed to providing safe outdoor adventure experiences. We require all guides using our platform to have a COVID-19 safety plan and to make the details of that plan accessible to travelers. In most cases, group sizes will be reduced, guides will avoid overcrowded locations, and other safety measures will be met depending on the location and activity.

We also expect clients to respect local regulations and take measures to protect themselves, their guides, and the communities they're traveling to. For more information on COVID-19 measures in New Hampshire, please refer to New Hampshire's COVID-19 guidelines for out-of-state visitors.

Please contact us if you have any questions or require further information. We are happy to provide you with the most up-to-date information!

What you get on this adventure:

An experienced, local rock-climbing guide with extensive knowledge of the area
A full day of rock climbing
Transportation to the trailhead

What's not included:

Transportation to Glen, NH
Accommodations (available at the guide's Bunkhouse in Glen, NH, for a fee of $20 per person)
Food and snacks
Technical gear rental package (can be rented for $49 from your guide)

Participants in this tour should be in reasonable physical condition. Being in good shape is necessary for rock climbing. Rock climbing is all about using good movement technique rather than muscling up a cliff using brute strength. To ensure you have a fun day, your guide will choose routes that best suit your skill and fitness level.

New Hampshire has plenty of options for beginner climbers. Whether you've never climbed before or are transitioning from the gym to outdoor climbing, your guide will customize the day to suit your skill level and objectives. With a guide by your side, you'll learn something new, stay safe on the rocks, and most importantly, have fun!

For intermediate to advanced climbers, New Hampshire has loads of routes to spend the day on. Your guide will discuss your objectives and customize the day to your goals. Let your guide plan the day so you can focus on developing your skills while climbing the classic routes or best hidden gems the area has to offer.

All technical climbing equipment can be rented from your guiding service. However, if you have your own gear, feel free to bring it. You'll need:

Helmet
Harness with a locking carabiner, belay device, and chalk bag
Ropes
Rock shoes
Climbing hardware (quickdraws, cam devices, stoppers, etc.)

Your guides can provide a technical gear rental package, which costs $49 and includes a harness, shoes, belay device, and helmet.

Here's a list of the equipment we suggest you bring:

Day pack with a waist strap (around a 40L bag)
Water bottle
Comfortable climbing pants or shorts
Insulating layers and jackets
Food you can eat on-the-go
Toiletries (sunscreen, bug spray, toilet paper, etc.)
Sunglasses
Camera — optional

Dress comfortably and for the weather in clothes you can move in. We suggest bringing clothing appropriate for the season. Layers are best and don't wear jeans.

Group sizes and prices:

The group size for these climbs is usually between 1–2 people with one guide.
Costs per person decrease as the group grows for private tours, so it's the perfect opportunity to climb with friends and family.

Climbing days in New Hampshire can be arranged for bigger groups. Contact us prior to booking.
Min. age requirements:

If you are older than 18, you're good to go.
Minors younger than 18 may be permitted to join the hike on a case-by-case basis, but must be in the presence of a parent or legal guardian.

If your group has hikers under the age of 18, contact us prior to booking to make arrangements.

To get to Glen, NH, the starting point for the climbs, most people fly into Portland International Jetport. From there, you can rent a car and take a 2-hour drive to Glen, or take a bus to Naples American Legion and take a taxi, which will take you around 2h15min total.

Once you and your guide agree on the details of your itinerary, your guide will suggest the best place to meet, whether that's at the guide's Bunkhouse in Glen, NH, or a predetermined location. The guide will choose the appropriate terrain dependent on conditions and the ability of the group.
Get free trip brochure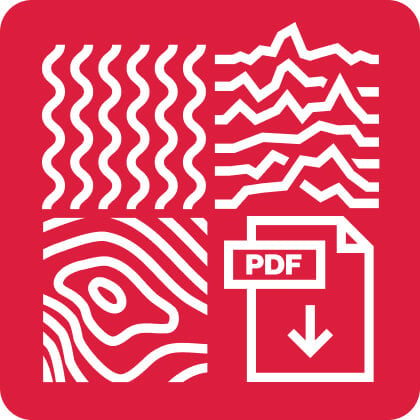 Adventure and location overview, itinerary, available dates, what's included and much more.
Brochure sent, check your inbox
Talk with us
and let one of our adventure experts help you plan your perfect adventure.
Other things to do in New Hampshire