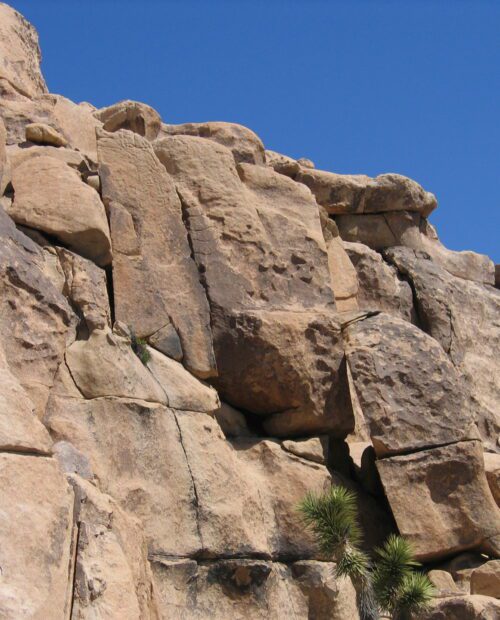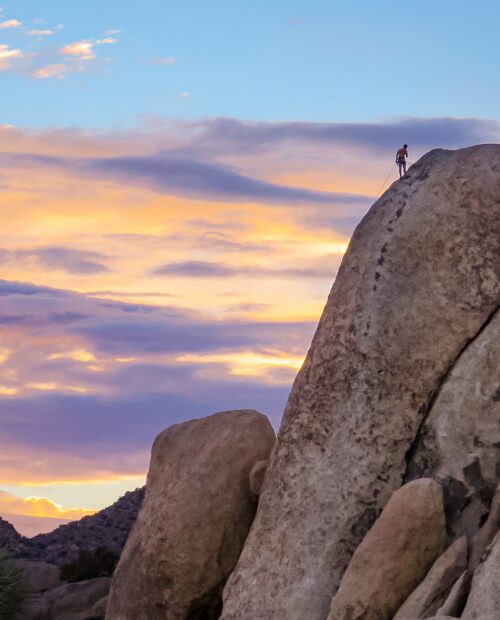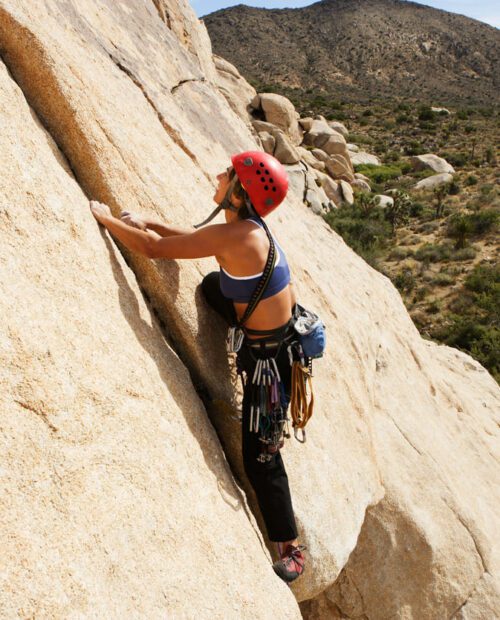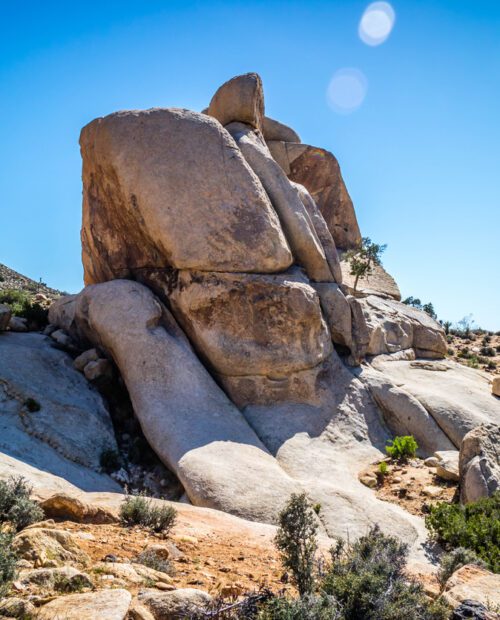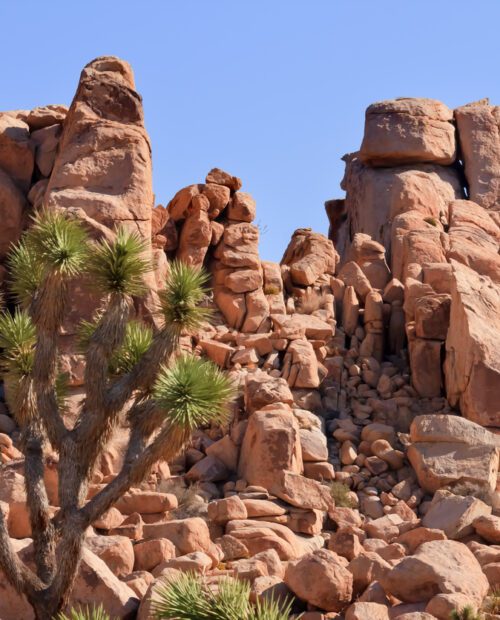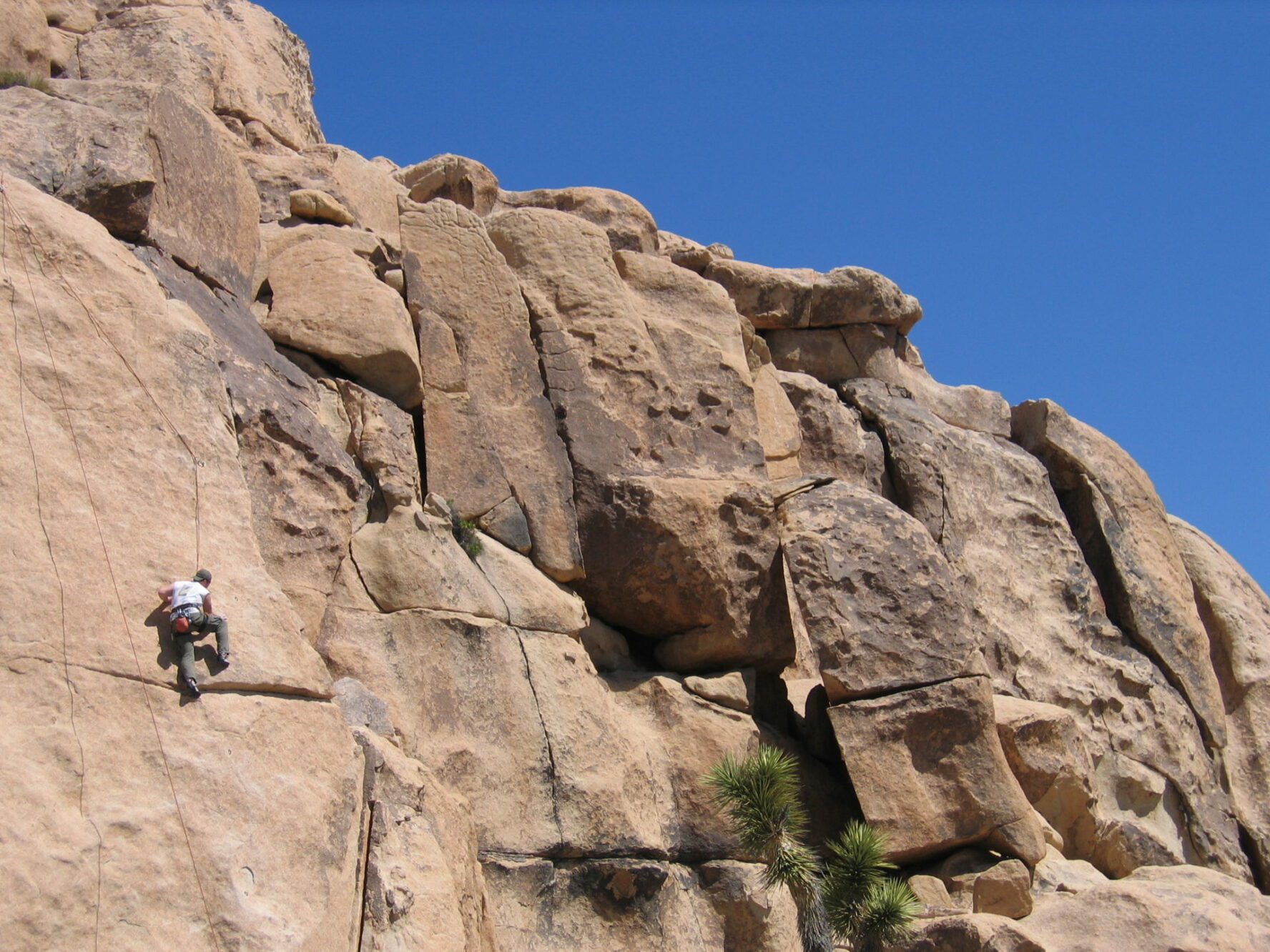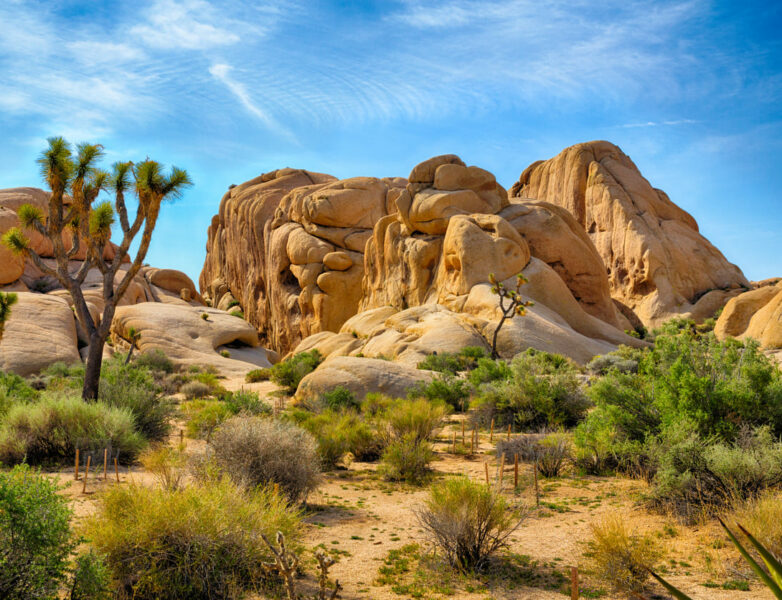 Rock Climbing in Joshua Tree National Park
5.00

()
With a surface area of 800,000 acres, Joshua Tree National Park is the largest guided rock climbing venue in America. Situated in the high desert, this monzogranite mecca is climbable year-round with literal tons of exceptional bouldering, single-pitch, and multi-pitch objectives making it ideal for all skill levels. You'll find cracks a plenty, edged faces, handhold laden walls of all angles, smooth slabs, chimneys, and roofs. Come discover why climbers from all over the world make the trip to cross it off their bucket list with an expert guide. And if you need more info, read why JTree is one of the premier climbing destinations in the USA.
Over 8,000 climbing routes

Varied terrain for all skill levels and practicing every move imaginable

Perfect for short outings

Easy access to the rocks and climbable even after heavy rain

Grippy rock and surreal landscape

Iconic Joshua Trees dot the flat, sandy valleys and rounded and stacked rock formations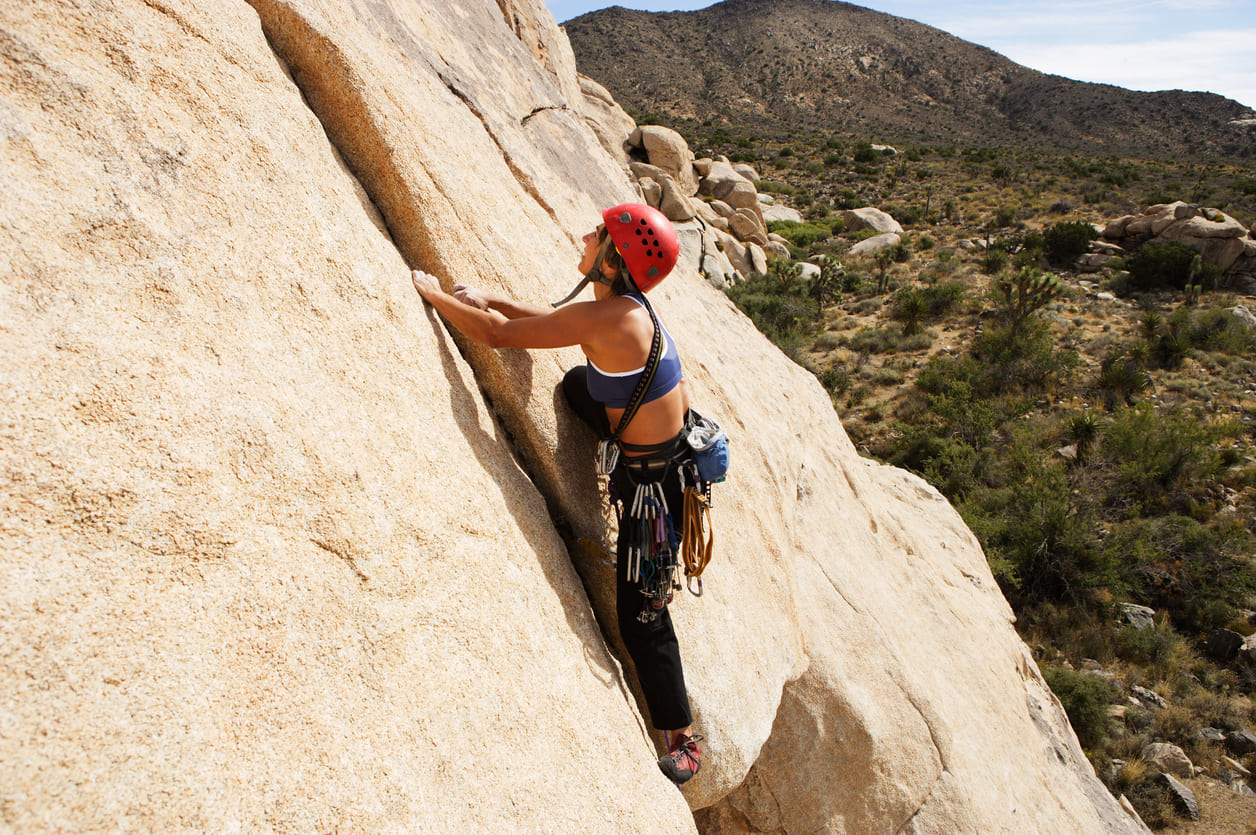 Half-Day of Private Climbing With a Guide
Discover the magic of the otherworldly Joshua Tree with a half-day of climbing fully customized to you. Focus on fundamentals like proper gear placement, anchors, knots, climbing technique and rappelling while taking in useful advice from your guide. No need to worry if you're a seasoned climber though, because with climbs up to 5.14, you'll definitely find a real challenge in no time. Looking to spend the day with the fam'? Take your kiddos with you and have an adventurous family outing!
Full Day of Climbing with a Private Guide
With more than 8,000 routes in the high desert zone of Joshua Tree, you're bound to find your perfect paradise on your full-day rock climbing adventure. Whether you have specific objectives in mind or want to focus on certain aspects of your technique, partner up with your guide and create an ideal day on the rocks. Most access is flat and short, so you'll waste no time getting to the crag. As it's climbable almost year-round and features highly adhesive granite full of cracks, it's no wonder that JTree is a climbing mecca. Spend an exciting day on 2-billion-year-old rocks and conquer your objectives with the help of your personal guide!
Gym to Crag 101 Course
If you are climbing outdoors for the first time, join a guide on this one-day course! Your guide will help you make a safe transition to the crags with confidence.
Gym to Crag Anchor Building Course
Joshua Tree can be an intimidating place to climb with complicated anchor setups, few bolted anchors, and confusing approaches to the tops of formations. If you're interested in learning how to set up climbs with a variety of tools and expanding your options when climbing in Joshua Tree, this is a great opportunity.
The pricing of this course includes any gear rentals needed to successfuly master anchor building.
On this full-day course you will:

Learn anchoring techniques using a static rigging rope (Joshua Tree's most useful tool!)
Practice building anchors with boulders, bolts, and camming devices
Climb several pitches on anchors that we build together
Tour crags and climbs in Joshua Tree, where you can use the techniques taught
Receive a little goodie bag from Joshua Tree Skin Care, sponsor of this Gym to Crag series
Get free trip brochure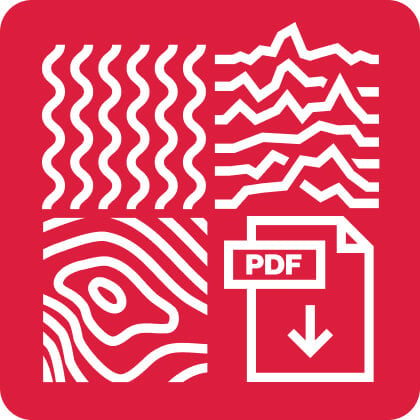 The brochure contains:
Adventure and location overview, itinerary, available dates, what's included, how to prepare, and much more.
Brochure sent, check your inbox
Talk with us
and let one of our adventure experts help you plan your perfect adventure.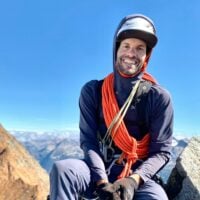 Nate Pakula
AMGA Certified Rock Guide, a Certified Single Pitch Instructor, and a Wilderness First Responder
AMGA Certified Rock Guide, a Certified Single Pitch Instructor, and a Wilderness First Responder
Nate was born and raised in Rhode Island but found himself at home in the outdoor education community of southern California. Over the past 10 years, Nate has worked full-time as an outdoor educator and climbing guide throughout the state of California and in Washington, New Hampshire, and Maine. During the off-seasons Nate follows his deep passion for climbing all over the world — from Southeast Asia, Patagonia, Mexico, India, Canada, and back to the western mountain ranges of the US.
The face behind High Desert Guiding is Nate Pakula, owner and guide. Nate has been guiding and teaching for over 15 years, and he has 20 years of climbing under his belt. As a Joshua Tree resident, he has explored Joshua Tree NP extensively and has a vast knowledge of the local environs. Whether you(re looking for a day of single-pitch cragging, a classic multi-pitch climb, or a focused day of instruction, Nate will find the perfect location for your desires!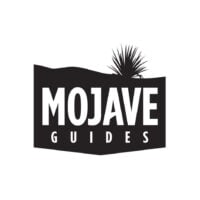 Mojave Guides
AMGA Certified Guides
Mojave Guides has been providing exceptional customized rock climbing experiences in Joshua Tree National Park since 2015. The company was founded by Joshua Tree resident and AMGA Certified Rock Instructor Seth Pettit as a means of providing his own clients with a higher quality experience than had been previously available.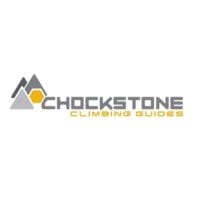 Chockstone Climbing Guides
Chockstone Climbing Guides
At Chockstone Climbing Guides they believe all clients deserve the best service from professionals that are trained in the current, highest standards of practice in our industry. They were the first Smith Rock guide service accredited by the AMGA in 1999. Their company follows best practices in the field and meets the highest industry standards of business practices regarding permits, insurances and environmental practices.

The Climbing Life Guides
The Climbing Life Guides
The Climbing Life Guides is a guide-owned business in Joshua Tree National Park specializing in customized rock climbing experiences tailored to its clients desires. The lead guide and owner, Nelson Day, is currently the guide with the highest level of professional certification in all of Joshua Tree!
Nate of High Desert Guiding was truly amazing! Nate\'s decades of experience were obvious, and this helped me to learn so much more than I could have ever thought. Nate taught me to crack climb, slab climb and lead belay from the top of a mountain. I climbed higher than I ever imagined and learned to use a bunch of equipment that I had only seen in climbing stores. Nate was always a true professional having my safety first, so I could relax and climb my best.
Truly a 5 star experience!
Andrew Dill
(source: Google Reviews)
James and Michael were awesome. They kept my kids (who are not climbers) happy and comfortable. We also did some multipitch and they made the process super easy. Definitely will do again.
Catherine W
(source: Trip Advisor)
Mojave Guides ensured we had an excellent day in Joshua Tree. Seth was enormously helpful on the phone before we booked in regard to safety and how our 9 year old would manage the climbs. And our guide on the day, Luis, was exceptional – calm, confident, patient and also good fun. Thanks Mojave Guides – we will be back!
allie mac
(source: Trip Advisor)
My experience was personalized and safe! It was an incredible opportunity for a one-on-one lesson. Taylor challenged me and helped me understand the sport from a historical and fundamental level. I'm hooked and want to try it again!
Will Vaughan
(source: Google Reviews)
My wife and I went on a half day climbing trip with Nelson. He was a fantastic guide and took us to an awesome multi-pitch route that was both challenging and super fun. Nelson walked us through new techniques and wasn't just a great climbing guide but also a fun guy to spend four hours with!
Katy Robinson
(source: Google Reviews)
We had a great experience climbing with The Climbing Life Guides. We booked a half-day climb. We met Carlin at the office, and they directed us to a great climbing spot in Joshua Tree National Park. Carlin was amazing. We have very little outdoor climbing experience, and Carlin was very patient and happy to teach us different climbing techniques. They were also great at selecting climbing routes that challenged us, and we never felt unsafe. We would 100% recommend to anyone who sees the amazing rocks in Joshua Tree and wants to take a crack at climbing them.
Things to know
What you get on this adventure:

An experienced, local rock-climbing guide with extensive knowledge of the area

A half or full day of rock climbing depending on your chosen itinerary

All technical climbing gear (feel free to bring your own)

What's not included:

Transportation to Joshua Tree

Park entrance fee

Accommodations

Meals

Parking

Guide gratuities — optional

If you can climb a ladder, you're good to go. Being in good shape is always a plus but far from necessary. Rock climbing is all about using good movement technique rather than muscling up a cliff using brute strength. To ensure you have a fun day, your guide will choose routes that best suit your skill and fitness level.

Joshua Tree has plenty of options for beginner climbers. Whether you've never climbed before or are transitioning from the gym to outdoor climbing, your guide will customize the day to suit your skill level and objectives. With a guide by your side, you'll learn something new, stay safe on the rocks, and most importantly, have fun!

For intermediate to advanced climbers, Joshua Tree has loads of routes to spend the day on. Your guide will discuss your objectives and customize the day to your goals. Let your guide plan the day so you can focus on developing your skills while climbing the classic routes or best hidden gems the area has to offer.

All technical climbing equipment will be provided by your guiding service. However, if you have your own gear, feel free to bring it. You'll need:

Helmet

Harness with a locking carabiner, belay device, and chalk bag

Ropes

Rock shoes (included in the price, but we recommend bringing your own if you have them)

Climbing hardware (quickdraws, cam devices, stoppers, etc.)

Here's a list of the equipment we suggest you bring:

Day pack large enough to carry all the items listed (around a 40L bag)

Water bottle

Food you can eat on-the-go

Toiletries (sunscreen, bug spray, toilet paper, etc.)

Sunglasses

Camera — optional

Dress comfortably and for the weather in clothes you can move in. We suggest bringing clothing appropriate for the season. Layers are best and don't wear jeans.

Group sizes and prices:

For these private adventures, maximum group size is set at 6 people at most.

The cost per person decreases as the group grows, so it's the perfect opportunity to hike with friends and family!

Rock climbing in Joshua Tree can be arranged for larger groups. Contact us to make arrangements.

Min. age requirements:

If you are older than 18, you're good to go.

Teens aged 14-17 can go on their own, but a guardian will need to provide a signed waiver before an outing with the guide.

Kids younger than 14 can go climbing on a case-by-case basis, but must be in the presence of a parent or legal guardian.

If you're looking to have an adventurous family day of private climbing, children as young as 3 can join!

If your group has climbers under the age of 18, contact us prior to booking to make arrangements.

Getting to Joshua Tree National Park is pretty easy — you simply fly into Palm Springs International Airport (PSP) and drive less than an hour east. The most common way to get to the climbing spots is to drive in from the town of Joshua Tree, heading south on Park Blvd towards the park's entrance. 

Once you and your guide agree on the details of your itinerary, your guide will suggest the best place to meet, usually at the park's entrance.

57hours is committed to providing safe outdoor adventure experiences. We require all guides using our platform to have a COVID-19 safety plan and to make the details of that plan accessible to travelers. In most cases, group sizes will be reduced, guides will avoid overcrowded locations, and other safety measures will be met depending on the location and activity. 

We also expect clients to respect local regulations and take measures to protect themselves, their guides, and the communities they're traveling to. For more information on COVID-19 measures in Joshua Tree, California, please refer to California's COVID-19 Response.

Please contact us if you have any questions or require further information. We are happy to provide you with the most up-to-date information!
Get free trip brochure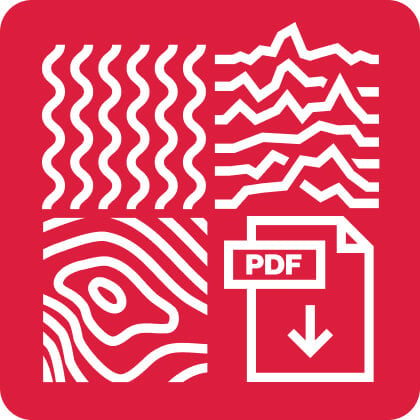 Adventure and location overview, itinerary, available dates, what's included and much more.
Brochure sent, check your inbox
Talk with us
and let one of our adventure experts help you plan your perfect adventure.
Other things to do in Joshua Tree National Park