Multi-Day Ice Climbing in Alberta's Rockies ‌
Canadian Rockies | Alberta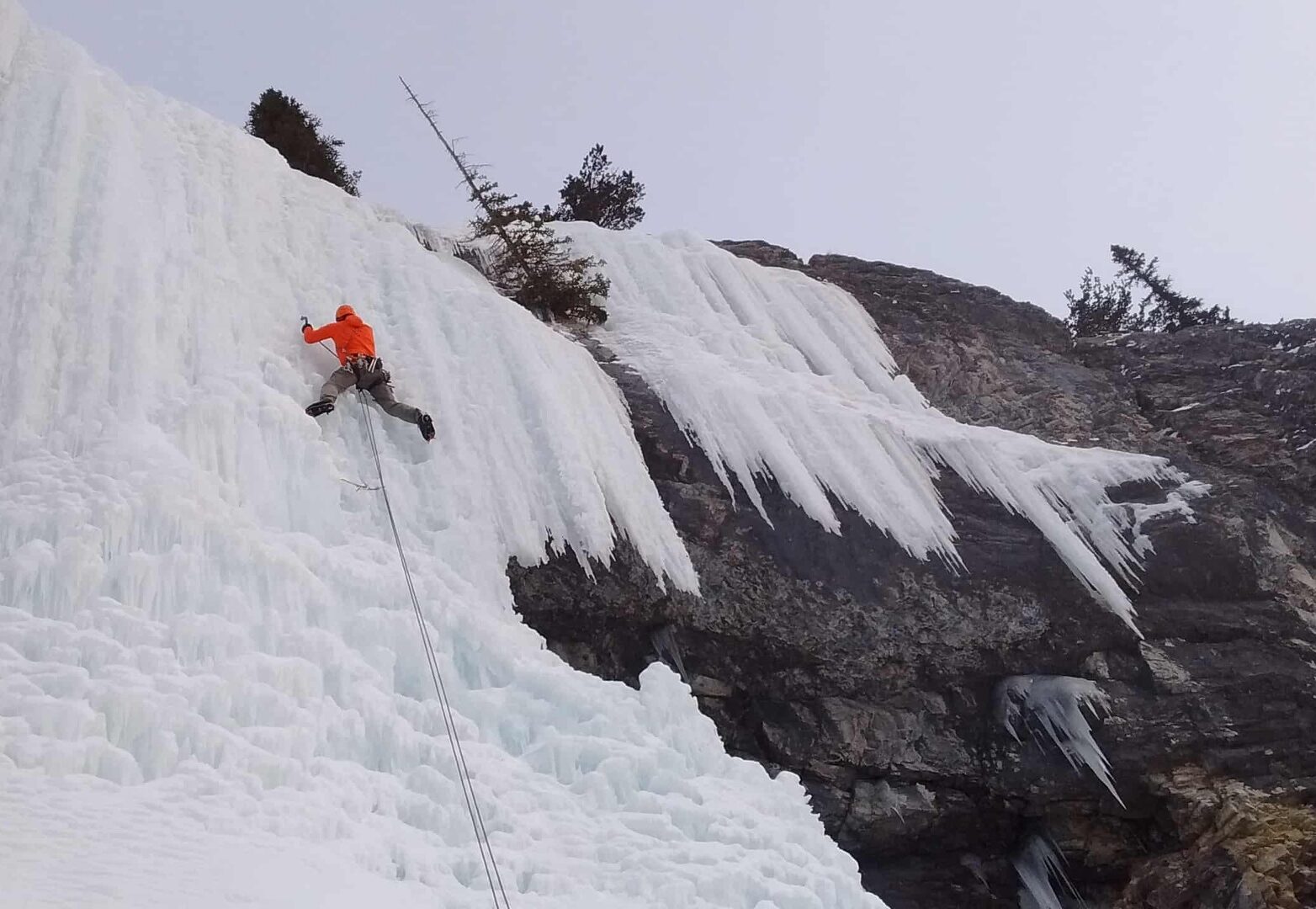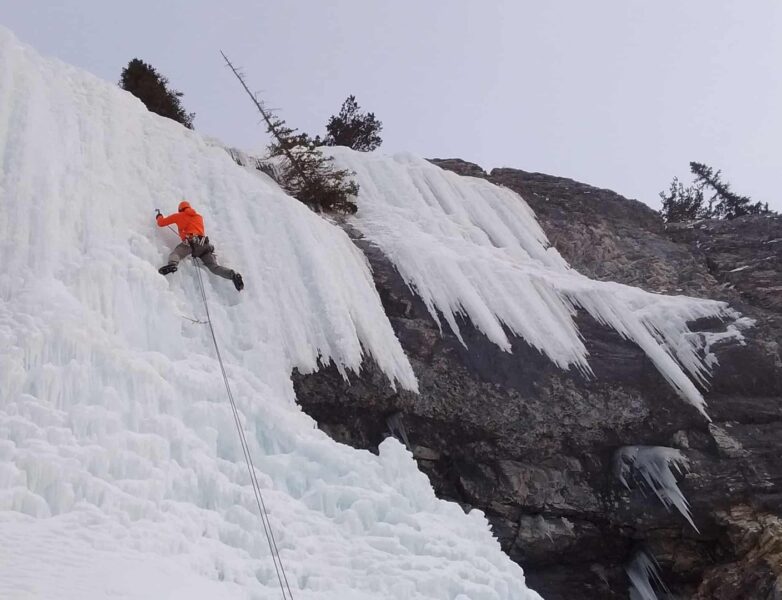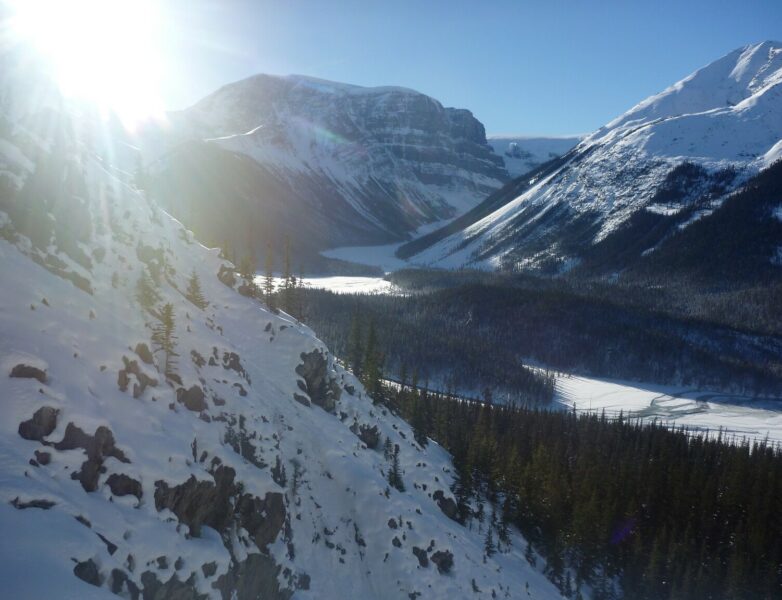 Top three reasons to go ice climbing in Alberta's Rockies
Feel new-found confidence after completing epic climbs

Top-notch ice and a multitude of routes allow you to brush up on your skills

Marvel at the sublime views of the Rockies frozen structures and dramatic landscapes
If you're a fervent ice climber in quest of top-tier frozen structures and epic ice cragging routes, you can't go wrong with the wide array of phenomenal ice climbing locations in Alberta's portion of Canadian Rockies. The perfect combination of steep terrain and freezing temperatures lends itself to some legendary climbs just waiting to be scaled. The majestic Bow Valley, Kananaskis, and the Ghost River Valley boast ample opportunities for climbers looking to hone their skills, while the Icefields Parkway Area—known for being the crown jewel of ice climbing in the Rockies—is an ideal destination for those in search of an adrenaline-fueled adventure. Stretching between Lake Louise and Jasper, this stunning area will not only offer the best climbing in the Rockies, but also the amazing rugged landscapes you can admire along the way. Join a professional guide and push your ice climbing skills even further on the Rockies' solid ice!
Nearest city

Calgary, AB, is 1.5 hours away from the Canadian Rockies
Choose how you spend your days
3-Day Intermediate Ice Climbing Adventure
Push your ice climbing skills to a whole new level in some of Canada's most breathtaking ice climbing spots! Work on more advanced climbing movements and techniques and experience a boost of confidence upon conquering some amazing frozen structures. Discover the quality ice in the Bow Valley, Kananaskis, and Ghost River area and immerse yourself in Canada's jaw-dropping scenery all around you.
4-Day Advanced Ice Climbing Adventure
Head straight to Alberta's Rockies and spend four days ice climbing advanced routes in this winter wonderland. Push your boundaries on some of the frozen structures suitable for those who have more experience under their belt and work on your technique and safety skills to become an even better ice climber. Begin your adventure in the Bow Valley and conquer some classic lines on Alberta's Icefields Parkway, the area synonymous with the best ice climbing in the Rockies!
Itinerary
3-Day Intermediate Ice Climbing Adventure
Day 1: Advanced climbing movements
On the first day of this exciting adventure, you'll meet up with your guide at a predetermined location and the guide will talk you through some of the topics you'll cover. Head to various ice climbing locations around Bow Valley, Kananaskis, and the Ghost River and work on advanced ice climbing movements and progress your climbing grade and confidence in the process on Alberta's finest ice structures. Learn about building ice screw anchors and how to place screws while leading routes.
Day 2: Consolidating knowledge from the previous day
You'll once again head to different ice climbing spots in Alberta to consolidate your knowledge from Day 1. The Ghost River Valley has loads of frozen waterfalls for all grades. Have your experienced guide show you the more advanced ice climbing movements and techniques and conquer some epic icy formations. You'll continue learning about building ice screw anchors and how to place screws while leading routes.
Day 3: Classic multi-pitch route in Bow Valley
On the last day of this adventure, you'll head to Bow Valley in order to scale one of the many classic multi-pitch routes and this will introduce and review multi-pitch rappelling, a much needed skill for big climbs and mountains. After your enticing adventure in the magical Rockies has finished, you'll walk away a much more competent ice climber.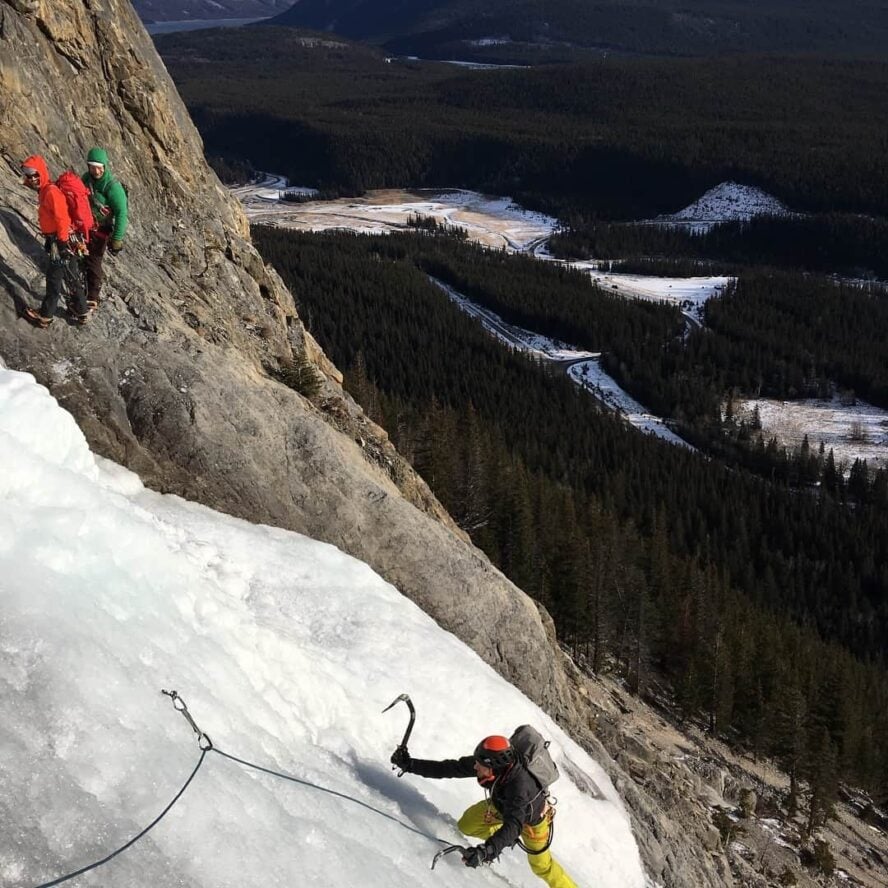 4-day Advanced Ice Climbing Adventure
Day 1: Bow Valley
On the first day of this enthralling adventure, you'll meet up with your guide at a predetermined location and the guide will talk you through some of the topics you'll cover over the next four days. Set out to various ice climbing locations around the stunning Bow Valley in Alberta. Bow Valley boasts a slew of routes which vary in difficulty, length, and access, but your guide will show you the best ice climbing gems in the area. Work on your advanced techniques, safety skills, and much more!
Day 2: Head north
You'll head towards Lake Louise and continue improving your ice climbing techniques and safety skills. Continue heading north towards Rampart Creek and the famous Icefields Parkway where a whole host of classic lines are just waiting to be conquered. This stunning location is the epitome of the best ice climbing in the Rockies. Ascend advanced waterfall ice routes with glaciers and mountains all around you and immerse yourself in ice climbing in this frozen dreamland.
Day 3: Continue ice climbing around Icefields Parkway
On this day you'll continue climbing the various ice cragging routes for more experienced ice climbers in Icefields Parkway. The Weeping wall is one of the most famous routes in this scenic ice climbing area. While conquering frozen waterfalls and other magnificent icy structures, your guide will instruct you and help you achieve all your ice climbing objectives on high quality ice that Icefields Parkway has to offer.
Day 4: Icefields Parkway and departure
On the last day of this epic adventure, you'll climb more routes in Icefields Parkway and test your skills on some multi-pitch routes. Seeing as this is your last day on ice, spend some time appreciating the stunning scenery around you before heading home!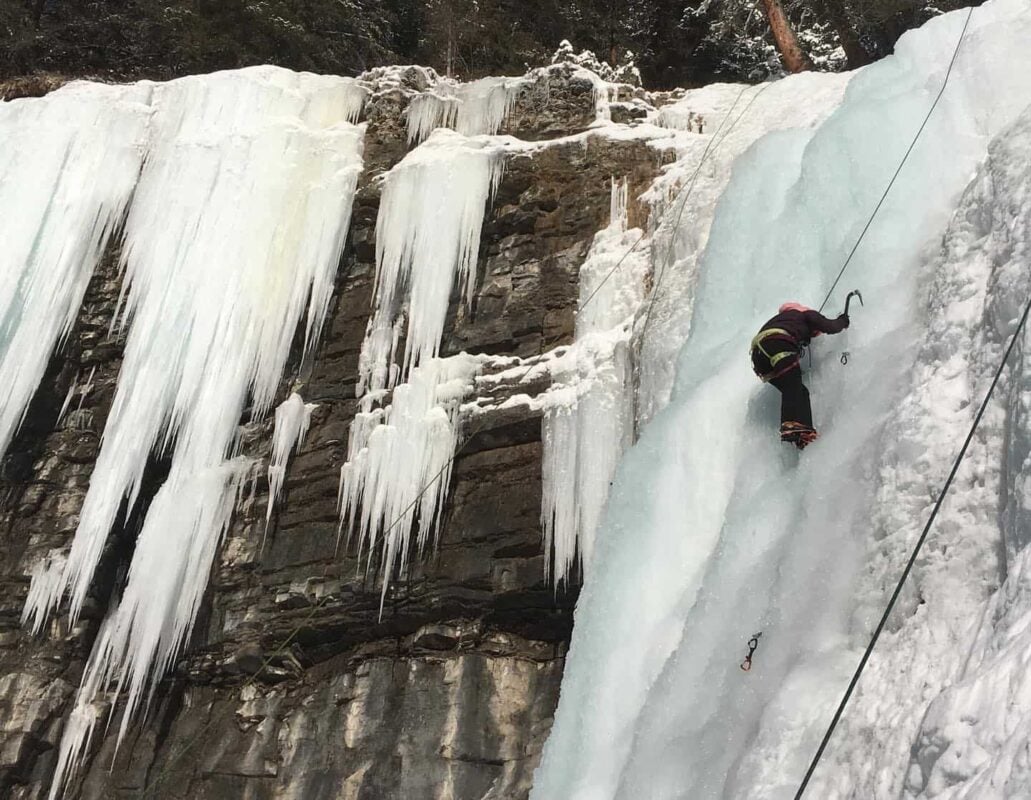 Meet your guide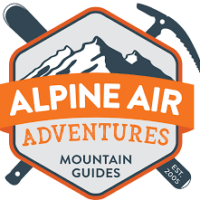 Alpine Air Adventures
You're never on your own in the Banff wilderness because the experienced professionals from Alpine Air Adventures are here to guide you. While they know how to have a great time, they're always mindful of advanced safety practices. They're committed to showing each of their guests the best of the Rockies while protecting them every step of the way.
High adventure fun
Greg
about
Alpine Air Adventures
on TripAdvisor
We were on a trip guided by Maarten. He was an excellent guide who not only taught us ice climbing, he also shared all kinds of mountaineering knowledge with us and was happy to answer all of our questions. He provided a high adventure experience while never compromising safety. A true pro and really nice guy. The overall operation was extremely professional and the condition and quality of the climbing gear were top-notch!
Outdoor adventures
Monika
about
Alpine Air Adventures
on TripAdvisor
I've been sport rock, trad rock, ice climbing, crevasse coursing, and avalanche training through Jeff for many years now. His knowledge of the Rockies is incredible and he brings a really light and fun atmosphere to a training environment every single time we are out. Jeff's physical abilities and his "let's do it" approach give me huge peace of mind. There is never anyone else I would want to contact first to head out on a mountain adventure with.
Intermediate Ice Weekend
Quest11274204843
about
Alpine Air Adventures
on TripAdvisor
As always, an exceptional experience arranged by Jeff. Sebastian was an excellent teacher and based the lessons on each member's level of experience.
Things to know
Covid measures in the Canadian Rockies
57hours is committed to providing safe outdoor adventure experiences. We require all guides using our platform to have a COVID-19 safety plan and to make the details of that plan accessible to travelers. In most cases, group sizes will be reduced, guides will avoid overcrowded locations, and other safety measures will be met depending on the location and activity.
We also expect clients to respect local regulations and take measures to protect themselves, guides and the communities they're traveling to. For more information on COVID-19 measures in the Canadian Rockies, Alberta, please refer to the COVID-19 travel guidelines for Alberta.
Please contact us if you have any questions or require further information. We are happy to provide you with the most up-to-date information!
What's included?
What you get:
An experienced, local ACMG / IFMGA Mountain guide with extensive knowledge of the area
3 or 4 days of ice climbing instruction and practice depending on your chosen itinerary
Use of group technical gear
For the 4-Day Advanced adventure: 3 nights' accommodation in shared rooms at mountain hostels
Not included:
Transportation
Accomodations for the 3-Day Intermediate adventure
Personal climbing equipment (can be rented from your guiding service)
Boots
Meals and snacks
How fit do I need to be?
If you can climb a ladder, you're good to go. Being in good shape is always a plus but far from necessary. Ice climbing is all about using good movement technique rather than muscling up ice formations using brute strength. To ensure you have a fun day, your guide will choose routes that best suit your skill and fitness level.
What if I've never ice climbed before?
In order to participate in these adventures, you need to have some prior ice climbing experience under your belt. For intermediate to advanced climbers, the Canadian Rockies have loads of routes to spend the day on. Your guide will discuss your objectives and customize the day to your goals. Let your guide plan the day so you can focus on developing your skills while climbing the classic routes or best hidden gems the area has to offer. If this is your first time on ice, join a guide for a day of Intro to Ice Climbing.
What about required equipment?
Technical climbing equipment will be provided by your guiding service for the Intermediate Ice Climbing Adventure, except for boots. Personal climbing gear can be rented from your guiding service. If you have your own gear, feel free to bring it. You'll need:
Helmet
Climbing harness
Mountaineering boots
2 technical ice climbing tools (for intermediate and advanced ascents)
Crampons (12 point, must fit your boots)
Ice ax
Here's a list of the equipment we suggest you bring:
Backpack large enough to carry all the items listed (around a 40-55L bag)
Warm hat/toque
Neck tube/balaclava
Waterproof mountaineering gloves or wool/fleece mitts/gloves
Waterproof over mitts (two pairs)
Lightweight winter ice climbing gloves (tight fit)
Outer waterproof jacket with hood
Heavyweight fleece or insulated down jacket with hood
Medium-weight fleece sweater
Wool or fleece long sleeve shirt
Shoeller material, wool/nylon blend or fleece pants
Waterproof knee-length gaiters (that will fit over large boots)
Polypro, wool, capilene or fleece long top and bottom underwear
Wool/blend socks (clean socks for each day)
Sleeping bag for the hostels (for the Advanced Ice Climbing Adventure)
1-liter water bottle
Thermos with a warm beverage
Food you can eat on-the-go
Toiletries (sunscreen, lip balm, toilet paper, etc.)
Sunglasses
Headlamp with fresh batteries
Pocket knife
Blister kit
Trekking or ski poles
Camera — optional
Dress comfortably and for the weather in clothes you can move in. We suggest bringing clothing appropriate for the season. Layers are best and don't wear jeans.
Group sizes and age requirements
Group sizes and prices:
For these adventures, the usual guest to guide ratio is 6:1 (2:1 for multi pitch climbs).
Cost is per person and it doesn't decrease as the group grows.
If joining alone, you'll be placed with peers that share a similar level of experience.
Ice climbing days in the Canadian Rockies can be arranged for bigger groups. Contact us prior to booking.
Min. age requirements:
If you are older than 18, you're good to go.
Minors as young as 14 may be permitted to climb on a case-by-case basis, but must be in the presence of a parent or legal guardian.
Children and minors younger than 14 aren't allowed to participate in this tour.
If your group has ice climbers under the age of 18, contact us prior to booking to make arrangements.
Getting there and meeting location
To get to the Canadian Rockies, most people fly into Calgary International Airport 1.5 hours away. From there, you can rent a car or take a bus.
Once you and your guide agree on the details of your itinerary, your guide will suggest the best place to meet, whether that's at the guide shop or a predetermined location. The guide will choose the appropriate terrain dependent on conditions and the ability of the group.