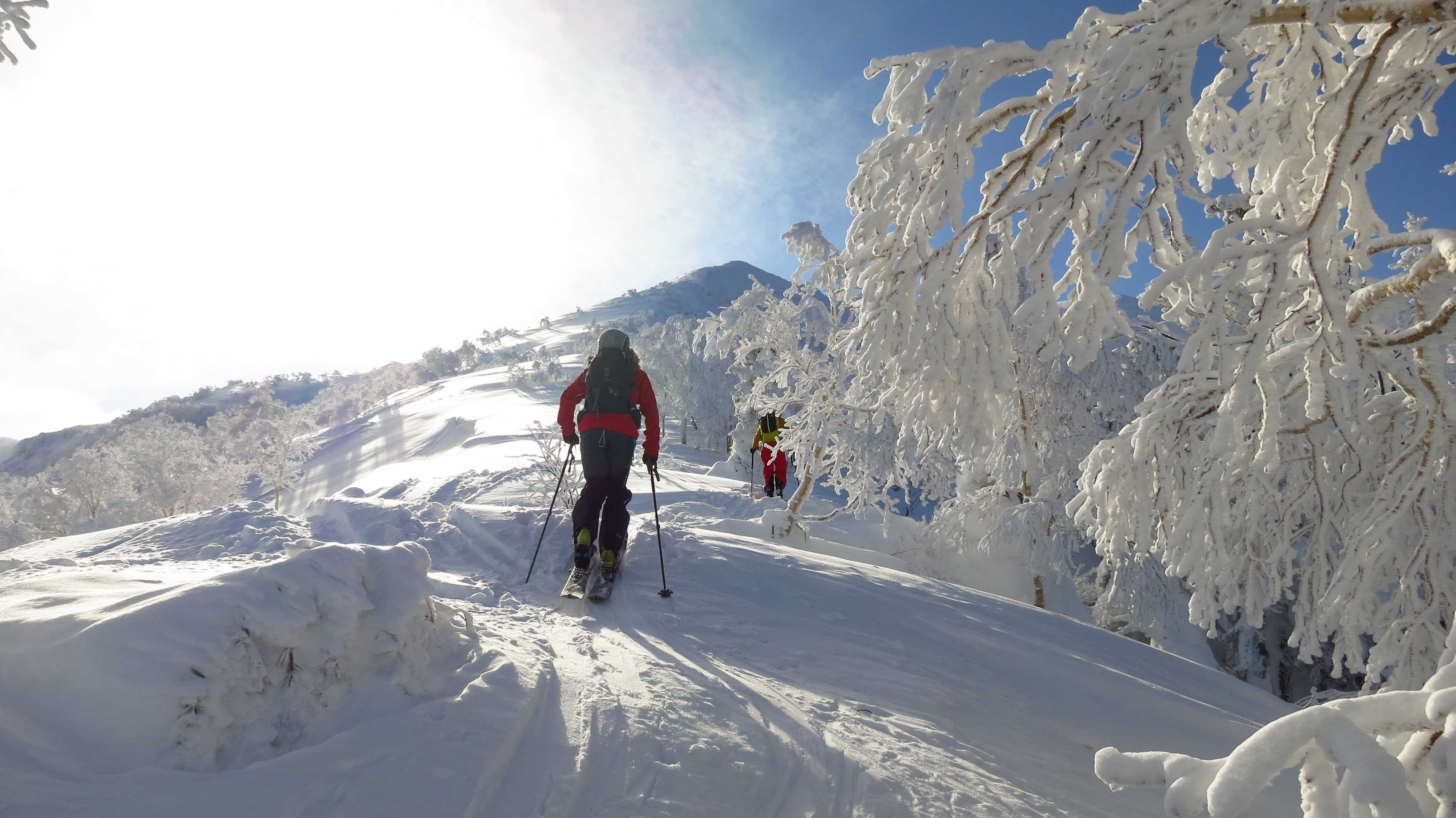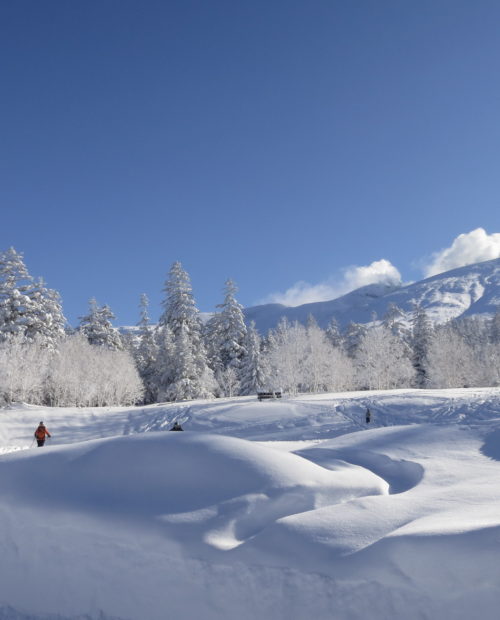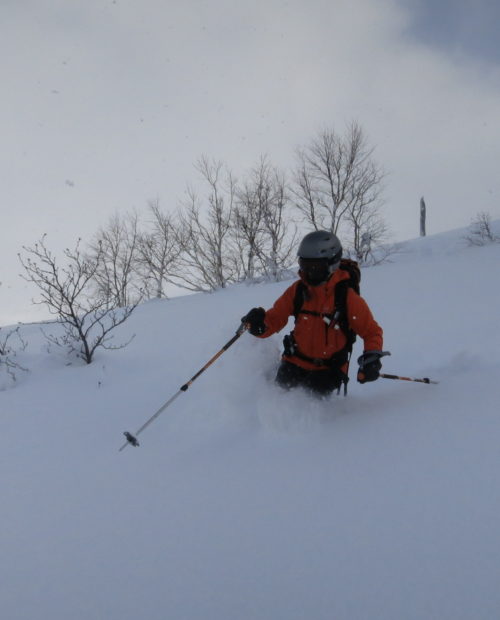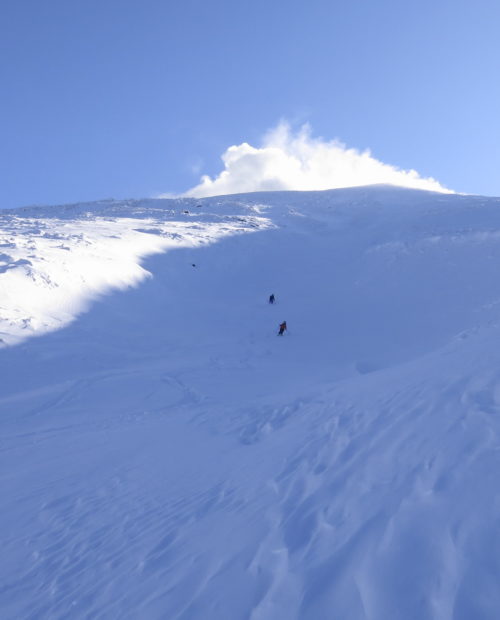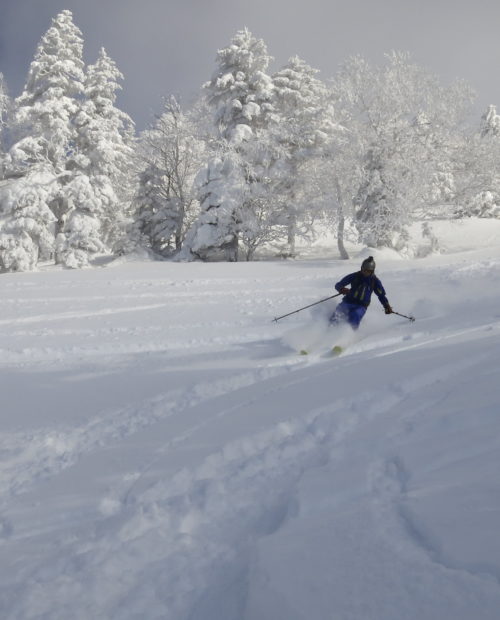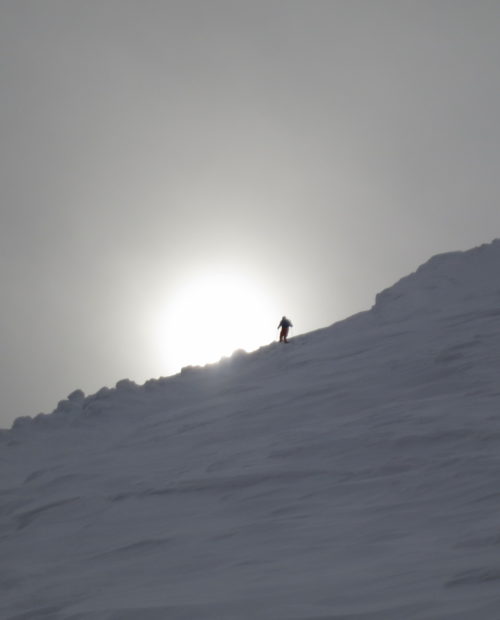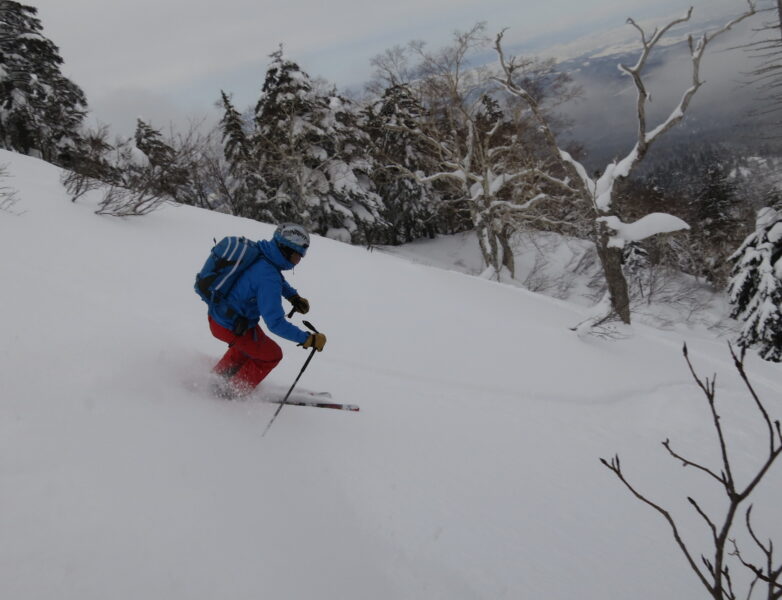 Volcano Backcountry Skiing in Hokkaido, Japan
Nearest city
Sapporo is three hours away. The Niseko area is 20 minutes from Mount Yotei and Mount Shiribetsu. Mount Tokachi is a 4-5 hour drive from Niseko and about an hour from Furano.
Duration
1 day; minimum 2 days for Mount Tokachi
Guides
Tracy Lenard, Niseko Mountain Guides
Skiing a volcano should be added to everyone's bucket list
At 1107 meters, the extinct volcano, Mount Shiribetsu, offers a daunting backcountry challenge with perfect lines averaging 650 meters and steep slopes up to 40 degrees! At 1898 meters, a semi-active volcano, Mount Yotei, is one of Hokkaido's highest peaks. The huge volcanic crater might be a challenge to reach, but it offers a 140-meter-deep bowl and a surreal ski descent — the longest vertical line on the island of 1500 meters, and some of the best powder ski opportunities around. As the cherry on this powder-perfect top, joining the magical trio is Mount Tokachi, an active volcano reaching an impressive 2077 meters, offering a literal steamy adventure and extraordinary 600m+ verticals!
Volcano Backcountry Skiing on Mount Shiribetsu
Spend the day skiing deep, fresh powder, among the Japanese birch tree glades, and enjoy the spectacular views from the volcanic Mount Shiribetsu. Wide, unobstructed terrain gives you a myriad of options. Explore the best locations carefully chosen by your experienced guide and enjoy a day on the slopes!
Volcano Backcountry Skiing on Mount Yotei
The best powder skiing happens on Yotei, a volcano you cannot avoid seeing when visiting the Niseko area. The consistent and fresh powdery snow, as well as 30+ degree slopes and astonishing vistas make for the perfect terrain for intermediate and advanced skiers. Let your guide take you powder hunting for the best stashes and hidden gems of Mount Yotei, and spend the day having some extreme fun doing laps on the untracked slopes!
Volcano Backcountry Skiing on Mount Tokachi
East of Sapporo, located in Daisetsuzan National Park, Mount Tokachi contains great terrain for epic ski adventures. Away from the hustle of the established resorts, this premier backcountry location offers insanely deep snow, a mixture of alpine terrain up high and classic Hokkaido trees. Nothing comes close to the spectacular ridges and slopes of this magnificent volcanic range.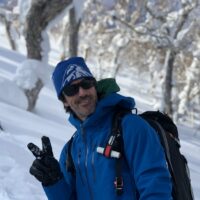 Tracy is an AMGA Apprentice Ski, Rock and Alpine Guide and the owner of Niseko Mountain Guides. Japan has been home for over 20 years and in that time he has climbed, skied, and trekked all over Japan and never tires of sharing the natural elegance of the rugged landscape with residents and visitors alike. Tracy is also a Leave No Trace trainer and works with the American Alpine Institute in North America.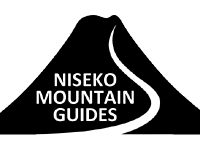 Niseko Mountain Guides
Niseko Mountain Guides
Niseko Mountain Guides is a small mountain guiding company based year-round out of Niseko, Japan. They offer private guided outdoor experiences in both Japan and North America. Risk management and quality of experience are the foundation upon which everything is built at Niseko Mountain Guides. Most guides are AMGA certified and have years of experience, and will show you the best places Niseko has to offer.
Things to know
Japan is not yet open to mass tourism. However, guided package tours are allowed for a highly restricted number of tourists. All passengers entering Japan from overseas are required to submit a certificate proving a negative test result for COVID-19 that was conducted within 72 hours of departure for Japan. Your guide also requires all of their clients to provide proof of vaccination or a valid negative PCR/antigen test result.

57hours is committed to providing safe outdoor adventure experiences. We require all guides using our platform to have a COVID-19 safety plan and to make the details of that plan accessible to travelers. In most cases, group sizes will be reduced, guides will avoid overcrowded locations, and other safety measures will be met depending on the location and activity.

We also expect clients to respect local regulations and take measures to protect themselves, guides and the communities they're travelling to. For more information on COVID-19 measures in Hokkaido, please visit Japan Travel.

Please contact us if you have any questions or require further information. We are happy to provide you with the most up-to-date information!

With us, it's all play and no work for you! 57hours is an open platform that connects you with trained and certified outdoor adventure professionals all over the world. Using our tech-savvy, we make it super easy to find and book adventures worth tackling, with guides worth booking, all gathered from the first-hand experiences of the locals who adventure in these amazing locations.

A certified ski guide will take all of the guesswork out of your time in the backcountry. From tour planning to route selection, terrain management, avalanche safety, and gear knowledge, your guide's expertise and backcountry experience will ensure you have an unforgettable ski touring adventure.

It doesn't matter your skill level, whether you've never backcountry skied or you're seasoned on the slopes, skiing with a guide has its advantages. Your techniques will sharpen, you'll learn how to navigate terrain safely, make smart decisions, and most of all, you'll remain safe in unfamiliar terrain.

This backcountry adventure is for intermediate to advanced skiers. It offers some of the steepest terrain in Hokkaido and there is no avalanche management, so the skiers should have finished at least an AAI Level 1 Avalanche course. If you've never backcountry skied before, we recommend you opt for a private intro to backcountry skiing in Niseko.

What you get in this adventure:

An experienced, certified ski guide with extensive knowledge of the area
A full day of backcountry ski touring
Transportation to and from the skiing location

What's not included:

Technical backcountry ski touring equipment
Trip insurance
Transportation to and from your accommodation
Accommodation
Meals
Onsen (hot springs)

In order to enjoy this backcountry adventure, you need to have an excellent level of fitness. You will be on your feet for a full day. The terrain is for intermediate to advanced skiers, since you will need to manage steep descents in variable conditions. Mount Yotei is dominated by slopes between 30 to 45 degrees, avalanche terrain, so all skiers should have finished at least an AAI Level 1 Avalanche course. All participants should feel comfortable on black level resort runs, steep descents up to 40 degrees, and be able to carry a loaded daypack while skinning up variable degrees of terrain.

For technical backcountry ski touring gear, you will need to bring:

Alpine touring skis, telemark skis, snowboards with snowshoes (can be rented), or splitboard with skins and crampons for skis and splitboards
Touring boots and poles (can be rented)
Avalanche safety equipment (can be rented):

Digital, 3-antenna avalanche transceiver or beacon
Lightweight snow shovel
Avalanche probe

For personal items, we recommend bringing:

Helmet
Sunglasses or ski goggles
Warm hat
Sun hat
Ski socks
Lightweight base layer top
Lightweight fleece jacket
Softshell jacket with hood
Puffy jacket with hood
Hardshell jacket with hood
Lightweight baselayer bottom
Softshell pants
Hardshell pants (worn over softshell pants for snowmobile)
Repair kit and Leatherman for your equipment (can be shared between several people)
Water bottle and 1L of water
Thermos with warm beverage — optional
Food you can eat on-the-go
First-aid kit
Sunscreen
Daypack large enough to carry all items listed (around a 30-40L backpack)
Camera — optional

Ski crampons may be needed for advanced tours, but your guide will let you know after booking.

All mandatory gear can be rented if you don't have your own. You can rent:

Ski rental locations are in Niseko and should be picked up the night prior to your outing. If you need to rent gear, let us know and we can help make arrangements.

Your backcountry ski tour will be fully customized to match your skill level and objectives. You and your guide will discuss route selection, skills development, and whatever else you'd like to focus on. From there, your guide will plan the perfect day tailored just for you taking into consideration factors such as weather and snow conditions.

Depending on your objectives, full days may start earlier and end later, but in general, your day will look like this:

Meet the night before for introductions and to double check gear
6:00 am: Guide picks up guests from accommodation
7:00 am: Departure from trailhead; gear up, go over safety considerations, and spend the day hiking and skiing, with plenty of food and drink breaks for maintaining energy levels while you take in the stunning views.
3:00 pm: Back to the trailhead where the transportation is waiting; debrief and high fives.

Everybody over the age of 18 is welcome to book this backcountry skiing adventure.
Minors may be permitted to join private tours on a case-by-case basis. If you plan to ski with anyone under the age of 18, please contact us prior to booking to make arrangements.

For this adventure, the max client to guide ratio is 4:1. The cost per person decreases as the group grows, so it's the perfect opportunity to backcountry ski with friends and family.

Volcano ski touring in Hokkaido can be arranged for larger groups. Contact us to make arrangements.

Mitigating avalanche risk is paramount for any excursion in the backcountry — that's why it's best to tour with a guide! Rest assured, your guide will set objectives that are attainable for the weather conditions on that particular day. Of course, inclement weather can always get in the way of backcountry skiing, but your guide will know the best course of action to take if the weather takes a turn.

On the rare occasion of truly bad weather, your guide will present you with suitable, safe alternatives. The most common practice is to move to a nearby location if it exists, or to reschedule your backcountry ski tour to a more favorable day.

If backcountry skiing is not possible on your scheduled day and no options presented are viable, you will be issued a full refund.

We highly recommended that you cover all your bases with both emergency medical and travel insurance. With medical insurance, if you have an accident or medical emergency on or off the mountain, you'll avoid paying out of pocket for costly expenses. This covers everything from hospital treatments to emergency air transportation and more.

As we've recently seen, travel plans can be abruptly halted, so it's a good idea to purchase travel insurance that covers cancelled flights, natural disasters and other scenarios that may interrupt your travel plans. For peace of mind, we suggest you consider both options of insurance.

If you need assistance selecting the right insurance for your group, let us know and we will be happy to help!

With 57hours, you benefit from both our own cancellation policy as well as that of the individual guiding service that delivers your adventure. All policies regarding cancellation will be clearly laid out by your guide after booking your adventure, but rest assured that our own cancellation policy will work on top of what is provided by your guide.

For this adventure, 57hours offers a Moderate Cancellation Policy, which states:
If Client cancels the Booking anytime prior to thirty (30) calendar days in advance of the trip contemplated by the booking, Client is entitled to a full refund. For cancellations fourteen (14) to twenty nine (29) calendar days in advance, Client is entitled to a refund in the amount of fifty percent (50%) of the total amount paid when Booking. For cancellations zero (0) to thirteen (13) days in advance, the Client is not entitled to any refund.

For more information on terms and conditions, please visit our Terms of Service page.

To get to Mount Shiribetsu, Mount Yotei and Mount Tokachi, you will have to make two flights. The first is to Narita International Airport, Tokyo, and then on to New Chitose Airport, Sapporo. To get to Mount Shiribetsu and Mount Yotei from Sapporo takes about 3 hours and your options are bus transfer, private transfer, the train or rent-a-car to Niseko, which is the closest town to the trailheads. To get to Mount Tokachi from Sapporo takes just under 3 hours. From Sapporo you can take a bus transfer, train ride or rent-a-car to Furano, which is about an hour away from the trailhead.

Your guide will pick you up at your accommodation and take you to the skiing location. From there, you'll start your tour. The guide will choose the appropriate terrain dependent on conditions and the ski ability of the group.
Other things to do in Hokkaido