How to Reduce Your Carbon Footprint While Backcountry Skiing
EPIC ADVENTURE WEBINAR BY
Thu
Dec
2nd
1:00 PM
EDT
One skier's journey to preserve the environment by living green
Register for free and join us December 2nd, for this free live info-session with Greg Hill, ACMG Ski Guide extraordinaire and zero-emission adventurer.
When it comes to the world's best powder, ACMG Ski Guide Greg Hill has seen and done it all, including nabbing a world record for skiing more than two million vertical feet in a single year. Spending so much time in the backcountry and seeing the world's glaciers recede at alarming rates and then watching his hometown of Revelstoke engulfed in wildfire smoke this past summer, Greg couldn't help but feel he's contributed.
The unfortunate truth is that, despite getting so much from the outdoors, we are harming the very places we love through our combined carbon footprints. Something has to change.
In our modern age of doom-and-gloom media it's easy enough to succumb to eco-anxiety and feel powerless in the wake of climate change. What can one person do? This is the question that set Greg on the path of eco-guiding.
Join us for this important talk on sustainably minded trips, in which Greg will discuss ways to evaluate our effect on the environment and minimize our footprints at home and abroad.
We all want to live adventurous lives—and leave a world for our children to do so too—so let's explore ways to live and travel better!
WHAT YOU GET IN THIS ONE-HOUR SESSION
GREG WILL SHARE
His journey to becoming a sustainable adventurer
The challenges and rewards of being part of the solution
How to calculate your own carbon footprint
His five top areas of personal change
How you can help drive environmental policy change
Stories from his green ski trips and ski-cations
LIVE Q & A SESSION
Greg will follow up with a live Q&A session, where you can ask him anything you want to know about stepping on the path of sustainable skiing.
Get free professional advice from a legendary ACMG guide leading environmentally-friendly ski trips.
After hearing Greg's story, you'll be inspired to join the growing movement of outdoor lovers focusing on preserving the environment through sustainable trips.
Webinar host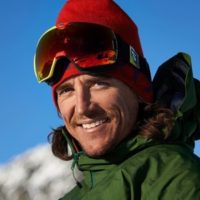 Greg Hill
ACMG Ski Guide and Emission-Free Adventurer
Greg Hill is known far and wide for incredible first ascents and all-around skiing prowess. He's also a good friend of 57hours. His mountain accomplishments are too many to list here, but he's known for skiing the odd two million vertical feet in a single year, and he's also skied 50,000 feet in 24 hours just because he can. Oh, yeah — he also climbed and skied 100 kilometers in a single month. Not too shabby. Greg's also changing the world with his outdoor pursuits by practicing zero-emission adventuring.
By signing up you will also subscribe to the 57hours newsletter. You may opt out anytime.