How to Stay Warm: Tips for Hiking in Winter
Being diagnosed with Raynaud's Syndrome (a debilitating circulatory response to cold) has taught me creative ways to stay warm while hiking in winter. I hope these tips will help you enjoy getting out during the colder months too.
Unable to cinch my crampons with ghostly white and purple fingers, I stared up at the steep narrow passage of Mt. Hood's Pearly Gates that led to the summit.
I'm never going to make it, the words clangor in my head. I'm too freaking cold!
Salty tears poured down my frozen cheeks, not just from disappointment but from the bone-sawing pain in my hands and feet.
Below-freezing alpine starts paired with my inability to handle the cold made Mt. Hood nearly impossible. It wasn't until my 10th attempt that I summited via the Sunshine Route. I thought it was a suitable name, given I'd finally figured out how to stay warm.
Winter Doesn't Need to Be Your off Season
Has the cold held you back from winter hiking? Perhaps the toe-tingling thought of it makes you shudder?
I don't know about you, but when the days get colder and shorter, the winter blues set in. More time is spent indoors eating holiday candies while either planning my next summer expedition or reminiscing about past trips.
For years I avoided winter hiking, and when I was diagnosed with Raynaud's Syndrome, I figured it would be the end of my mountaineering too. After enough bouts of sharp spasms in the toes and fingers and unnerving skin discoloration, it made me want to swear off the whole season.
As I advanced in mountaineering, I became better equipped for the cold—learning about proper layering, how to stay warm during rests, and supplementing heat with other sources like hand warmers or your trusty thermos.
Today, winter hiking is the perfect antidote to those restless days. There's nothing better for the body (or the mind) than crisp air, a lofty dose of vitamin D, and sweeping views from peaks capped in fresh powder. I realized that my adventures don't have to end—in fact, they're just getting started!—and hopefully these tips can help you enjoy winter hiking too.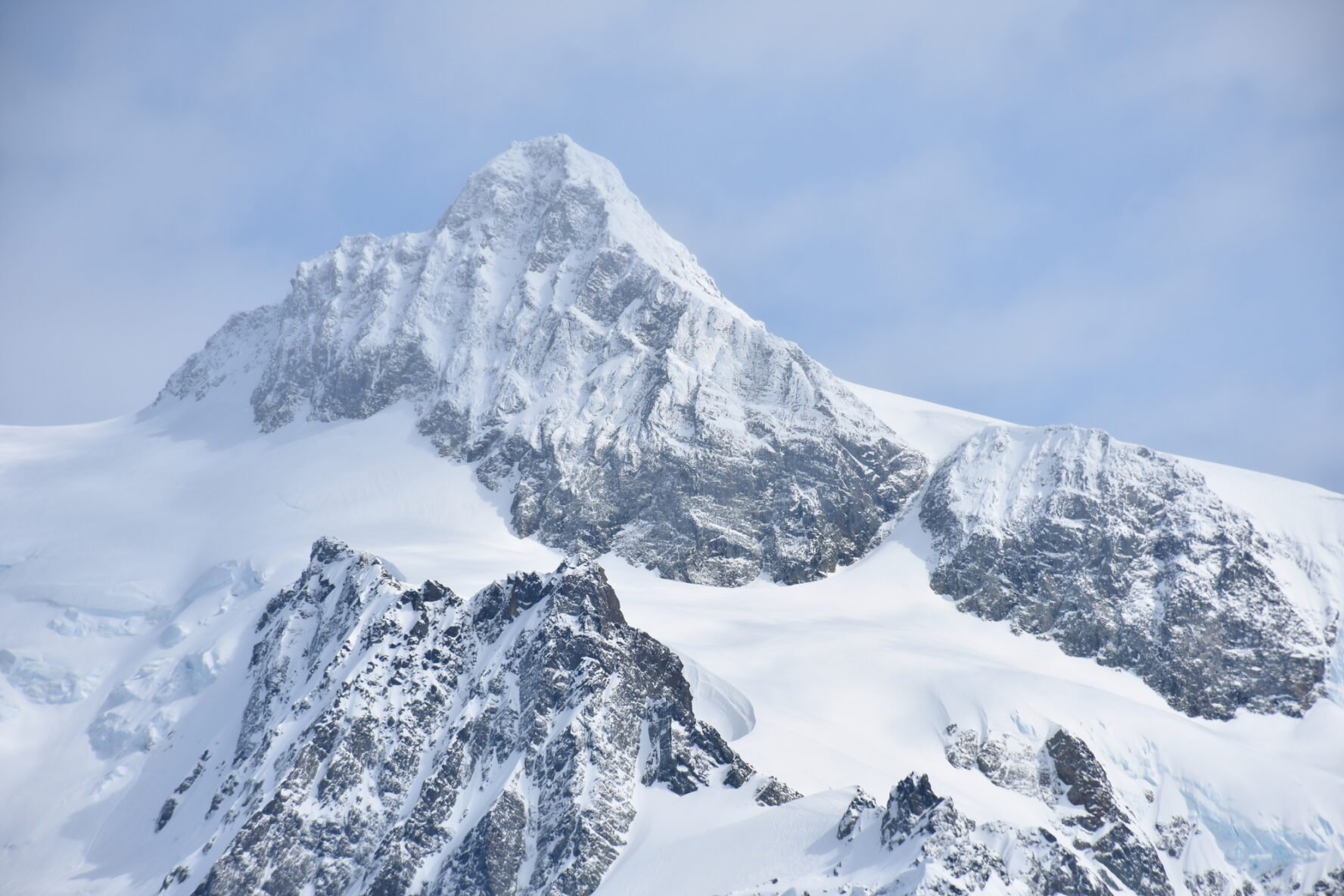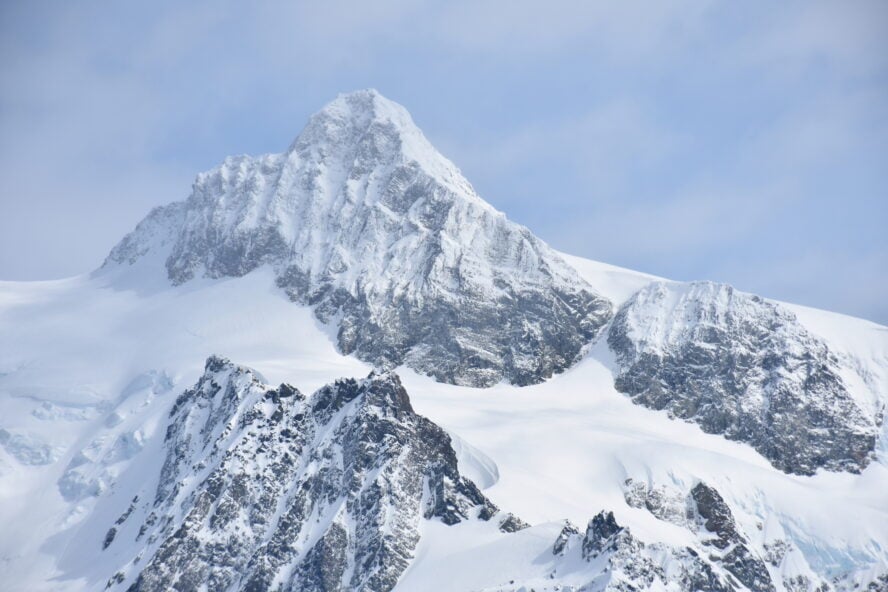 Know Before You Go: Prepare for Your Winter Hike
Hiking in winter requires more planning than going in warm weather. Days are shorter and approaches are often longer because of closed or unmaintained back roads that lead to trailheads.
After you've selected a suitable winter hiking trail, you need to secure a dry weather window (you don't want to be wet in freezing temps). I like to check several different weather apps to get a comprehensive outlook. It's also important to cross-reference temperature and windchill forecasts. A temperate 38 degree day can feel more like sub-zero with an intense wind chill.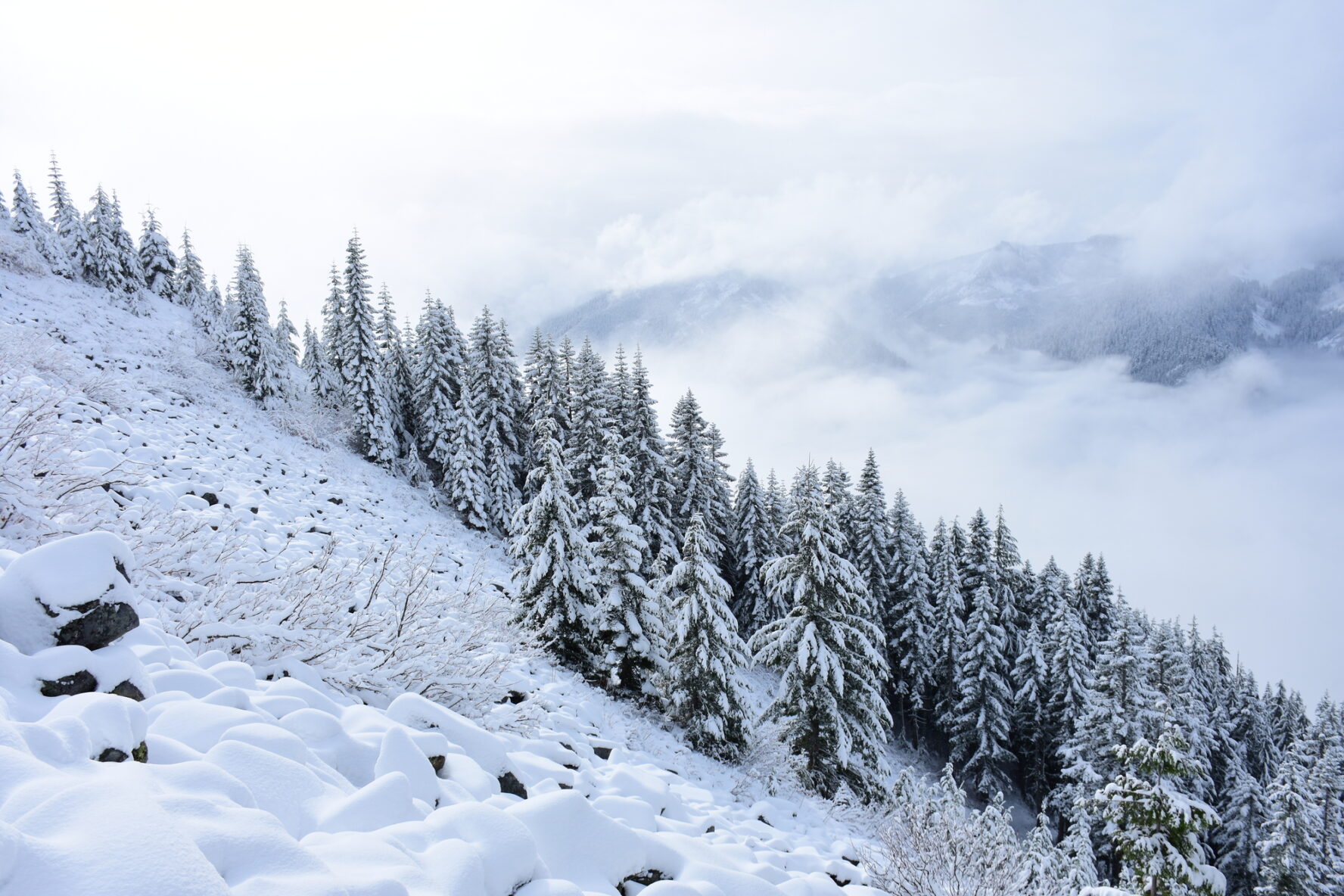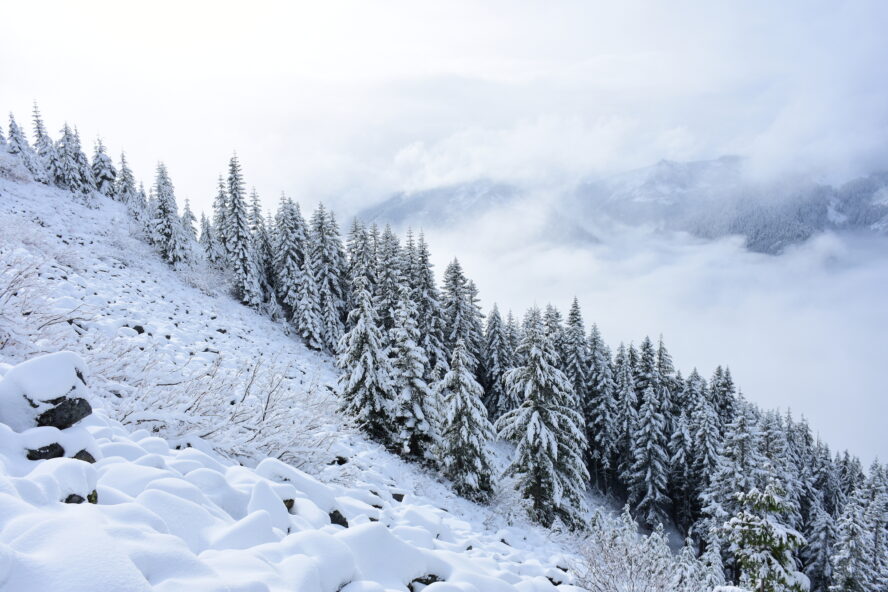 If the trail has some incline or there have been reports of heavy snow in the area, I always check the avalanche forecast. NOAA is a widely used app for weather and avalanche information. To travel safely in this terrain, consider taking an avalanche course to help you manage backcountry risk.
Above all, winter hiking demands flexibility. While you don't have to call off a trip if there's a little precipitation, you need to know your limitations. If conditions worsen, be prepared to end a hike early or consider rescheduling.
Gear List: What to Wear Winter Hiking
Staying warm while winter hiking requires lots of clothing. With such a low tolerance to the cold, it's nearly impossible for me to go ultralight (carrying the bare minimum). Instead, I gladly carry extra clothes, even if it means adding a couple pounds to my pack. When things feel too heavy, I like to remind myself that it's strengthening my legs in preparation for big objectives, like climbing Kilimanjaro or the West Buttress of Denali.
Layering is key
There are three main layers: base, middle, and outer. Sometimes conditions call for more than one piece of clothing per layer, so this is just a general rule. As a base layer, I wear a lightweight, moisture-wicking top and bottom. Remember to avoid cotton. It won't keep you warm when it's wet.
For the upper body, I'll put on two mid-layers: a lightweight fleece pullover and a lightweight down jacket. If it's really cold, a light down vest goes on, too.
Finally, I'll don a waterproof or water resistant jacket and winter hiking pants, depending on the forecast. And for those times when I'm standing around (such as boiling water or taking a rest) I make sure to put on my gigantic 800-fill down jacket—remember, it's easier to maintain the heat you've earned. Bonus tip: shoving it in its stuff sack can double as a pillow for overnight trips.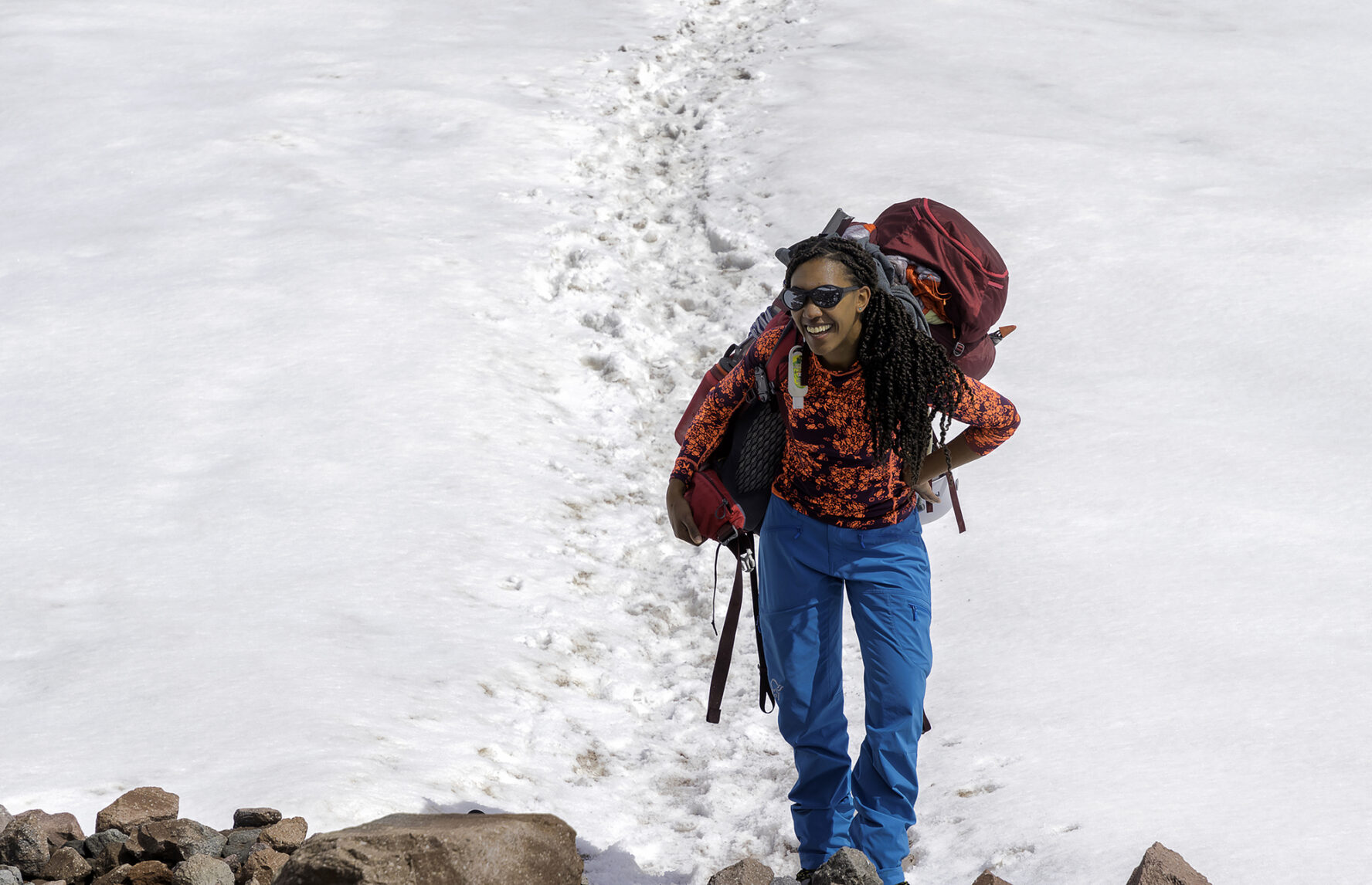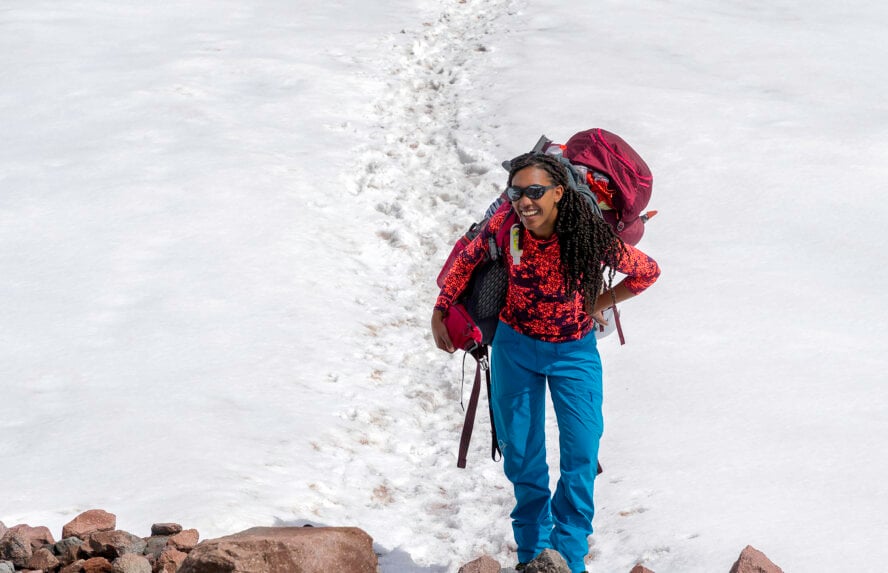 Don't skimp on your extremities
Have you ever noticed how our hands and feet seem to get cold first? That's because when the body gets cold, our vital organs pull the much needed warmth away from our extremities–sorry phalanges.
I like to wear liner socks underneath a thick pair of wool winter hiking socks to help keep my feet warm, dry and comfortable. If there will be snow, add gaiters; they'll protect snow from getting inside your boot or up your pant leg. A neck covering and a beanie or knit headband are crucial for covering up as many exposed areas as possible. By doing so, it will help keep the cold air from nipping at the skin and losing body heat.
Gloves have been the most critical yet trickiest of winter hiking gear to figure out. I've owned over twelve pairs, ranging from a last-minute purchase from Bi-Mart (surprisingly, not bad!) to a couple of hundred-dollar electric gloves. None of them worked.
I've learned that the bulkier the glove, the less it keeps my hands warm. Mittens are okay, keeping fingers together to trap in more heat, but offer no dexterity. The best method I've found is to wear a liner glove followed by activated hand warmers, then a pair of mid-weight fleece.
A shell will be added if it rains or I need to pitch a tent. But ironically, the more layers on my hands, the more they all fail to work—likely due to constriction. It might take time for you to dial in your own glove system too.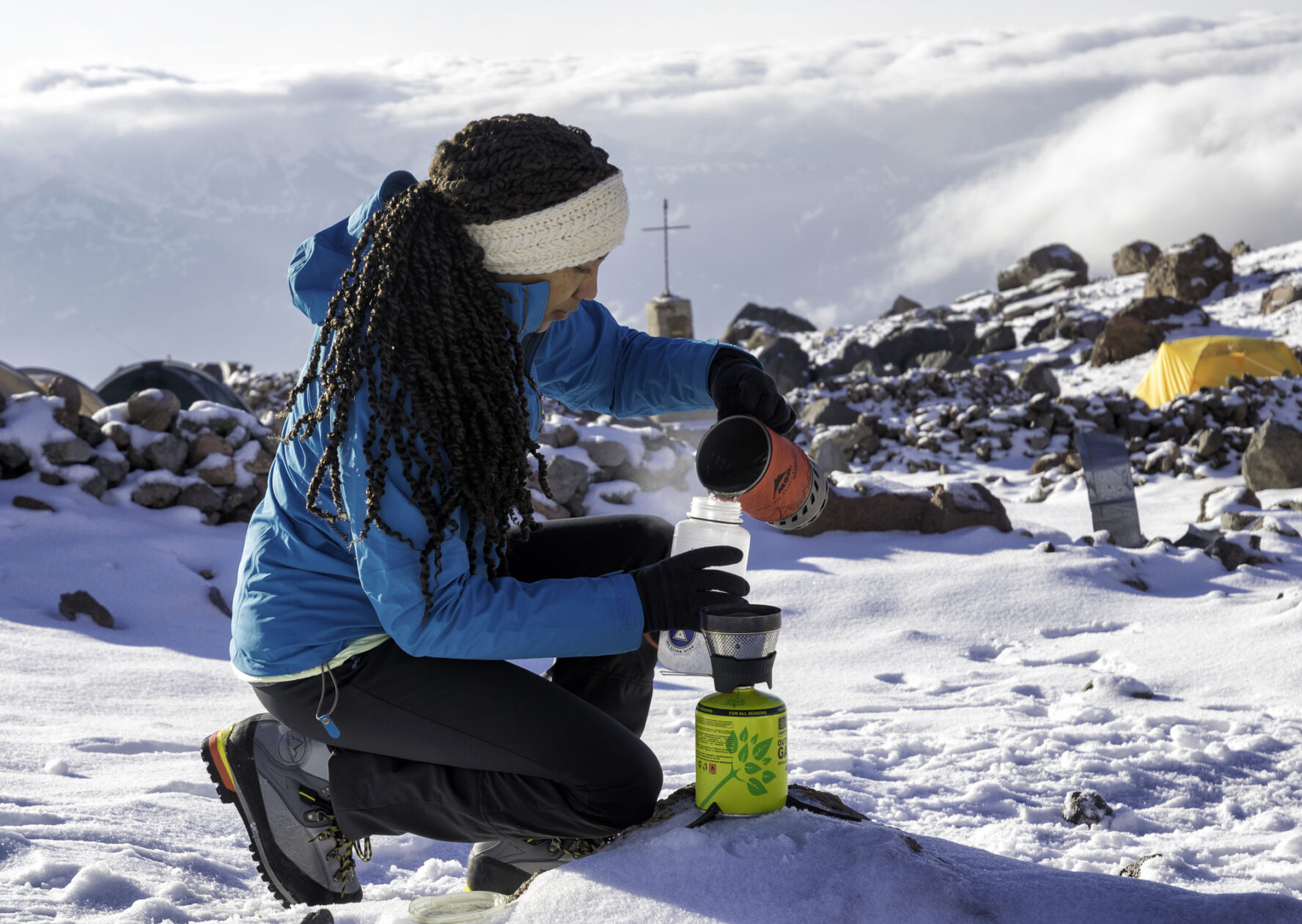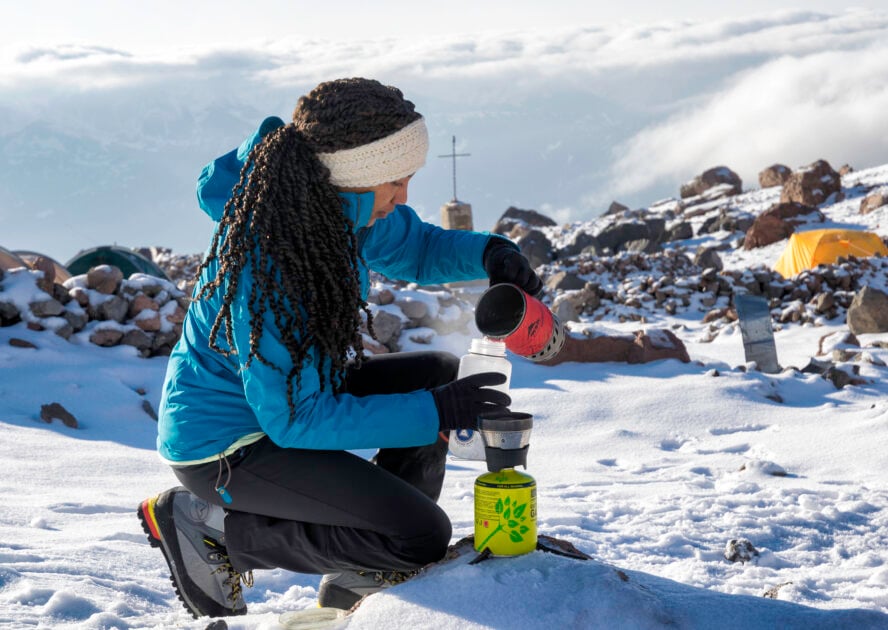 Other winter hiking gear
You should always be prepared when you set out on a hike, but this especially applies in unpredictable winter weather. Carrying the Ten Essentials are, well, essential! I make a habit of bringing the following:
GPS device
Headlamp
Sun protection (yes, even in winter)
First aid kit
Knife
Fire starter
Extra food
Extra water
Additional clothing
Shelter
Shelter tends to be an overlooked item, but it could be a lifesaver. Expecting the best, but planning for the worst is my motto, so I tend to keep a bivy in my back on every outing. Since bivys are so small nowadays it takes up minimal pack space.
Other winter gear to include are polarized sunglasses to ward off the snow glare that can lead to snow blindness. Think of a sunburn, but on the eyes. If I know a hike will be icy or warrants trudging through deep snow, trekking poles and microspikes or snowshoes are a must. Also, make sure your phone has a full battery and bring extra batteries for a headlamp so not to rely on your phone's light—cold temperatures zap batteries fast.
Finally, a camera is an absolute must. Winter landscapes make for breathtaking photos, whether you're exploring Iceland's wilderness or your own backyard.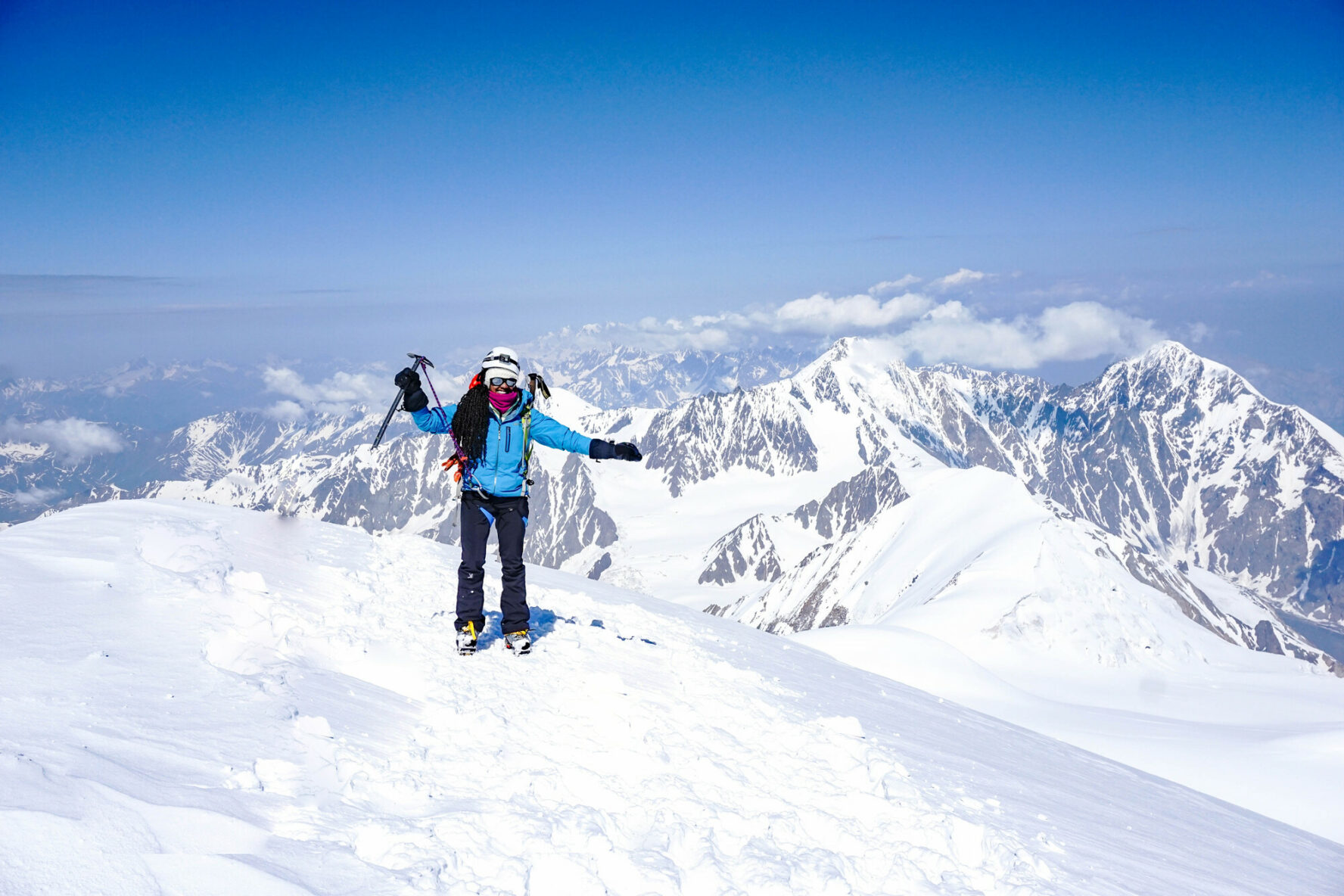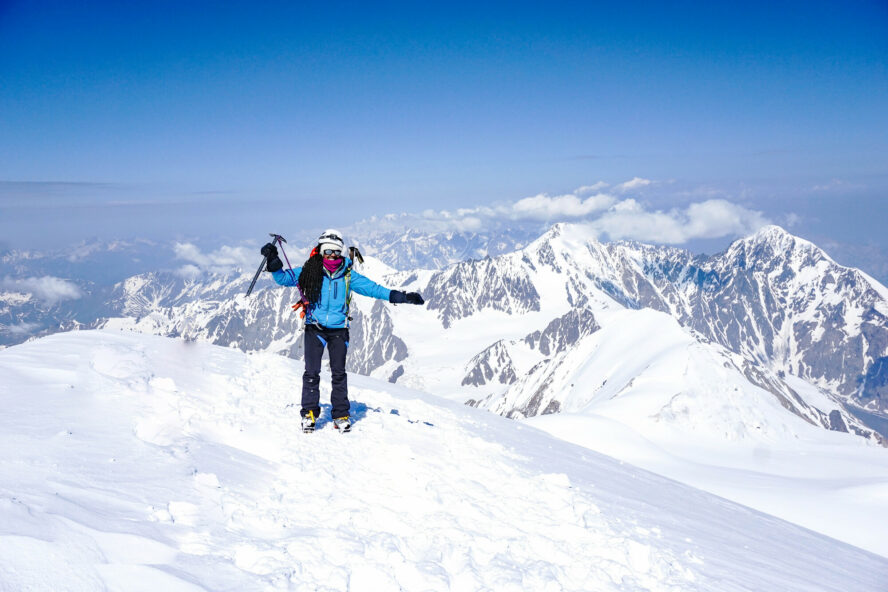 Beyond the Clothes: Tips for Staying Warm While Winter Hiking
In addition to proper layers, there are other ways to stay warm on a winter hike like applying hand warmers, body, and feet warmers. When my extremities start to get cold, it's a good indicator to put effort into warming my core.
To do this, I apply body warmers to my chest (or hand warmers in my bra). It's important to activate them ahead of time to reap the benefits sooner—they oxidate immediately after opening, but take up to 20-minutes to reach maximum heat. Otherwise, you'll be standing around cursing them for taking eons to warm up.
Lastly, warming my winter hiking boots ahead of time has been a game-changer. The stiff, non-breathable (waterproof) material designed to make boots sturdy for snow conditions don't retain heat well. So, before, when I left home, my boots would get tossed in the trunk of my car, resulting in them feeling frozen by the time I put them on. Now, I throw hand warmers inside them or wear them on the drive to the trailhead. I don't recommend using foot warmers because they take so long to activate.
Heat from the inside out
Bringing a thermos of hot tea or soup is one of the best ways to warm up while hiking. Alternatively, you can carry a cook stove to prepare liquid warmth on the go. It's also an enjoyable way to stay hydrated.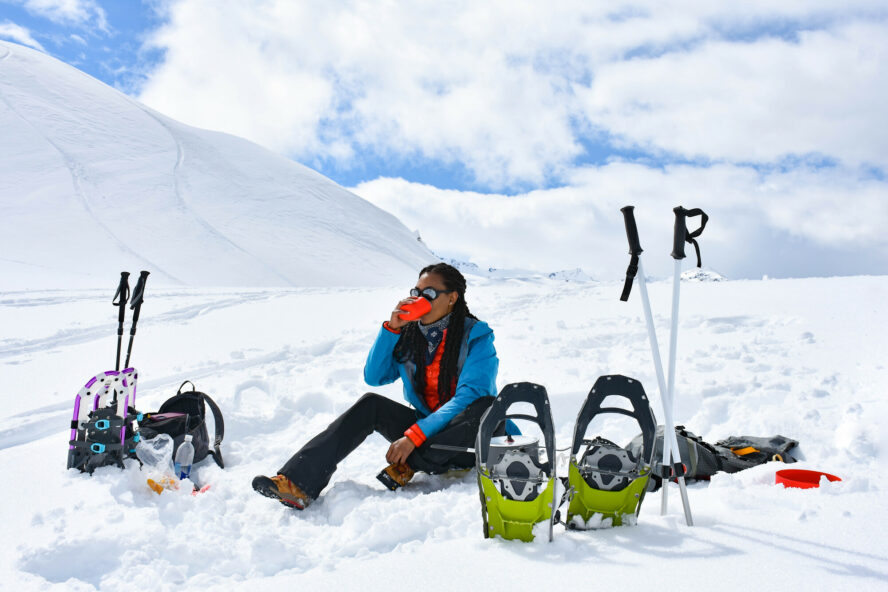 It goes without saying, but moving the body is a sure-fire way to warm up. On group hikes, if I start to feel cold while we're taking a break, I'll do some jumping jacks or run in place.
One of the most important concepts is staying dry, and not getting wet from precipitation or sweat. Delayering at the first sign of sweat beading off my skin keeps me from getting cold. Once my body's cooled down, it's equally important to quickly layer back up (remember the big puffy that we spoke about earlier—keep the warmth you've earned!).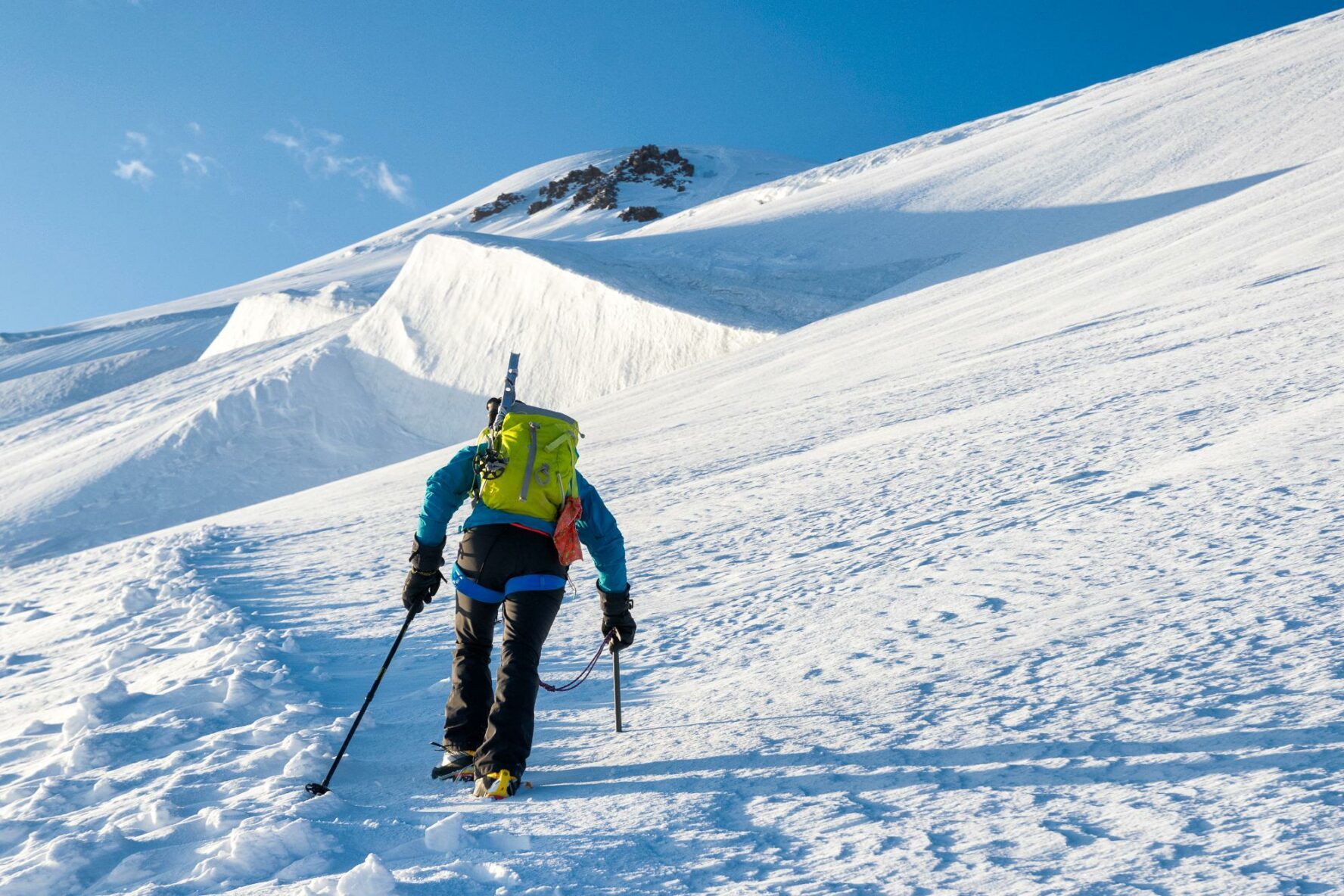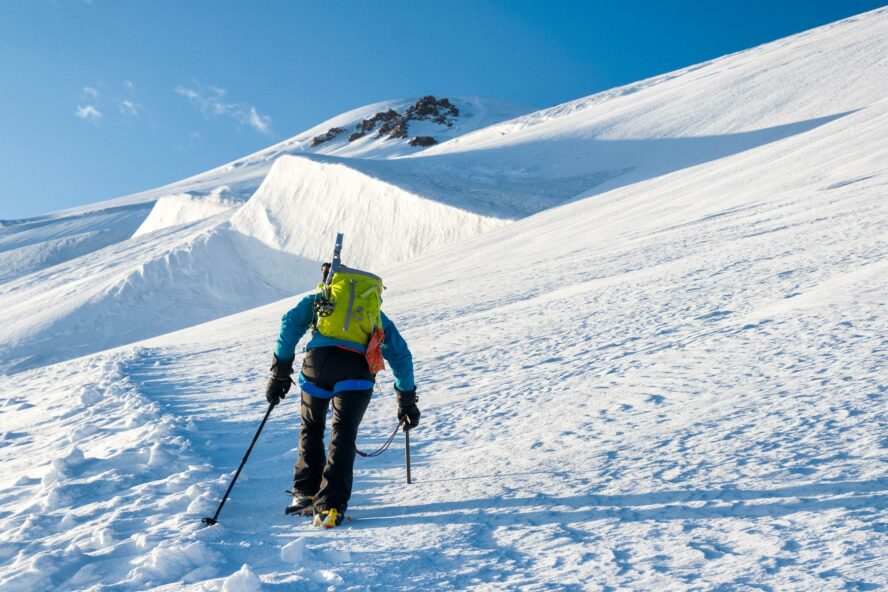 Prevention is the best medicine
When you're winter hiking, prolonged exposure to the cold can result in injury or illness.
Mishaps due to the cold can be incredibly dangerous. Luckily, I haven't experienced them firsthand, but knowing the first signs and symptoms and how to prevent them can be life-saving.
Hypothermia occurs when the body loses heat faster than it can produce it. When your body temperature is too low, your brain ceases to function properly, resulting in memory loss, confusion, and slurred speech.
I've experienced similar symptoms at 18,000' on Pico de Orizaba, in Mexico, from lack of oxygen. Once I started to descend, my symptoms eased. But for hypothermia, it's not that simple. If you're hypothermic, you must get warm immediately or risk developing frostbite, or worse.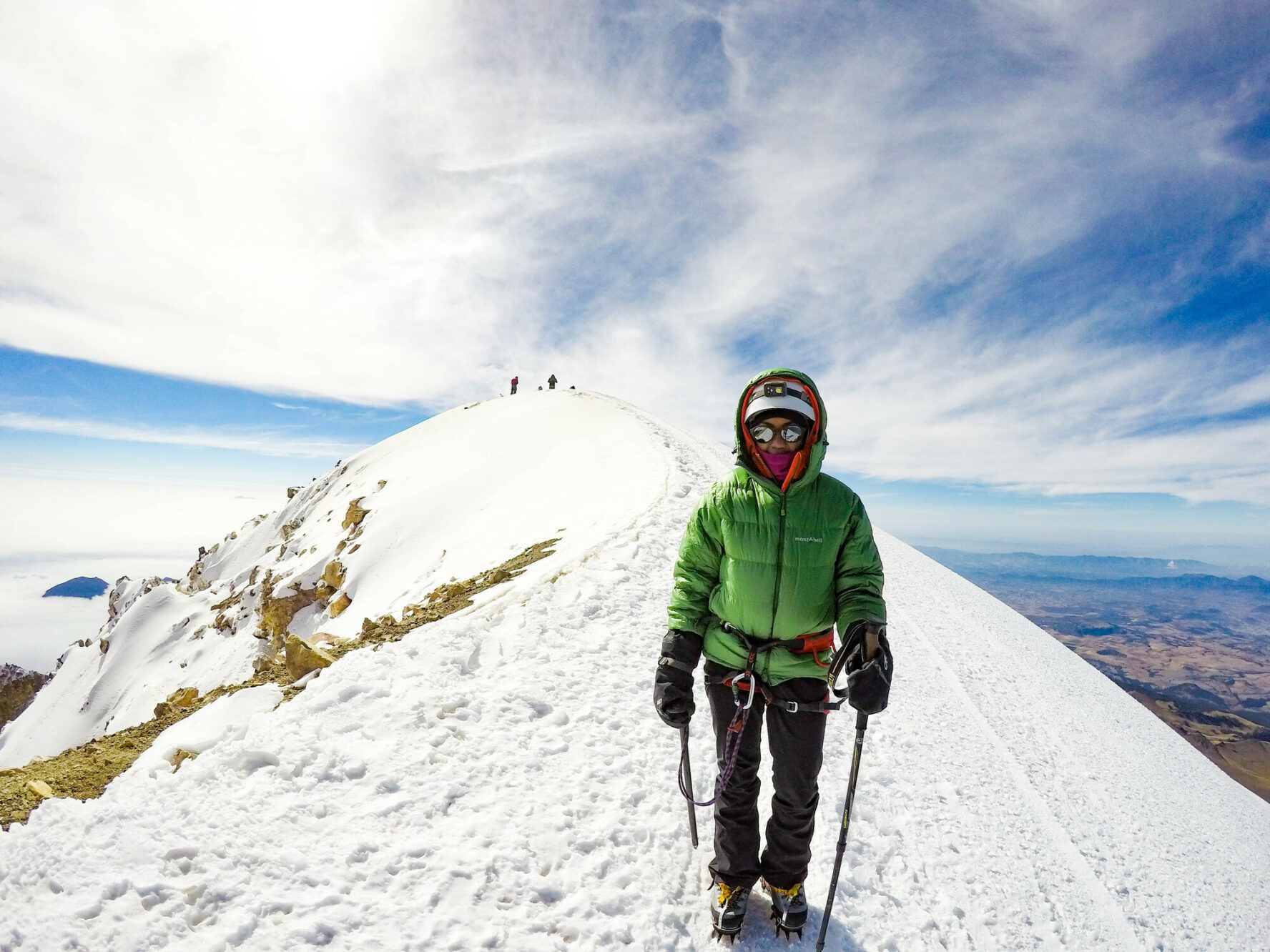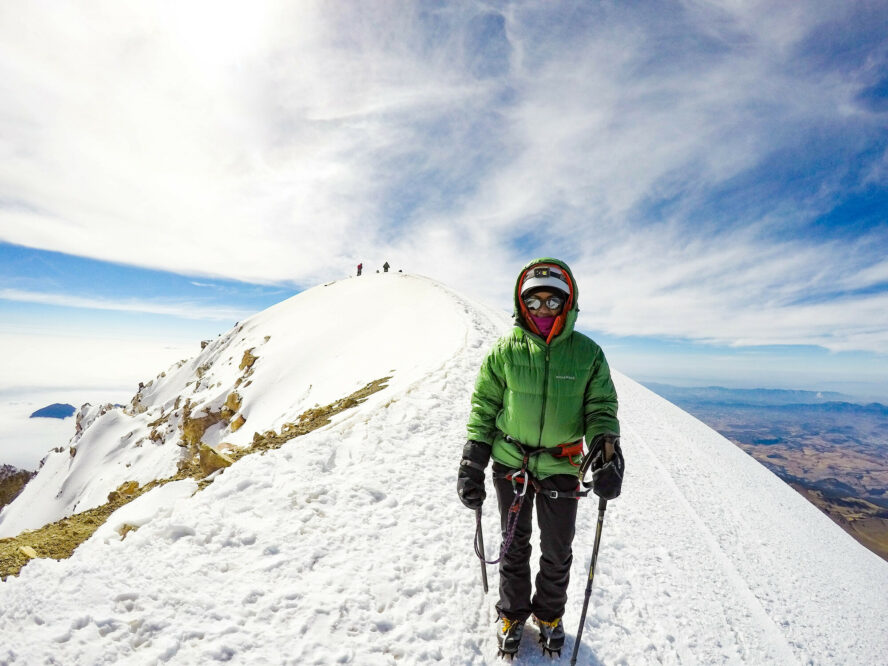 Just thinking about frostbite makes me shiver. When skin tissue freezes, it can result in severe permanent damage. Having Raynaud's Syndrome gives me a taste of how much frostbite must hurt. More specifically, when Raynaud's gets activated, there's a noticeable change in skin color, numbness, and severe tingling and throbbing. Raynaud's hurts like hell, so I can only imagine the pain from frostbite.
To prevent hypothermia and frostbite, wear appropriate clothing, stay hydrated, and avoid as much skin exposure as possible. Another tip that's often overlooked is monitoring your iron levels. My sensitivity to cold was more extreme when I was vegan and my iron levels were low. When I bumped them back up, it didn't cure my Raynaud's, but it helped reduce my extreme sensitivity to the cold.
From Raynaud's to Ray-yes!
I will never be someone who can galavant around in shorts and flip-flops in the dead of winter, but I have learned how to stay warm while winter hiking and camping so I can adventure year-round and safely. It takes trial and error, but hopefully these tips help encourage you to try winter hiking as well. Bye bye, purple fingers and winter blues!