Canoeing Finland's Ivalojoki: Europe's Last Great Wilderness
Ivalojoki is nothing if not wild. After two years of COVID, canoeing in Finland was exactly what I needed to reconnect with the peacefulness nature provides.
The only sound is that of our paddle strokes breaking through the water. Vivid green moss and birch trees unfold endlessly along the banks of the river. On the wildest part of our trip, we barely see anyone. Or any human impact for that matter. No roads, no buildings, no cell phone coverage.
Exactly what we came for.
At the end of spring 2021, with COVID restrictions gradually easing around Europe, I felt an overwhelming desire for a complete change of scenery. The year before I stayed close to home on a 200-kilometer trek around the Écrins, where I live, but I missed traveling to farther-away destinations.
Still, I wanted to stay true to the spirit of slow travel, which brings you a deeper connection with your environment as the rhythm of your own motion dictates your relationship with space and time. Instead of a hike, it would be a canoe trip in the heart of Finnish Lapland—paddle strokes instead of footsteps would be my "metronome".
At the end of July, I hopped on a flight to the small town of Ivalo in the northernmost part of Finland for a seven-day canoe trip along the Ivalojoki River—and a renewed sense of freedom.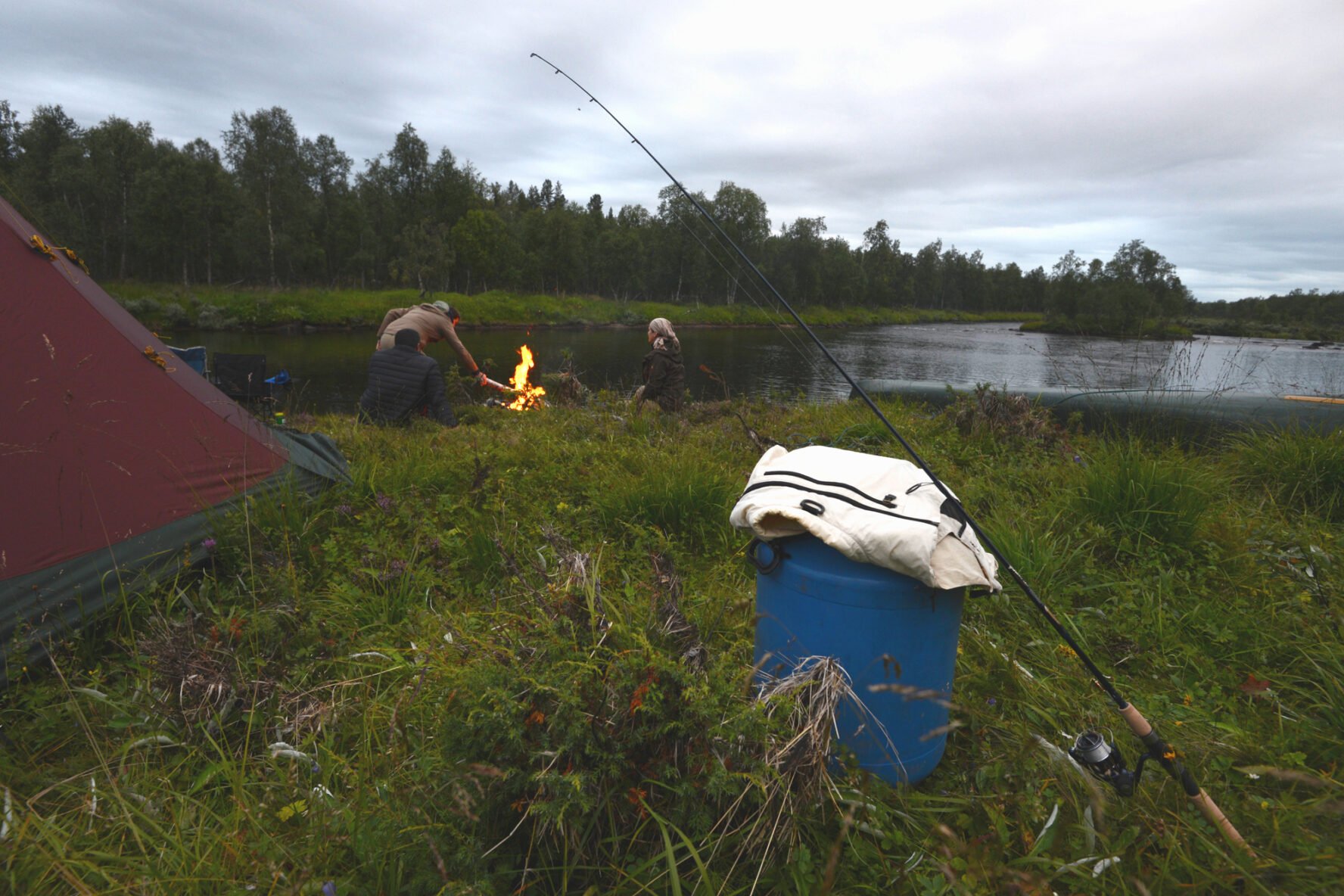 Pros and Cons of Canoeing Finlands Ivalojoki
Explore one of the wildest areas in Europe
Flatwater and easy, yet technical, rapids
Sleep each night outside in stunning bivy spots
Unpredictable weather—be ready for everything!
Depending on the years, there can be lots of mosquitoes
I did not want to explore this area of Finland by myself—improvisation has no space for this type of travel in the wilderness. Instead I chose to go with someone who is familiar with the river, the weather, and unexpected events that always seem to occur.
A few years back, I was working as a journalist on a river conservation campaign in the Balkans with Patagonia. There I met Aurélien Rateau, on the banks of the Vjosa, an endangered river in Albania. Burly with dark hair, Aurélien is as friendly as he is passionate for all his projects: he works as a consultant on environmental issues, as a river guide, and owns Destinations Rivières, a small travel agency specialized in canoe trips in France and other European countries.
I vividly remember how passionately he talked about his river expeditions and mission as a guide and conservationist—that is, to create amazement and thus awareness and ultimately a desire among clients to protect natural spaces. So, years later, I decided to get in touch with him—he happens to live on the other side of my home mountain range.
As the conversation unfolded, it became obvious that I would be part of an upcoming trip along the Ivalojoki River. As his favorite destination, he did not lack arguments to convince me. I signed up without a second thought.
Into the Heart and Hearth of Lapland
In summer, the sun never sets and the rest of the year, northern lights bewitch the visitor with their polar rays and flickers.
Located above the Arctic Circle in the Northernmost part of Finland, Lapland is mostly flat land, covered with endless expanses of birch and pine tree forests, lakes and rivers. It shelters many types of animals, including reindeers, while conversely being one of the least densely populated areas in Europe. Where people do live, the villages and small towns are made up of charming wooden colored houses.
It is also the traditional homeland of the Sami, an Indigenous people whose territory spread across Northern Sweden, Norway, Finland and the Kola peninsula in Russia. Reindeer herders to this day, most maintain a semi-nomadic life and their culture and traditions remain incredibly rich and attached to the land.
The terrain has remained largely untouched because the climate can be hostile, including deathly cold and unending nights in winter. Further, many areas have been declared protected wilderness zones, national parks or other types of designated wild places, which are important to the Finnish lifestyle and traditions. As a result, it is one of the wildest areas you can encounter in Europe.
Canoeing Finland's Ivalojoki River
After a stopover in Kittilä on our domestic flight from Helsinki, the plane slowly begins its descent towards Ivalo, one of Finland's northernmost towns. From the sky, we contemplate a sheer maze of hills, trees and rivers—one of them being the Ivalojoki, our objective of the trip.
The river has its source near the border with Norway and spreads over a distance of 180 kilometers (of which we'll canoe about 120), crossing Hammastunturi Wilderness Area and Lemmenjoki National Park, before emptying into Inari lake, one of the largest in Europe. Even before landing, we can see that we will be very far away from civilization over the next few days.
What makes the area so special for canoeing, Aurélien explained to me, is that it is uniquely accessible to beginner rafters… well, as accessible as canoeing near the northern tip of Europe can be!
Specifically, you do not need to have specific whitewater experience. In fact, I had never done a river trip before and only took a few kayaking lessons a few months prior. While there are some rapids, they are never long and not what I would call rough. Let's say it's a "gentle intermediate" experience.
However, we had to prepare to be self-sufficient during the trip. We would be carrying all of our food with us in our rafts—occasionally supplementing our meals with freshly caught fish—and bivvying each night.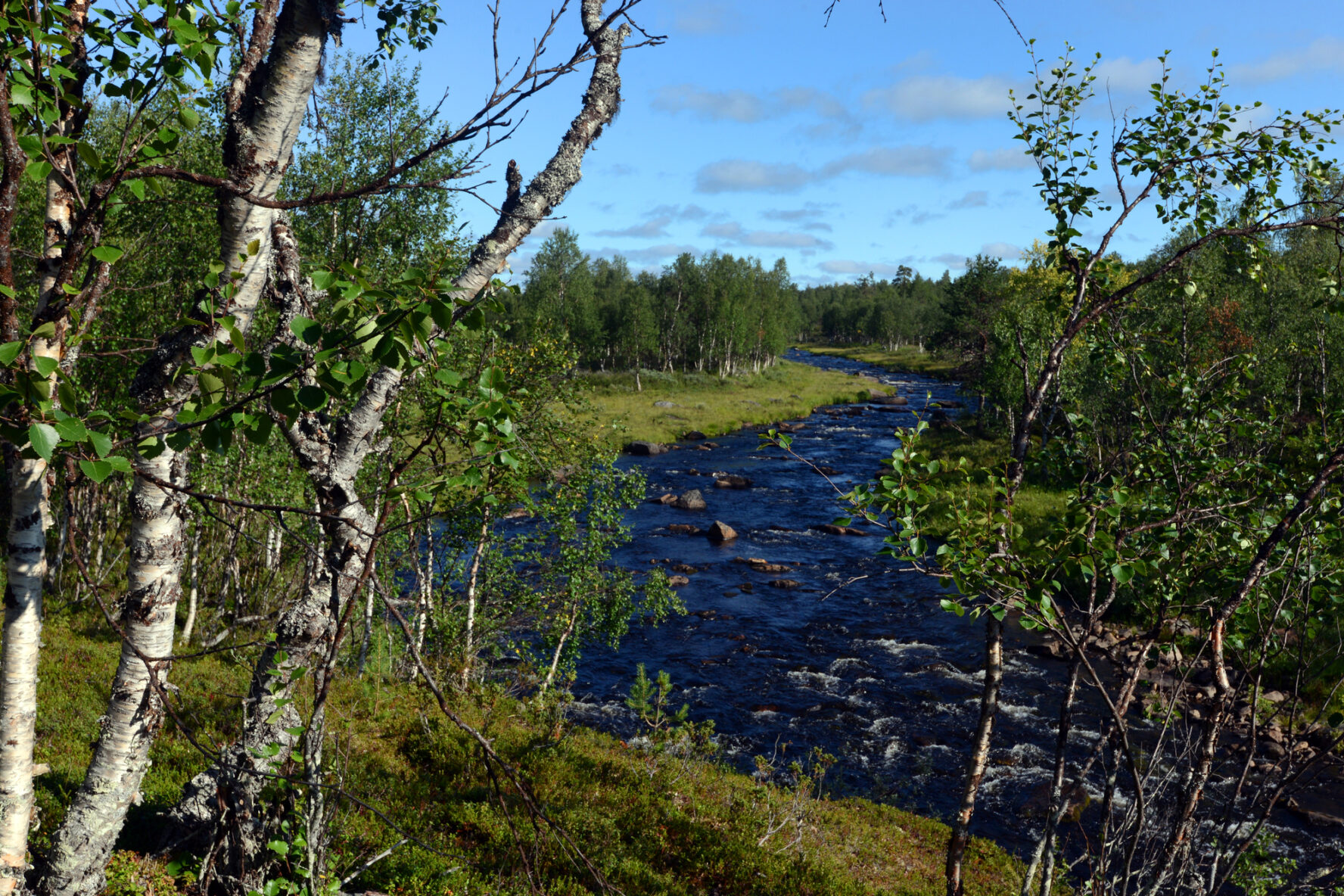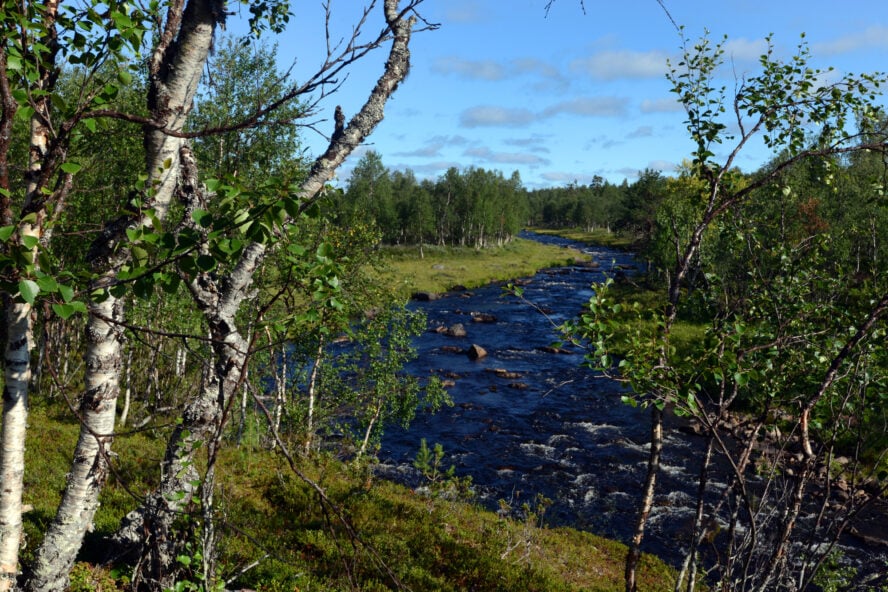 Days 1 & 2: Getting acquainted with Finnish Lapland
The size of the airport immediately gives us a hint of the remoteness of the place: it's just one airstrip flanked by a small wooden building.
A taxi gives us a lift to our campground on the outskirts of Ivalo. We quietly pitch our tents and get settled in this very green area on the shores of the Ivalojoki river. Surprisingly, we are not bitten by hordes of mosquitoes as abnormally warm temperatures in early July have parched the swamps. An ironically "positive" effect of global warming, perhaps.
The following day is devoted to the logistics of the navigation: food shopping for a week, unpacking and repacking all of our equipment in order to optimize space, putting stuff into blue containers to make them waterproof. We will be totally self-sufficient on this trip so these details are important.
We turn out to be a small group of four, as Barbara and Bertrand, a French couple, meet us the following day. They share a common passion for rivers and fishing, having extensively traveled all over the globe and lived several years in Argentina, a time during which they have explored many rivers of the Patagonian wilderness.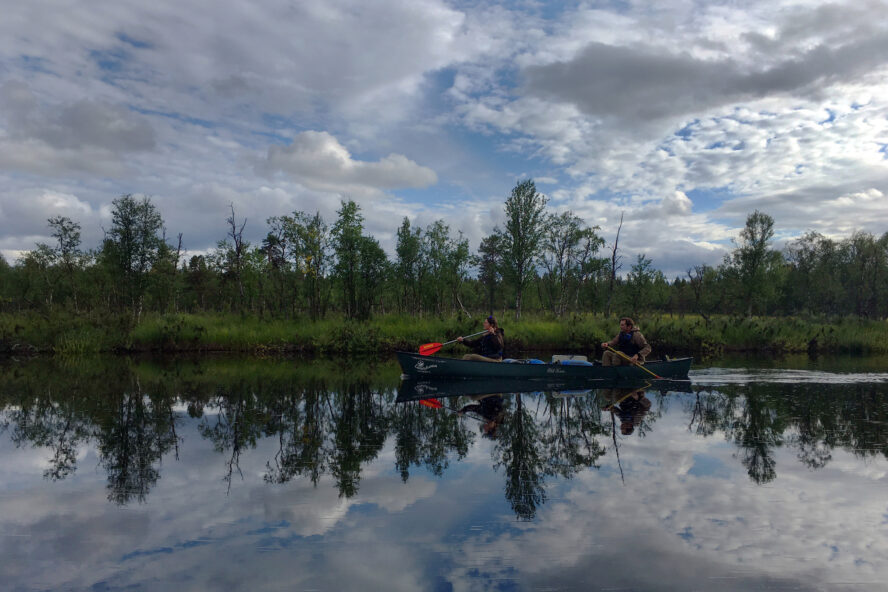 The landscape unfolds before our eyes: granite shores of the Inari lake, endless forests of the heart of Finnish Lapland, reindeers crossing the road. After a three-hour drive, we reach our starting point, Ivalon Matti bridge, where 120 kilometers of wild river navigation await us.
Days 3 & 4 : A quiet introduction to the river
As we begin our descent of the Ivalojoki, we are immediately immersed in the unique atmosphere of this Arctic part of Finland, clouds and scattered light creating a perfect mirror on the river.
This first part of the navigation is calm, allowing us to get synchronized with our respective partner on the canoe. Aurélien and I make one team, while Barbara and Bertrand will try to overcome the challenge of paddling together as a couple without getting into an argument—and they did so perfectly!
Over the first 20 kilometers we learn to coordinate our paddling technique, and how to read the river, which we need for the "whitewater" runs to come.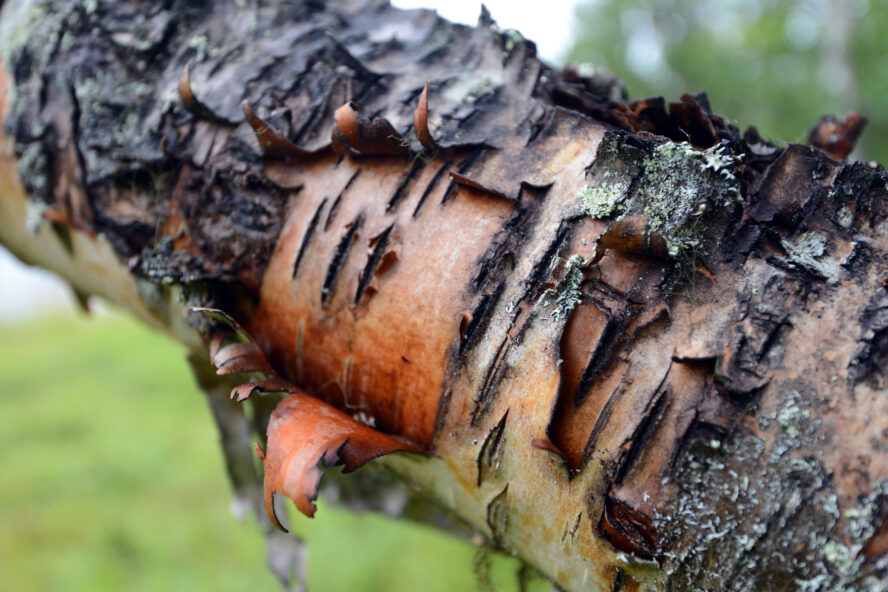 Later, we arrive at our first bivy spot on a grassy bank of the river and pitch our tents. Food is prepped in rather chilly temps. Barbara and I venture into the forest to collect birch bark, a key element to build a fire. While doing so, we stumble upon thousands of blueberries which cover the ground of the forest.
Over the coming days, we experience the same type of navigation and feel that we have started to find our own pace and synchronicity. We encounter contrasted weather, from paddling for hours under a pouring rain to a glorious day of sunshine.
At the end of day 3, we spend the night at our most amazing bivy spot by Kivijoki, a tributary of the Ivalojoki. There are no clouds, it's pure light, and the river forms a ripple-free mirror. Once again, we have the whole spot for ourselves and set up our camp amid a field of purple heather. Aurélien crosses the river with one of the canoes to collect wood and we begin emptying the fresh fish we have caught during the day.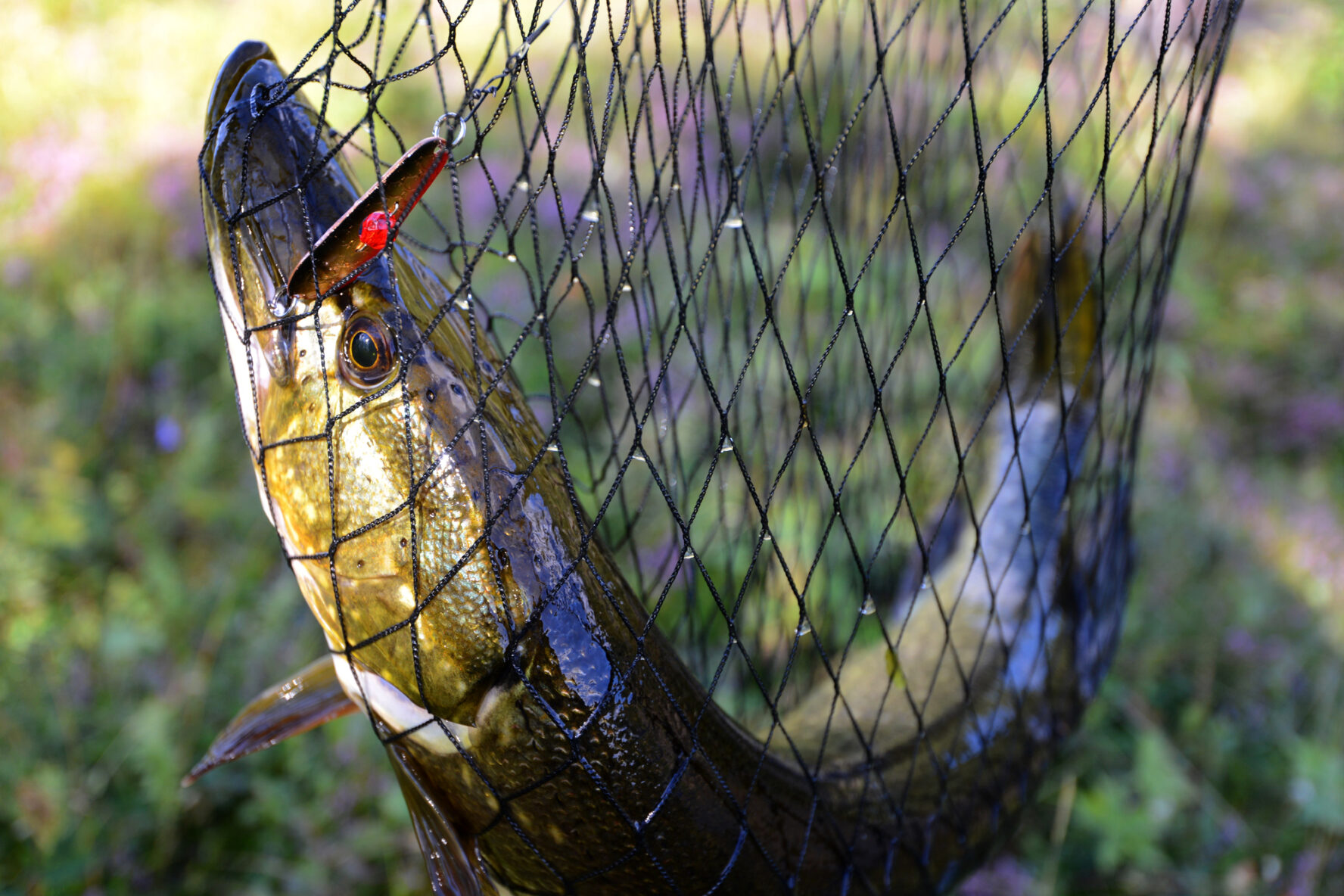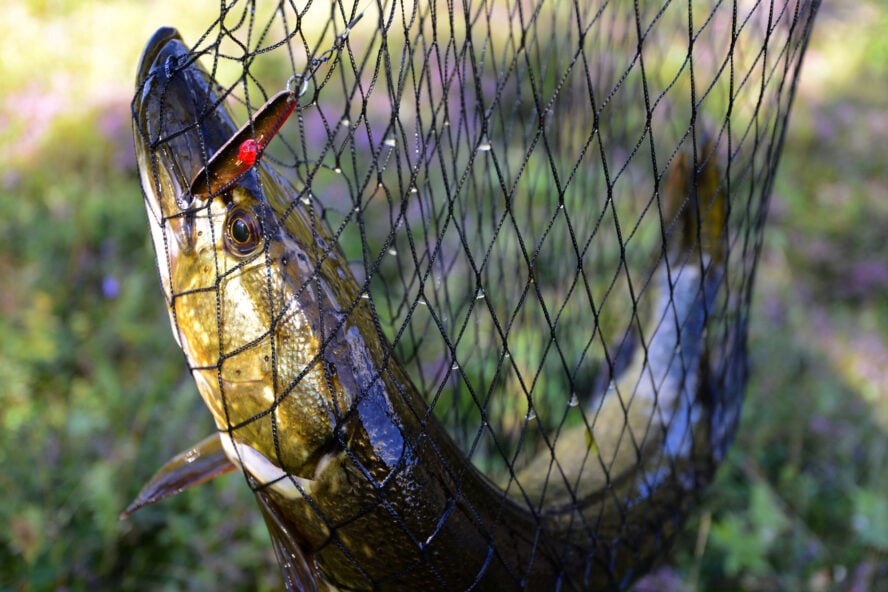 Tonight's menu is pike and trout sashimi. We enjoy dinner and share endless conversations late into the night. At 1am, night hasn't really fallen yet. The colors are mesmerizing, like we are in an Arctic dream.
Days 5 & 6: Encountering rapids
Kuttura bridge, surrounded by a tiny cluster of houses, marks the end of this first wild section. The landscape quickly changes: framed by granite cliffs on both sides, the stream narrows and picks up speed.
We navigate a narrow canyon framed by eroded granite cliffs, which awakens all of our senses. Sitting in the front of the craft, I am in charge of reading the river and telling Aurélien which direction to guide the canoe as we approach a whitewater section named Saarnaköngäs.
We have to be quick: the rapids are not very technical but a canoe is more challenging to maneuver than a kayak, especially with all the equipment we carry along (about 90 pounds in each canoe). At one point, we have to step out of the rafts to scout the last rapid, and the least obvious to handle. Reading it correctly is crucial as it is cluttered with big stones.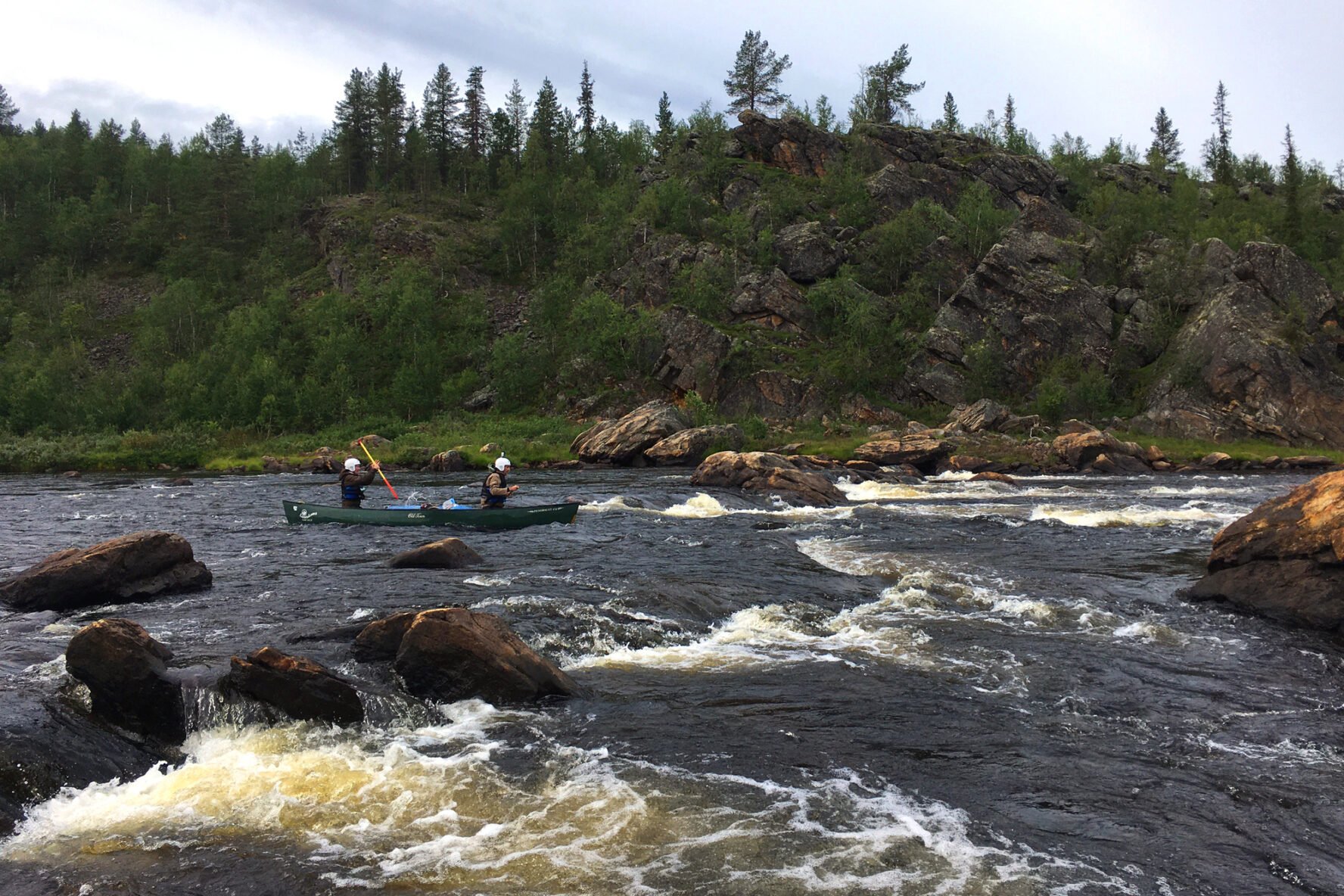 We feel an exciting rush of adrenaline and grin from ear to ear. No one overturned, and we decide it is now time for a well-deserved break. Located just after the canyon and lost in the forest without any road access we head to the museum village of Kultala, located just after the canyon and lost in the forest without any road access.
The few wooden houses were built in the 19th century during the time of the Gold Rush and have been perfectly preserved. One part has been turned into a museum retracing this cultural heritage through old photos, maps and furniture, and the rest into huts welcoming hikers, canoers and kayakers. Finland boasts a unique network of huts scattered among the wilderness: visitors can stay overnight for free, safe spaces for those who venture into those vast empty areas.
Stacks of wood are piled up next to each to start a fire, as Finnish people are well aware of extreme weather conditions they are likely to encounter all year round. You feel like a gold digger or a trapper sleeping and cooking in them.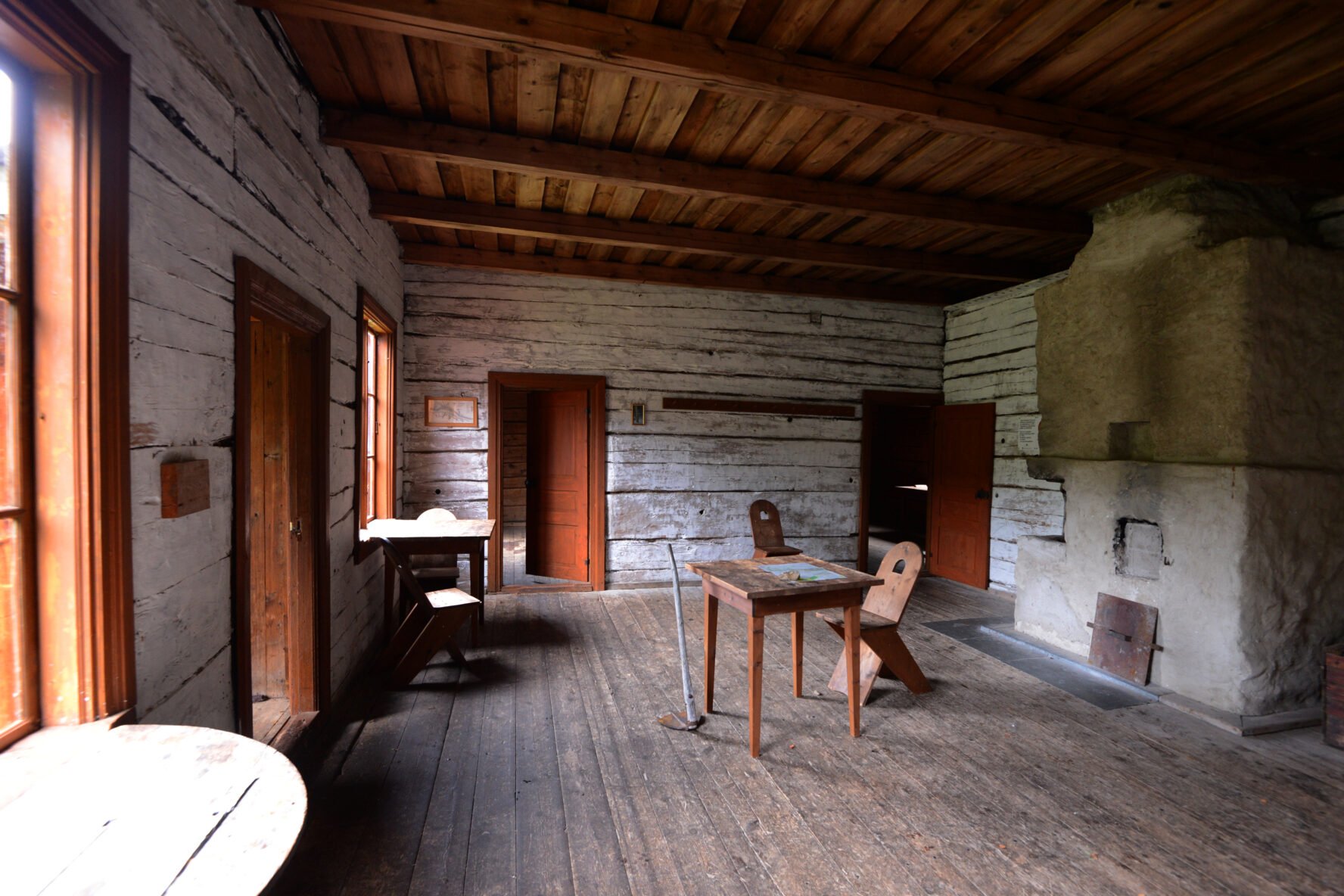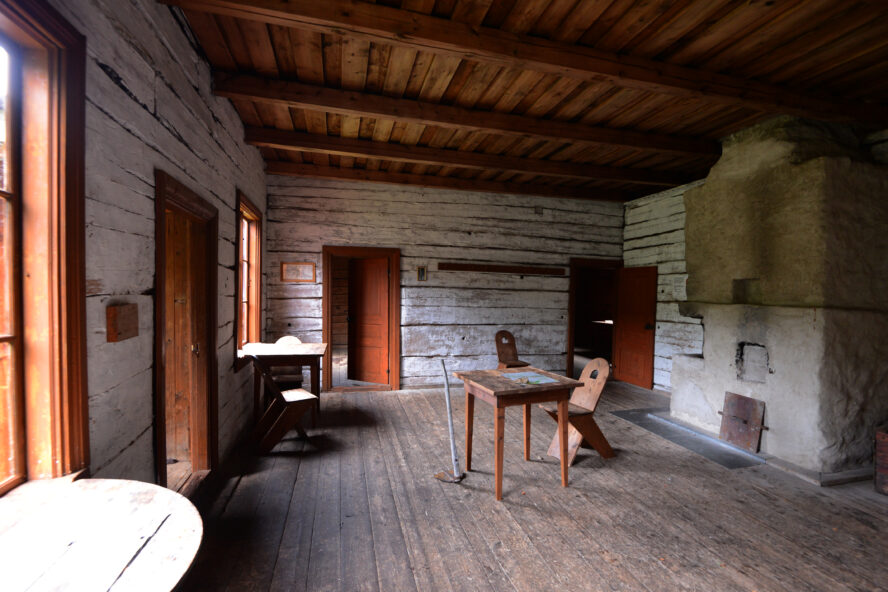 We end our day in Ritakoski. This part of the Lemmenjoki National Park, the largest of the country, is the territory of reindeers. We paddle by one. Moose, golden eagles, great gray owls and brown bears can also be seen, though not today for us.
Days 7 & 8 : Slowly back to civilization
In the third section the Ivalojoki gets wider and quieter, with still a few rapids. We can feel we've gained experience in the whitewater these past few days, in the anticipation as well as in the team coordination. Still, at the end of the very last rapid, Barbara and Bertrand's canoe suddenly capsizes from a hidden rock. More fear than pain.
After the wind of the previous day, we are blessed with dry and sunny weather. We take a break by the river so that our friends can dry up and change their clothes as they are soaked to the bone.
Over the last twenty kilometers, the Ivalojoki is like a mirror. Despite the endurance, we can feel each paddle stroke in our arm muscles. We get closer to the small villages of Tomperi and Tolonen, and the first traces of human presence. On the banks of the river, we spot from time to time traditional wooden houses with their own private dock and sauna.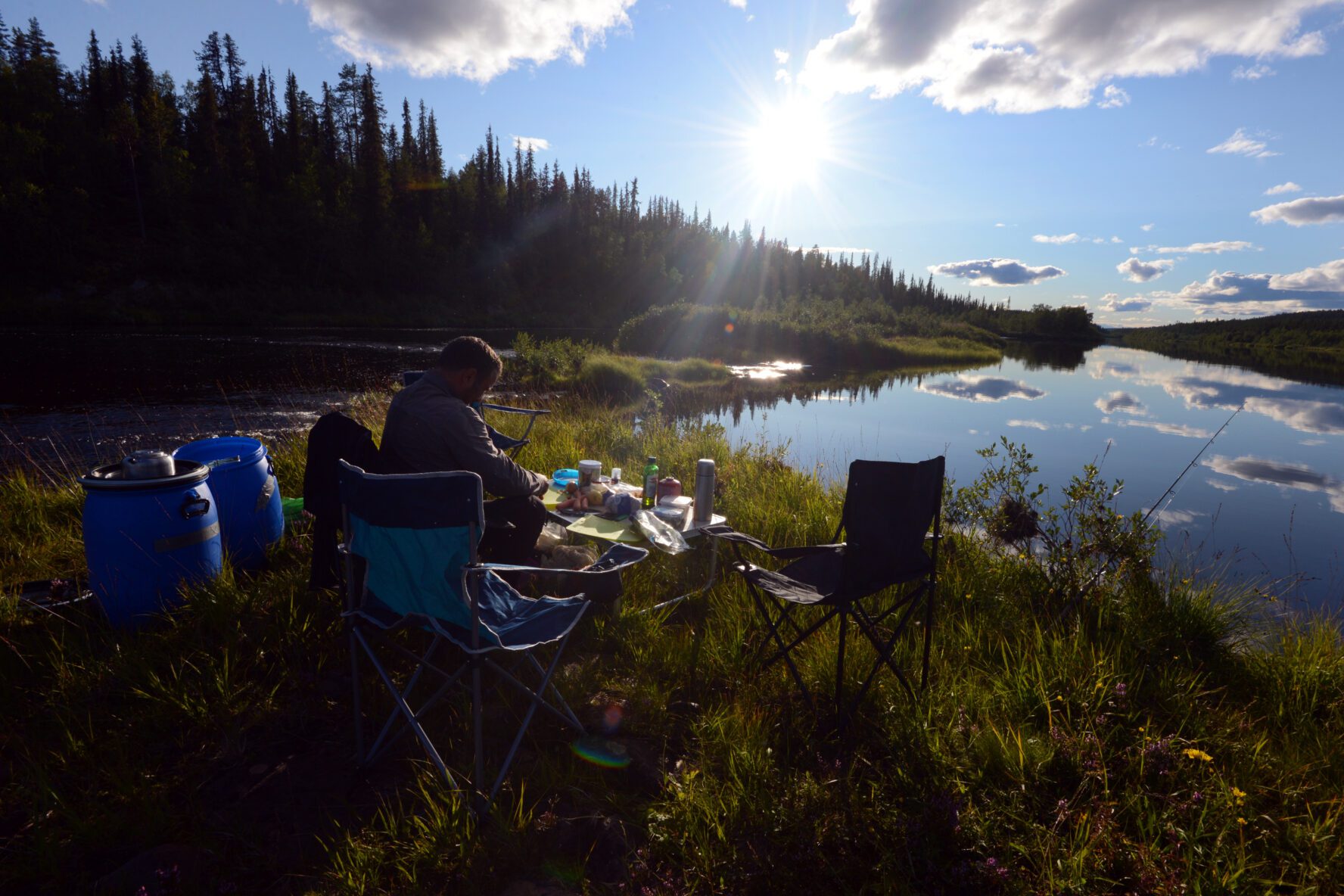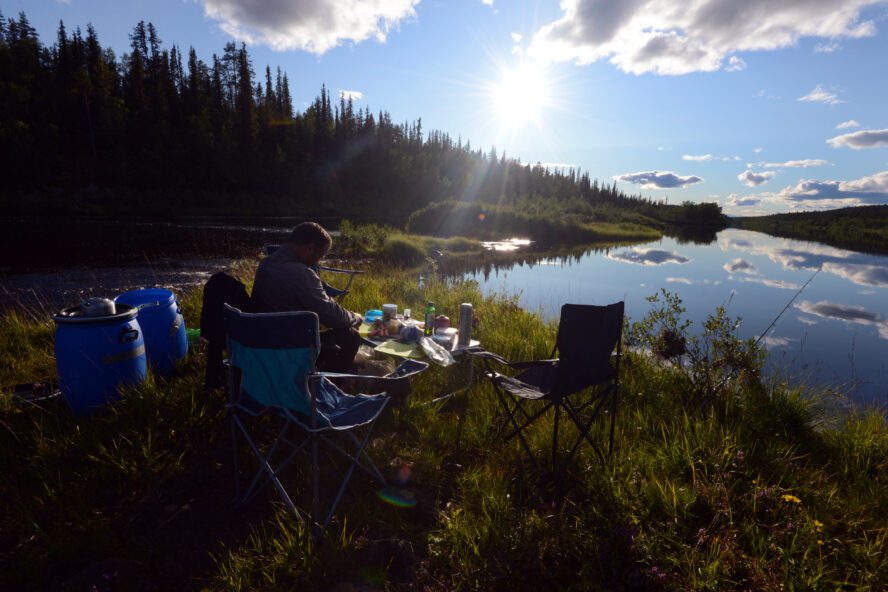 We set up our last bivy on the sandy shores of the Ivalojoki, bathed in magnificent light. We are already a bit nostalgic to be spending our last evening together outside. Those few days spent living according to the environment and rhythm of the river have clearly united our group—and it reminds me of the moments forged on the mountain freeriding with my friends at La Grave. All of these shared moments—of teamwork, navigating, all the logistics, each one contributing to the making and the success of the trip—makes you feel like you have been longtime friends.
We each give a hand in cooking dinner made up of our catch of the day and enjoy it late into the night.
Tips for Your First Ivalojoki River Canoeing Trip
How to get there:
There are international flights to Helsinki, the capital of Finland. From there, a domestic flight takes you to the small town of Ivalo.
When should you go?
The best season is from June to August. Aurélien offers this trip at the beginning of August as there are fewer mosquitoes than in June (we encountered very few last year!).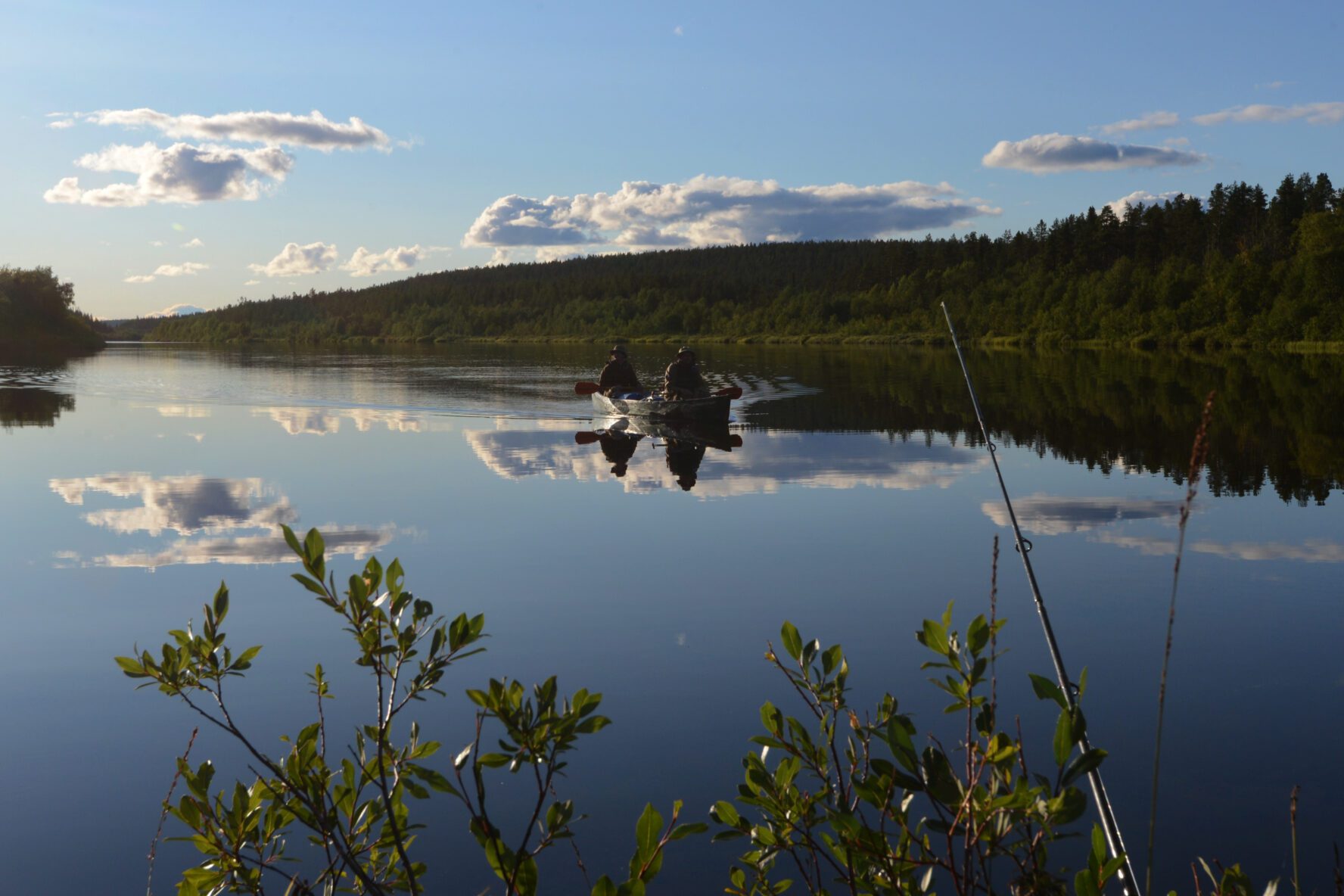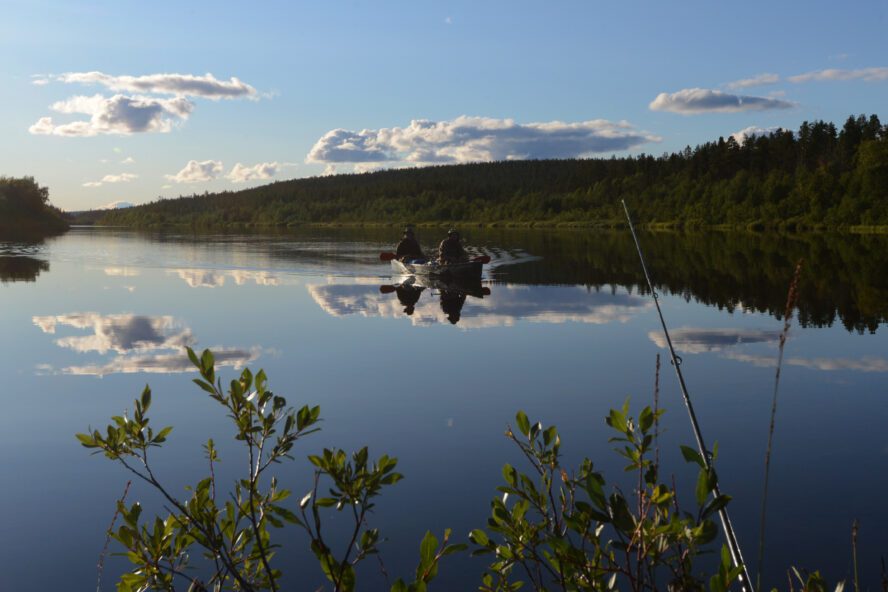 Where do you stay?
When we arrive at Ivalo, we will stay at Naverniemi Holiday Center on the outskirts of Ivalo. You can choose between camping or sleeping in a bungalow. On the river, you will be outside camping.
What gear do you need?
The basic things are the following: comfortable trousers and shirts (synthetic for the day and cotton at night), a set of thermal underwear, waterproof trousers for the navigation, down jacket and polar fleece, Gore-Tex jacket, hiking shoes (Gore-Tex if possible), another pair of shoes for use in the water (wide enough to fit neoprene shoes), 3mm neoprene shoes, beanie, cap, mosquito-proof hat, gloves, sunglasses, swimsuit, camping gear (tent, inflatable mattress, warm sleeping bag, head lamp), and fishing gear (if that's your thing).
Finding Peace in Finland
The last day, our return to civilization makes us realize how deeply enriching our experience was. This trip felt like a total discovery of a unique environment and ecosystem. I felt completely disconnected, which was what I was looking for, even though I don't live in a hectic city!
In the end, we found what we came for: a different relationship with space and time.
Kiitos, Lapland. Thank you.
Want to experience the remoteness of the Ivalojoki River? Join Aurélien on his next trip this summer!