"What goes up, must come down" is the best description of Park City mountain biking. You might not know it's the largest mountain resort in the U.S. with 348 trails and 41 lifts over eleven-square-miles. With uphill-only and downhill-only tracks, cross-country, enduro, freeride, downhill, lift-served and fat bike trails, you'll be able to put your skills and courage to the test. The fun part is that you choose one trail or connect with others for a whole day of loop riding in Park City's beautiful wilderness. Park City also offers a rather charming downtown scene with plenty of Western flavor. The town was founded in 1884 after the silver boom, so its mining heritage is still at the core despite catering to a jetsetting crowd.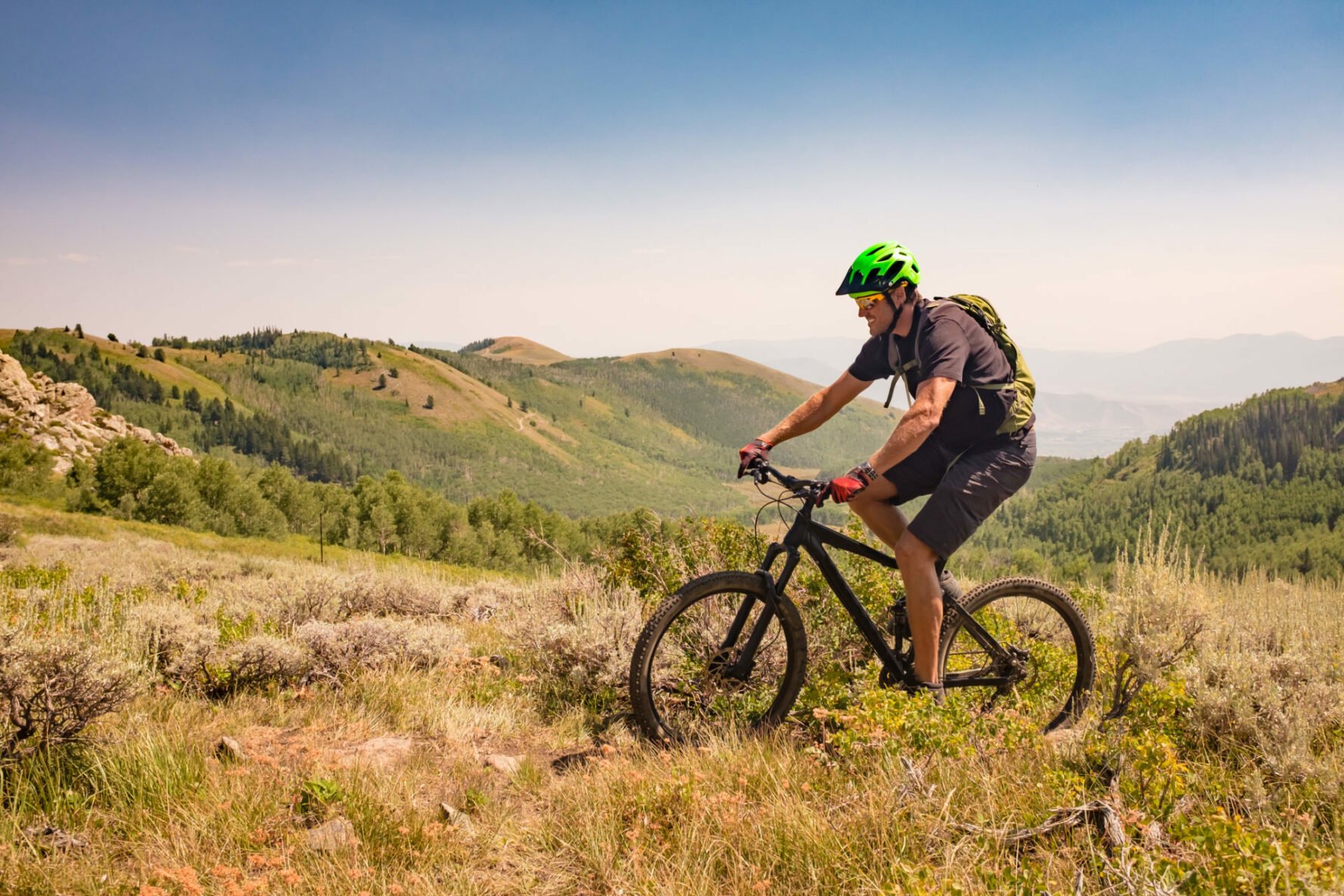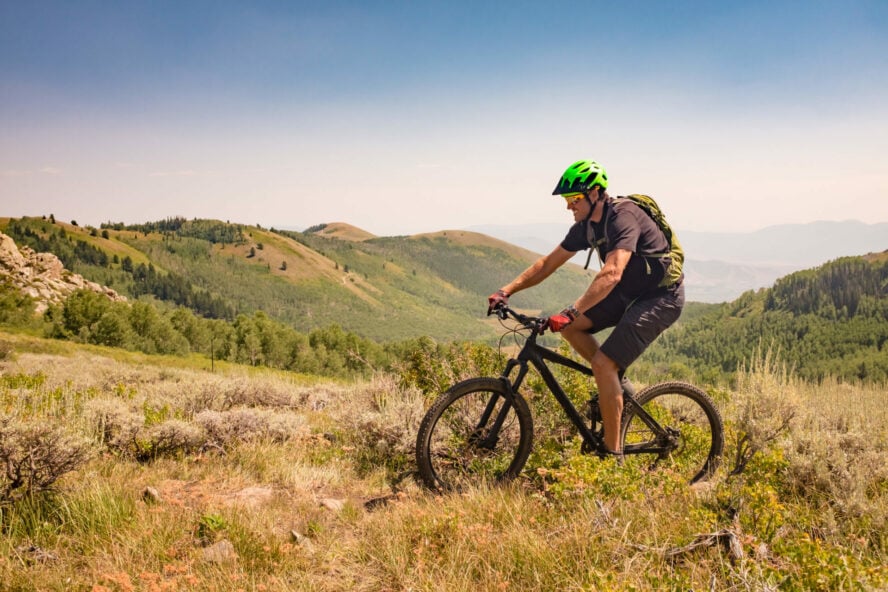 Park City pairs expansive beauty with gold-level mountain biking
Park City was the first mountain biking destination to receive the Gold-Level
IMBA Ride Center
. The mountain destination is also one of only seven in the entire world that get to claim that title. Park City's mountains offer more than 450 miles — and counting — of public trails (over 300 miles of singletrack!) Once you realize how many trail options there are for all skill levels, you'll understand why
MTB in Park City
is on so many mountain bikers' bucket lists.
When is the mountain biking season in park city?
The regular mountain biking season in Park City starts in late May. If you're looking for lift-serviced bike parks like you'd get
mountain biking in Colorado
, Park City has plenty to offer starting operating in June. On the other hand, if you're looking to do Wasatch Crest or other high-altitude trails, I suggest you don't go before mid-July, as there's still a risk you'll encounter some snow before the real summer starts. Let's not forget that Utah is the state "with the greatest snow on Earth" and there's always plenty to go around.
Park City delivers plenty of off-trail entertainment
After a day spent on the trails, there's more than 100 bars and restaurants, excellent accommodation options, art galleries, and mini-amusement parks, making Park City an ideal place for a whole family mountain biking vacation. You can rest your legs while doing some fly-fishing, go for a swim, rent a boat, jet ski, or paddleboard at the nearby Jordanelle Reservoir. Finding accommodations in Park City won't be a problem. From luxury hotels, to budget-friendly condos, huts and townhouses, Park City gives a range of styles. If you don't want to stay at the resort, you can choose Salt Lake City instead, as there are plenty of lodging options there as well. Getting to Park City won't be a problem either, as it is located a short 45-minute drive from Salt Lake International Airport.
The Best Park City Mountain Biking Trails
Climb up the uphill-only Armstrong, make your descent at the Mid Mountain Trail for the 30 miles of pure fun, or try the challenging Wasatch Crest enduro trail. Park City really has something for all skill levels.
Wasatch Crest Trail is Park City riding at its best
If there is one Park City mountain biking must-ride, it's the Wasatch Crest trail starting at 9,800 feet elevation. The trail sits atop the Park City ridgeline giving you a 360-degree view of the Wasatch Mountain range It is not for the faint of heart, as it's 12.5 miles long trail with an uphill section of 4,000 or 1,600 feet vertical climb, depending on if you want to take the Crescent Lift or the heel-toe express. You can also shelf-shuttle or hitch a ride with a service for
Wasatch Crest
. Keep in mind, this trail requires moderate to advanced technical ability in certain areas.
Amstrong is an uphill to get your heart racing
Armstrong Trail
is a recent addition to the Park City trail network and mainly acts as a connector. Armstrong is an uphill only trail, coming in at 4 miles long, making it a great option for accessing Mid-Mountain and Spiro. The trail features a gentle grade to the top, and although it's not technical, the ride still requires a fair amount of physical fitness.
Classic cross-country trail: Mid Mountain
The Mid Mountain Trail is an IMBA Epic trail featuring 21.9 miles of singletrack. Starting at either Park City or neighboring Deer Valley Resort, you'll find lots of climbing, descending and riding through forests. Standing at 8,000 feet for the full duration makes this a super fun intermediate trail. You might want to tackle this one on day two or three of your trip to give yourself some time to acclimate before the high-altitude ride. The scenery here is truly stunning, especially in fall with the leaves changing. A few rocky sections and plenty of climbs to keep this ride entertaining. Take my word for it, or better yet, find out for yourself.
Beginner-friendly Lost Prospector is classic singletrack with views of Park City
Looking for something to ease into your
Park City MTB trip
? Beginners and young members of the group will appreciate
Lost Prospector
for its lack of technical terrain through groves of quaking Aspen trees. Riders can also access the trail from different points in Park City to soak in fantastic views of the town and the resorts. You can ride this as an out-and-back or a loop if you want an easy cruise along the Historic Union Pacific Rail Trail. It's a great introduction to single-track mountain biking with only 600 vertical feet of climb. To make the ride a 7.8-mile loop, park at
White Pine Touring
. You'll hop on the Rail Trail to connect to Skid Row for some switchbacks before meeting Lost Prospector as it runs along the hillside opening to views of quaint Park City below.