Joshua Tree rock climbing
appears to take a page from a Dr. Seuss book. Joshua Tree National Park certainly grabs the attention of any onlooker, especially when I gaze upon the strange granite formations sitting among the ghostly looking Joshua trees. For me, Joshua Tree represents a true climber's retreat and holds a special place in my heart. Campgrounds offer sites a literal stone's throw from some of the best climbing in the park. You'll also find many styles of climbing (despite what rumors would have you think) and ample opportunities for desert shenanigans such as cave exploration along the
best Joshua Tree hikes
.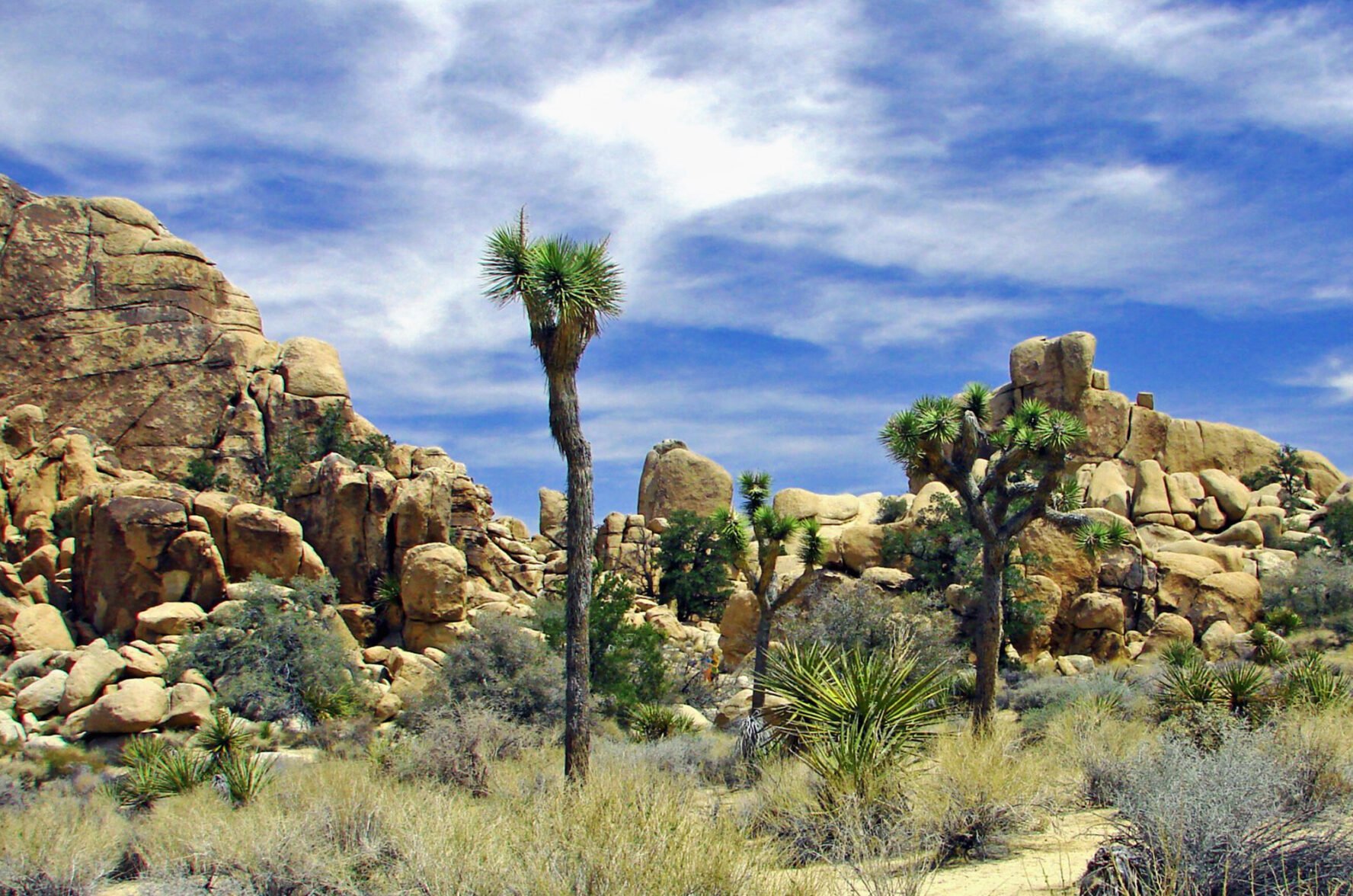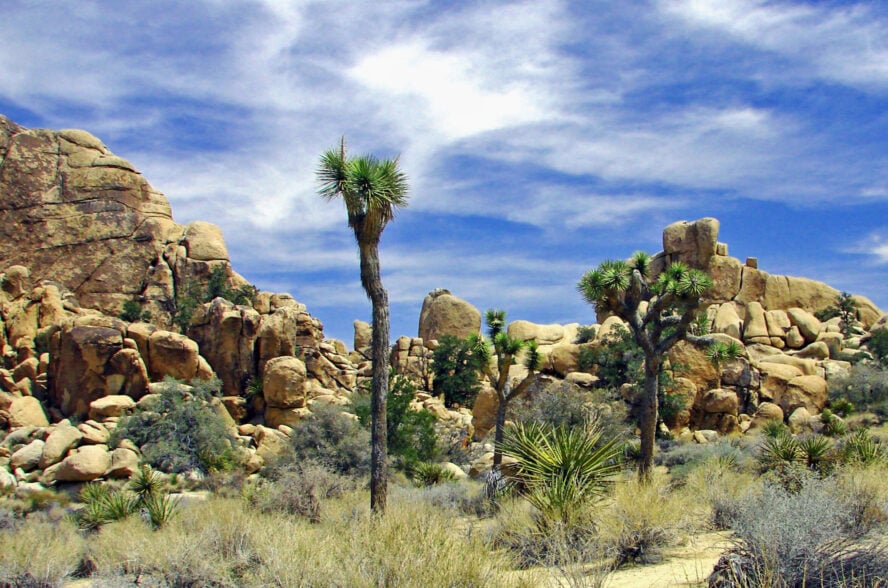 Joshua Tree redefined how people think about rock climbing in California
Joshua Tree National Park sits on the ancestral lands of the Cahuilla, Serrano, Mojave and Chemehuevi nations. This area also has a storied history among climbers. Beginning with early ascents in the 1950s by the Rock Climbing Section of the Sierra Club with climbers such as a young Royal Robbins, the then National Monument was seen as a mere practice area for better climbing in Tahquitz or Yosemite. Climbers from the late '60s through the '80s would come to define the style of
Joshua Tree rock climbing
. You can still climb many of these early classics such as Overhang Bypass, Buissonier, Toe Jam, Double Cross, and The Flake.
Is Joshua Tree sandbagged?
Yes, grades on routes like these may seem strangely hard to the Joshua Tree newcomer. Well, perhaps these climbing routes speak to the easy-to-moderate grades in a time before 5.10. Venture beyond 5.10, though not always, and one may begin to find a groove. Modern routes such as Damper (10a) will feel spot on for many. The bolting may excite others. Installed post-1990, Sexy Grandma (5.9) and Heart of Darkness (5.11) were put up as modern grades took hold. You can certainly find sandbags in these grades, so read those comment sections carefully! Anyone planning a climbing trip to California should not hesitate to pick up a guidebook such as
Joshua Tree Rock Climbs by Robert Miramontes
. Is there sport climbing in Joshua Tree, you might ask? You're in luck. Long hidden from the public eye, the new guidebook,
Joshua Tree Sport Climbs and Top Rope Sites by Todd Gordon
has been released.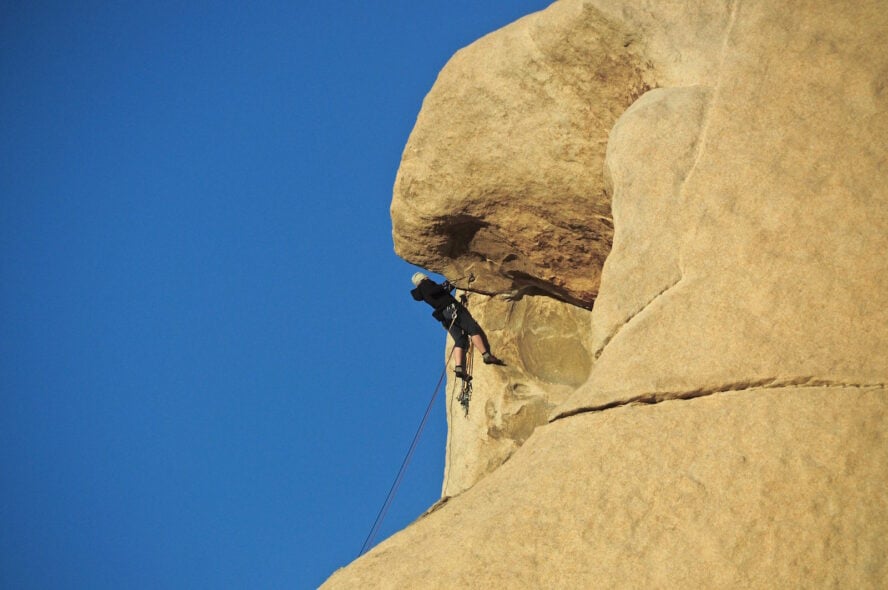 When to go rock climbing in Southern California's Joshua Tree
Prime climb temperatures are in the spring from late-February to late-April. Given the relatively small size of its formations, you can seek sun, shade, wind or calm generally by walking around the formations base. I also recommend you plan accordingly for the Mojave weather. At the time of this article, entrance fees sit at $30 and are good for seven days. Keep your receipt. An annual pass for
climbing in Joshua Tree
is $55, but I advise you spring for the $80 Interagency Pass that is good for entrance to nearly all public lands with a fee.
Where to stay and eat when climbing in Joshua Tree
If you plan to camp in Joshua Tree, it's important to acquaint yourself with the
National Park website
. Be aware of fees, regulations and limiting your impact. The quintessential climber's campground is Hidden Valley, which is first-come, first-served and is currently $15 per night. A strict limit of two cars is enforced. This campground is a climber's campground precisely because it is amongst some of the most concentrated climbing of all grades in the park. For a more guaranteed spot, you can reserve sites at Jumbo Rocks and Indian Cove. All are fairly close to a lot of climbing but generally require a short drive. Most sites are situated right at the base of the most popular climbs. You don't really have to drive anywhere when staying at this site. You should arrive early because these sites fill fast. And don't miss the Climber's Coffee event each Saturday organized by the NPS Climbing Rangers. Looking for a guide service? There is no shortage of great guides to go out with for a day of
rock climbing in Joshua Tree
!