Colorado Springs is emerging as a must for Colorado mountain biking due to starter trails in its city center building up to gnarly backcountry tracks. I'd be remiss to mention the downhill trails off the summit of the 14,110-foot Pikes Peak mountain in nearby Manitou Springs.
Yes, really. Pikes Peak is one of the more famed 14ers in the state, aka the local obsession with Colorado's 58 mountains stretching above 14,000-feet elevation. You also won't run out of entertainment. Colorado Springs is home to the Garden of the Gods, with its 300-foot towering sandstone rock formations, and a bit of riding through sage brush.
The city on the southern edge of the Front Range also offers a sneak route to Monarch Crest Trail, all through some worthwhile pit stops.
I've compiled a few standout trails for anyone looking to get acquainted with this Front Range mountain biking gem.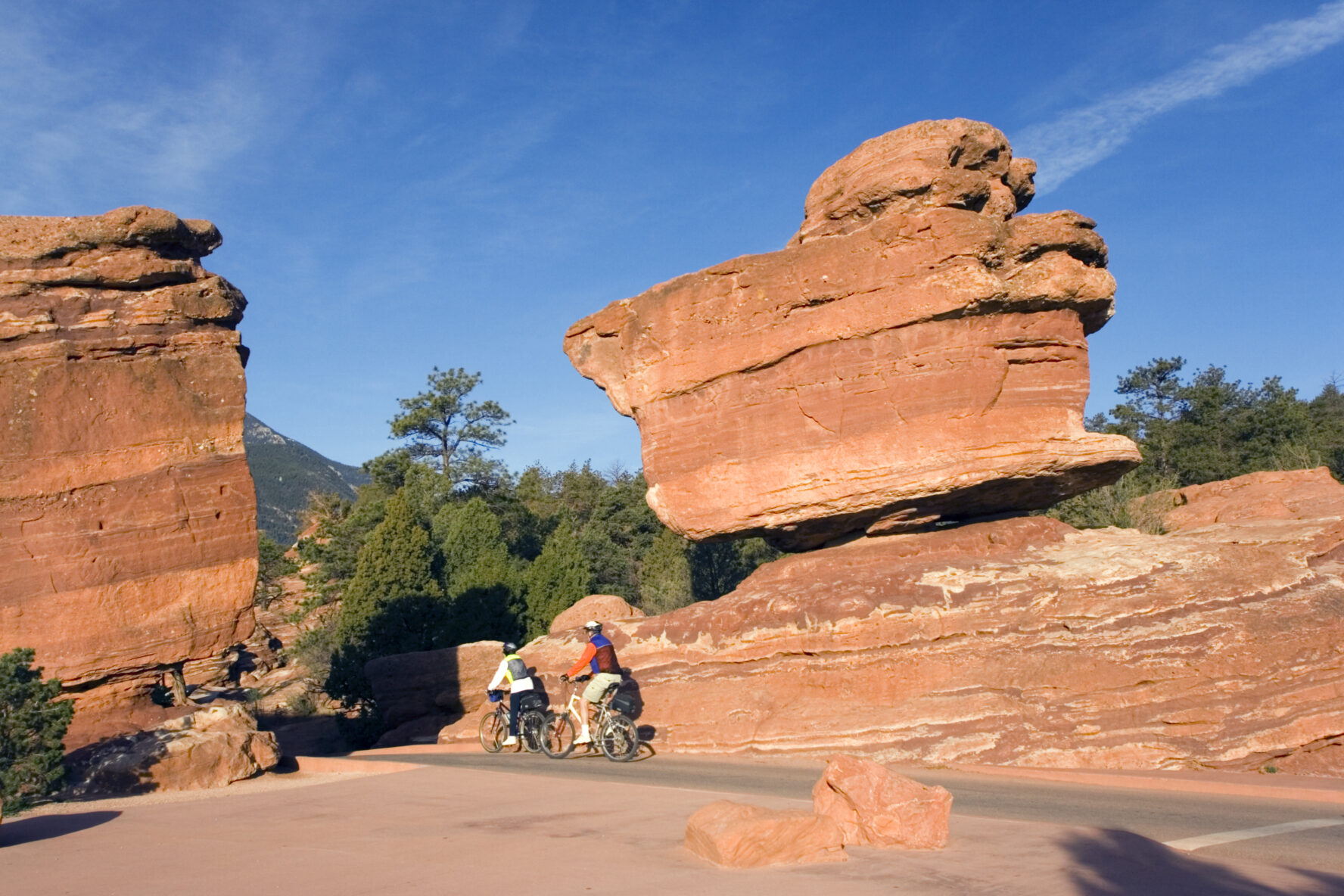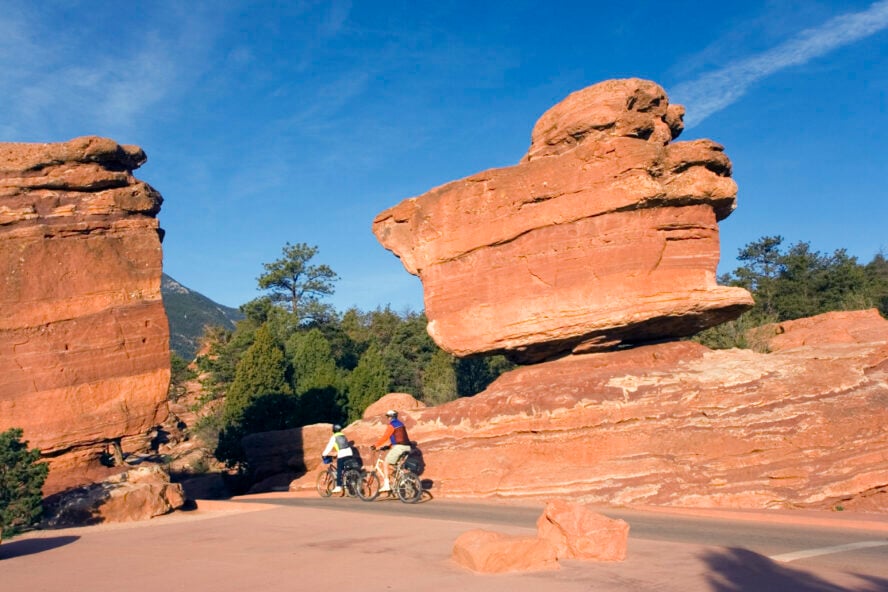 Best Colorado Springs Mountain Biking Trails
Bike through the gateway to the Front Range and enter a whole new world of adventure. Cruises, chutes, and even some leaps of faith await.
Ride the "Secret Garden of the Gods" at Red Rock Canyon Open Space
For beginners, and if you're looking for a scenic cruise, I'd recommend a scenic Ute mountain bike trail in Garden of the Gods. You can also skip the crowds and head to the alternative Red Rock Canyon Open Space.
The reclaimed space (read: former landfill) is home to 15-miles of intermediate trails boasting some nice vantage points of the Morrison Formation, one of the highest concentrations of dinosaur bones in the country. Red Rock Canyon might not be the sexiest of the Colorado Springs mountain biking trails, but you will find satisfying singletrack through sandstone hogbacks, and rock formations that will make you feel like you're mountain biking in Utah.
Barr Trail is one the best ways to bike down Pikes Peak
Bagging Pikes Peak is one of those rides worth bragging about. The 26-mile round-trip Barr Trail navigates mountain bikers up to the top of Pikes Peak. If you're looking for a challenge, then you'll love Barr Trail, but it's only for expert riders.
You also shuttle to the top for a point-to-point pedal including a mere 129-foot climb to experience a 8,175-foot descent. I recommend the latter, but it's your journey. Either way, you will have some of the most inspiring views of the Colorado Springs area.
Starting from the top, you'll encounter 32 boulder-filled switchbacks called "The Golden Stairs." You'll need to be ready to hike-a-bike, as in carry your bike, but for obvious reasons even that isn't a walk in the park. Once you reach You next reach the namesake Barr Camp, you're about halfway down and onto the easier sections. At least it'll be rideable from here!
Plummet down Pikes Peak for the literal ride of your life
Pikes Peak Plummet links several fun trails together for a 26-mile ride from the summit back to Colorado Springs. You also get 7,120 feet of descent. Unless you want a really long trip, this route is best serviced by shuttling up Pikes Peak to the Elk Park Trailhead.
This is a self-supported trail so prepare to be on remote trails. It can also be guided if the thought of being at 14,000 feet without cell service is intimidating — and should be taken seriously if you're new to long-distance, high-alpine treks.
This trail starts technical before reaching the Barr Trail Camp intersection. You'll find some adrenaline-fueled jumps on the way to Lake Moraine Trail when you reach true isolation. You connect to four other trails to reach the famous Captain Jacks for an essential Colorado downhill mountain biking experience. The Chutes is also a super fun section taking you back onto singletrack, high berms and a grat flow.
Elk Park is the Pikes Peak alternative without the foot traffic
While riding from the summit of Pikes Peak via Barr Trail is an option, getting there and back can be difficult with hikers and trail conditions alike. The Elk Park trail is a solid alternative to Barr and its contingencies. Elk Park doesn't include Pikes' 14,115-foot summit, but rather the starting point is a "modest" 11,835.
Depending on how you plan your day, you can utilize existing roads and trails and extend your ride downwards and incorporate the much loved Captain Jacks. Regardless, Elk Creek has plenty of technical challenges on hand, along with creeks, views, gravel and some smooth, smooth dirt.
Palmer Park Loop features urban tracks without technicality
This list wouldn't be complete without a loop in Palmer Park. While you're here, remember that there are horses, runners, kids and hikers here too, so be mindful of your speed and others. This ride isn't technical, but it's here because it showcases the city's talent of incorporating all kinds of public activities with public land in an urban setting. This is a 12-mile loop that takes in all the park has to offer and it's worth every pedal.