Thanks to 800 miles of tracks, Breckenridge mountain biking trails offer something for all skills from first time riders to challenging routes. This quaint resort town will also deliver on wide berms, switchbacks, and miles of singletracks. Similar to Breckenridge's skiing options, beginner riders will delight in this outdoor playground. If you're ready for it, you won't be lacking for challenging riding. In fact, you can take in the challenging but iconic 33-mile section of the singletrack on the Colorado Trail dropping you in Breck.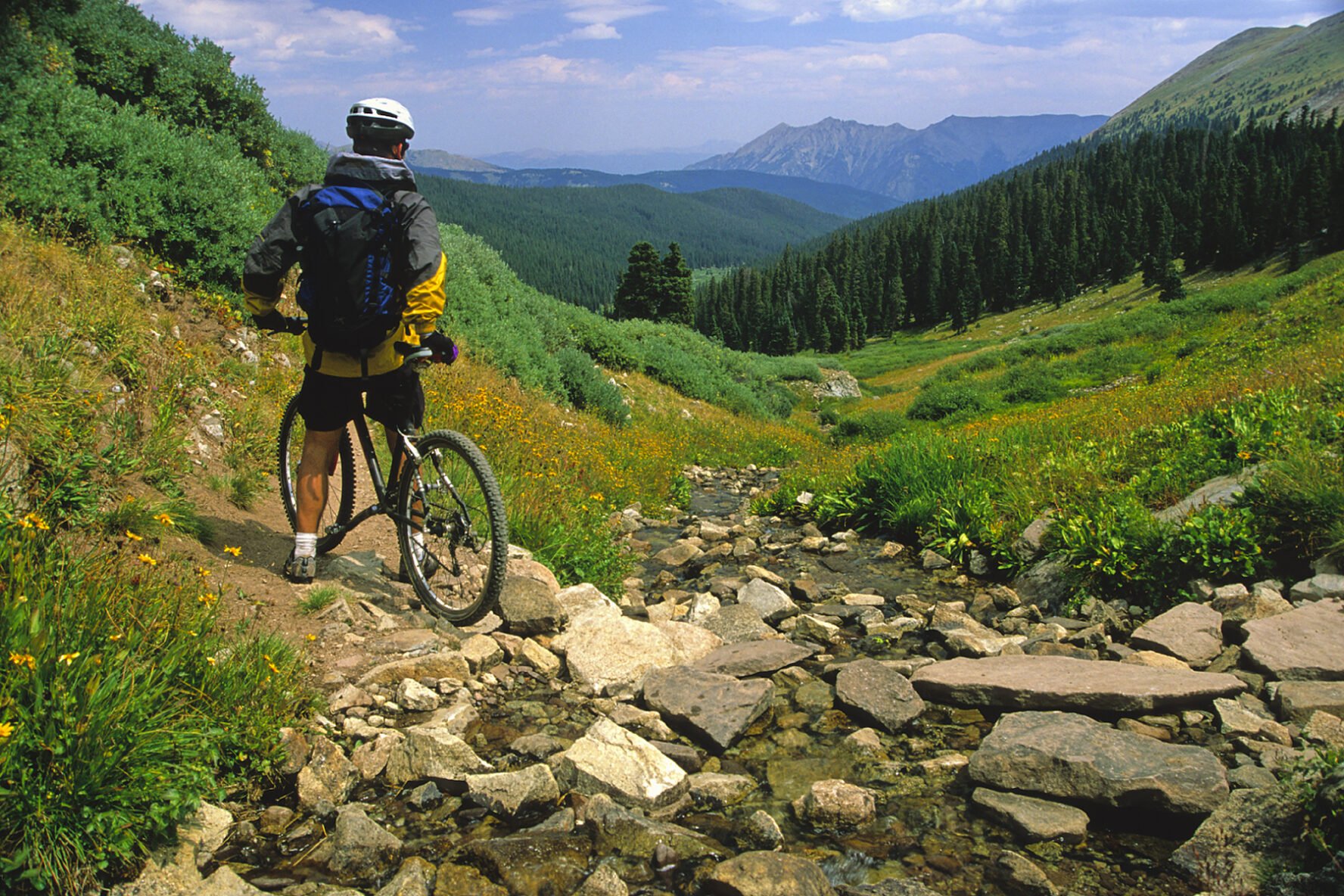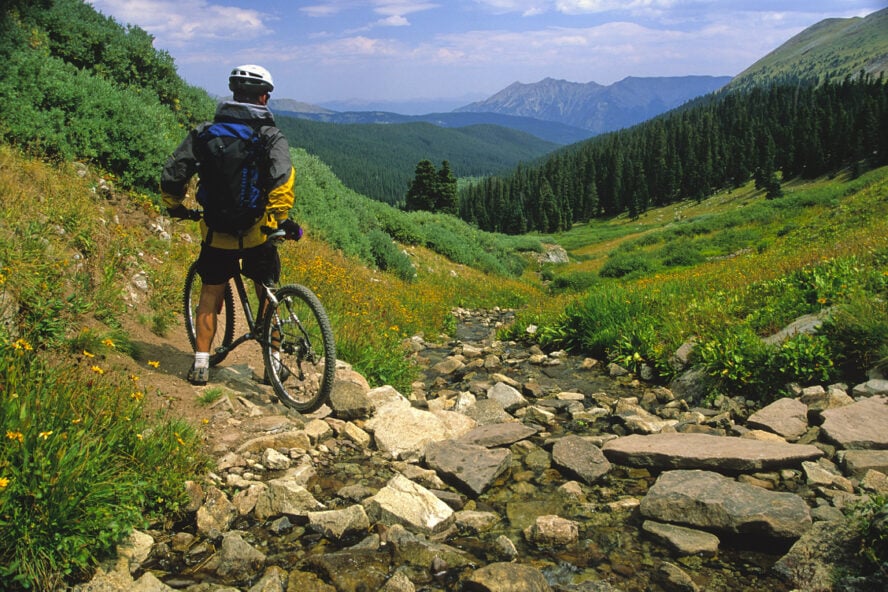 Abundance of beginner Breckenridge mountain biking trails
Another thing that's not to be missed while mountain biking here is the Wellington Bike Park. For kid-friendly riding, it's the place to be. This is a free entry area that has a Strider track, three flow trails, and a skills area where you can work on your jumps. You can get all of this without even leaving town. Speaking of town, Breckenridge is a designated Gold Level Bicycle Friendly Community, deemed such by the League of American Bicyclists — this is a testament to the area's facilities and dedication to supporting the two-wheeled community — fat-tired or not.
Peaks Trail for some intermediate aerobics
Starting out at 10,500 feet, Peaks Trail is a Colorado classic and favorite of both locals and visitors alike. Peaks is the perfect blend of adrenaline downhills and relaxed cruising. This route can be ridden as an out and back, with plenty of roots, climbs and descents. Traveling from Breckenridge to Frisco sets you up for some fairly moderate climbing until you plateau and hit the 1,000 feet for your ascent. If you ride this trail both ways, make sure you're rested up before the journey, as it's pretty much all up hill. Keep an eye out for hikers when you get close to either town because it's a popular walkway. If the return-trip climb isn't appealing, you can always ride back on the paved Blue River Bikeway to get back to Breckenridge.
Breck's section of Colorado Trail: Kenosha Pass to Breckenridge
Technically this 33-mile segment of the 547-mile IMBA EPIC Colorado Trail, signifying true backcountry riding in a remote setting. The all single-track trail begins in nearby Kenosha and ends in Breckenridge. You'll be spending most of this ride at higher elevations, so plan accordingly and bring extra water and food. Starting from Kenosha, you'll begin with a decent climb to an aspen clearing and views of the Como Valley. After your first descent, an even greater climb awaits, bringing you to a (literal) breathtaking 12,000 feet.
I'll admit this route is definitely brutal and potentially energy sapping, but this section of the Colorado Trail is worth every foot. Once you've broken treeline, the views are truly incredible. While the greatest elevation may be behind you at this point, get ready for three more ascents to conquer before you hit the Gold Hill trailhead just north of Breckenridge on Highway 9.
Gold Run Road's gravel trail is perfect for beginners
Beginners can gain their footing on this 3.6-mile one way trail. If you're looking for a quick ride through the forest, Gold Run Road is the fun, low-pressure trail for you. This route is also an excellent way to link to plenty of other trails within the Golden Horseshoe network. This doable gravel path travels through aspen groves — a must-do in fall. It's so straight forward, first timers on a bike could do it.
Cross the Continental Divide on historic Boreas Pass Road
I recommend this trail for its high-altitude panoramas and historic sights without the grind of Boreas Pass. Despite its length, Boreas Pass is more of a beginner's trail and worth riding for the single-track downhill until the end. The ride starts on Boreas Pass Road, a 17.4-mile out and back passing glimpses of historic markers such as a water tank and old mines. Spoiler alert: you'll have to share with other vehicles. To take it to the next level, you can connect with Baker's Tank, after the Pass. You'll get some steep and challenging terrain to climb before heading down through a beautiful pine forest. Keeping with the flow, you shoot back out upon the paved section of Boreas Pass road.