Breckenridge | Colorado
Mountain Biking Tours in Breckenridge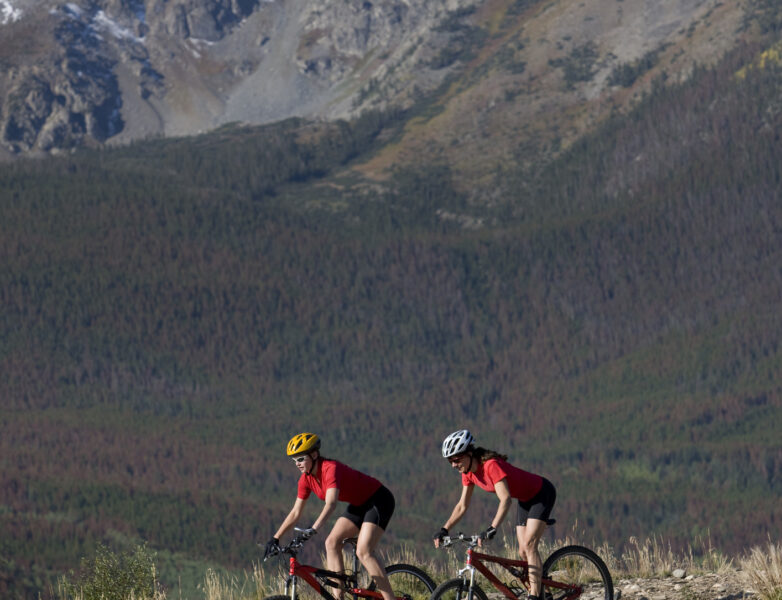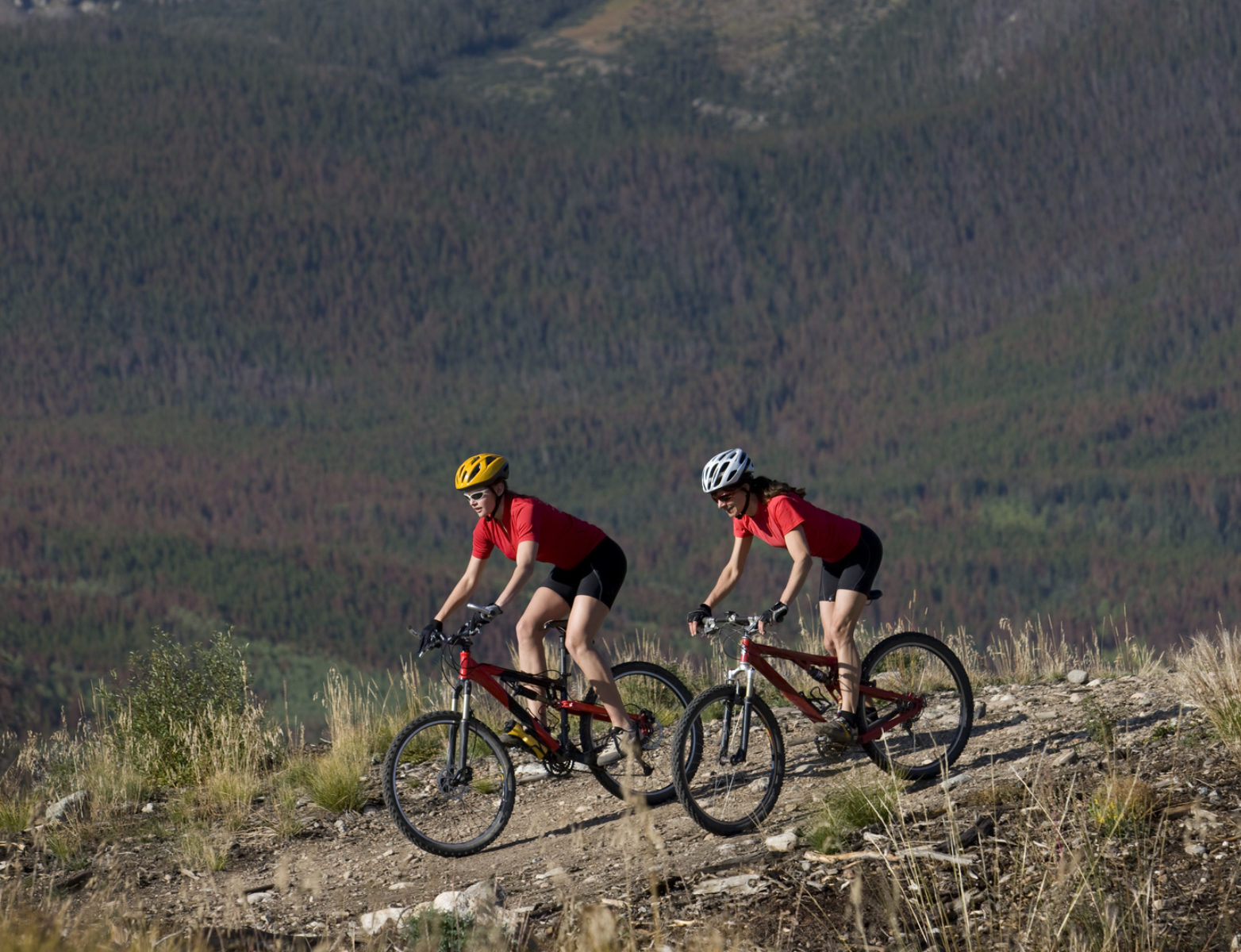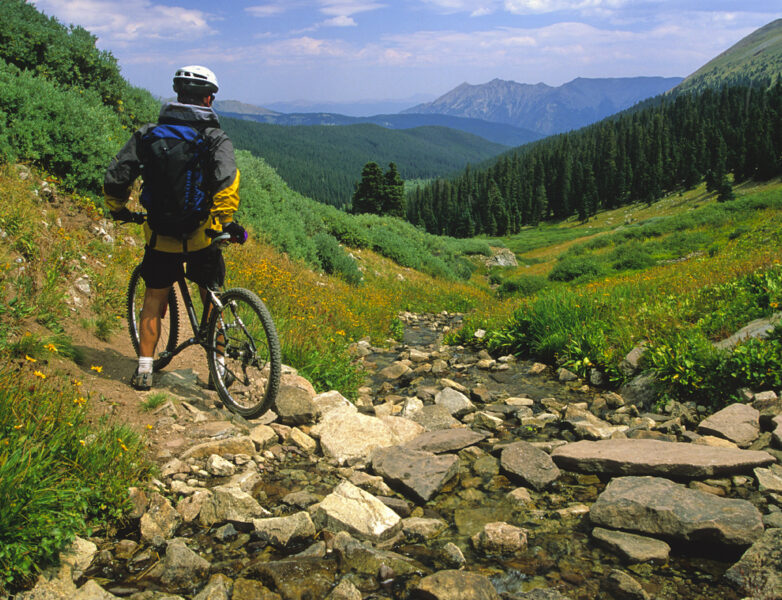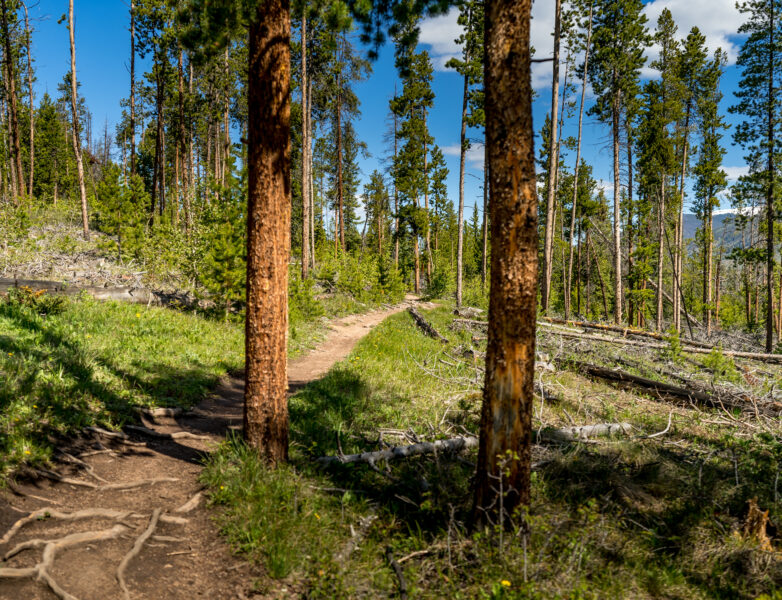 Season

Late June until the snow flies
Experience flowy downhills, grinding climbs and historic mining roads
Tucked in the foothills of the Rocky Mountain's Tenmile Range, is Breckenridge, a small town with big trails, tailor made for awesome mountain bike tours. At an elevation of 9,600′ with 800 miles of track — it is also a Gold Level Bicycle Friendly Community, awarded by the League of American Bicyclists. Mountain biking and cycling are a huge part of Breck's backbone. From adrenaline downhills to relaxing cruisy trails, the town's incredible network of trails all boast easy access and that will take you up and down Colorado's famed terrain. Get ready for alpine singletrack, loamy forest trails, and fields of wildflowers as far as the eye can see.
Most Popular Itineraries
Full-Day Breckenridge Bike Tour
Catered to the skill level of your group, this full-day mountain bike adventure will have you experiencing the best biking that Breckenridge has to offer. With no lack of options, choose from a mellow day of discovery or hit up one of the area's incredible singletrack loops. Your guide will customize the day, connecting different trail networks together to create your own epic day of adventure! If you're looking to take on the iconic Colorado Trail, full-day options are available for intermediate to advanced riders.
Half-Day Breckenridge Mountain Biking Tour
What better way to get an introduction to Breckenridge singletrack than half-day mountain bike trips? Customized to the skill level of your group, your guide will introduce you to Breck's soft loamy soil, berms and bridges, linking up the best trails to challenge your group. If you're looking to take on the iconic Colorado Trail, half-day options are available for intermediate to advanced riders.
2-hour Breckenridge mini tour
Looking for a bit of instruction and a quick tour of the area? In this two-hour mini tour, you and your group will receive 30-60 minutes of instruction from your guide before heading out on a short tour of the local trail system. Practise your skills, gain confidence on two-wheels and learn some tips from a pro before heading off to explore more of Breck's epic trails on your own.
Things you need to know
COVID-19 measures in Breckenridge, Colorado
What can you expect from a guided mountain biking tour in Breckenridge?
Staff from Colorado Adventure Guides (CAG) are screened at the start of each work day to ensure they are symptom-free
CAG staff will be expected to wear a face covering at all times except while on the river, rock, trail, or bike
Robust cleaning routines have been implemented for all gear and surfaces guests come in contact with. This includes sprayers for gear, sanitizer foggers of vehicles and using a COVID specific disinfectant with all cleaning supplies.
What is expected of guests?
Completed online release forms are required in advance of arrival
Any guest experiencing symptoms of COVID must not arrive for their trip and contact us immediately to reschedule
Arrive with your own face covering (see below for details)
Arrive in activity-appropriate attire, as this will help to minimize time in our changing rooms and bathrooms
Sanitizing and social distancing practices
We are following state and county guidelines regarding capacities and cleaning / sanitizing
All sanitizers used are specifically registered with the EPA as effective against COVID-19
Our staff will utilize specific tools such as foggers for vehicles and a powered sprayer for rafts and other gear.
In order to follow distancing standards the office will be limited to 6 people at once
Hand wash stations and/or hand sanitizer will be provided at all public entrances, in vehicles
Gear is cleaned & sanitized after each use using COVID-19 specific solution. In shuttle vehicles, high touch areas are sanitized throughout the day by shuttle drivers
The CAG retail space, change rooms and bathrooms are cleaned & sanitized daily using COVID-19 specific solution. Additional high-touch areas cleaned throughout the day.
When to wear face coverings:
When approaching or interacting with CAG staff or other guests
When entering indoor spaces — i.e. office, changing rooms, and bathrooms
During the shuttle ride to and from your activity
All guests are required to arrive at CAG with their own face covering. Face coverings are NOT required to be worn by guests while on the raft, rock, trail, or bike.
Synthetic neck gaiter sun buff is appropriate for check-in and indoor spaces of our facility, the shuttle ride
Cotton or paper mask is appropriate for check-in and indoor spaces of our facility, and the shuttle ride, but is NOT recommended for during activity use
Guest check-in
All guests are required to complete online release forms in advance of arrival. A link will be sent to guests after making a reservation.
Outdoor check-in will be available on most days. If outdoor check-in is not available, guests will check-in inside our office with additional spacing provided between check-in locations and a maximum of 6 people at a time
Only one member of each party is needed during check-in
Check-in locations will be spaced apart to comply with distancing guidelines
Guests may meet guides at trailhead during certain activities (bike, hike, climb)
Transportation
Increased space will be given within each vehicle to follow distancing standards.
Shuttle vehicles will be operated with a maximum of 10 people and within 2 households, not including the guide. A household are guests living in the same house.
All vehicles are cleaned and sanitized daily using COVID-19 specific solution and vehicle fogger. High touch areas are sanitized throughout the day by shuttle drivers.
Windows will remain open whenever conditions allow.
Hand sanitizer will be used upon entering and exiting the vehicles
Why should I book with 57hours?
With us, it's all play and no work for you! 57hours is an open platform that will connect you with trained and certified outdoor adventure professionals all over the world. Using our knowledge of technology, we make it super easy to find and book adventures worth tackling, led by pro guides, and complemented by free outdoor travel resources gathered from locals and first-hand experiences.
Why should I go mountain biking?
Mountain biking is fun! Feeling in control over bumpy and unpredictable terrain is an adrenaline rush all in itself. Once you ease into riding, you'll learn to read obstacles, manage momentum with your body and brakes, and maneuver over the trail with confidence. All your guides expect from you is a basic grasp of riding a bike, an open mind, and a lot of trust. A small price to pay to feel like you're practically flying, right?
What's included?
What you get in this adventure:
An experienced MTB guide with extensive local knowledge of the area
Transportation to/from the trailhead if needed
What's not included:
Mountain bike and helmet for $65
What to expect from hiring a MTB guide?
One of the reasons why mountain biking is so popular is the rush of adrenaline it sends through your veins. Sure, danger is part of the appeal, but you'll want to avoid any unnecessary risks by hiring a guide. They'll make sure you enjoy the ride and feel safe while doing it. There is no road map or GPS technology out there that's as good as having an experienced local guide to lead the way while mastering unfamiliar trails. There's always more to see, and your guides know just where to go to find it!
What do I need to bring?
Mountain biking helmet (if not renting)
Wear comfortable riding or athletic clothing, preferably moisture wicking or synthetic material
Closed toed shoes
Breathable outside layer and rain jacket
Sunglasses or eye protection
2-3 liters water and water bottle or hydration system
Daypack with snacks
Cycling gloves are optional but recommended
What if I've never mountain biked before?
As long as you pedal on two wheels, you can book this adventure. There is guided mountain biking for all skill levels in Breckenridge. A guide will explain the different mountain bike techniques and body positions to get you feeling comfortable on the trial. You will progress at a level that is consistent with your comfort. Once you finally get the hang of trail riding, you will only want more!
How fit do I need to be?
You will need to be able to bike between two hours and a full day, depending on the itinerary you choose. After booking, your guide will determine the group's skill level and capabilities and cater the day to your specific abilities. One of the best things about Breckridge is that there is everything from mellow, cruisy trails to hard-riding climbs with epic descents. The altitude should not be underestimated either; it's good to have a couple days acclimatization if you can. Keep in mind, opting for the full day option means more biking, which is strenuous even if you stay on beginner level trails.
What about group sizes and pricing?
Group sizes are usually for 1 – 5 people, with one guide. Pricing is per person, and with more guests, the price drops — it's the perfect chance to go riding with friends and family!
If your party has more than 5 people, contact us prior to booking.
What about bad weather?
Tours are scheduled to fit with the seasons and ideal cycling conditions. When the weather does not cooperate, your guide will know the correct course of action to take. Whether that's shifting to a more favorable location or postponing until conditions approve, your guide will know just what to do. In the event of predictably bad weather, you will be contacted prior to the trip to discuss suitable alternatives.
Cancellation policy
All policies regarding cancellation, rescheduling and trip insurance will be clearly laid out by your guide prior to booking your adventure. Contact us if you'd like more information on a specific adventure.
Getting there and meeting location
Denver (DEN) all the way. Breckenridge is about 90 minutes away by car to the southwest. The exact location of your bike tour will depend on your chosen itinerary, and will be determined after booking.