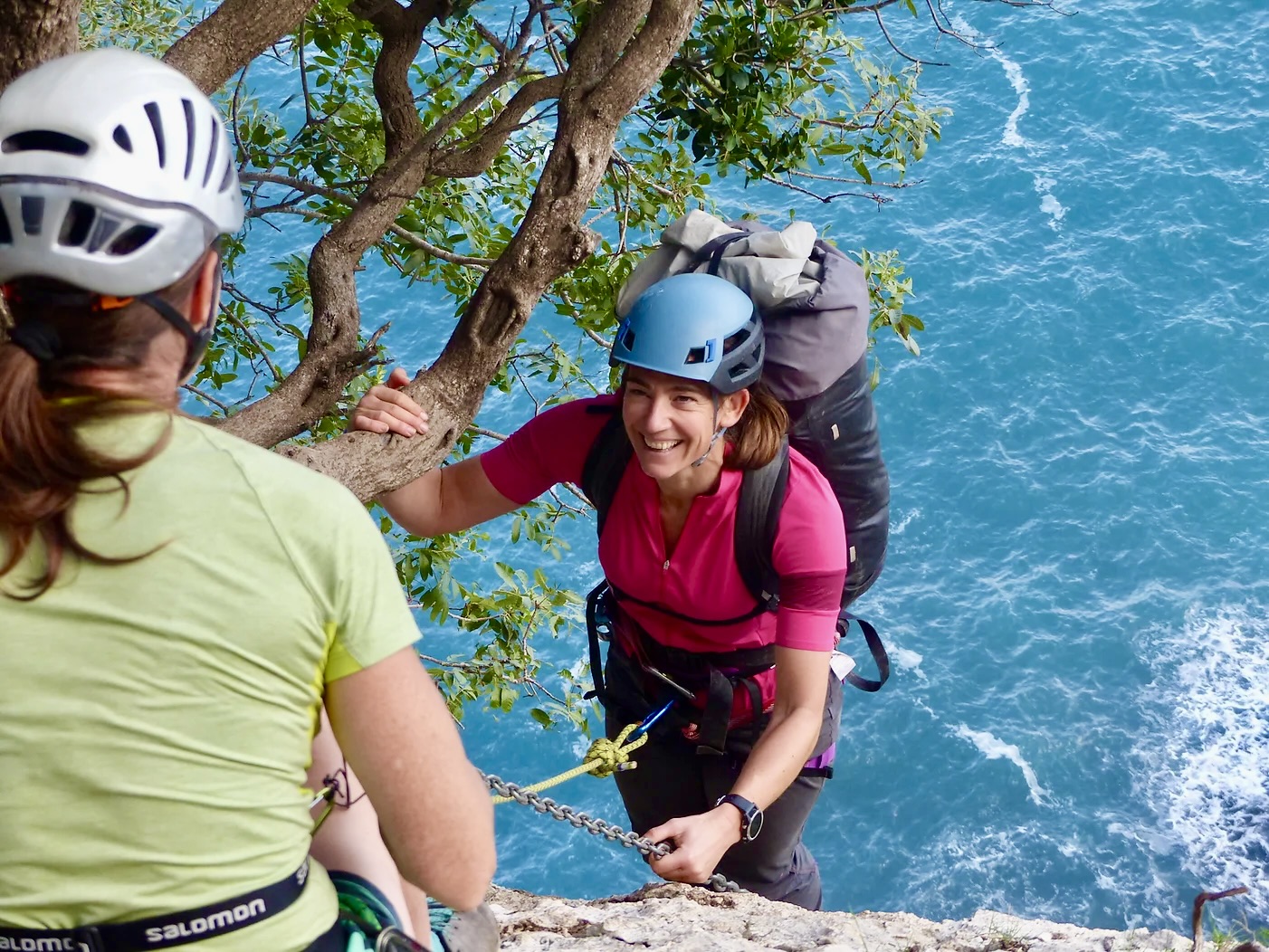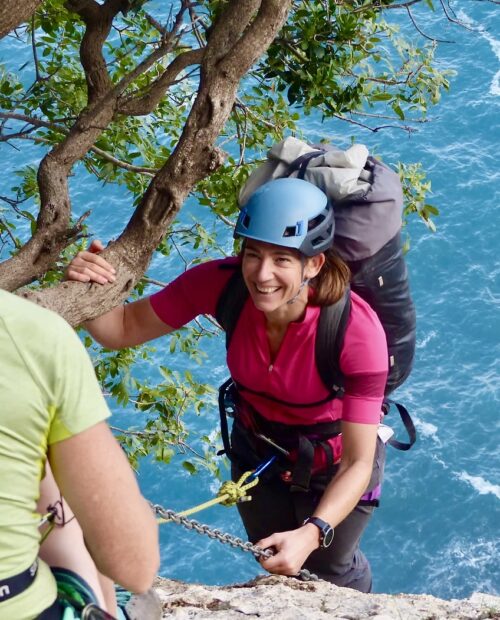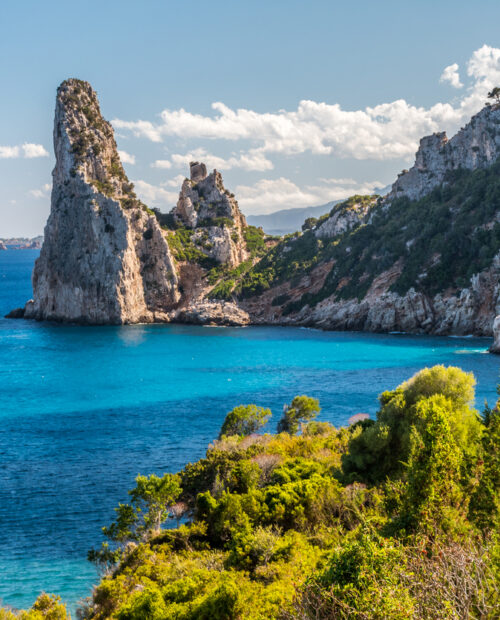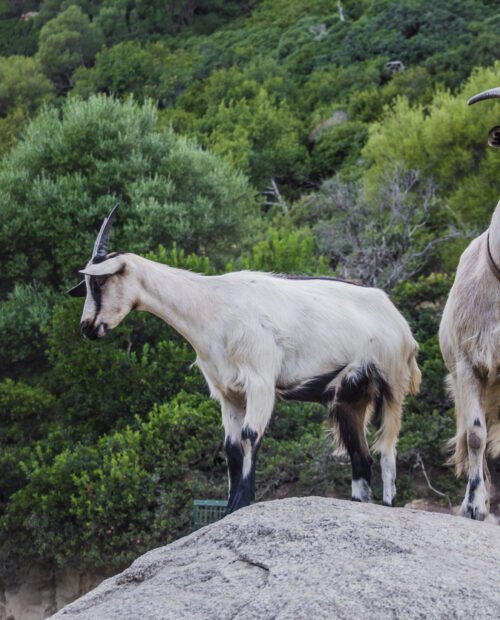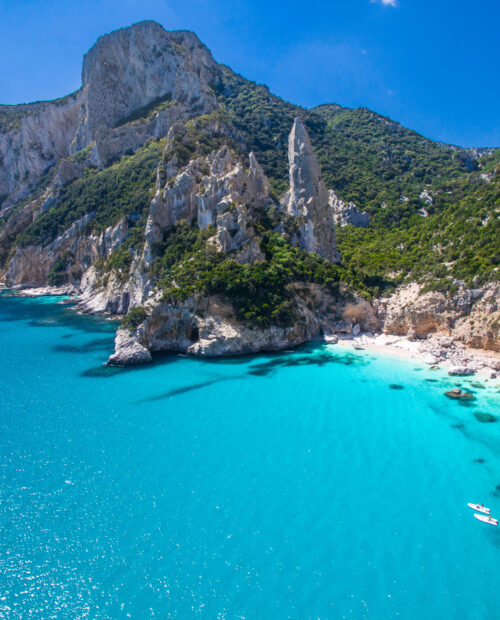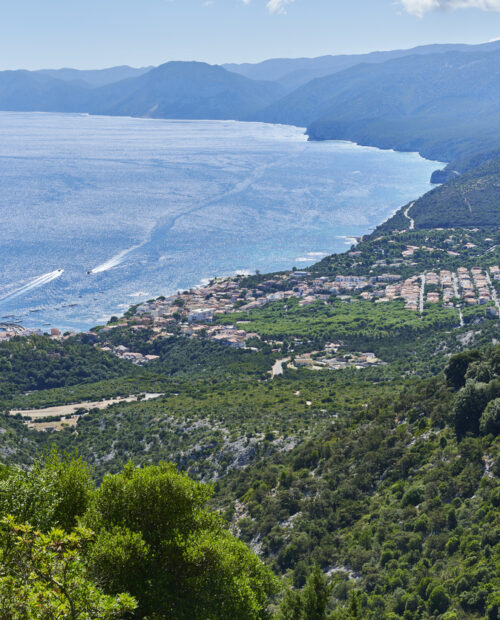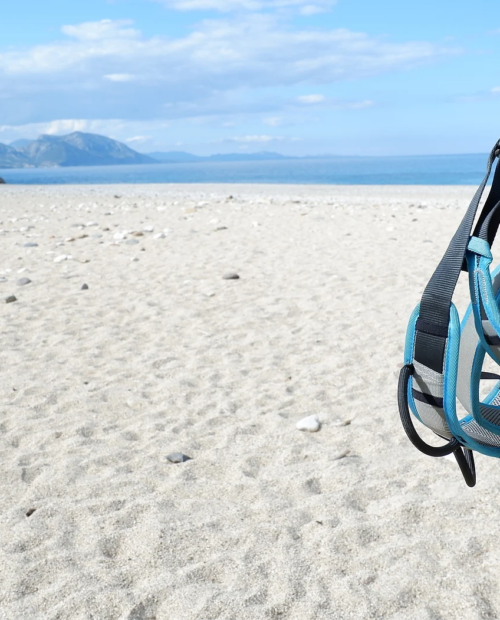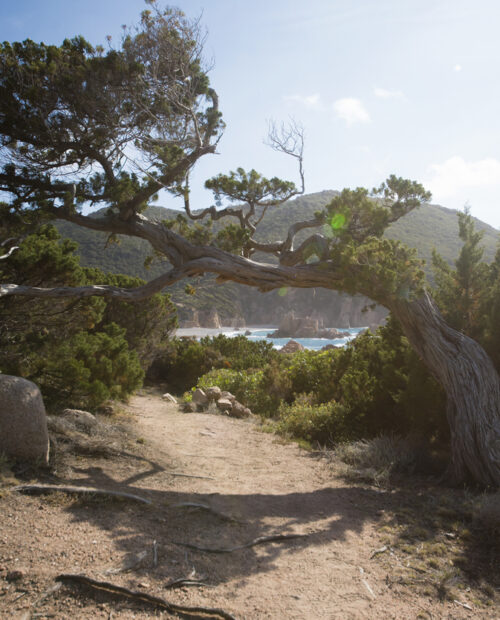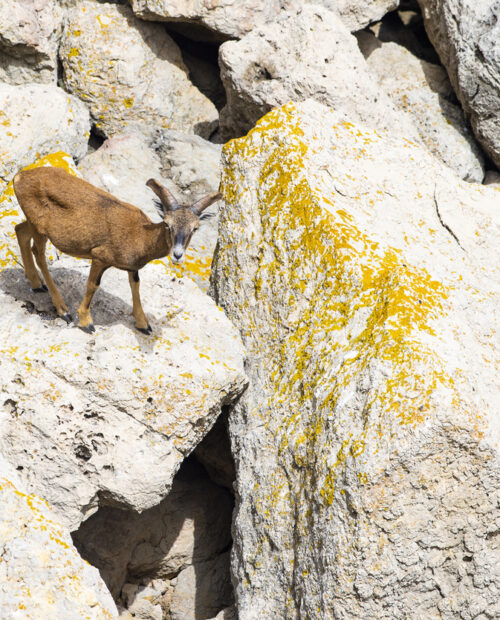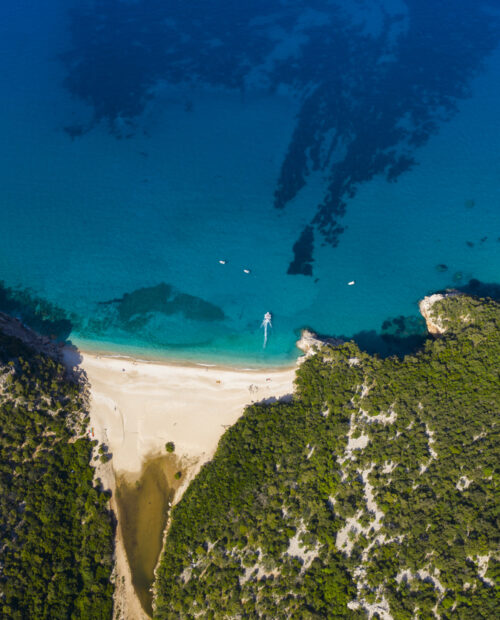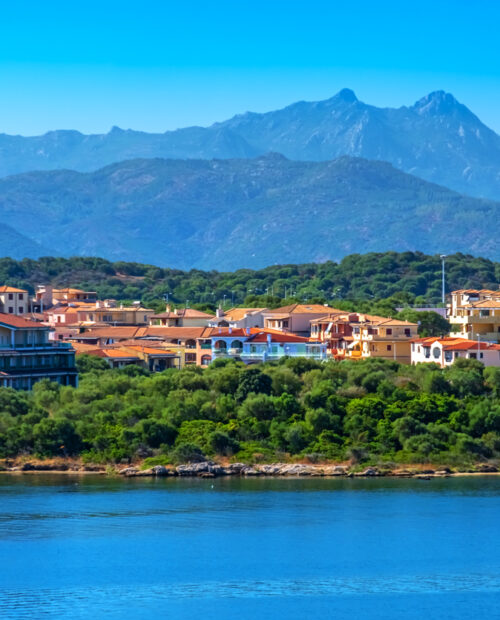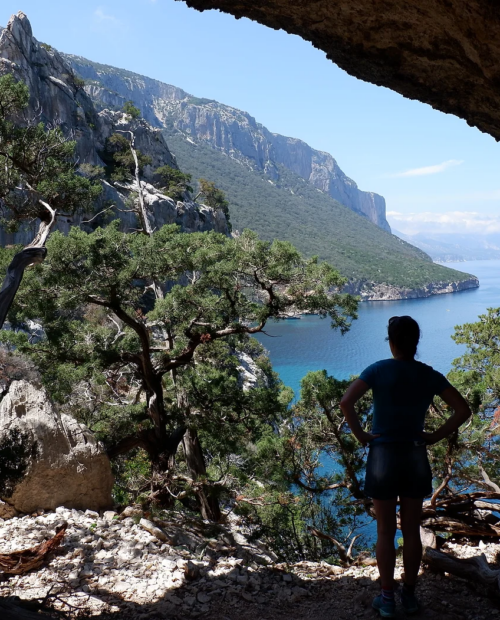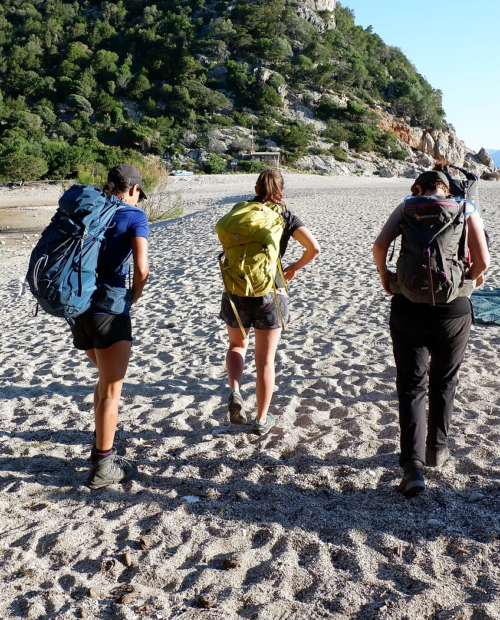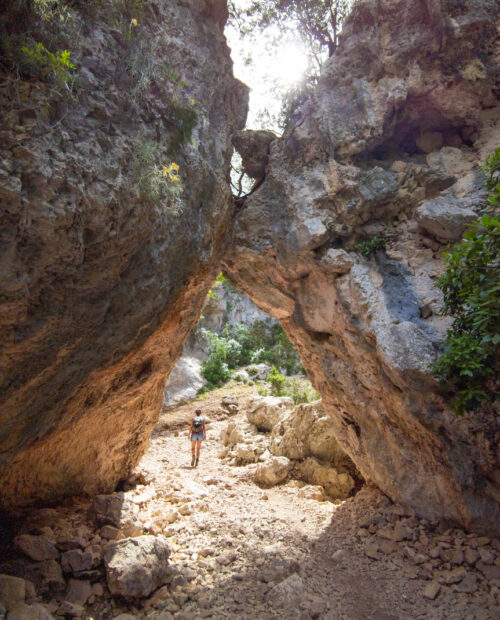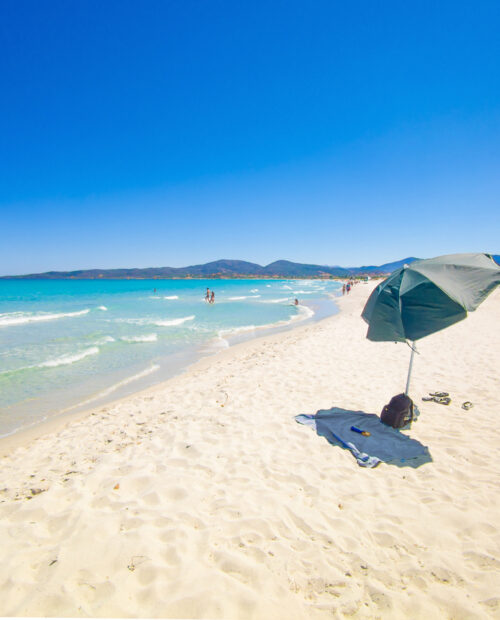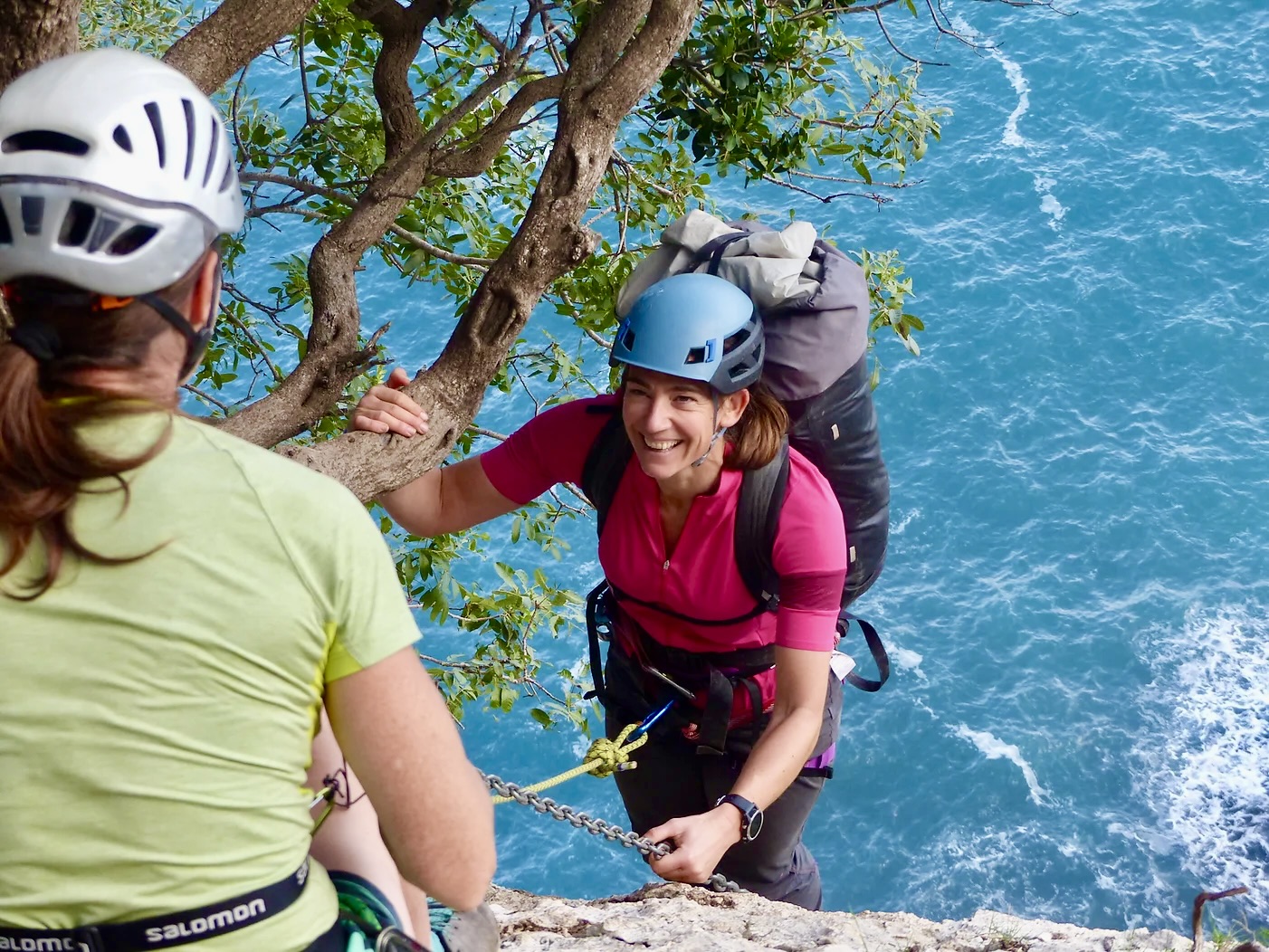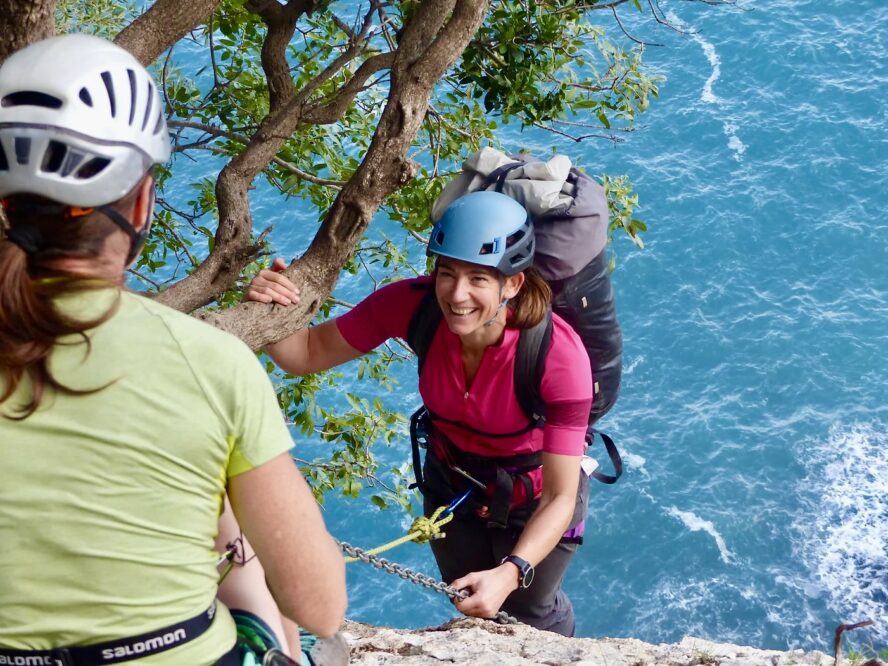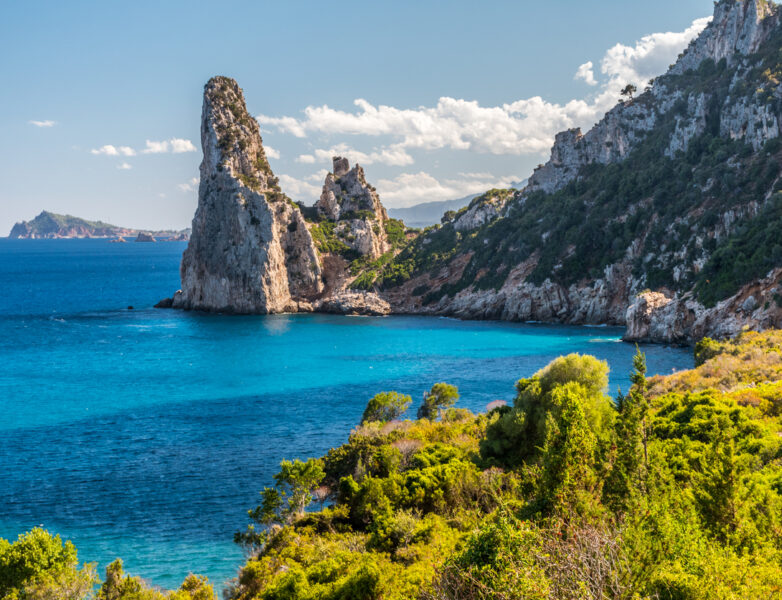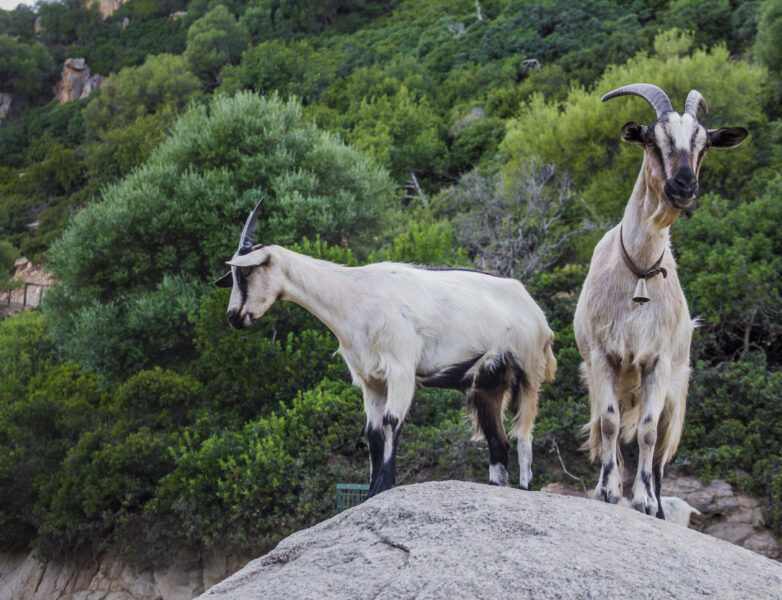 Hiking the Selvaggio Blu Trek in Sardinia
5.00

()
An irresistible challenge for the adventurous at heart, the Selvaggio Blu Trek (literally the Wild Blue) is a mythical 25-mile trail piercing its way along Sardinia's rugged east coast. Charged by the Mediterranean sun and invigorated by the breeze of the Tyrrhenian Sea, you'll traverse this demanding trail on a guided week-long hiking adventure—which also includes scrambling, abseiling, and rock climbing. The rewards are immense and the views unforgettable: massive limestone spires emerging from the sea, agile mouflons relishing stoic juniper trees, rugged coastal cliffs sheltering hidden coves, and golden sandy beaches. Replenish your energy under Italian starry skies and revel in the gratitude of accomplishing this challenging trek.
Revel in Sardinia's untouched wilderness, away from the crowds and civilization

One of the most challenging treks in the world: hike, climb, abseil, and scramble

Spectacular vistas all along this 25-mile trek—beaches, cliffs, canyons, and so much more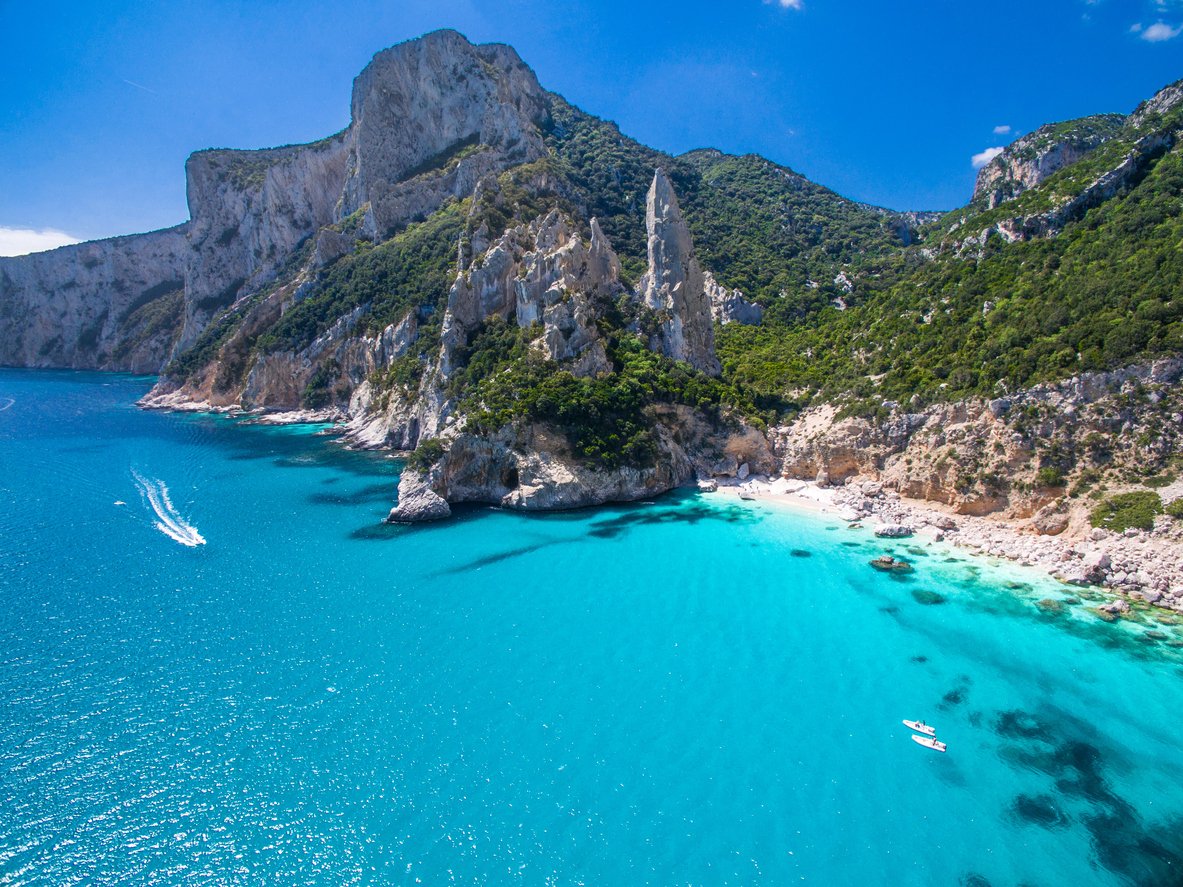 Itinerary
Often regarded as one of the most challenging treks in the world, Sardinia's Selvaggio Blu is not for the faint of heart. This 25-mile trail winds its way along the island's east, rugged coastline, demanding the adventurers to scramble, hike, rock climb, and abseil. With an IFMGA-certified guide by your side, you will navigate Sardinian wilderness safely over the course of a week, and as the day draws to a close, you'll retreat to a secluded spot for a night under the stars. All the accommodation, food, and transport is settled, so it's up to you to just enjoy this demanding adventure!
Arrive in Olbia, Sardinia. There's an evening transfer from the Olbia Airport to your accommodation for the next 2 nights—a 3* hotel in Cala Gonone, just 200 m (650 ft) from the beach. Meet your guide and the rest of your team for a meet and greet session and a technical introduction.
Accommodation: 3* hotel in Cala Gonone
Luggage access: Yes

Today includes a half-day session for rope skills training in a rugged canyon in the Supramonte region. The series of training abseils will gradually get more challenging, simply to make sure everyone is confident with abseiling. Return to Cala Gonone and explore the town on your own—try out pizza, local wine, or gelato. Tomorrow the trek begins.
Accommodation: 3* hotel in Cala Gonone
Luggage access: Yes
Meals: Breakfast and lunch
Activity time: 3-4 hours
Elevation: +50 m / +165 ft | -200 m / -655 ft

Transfer to Pedra Longa to begin the trek. Enjoy your first, relatively-non-technical day except for a short upwards scramble (though usually not required, it may be roped so harnesses and ropes will be carried just in case). There will also be downclimbing a short section via a juniper tree attached to the mountainside. Tonight you'll sleep out (bivouac) under the stars, in a small clearing near rocky Portu Pedrosu. A crew will arrive by boat to deliver water and supplies.
Accommodation: Bivouac
Luggage access: No
Meals: Breakfast, lunch, and dinner
Hiking: 9 hours
Distance: 12 km / 7.5 miles
Elevation: +1,200 m / +3,940 ft | -1,200 m / -3,940 ft

Juniper trees and branches will aid your progress today—they're living history, as locals have engineered and worked with this hardy tree in this manner for centuries. You'll also come across Sardinian shepherds's hut enroute, called "oviles". Going up and over Punta Salinas, you'll pass through the spectacular UNESCO World Heritage beach of Cala Goloritzè, famous for its monumental rock spire and azure seas. Have your second food stop as there's 2 more hours left of trekking today (with 2 roped climbing sections) to take you to the wild bivvy spot up on the plateau of Piredda. The crew will greet you there and resupply.
Accommodation: Bivouac
Luggage access: No
Meals: Breakfast, lunch, and dinner
Hiking: 8.5 hours
Distance: 12 km / 7.5 miles
Elevation: +1,400 m / +4,595 ft | -900 m / -2,955 ft

More technical climbing and abseiling begins today! The first part of the day is spent trekking, dropping down to the sea. Then you'll have a few short abseils scattered across the whole afternoon before you reach the bivouac point for the night—which is a cave. The route will take you from Punta Salinas to Bacu su Felieu with some elevation change to tackle.
Accommodation: Bivouac
Luggage access: No
Meals: Not included, you bring a dehydrated meal for tonight
Hiking: 6 hours
Distance: 6 km / 3.8 miles
Elevation: +660 m / +2,165 ft | -1,160 m / -3,805 ft

Abseil from the bivouac spots and trek for a couple of hours. You'll have 2 longer abseils in the afternoon, and later on you'll have some chained sections, climbing sections, and shorter abseils. If you're lucky, you'll spot the local Sardinian mouflon, tenacious characters able to negotiate impossibly steep terrain. Gaze down over the Mediterranean pristine turquoise waters as you lower your way down to the beach, where you'll enjoy a locally-sourced dinner. There's a planned boat resupply.
Accommodation: Bivouac
Luggage access: No
Meals: Breakfast, lunch, and dinner
Hiking: 6.5 hours
Distance: 7 km / 4.3 miles
Elevation: +1,150 m / +3,775 ft | -1,150 m / -3,775 ft

This last non-technical day is a perfect end to your trek. Sea permitting, the crew will arrive to take the climbing kit to make your daypacks lighter. Enjoy this morning's final section of the trek as you hike to Cala Luna for a celebratory lunch on the beach. Relax on the spectacular boat trip over the Cala Gonone to spend the final night at a hotel
Accommodation: Bivouac
Luggage access: Yes
Meals: Breakfast and lunch
Hiking: 3.5 hours
Distance: 8 km / 5 miles
Elevation: +1,200 m / +3940 ft | -1,200 m / -3,940 ft

There will be a private group transfer back to Olbia this morning after breakfast, which gives you a great opportunity to explore Olbia before heading back home. Time permitting, enjoy those last few hours on the beautiful beaches of Olbia or soak up the local history, views, and cuisine. If you'd like to stay longer, just ask your guides for some recommendations!
Meals: Breakfast

This itinerary is designed to complete the Selvaggio Blu Trek in a relatively self-contained way—this means minimal resupply points, some of which are dependent on sea conditions. Please be aware that if the sea does not permit small vessels to reach beaches as planned, then more food and water will need to be carried, and Day 7 could potentially involve heavier day sacks.
Get free trip brochure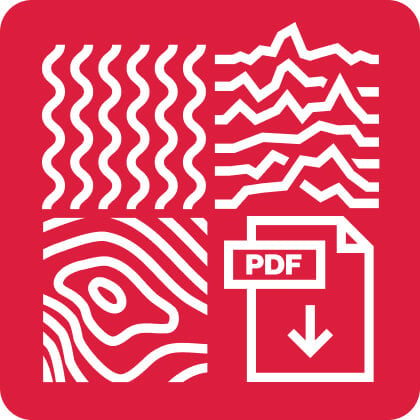 The brochure contains:
Adventure and location overview, itinerary, available dates, what's included, how to prepare, and much more.
Brochure sent, check your inbox
Talk with us
and let one of our adventure experts help you plan your perfect adventure.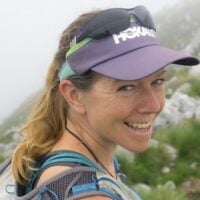 Becki Penrose
International Mountain Leader, BASI ski instructor
International Mountain Leader, BASI ski instructor
Becki is an International Mountain Leader with many years of guiding experience, taking groups in the mountains on walking, climbing, and skiing trips. She is also a qualified BASI ski instructor and she's led expeditions and treks to Costa Rica, Ecuador, Morocco, Bolivia, and China, as well as guided trekking and trail running in the European Alps.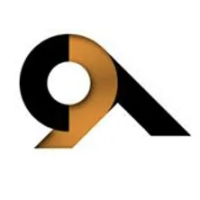 Offering a diverse range of trips in the Alps, Pyrenees, Dolomites, Jura and beyond, Cloud 9 Adventure is all about conveying their passion for adventure travel among some of the world's most magnificent mountain landscapes—and as far away from the crowds as possible.  
Erric Reynolds
(source: Trip Advisor)
Cloud 9 planned everything for our group: Food, lodging, baggage transportation and excellent hiking plans. The food and service in the hotels was great and staffs were friendly and helpful! I would highly recommend Cloud 9 for anyone planning a trip.
Jessica Hope
(source: Trip Advisor)
What an incredible experience. Our guide was fantastic, teaching our kids so many things along the way. Highly recommend!
Things to know
What you get on this adventure:

An experienced, UIAGM-certified guide with extensive knowledge of the area
8-day hiking tour along the Selvaggio Blu Trek
Accommodation (3 nights in a hotel in Cala Gonone & bivvy bags and large tarpaulin while sleeping on trek)
Most meals (all breakfasts and lunches, 4 dinners)
Transportation during the tour
All necessary equipment (ropes, bivouac, cooking stoves)
Airport pick-up and drop-off

What's not included:

Transportation to Italy
3 dinners (details in the itinerary)
Personal drinks and snacks
Guide gratuities — optional

Often described as one of the most challenging treks in the world, the Selvaggio Blu Trek is a 40-kilometer (25-mile) route running along the east coast of Sardinia that demands excellent fitness. This is a tough trek on a rough trail with steep climbs and scree descents. Daily distances are between 7-12 km (4-7.5 miles) with ascents and descents of up to 1,000 m (3,280 ft) as well as abseiling and climbing sections.

In order to join this tour, you must have excellent fitness and not be afraid of heights. Keep in mind that you'll be carrying a 10-15 kg bag (22-33 lbs). Previous experience with climbing and abseiling is essential (putting yourself onto a prepared abseil rope, though your IFMGA-qualified guide will provide instruction on the ropes section). Any experience with via ferrata, wild camping, and cooking by stove is not necessary, but more than welcome.

Here's a list of the equipment you need to bring:

Backpack large enough to carry all the items listed + some group equipment (around a 45-60L bag)
Hiking poles — optional
Week's worth hiking clothing
Water bottle or hydration bladder (2L capacity)
Lightweight hiking boots or shoes
Spare clothes for layering
Waterproof rain jacket
Sunhat
Toiletries (sunscreen, hand sanitizer, bug spray, toilet paper, etc.)
Headlamp or flashlight
Sunglasses
Camera — optional (but recommended)

Dress comfortably and for the weather in clothes you can move in. We suggest bringing clothing appropriate for the season. Layers are best and don't wear jeans.

This adventure along the Selvaggio Blu Trek is designed in a way to make sure you're well-rested and prepared prior to starting the trek. This involves staying at a hotel for the first two nights, at which time you'll have access to all your luggage.

However, as soon as you start your trek (on Day 3), you'll only carry what you need for the duration of those few days while sleeping under the stars. You'll be sleeping in bivvy bags with a large tarpaulin, and you'll have to carry your personal belongings as well as a share of the group equipment. You can expect your backpack to weigh between 10-15 kg (22-33 lbs), so make sure you have a backpack large enough to carry everything you need. You'll have access to the rest of the luggage as soon as you end your trek, which is on Day 7 when you'll get a good night's sleep in a hotel.

Group sizes and prices:

For this guided hiking tour along the Selvaggio Blu Trek, the maximum client-to-guide ratio is 8:1.
It takes a minimum of 4 people for this tour to operate, and 8 is the maximum group size.
The cost does not decrease as the group grows.

Hiking the Selvaggio Blu Trek can be arranged for larger groups. Contact us to make arrangements.

Min. age requirements:

If you are older than 18, you're good to go.

A 30% non-refundable deposit to secure your place is due upon booking. The remaining amount is paid 10 weeks (70 days) prior to departure. Once the trip is confirmed by the guide, the cancellation policy stated below applies.

If Client cancels the Booking anytime prior to seventy (70) calendar days in advance of the trip contemplated by the booking, Client's deposit will be forfeited.
For cancellations thirty-one (31) to seventy (70) calendar days in advance, Client is entitled to a refund in the amount of fifty percent (50%) of the total price of the trip.
For cancellations thirty or less days in advance, Client is not entitled to any refund.
Any reimbursable expenses arising out of the Booking incurred by Guide prior to the date of cancellation (including but not limited to plane tickets, car rental payments, and lodging or transportation fees) are non-refundable as soon as they are incurred by the Guide.

To get to Sardinia, fly into Olbia Airport (OLB), where your guides will come pick you up. There will only be one (evening) group transfer from the airport, so your guide will let you know at what time at the latest you have to land.

57hours is committed to providing safe outdoor adventure experiences. We require all guides using our platform to have a COVID-19 safety plan and to make the details of that plan accessible to travelers. In most cases, group sizes will be reduced, guides will avoid overcrowded locations, and other safety measures will be met depending on the location and activity.

We also expect clients to respect local regulations and take measures to protect themselves, their guides, and the communities they're traveling to. For more information on COVID-19 measures in Italy, please refer to COVID-19 travel regulations.

Please contact us if you have any questions or require further information. We are happy to provide you with the most up-to-date information!
Get free trip brochure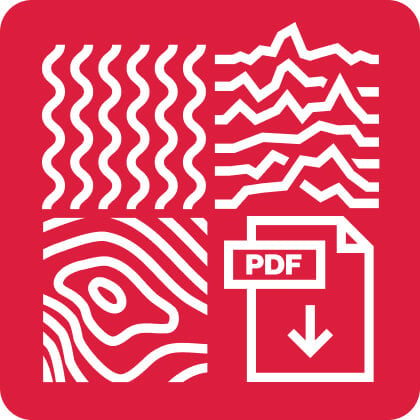 Adventure and location overview, itinerary, available dates, what's included and much more.
Brochure sent, check your inbox
Talk with us
and let one of our adventure experts help you plan your perfect adventure.
Other things to do in Italy