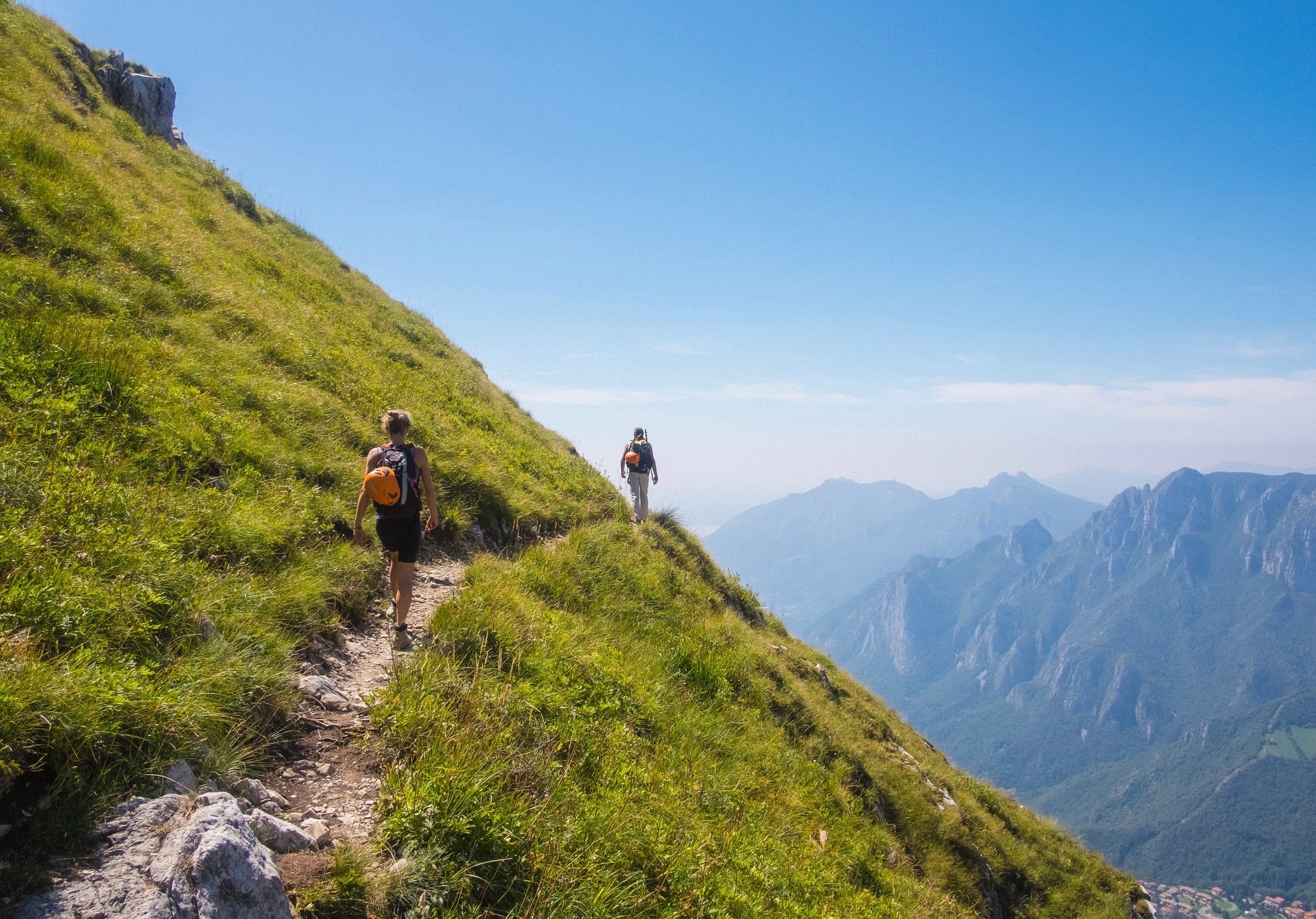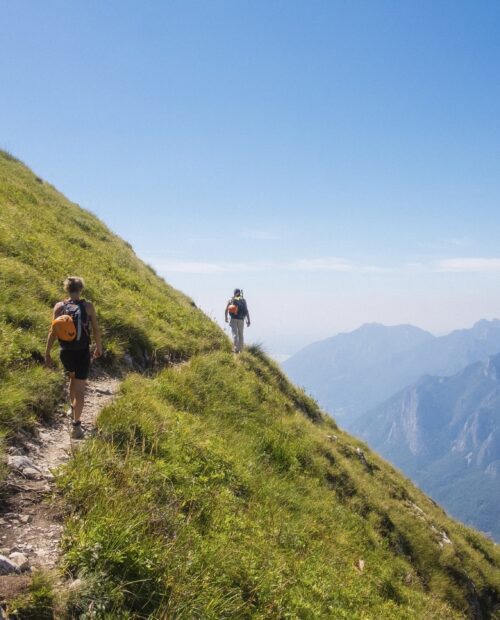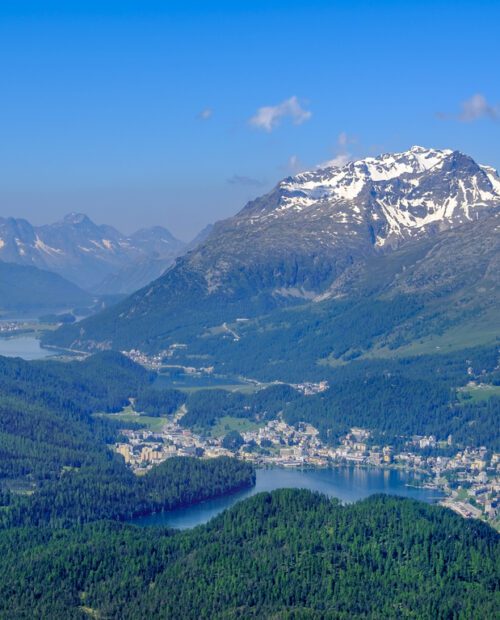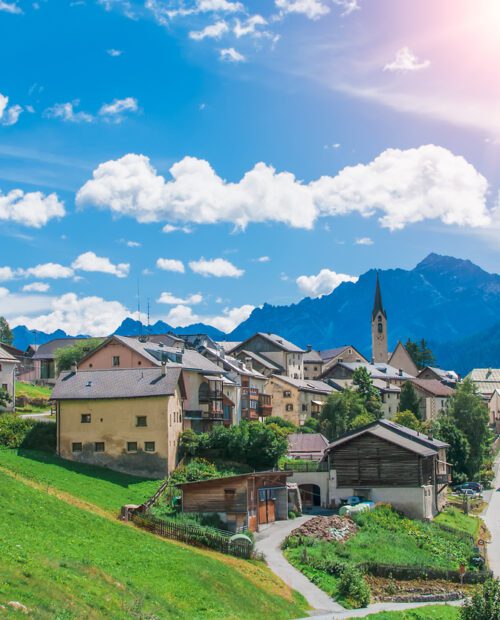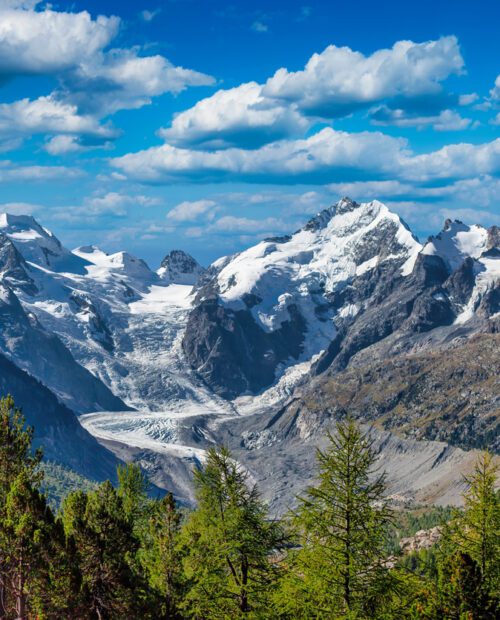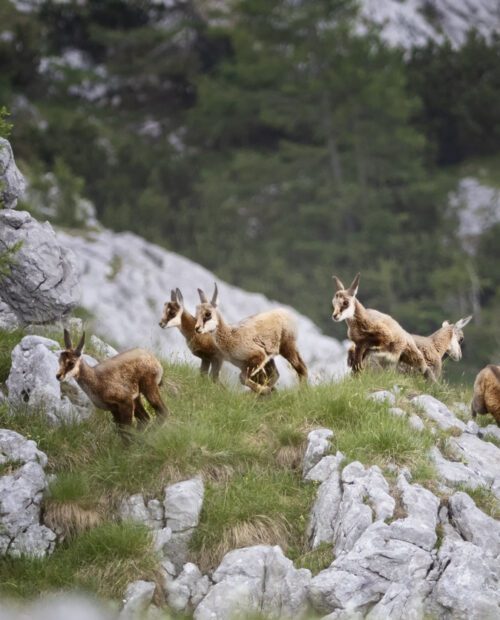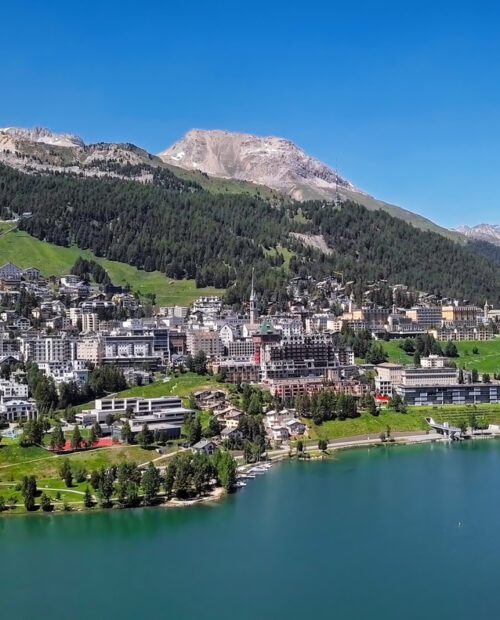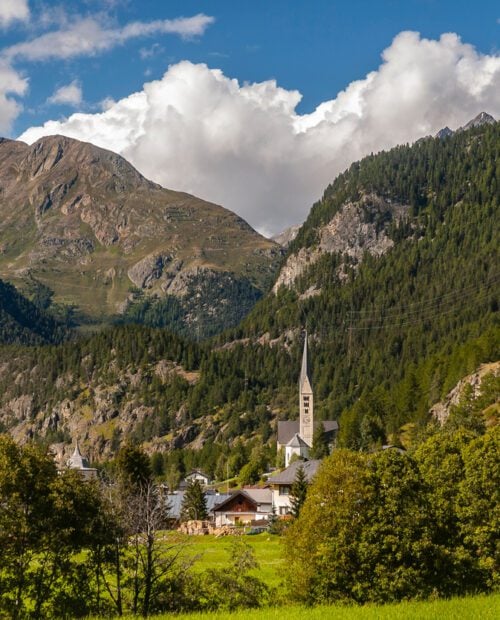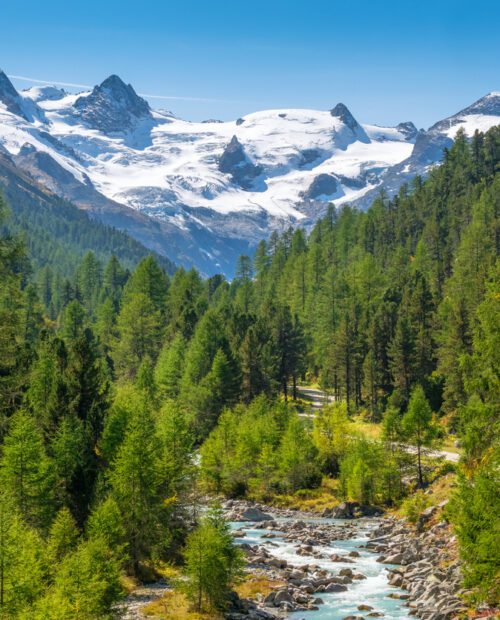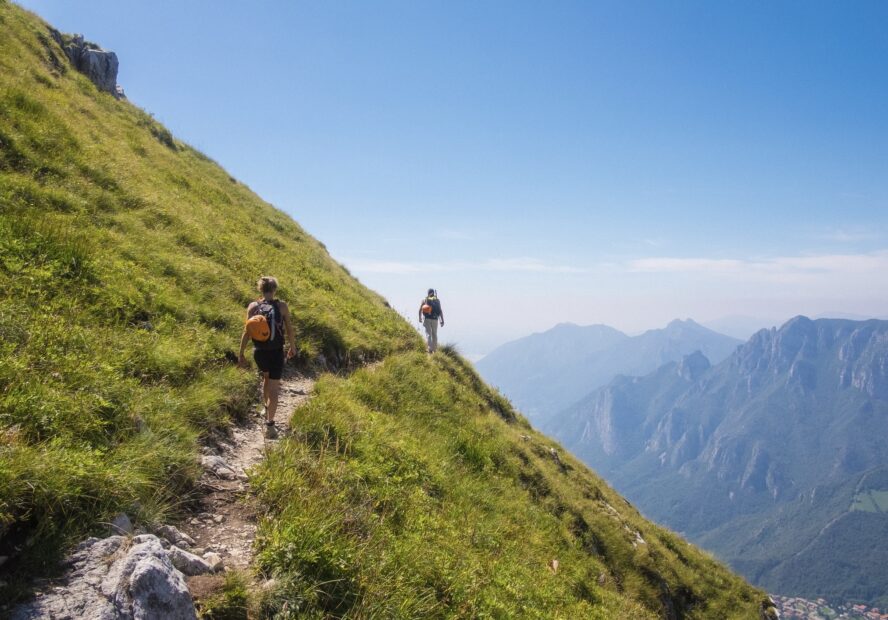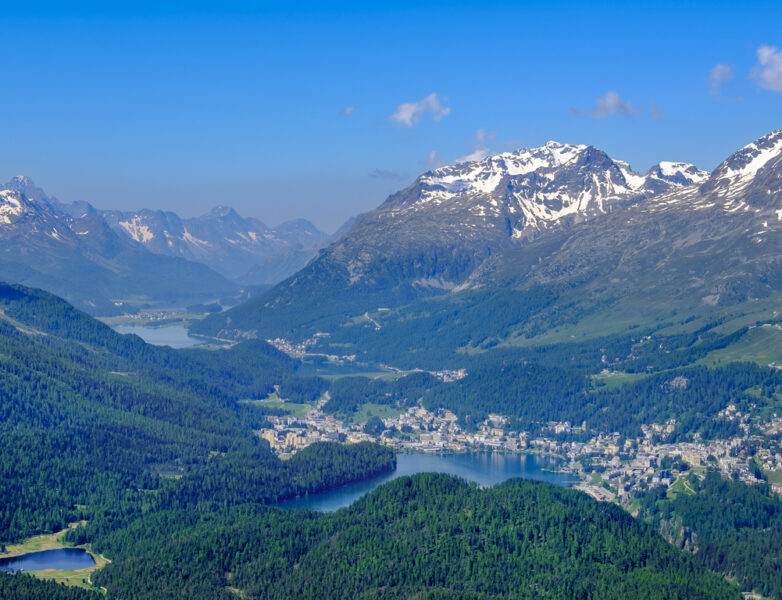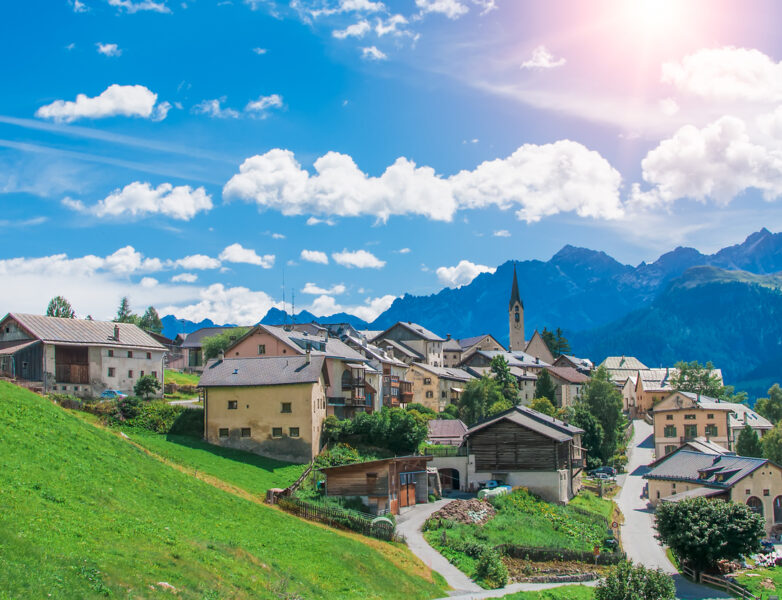 Soaring peaks, glistening lakes, and monumental glaciers—the pull of the mountains has never been stronger than with the Swiss Alps. Just as the last remnants of a snowy winter wonderland start to melt away, a spectacular network of trails emerges for an all-women, week-long hiking tour in the Engadin Valley. Covering 360 miles, these trails will lead you to the deep end of nature: walk amid a motley of wildflowers, reach the celestial Muottas Muragl via a vintage funicular, and listen to the sound of Romansh as you roam in the Swiss villages. Factor these spectacular natural wonders in with sightings of ibex, chamois, marmots, and golden eagles, and you've got yourself a picture-perfect trip in the mountains. Don't forget to indulge yourself with the national dish fondue, melt-in-the-mouth Lindt chocolates, or delicious Rösti!
Stellar views of Piz Bernina at 4,049 m, the highest peak in the Eastern Alps

Birthplace of fondue and some of the best chocolates in the world

Track Swiss trails rising over pastoral valleys and sparkling lakes alongside like-minded women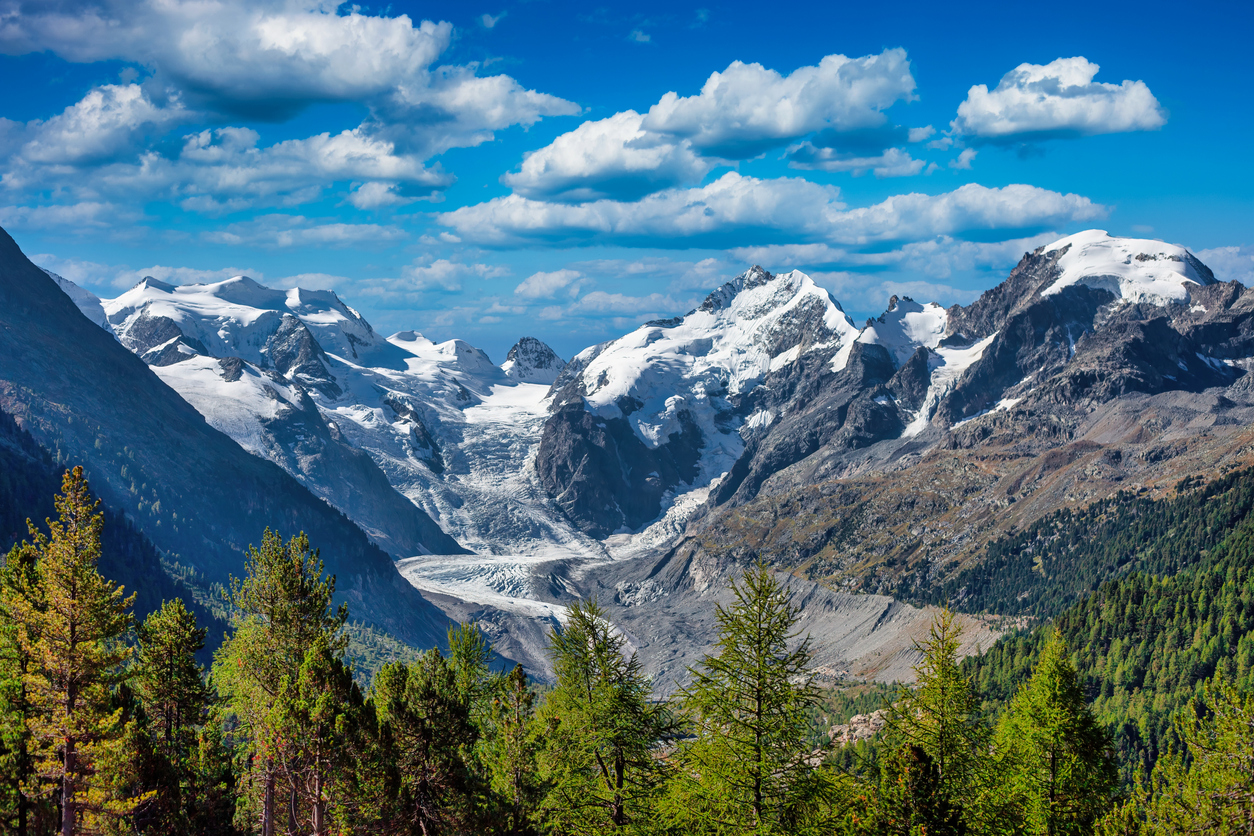 Itinerary
Every inch of the landlocked Switzerland is a sight to behold. World-famous for its untouched nature and Alpine wonders, it's the perfect location for your week-long hiking holidays. Based in the Engadin Valley, you'll have plenty of time to follow sky-reaching trails at a leisurely pace. Start looking forward to the Swiss National Park, the oldest one in the Alps, quaint Swiss villages, high resort town St. Moritz, Bernina Massif, sparkling Upper Engadine lakes, and much more. With two cozy and luxurious hotels as your base, replenishing your energy levels won't be an issue—especially combined with delicious local dishes.
Meet your guide and your group in Zernez, a village in the Swiss National Park. Your accommodation for the next three nights will be Hotel Crusch Alba, where you'll also have a welcome dinner and a briefing with your guide. Make sure to arrive by 5 pm to settle into the hotel.

A train ride along the Inn Valley takes you to Guarda and Ardez, two charming villages above the Inn Valley. Guarda is a quiet place best known for Schellen-Ursli—a famous children's story set in Guarda. Ardez, a Romanesque village, is towered over by the Steinsberg Castle. You'll hike up to Alp Murtera Daduora on well-maintained paths. Here you can enjoy the view over the Lower Engadin Valley and experience alpine farming, flora, and fauna. You'll have enough time to ramble through the two villages, after which you'll head back to your Zernez hotel.
Distance: 8 km (5 miles)
Hiking: 4 hours
Elevation: +550 m, – 730 m / +1,805 ft, -2,395 ft

Today you're hiking through the Swiss National Park on clearly marked trails. The ascent and descent is a bit steep today, but it all pays off when you see the views. The park was founded in 1914 and is the oldest national park in the Alps. Here you'll find untouched Alpine landscape, colorful flora, and—if you're lucky—deer, chamois, and marmots. Return to your Zernez accommodation.
Distance: 12 km (7.5 miles)
Hiking: 5 hours
Elevation: +720 m, – 890 m / +2,362 ft, -2,920 ft

Head to the Bevertal, a quiet valley with an old larch forest. The hike goes up steeply at first, then between mountain peaks over a pass. The descent brings you to St. Moritz—you'll witness the view of Piz Corvatsch and Piz Bernina, the highest mountain of the Eastern Alps. You're spending the next three nights in Bever Lodge, an elegant wooden hotel.
Distance: 7.5 km (4.6 miles)
Hiking: 4 hours
Elevation: +700 m, – 800 m / +2,297 ft, -2,625 ft

Follow a path leading through millennia of geological history. The Bernina Massif, its impressive glaciers, and its world-famous peaks, such as the Piz Bernina and Piz Palü, are some of the most spectacular panoramas in the Alps. Sometimes you'll walk on moraine or behind moraine towards the mighty Morteratsch glacier and Biancograt glacier. Retreat to your Bever Lodge.
Distance: 13 km (8 miles)
Hiking: 5 hours
Elevation: +720 m, – 650 m / +2,362 ft, -2,133 ft

Take the oldest funicular in Graubünden up to Muottas Muragl, the most incredible view of the valley, St Moritz, its lakes, and the Bernina Massif. Both the artist Segantini and Nietzsche were inspired by the landscape, and you'll also have a chance to hike to the Segantini Hut, where the great artist created his unforgettable paintings. Continue hiking on the high trail. You'll reach the sunny Pontresina with a chairlift. Return to Bever for your final night in the Swiss Alps.
Distance: 8.5 km (5,3 miles)
Hiking: 4 hours
Elevation: +540 m, – 690 m / +1,772 ft, -2,264 ft

Have a hearty breakfast and pack up. You can either return to Zürich Airport or spend more time exploring Switzerland—let us know what you decide, we can help make arrangements!

The itinerary is subject to change depending on the weather and at the discretion of the guide. The hiking days will be discussed with the group the evening before. There will be an option for having more relaxed days during the week and resting at the hotel.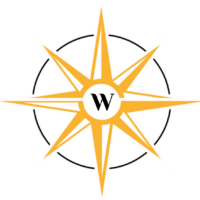 Sisters Sara and Ginny, the owners of Walking Women, are passionate about sharing their love for walking and having fantastic experiences with friends and family. Walking Women's mission is to provide a safe space for women to explore and venture toget...
View details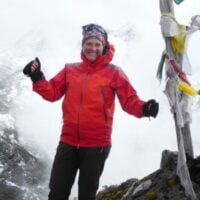 Claudia, the founder of BergFrau based in Switzerland, has partnered up with Walking Women to share her passion for life in the mountains. She has over 30 years of guiding experience and travel organizations in more than 50 countries across the world. ...
View details
Fantastic week walking. Amazing scenery. Very much appreciated the insights brought by Claudia, our local guide. I would highly recommend this trip. Tip – keep the contents of your backpack to the essentials only.
I have throughly enjoyed my holidays with Walking Women ! Well organised and responsive  and always lovely warm and inclusive groups. The fab accommodation and wonderful places ensure that I will be booking regular trips with them
This was my first time with Walking Women and I have to say it was just great getting together with a bunch of like-minded women enjoying the walks, the scenery, the chats and of course the cream teas! Chrissie was a great host and walk leader. I will certainly be looking to 2020 for another walking holiday. Keep up the great work.
From the little I have experienced on my holiday with WW, I can see people and places are carefully selected, and held to a high standard with prices that remain almost affordable for all; curated to make the guest at ease at all times wether in the intinerary of the walks or the destination hotel/B&B stay. As a solo traveler I'm only sorry I didnt discover it sooner 🙂
Things to know
57hours is committed to providing safe outdoor adventure experiences. We require all guides using our platform to have a COVID-19 safety plan and to make the details of that plan accessible to travelers. In most cases, group sizes will be reduced, guides will avoid overcrowded locations, and other safety measures will be met depending on the location and activity. 

We also expect clients to respect local regulations and take measures to protect themselves, their guides, and the communities they're traveling to. For more information on COVID-19 measures in the Engadin Valley, Switzerland, please refer to COVID-19 travel updates by Switzerland's Federal Office of Public Health.

Please contact us if you have any questions or require further information. We are happy to provide you with the most up-to-date information!

What you get on this adventure:

An experienced, local hiking guide with extensive knowledge of the area

7-day tour in the Engadin Valley (5 days of hiking, 6 nights in the accommodation)

Accommodation in traditional Swiss hotels (breakfast included, solo occupancy, ensuite double bedroom)

Breakfasts at hotels

3 dinners in local restaurants

Transportation during the tour

What's not included:

Transportation to and from Switzerland

Transportation to the meeting point and from the endpoint to the airport

3 dinners and all lunches (your guides will recommend local shops and restaurants)

Guide gratuities — optional

This all-women hiking tour in the Engadin Valley is ideal for hikers with experience and good fitness. You'll be walking for 4-5 hours a day, five days in a row, but at a very steady pace and with plenty of breaks. The ascents and descents are between 400 and 900 m (1,312 ft – 2,953 ft).

If you're a seasoned mountain biker and would love to cycle through the Swiss mountains, check out this all-women mountain biking tour in the Swiss Alps.

Here's a list of the equipment you need to bring:

Day pack large enough to carry all the items listed (around a 25-40L bag)

Hiking poles — optional

Water bottle or hydration bladder (2L capacity)

Lightweight hiking boots or shoes

Spare clothes for layering

Waterproof rain jacket

Sunhat

Toiletries (sunscreen, hand sanitizer, bug spray, toilet paper, etc.)

Headlamp or flashlight

Sunglasses

Camera — optional (but recommended)

Dress comfortably and for the weather in clothes you can move in. We suggest bringing clothing appropriate for the season. Layers are best and don't wear jeans.

Group sizes and prices:

For this all-women hiking tour in the Engadin Valley, the client-to-guide ratio is 12:1.

The cost does not decrease as the group grows. 

Hiking in the Engadin Valley can be arranged for larger groups. Contact us to make arrangements.

Min. age requirements:

If you are older than 18, you're good to go.

Minors younger than 18 may be permitted to join the hike on a case-by-case basis, but must be in the presence of a parent or legal guardian.

If your group has hikers under the age of 18, contact us prior to booking to make arrangements.

A $250 deposit to secure your place is due upon booking. The remaining amount is paid 3 months (90 days) prior to departure. Once the trip is confirmed by the guide, the cancellation policy stated below applies. 

If Client cancels the Booking anytime prior to ninety (90) calendar days in advance of the trip contemplated by the booking, Client is entitled to a refund or moving the credit to another holiday, minus the deposit. It is not possible to refund the deposit as it covers costs that have already been incurred.

After that deadline, Client is not entitled to any refund. Any reimbursable expenses arising out of the Booking incurred by Guide prior to the date of cancellation (including but not limited to plane tickets, car rental payments, and lodging or transportation fees) are non-refundable as soon as they are incurred by the Guide. However, the Guide will discuss options with the Client regarding the possibility of reselling the Client's place.

If Client has to cancel the trip due to COVID-19 infection, the Guide will refund Client's money or transfer it to another trip.

The starting point of your adventure is the town of Zernez in Switzerland. To get there, most people fly into Zürich Airport. From there, it takes 2-3 hours to Zernez—you can rent a car, travel by bus or by train. You should arrive by 5 pm to settle into the hotel (Hotel Crusch Alba Zernez) before a briefing and a welcome dinner.

Your tour ends in Bever. From there, it takes around 3.5 hours by train to reach Zürich Airport. If you need help with transportation, let us know and we'll help you make arrangements.
Download hiking gear checklist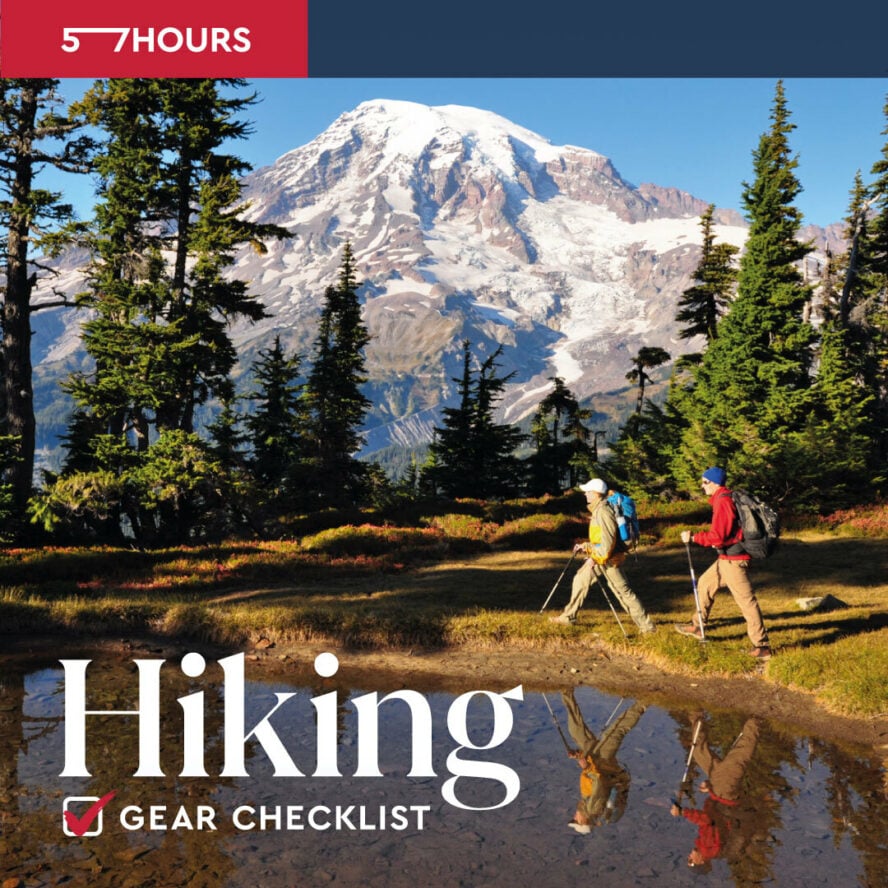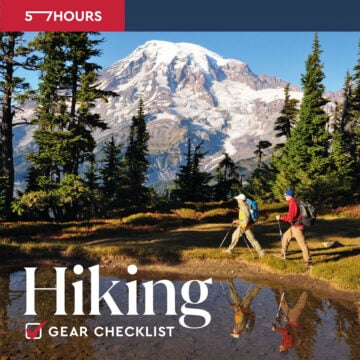 Prepare for the trip.
Get complete checklist for hiking and camping equipment.
Brochure sent, check your inbox