Eiger | Switzerland
Alpine Climbing on the Iconic Eiger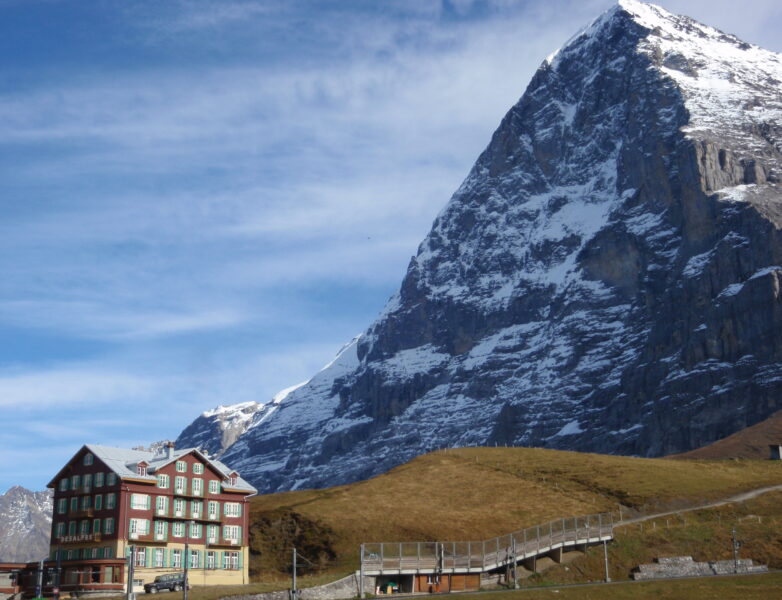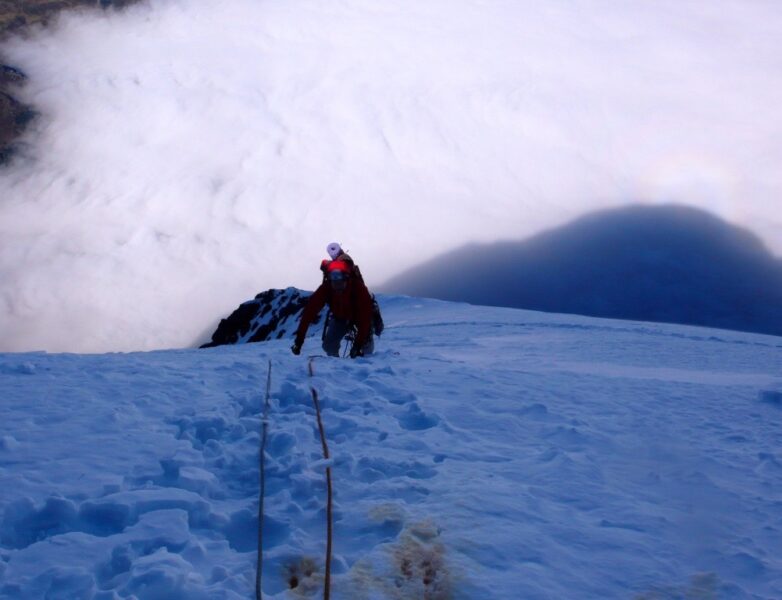 Climbing the Eiger is the ultimate objective for alpinists
A world-famous mountain in Switzerland's Bernese Alps, Eiger's iconic reputation is well-earned. Having challenged even the most seasoned alpinists, at just under 4000 meters (around 13,000 feet) it stands nearly twice as tall as Yosemite's El Cap. Home to plenty of classic climbs, like the historic Heckmair route, it's sure to get the adrenaline pumping. While other classic peaks of the Alps were being summited, it wasn't until 1938 that the North Face — also known as the Death Face — of Eiger was first ascended. Since then, it's held an allure that draws climbers from all over the world. Just a few hours from Chamonix, Eiger's challenging alpine routes make for some of the best guided climbing experiences you'll find in all of Europe.
Classic Climbs of Eiger
Climb the Famous Mittellegi Ridge
Mittellegi Ridge is the classic Eiger introduction for aspiring alpinists and the perfect training ground for the Matterhorn. This rock and snow alpine route requires solid skills with crampons and an ice ax and the ability to climb mid-5th class rock in mountaineering boots, but you'll spend a couple days preparing on some classic Chamonix routes to get ready. The Mittellegi Ridge is long and intricate, with moderately technical exposed terrain. You'll follow the east ridge of the mountain overlooking the famous North Face.
Climb the Iconic North Face
The North Face of Eiger is one of the classic alpine climbs that adventurers long to conquer. With worn out gear from the 50s still in place, climbers will find themselves battling fickle weather, rock fall, ice, snow, and ever-changing conditions in sketchy alpine terrain to reach the top. Routes require a high level of skill, experience, and mental strength. Duration is dependent on a number of factors, and usually requires a few days of prep before taking on the North Face. It's a demanding endeavour, but with the right training, planning and guidance, you can summit Eiger's North Face and add your name to the list of those who dared to take on this iconic climb.
Guides we recommend
Jeff Witt
AMGA/IFMGA Mountain Guide
Jeff is a professional mountain guide with more than 25 years of experience in the ...
View details
Things you need to know
Why should I book with 57hours?
With us, it's all play and no work for you! 57hours is an open platform that connects you with trained and certified outdoor adventure professionals all over the world. Using our tech-savvy, we make it super easy to find and book adventures worth tackling, with guides worth booking, all gathered from the first-hand experiences of the locals who adventure in these amazing locations.
Why should I go rock climbing?
Rock climbing is more than just a sport; it's problem solving on-the-go. It's a balance of intuition and fluidity of movement. The fun comes from the possibilities — each route with a variety of options and only a fraction of them leading to success. When you finally master a climb, after hours of practice, it transcends mere sport and is akin to art.
What's included?
What you get in this adventure:
An experienced, certified IFMGA Mountain Guide with extensive knowledge of the area
3-5 full days rock climbing, including training (depending on chosen itinerary)
Transportation during the adventure
What's not included:
Cost of hotels, mountain huts
Any lift passes needed
Parking in Grindelwald
Train to Jungfraujoch
Your personal mountaineering equipment
What do I need to bring?
The equipment list will vary depending on conditions, weather, climbing ability and the strategy for summiting. Your full equipment list will be determined with your guide after booking. Here's a list of the equipment we suggest you bring:
Personal equipment:
Day pack large enough to carry all the items listed (around a 30-45L bag)
Sunglasses
Sunscreen
Water bottle
Toiletries
Food you can eat on-the-go
1-1.5L water bottle
Small first aid kit
Maps and compass
Camera — optional
Clothing list:
Gaiters
Base layers and climbing apparel
Liner socks and medium thickness socks
Softshell
Waterproof jacket like GORE-TEX with hood
Waterproof pants
Soft shell jacket
Puffy jacket
Neck gaiter
Wooly hat
4 pairs of gloves: liner, thin, medium, thick
Technical climbing equipment:
Ropes
Light rack
Crevasse rescue kit
Harness
Helmet
Belay device (your typical multi-pitch personal kit)
Hardshell
Ice axe and bungee tether
Trekking poles
Mountaineering boots
Headlamp
Crampons
Bivy gear
What's the typical itinerary?
This is the typical itinerary for the 5-Day Mittellegi Ridge Adventure (from Chamonix). If climbing Eiger's North Face, your adventure will look similar, but the exact itinerary will be determined with your guide after booking. Keep in mind that weather and conditions may alter your itinerary slightly.
Days 1-2:
Arrive in Chamonix
Meet with guide to for equipment check and trip planning
Spend 1-2 days training and acclimatising on peaks in the Mont Blanc Massif, like Arête des Cosmiques, working on skills development and preparing for Eiger. Exact climbs will be dependent on a number of factors and will be decided by you and your guide after booking.
Return to Chamonix each evening and spend the night in hotel accommodations
Day 3:
Drive to Grindelwald, Switzerland (around 3.5hrs)
Take the 1.5 hour train to Jungfraujoch
Complete the technical ascent up to Mittelegi Hut
Day 4:
An early start and a long day of climbing ahead. Climb the Mittelegi Ridge and descend the South Ridge to the Monchsjoch Hut (3,658m/12,001ft) . If conditions aren't optimal, you may climb the South Ridge instead.
Day 5:
Depending on weather and energy levels, spend another day mountaineering on the area's classic routes. From the Monchsjoch Hut, climb the Monch, Jungfrau or Gros Fiescherhorn. You'll finish the day by taking the Jungfraujoch train back to Grindelwald and return to Chamonix to celebrate.
How fit do I need to be?
To climb the Eiger's Mittellegi Ridge or the North Face route you need to be an experienced alpine climber on rock, snow and ice, physically fit, have strong mental stamina, and be capable of strenuous exercise for the entire duration of the chosen itinerary. Multi-pitch climbing rope skills, including belaying and lead climbing are essential. On some days, you will be climbing for 10-15 hours a day over technical terrain, which requires full focus and confidence.
Do I need an insurance policy?
It's highly recommended that you cover all your bases with travel and medical insurance. Serious accidents can happen in alpine terrain and we recommend insurance to avoid paying out of pocket for costly medical expenses. And as we've recently seen, travel plans can be abruptly halted, so it's a good idea to have cancellation insurance that also covers lost baggage. It's tried and tested and it works.
What is the minimum age requirement?
If you are older than 18, you're good to go.
Minors younger than 18 may be permitted to climb the Eiger depending on their level of mountaineering and alpine climbing ability.
A guardian will need to provide a signed waiver before an outing with the guide.
Please Contact us prior to booking if you plan to climb the Eiger with anyone under the age of 18.
What about group sizes and pricing?
For serious alpine climbs like the Eiger, group sizes are 1:1. For training climbs in Chamonix, group sizes may be a 2:1 client to guide ratio.
What about bad weather?
Alpine climbing requires that you be fully prepared for all weather conditions. The suggested itinerary is based on good weather and ideal conditions. Inclement weather can always get in the way of climbing, but your guide will know the best spots to move to if the weather takes a turn. It may be necessary to change the plan to accommodate local conditions. On the rare occasion of truly bad weather, your instructor will present you with suitable alternatives. The most common practice is to reschedule your climbing to a more favorable day or suitable location nearby, if it exists. If there are no viable options, you will be issued a full refund.
Cancelation policy
All policies regarding cancellation, rescheduling and trip insurance will be clearly laid out by your guide prior to booking your adventure. Contact us if you'd like more information on a specific adventure.
Getting there and meeting location
You will meet your guide in Chamonix, France.