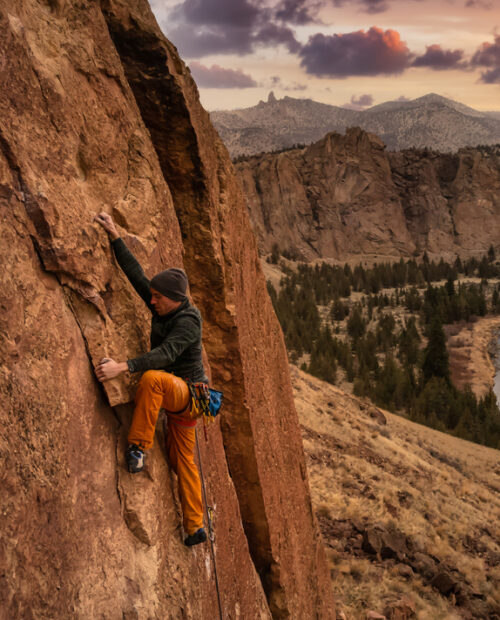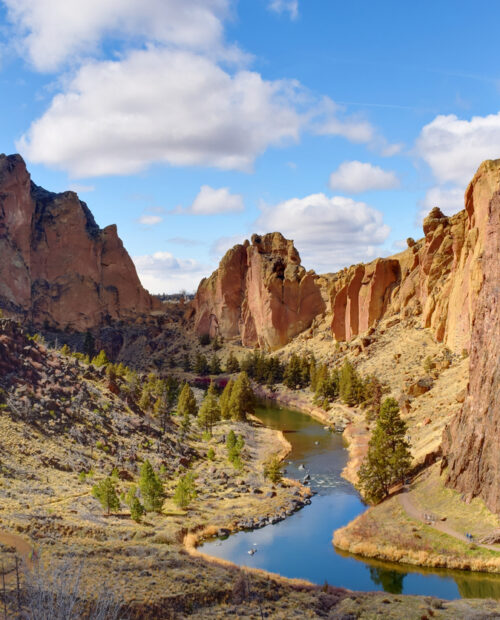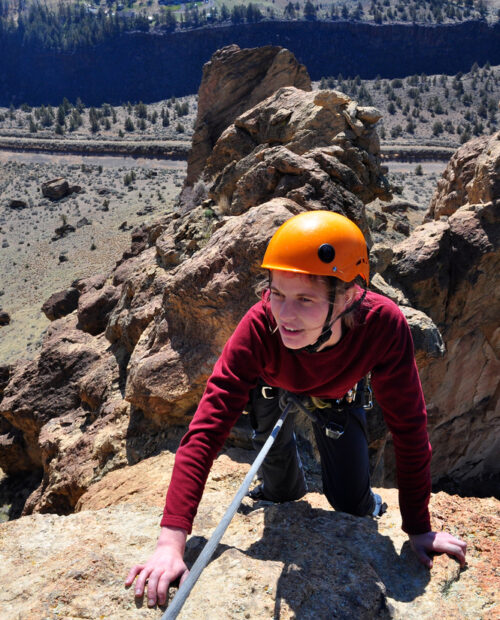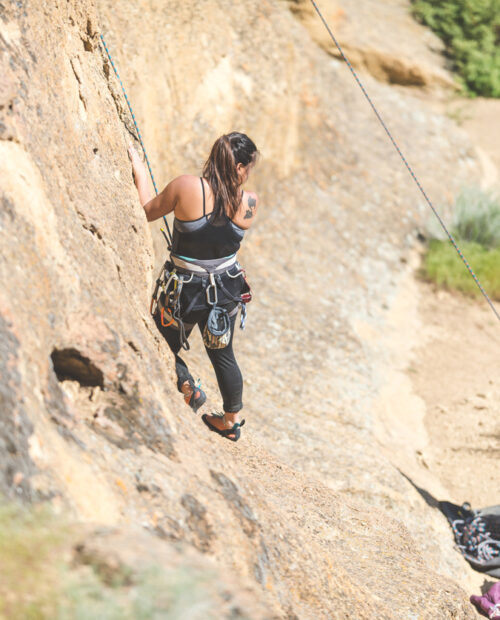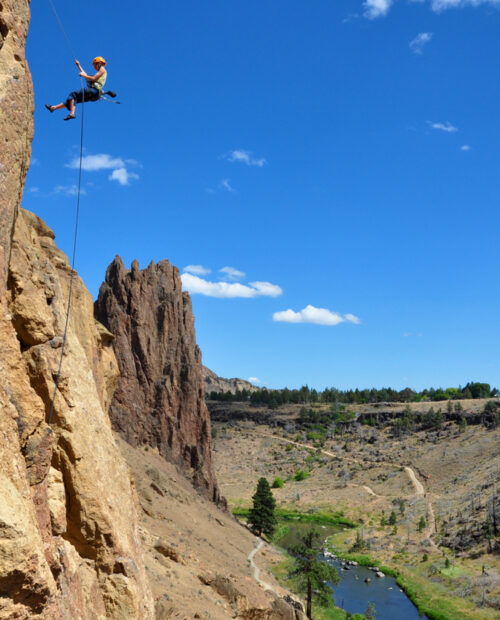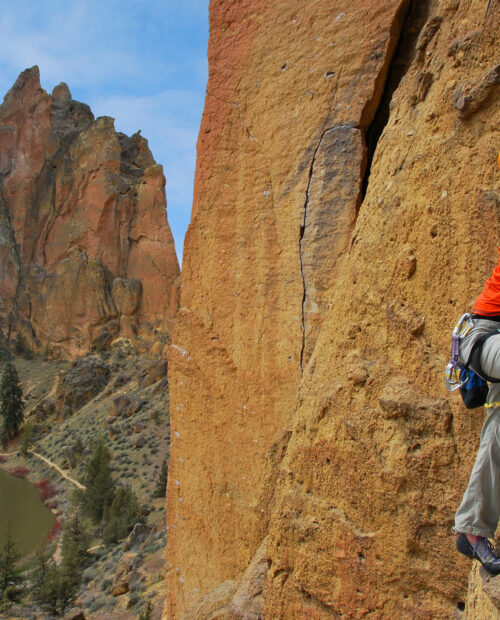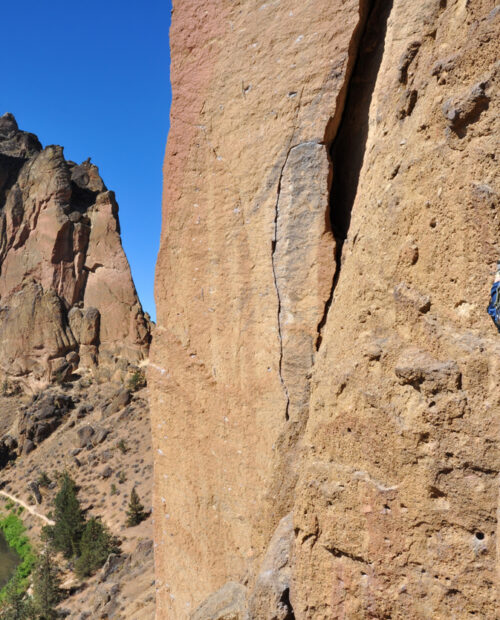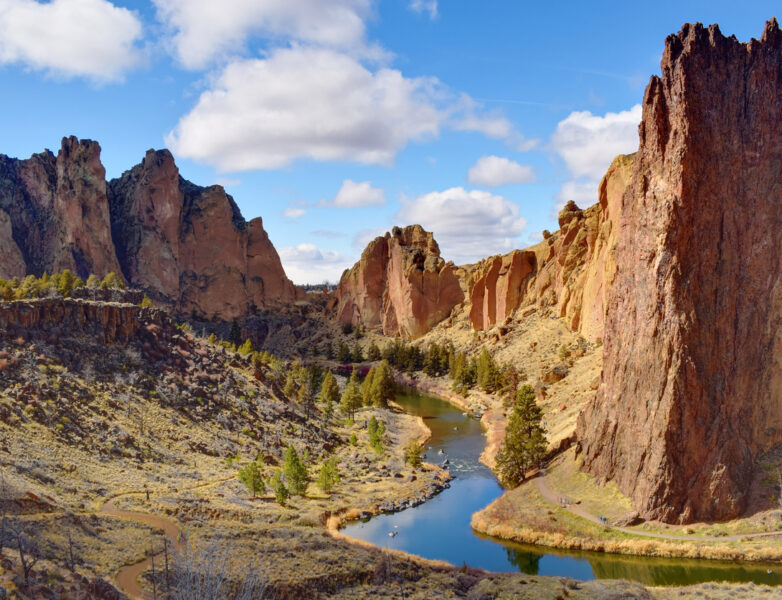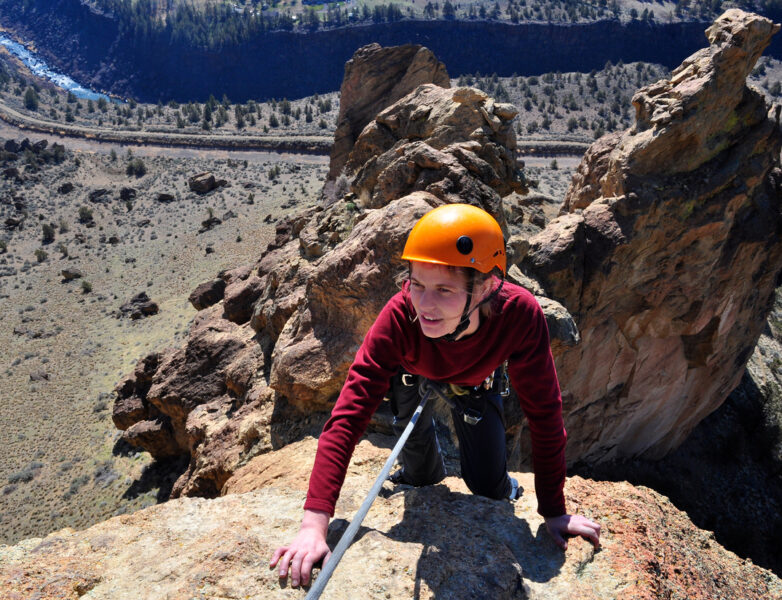 Boasting over 1500 climbing routes of varying length and style, Smith Rock is the perfect destination both for beginners and advanced climbers alike. Known as the birthplace of American sport climbing, its rich history, inexpensive and convenient camping scene, and vast potential for year-round climbing make it also one of the best climbing locations in the USA. Just about 40 minutes north of Bend, OR, you can find massive volcanic tuff towers and spires, as well as Scarface — the U.S.'s first climb rated at 5.14! Find out more about why every sport climber needs to visit Smith Rock State Park from Jessica Meiris, rock guide and helicopter pilot. 
The birthplace of American sport climbing with over 1500 routes

The volcanoes of the Cascade Range provide a striking backdrop

Easy access with campground located next to the climbing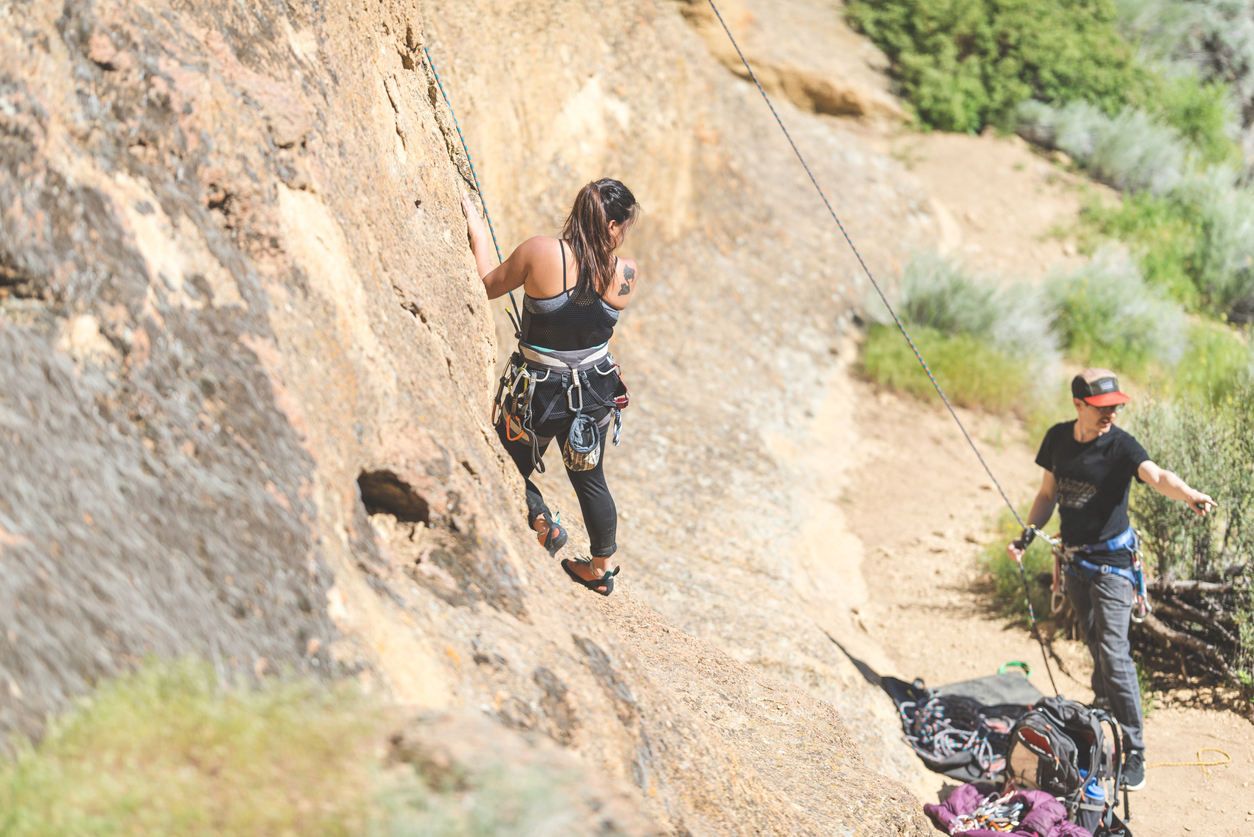 Choose itinerary
4-Day Climbing Camp in Smith Rock
4-Day Private Climbing Camp in Smith Rock
Available upon request
Meet your guide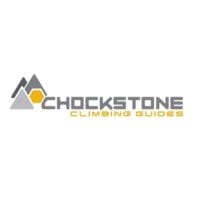 Chockstone Climbing Guides
At Chockstone Climbing Guides they believe all clients deserve the best service from professionals that are trained in the current, highest standards of practice in our industry. They were the first Smith Rock guide service accredited by the AMGA in 1999. Their company follows best practices in the field and meets the highest industry standards of business practices regarding permits, insurances and environmental practices.
Climbing dream
bleggs34
about
Chockstone Climbing Guides
on TripAdvisor
Went to Smith Rock for a 4 day adult camp with Jim and Gabe. It was awesome. Jim and Gabe are extremely skilled climbers and guides, you won't find better guides around. They took us all over the park to a range of grades and types of climbs suited for our group. They are fantastic cooks and their stoke for being out climbing made for a great atmosphere.
Amazing guide!
Sarah G
about
Chockstone Climbing Guides
on TripAdvisor
We had such a fantastic time with this company. Our guide, Patrick, was fantastic! He was friendly, fun, patient and safe! He really let us explore a few different climbs and was very positive and encouraging! He was efficient and did his job well! We had a great time and would definitely recommend this company!
Amazing climbing camp
WJY2011
about
Chockstone Climbing Guides
on TripAdvisor
I convinced a friend of mine to join me in the adventures of doing a climbing camp in Smith Rock Oregon. I am very happy to say that there is not a single regret. Both Jim and Anne were highly accommodating, not only to our flight schedule but also to my gluten free diet. The camp consisted of 3 days of camping (we extended it to 4) with food having been provided to us even on our added solo day!! During the day(s), Jim took us to explore different areas of Smith Rock for climbing and storytelling. The areas had a range for all levels and he was highly attentive to what each person wanted to gain from the camp. He also knows his stuff to ensure you learn several different ways to safely build anchors and to not use the rap rings to top rope on.
If you're looking for a good, fun, safe adventure look no further! So much fun!!
Excellent guides for all levels
Ispens75
about
Chockstone Climbing Guides
on TripAdvisor
I recommend Chockstone Climbing without hesitation for all levels. My first experience with Chalkstone guides was approximately five years ago. At that time, I was climbing consistently and was looking for a guide who was able bodied, competent, and put safety first. My guide exceeded my expectations and we had a wonderful two days of climbing. Over the next five years, I have gone back to Chockstone Climbing time and time again. Because I live in Seattle and I have a demanding professional career, my climbing ability level ranges from 5.6 to 5.11 depending on whether or not I've been able to get to the gym and work on my conditioning. And depending on the amount of time I've been able to put into climbing ( which admittedly, might be zero for several months) sometimes I will feel comfortable leading and sometimes I don't. But regardless of where I'm at climbing wise, Chockstone guides always work within my ability range and comfort level and map out a day of fun and interesting climbs. Not only do I recommend them for all levels, but I also recommend them for either one on one guiding, group trips, or the adult camps. I have used Chockstone Climbing for all three, and the experience has always been consistently great!
Things to know
What you get on this adventure:

An experienced, local rock-climbing guide with extensive knowledge of the area

4 days of rock climbing and camping 

Accommodations in tents

Food (breakfast, lunch, dinner) and drinks 

All technical climbing gear

Camping gear (camp kitchen, canopy, etc.)

What's not included:

Transportation

Airport pick-up and drop-off (available for an additional fee)

Sleeping bag and pad

Dinner on the last day of camping

Parking pass / Oregon State Park Pass

This climbing camp is ideal for the gym climbers and weekend warriors that wish to upgrade their skills and technique. Being in good shape is always a plus but far from necessary. Rock climbing is all about using good movement technique rather than muscling up a cliff using brute strength. To ensure you have a fun day, your guide will choose routes that best suit your skill and fitness level and help you with skills to develop any personal climbing goals.


Smith Rock has plenty of options for beginner climbers, but this camp is ideal for gym climbers and weekend warriors that want to upgrade their skills. However, if you are still new to rock climbing, there are many other options in Smith Rock for beginners. With a guide by your side, you'll learn something new, stay safe on the rocks, and most importantly, have fun!

For intermediate to advanced climbers, Smith Rock has loads of routes to spend the day on. Your guide will discuss your objectives and customize the day to your goals. Let your guide plan the day so you can focus on developing your skills while climbing the classic routes or best hidden gems the area has to offer.

All technical climbing equipment will be provided by your guiding service. However, if you have your own gear, feel free to bring it. You'll need:

Helmet

Harness with a locking carabiner, belay device, and chalk bag

Ropes

Rock shoes (included in the price, but we recommend bringing your own if you have them)

Climbing hardware (quickdraws, cam devices, stoppers, etc.)

Here's a list of the equipment we suggest you bring:

Day pack large enough to carry all the items listed (around a 40L bag)

Water bottle (min. 2 L per person for hot summer days)

Shorts

Tights

Loose fitting pants or sweatpants

Extra long sleeve layers and extra clothing in case of colder weather

Hiking or tennis shoes

Food you can eat on-the-go

Sleeping bag and pad

Sun hat

Toiletries (sunscreen, bug spray, toilet paper, etc.)

Sunglasses

Camera — optional

Dress comfortably and for the weather in clothes you can move in. We suggest bringing clothing appropriate for the season. Layers are best and don't wear jeans.

Group sizes and prices:

The group size for this camp is up to 4 people with one guide. 

You will be paired with climbers with a similar skill level.

Cost is per person and it doesn't decrease as the group grows.

Min. age requirements:

If you are older than 18, you're good to go.

Minors younger than 18 may be permitted to climb on a case-by-case basis, but must be in the presence of a parent or legal guardian.

If your group has climbers under the age of 18, contact us prior to booking to make arrangements.

To get to Smith Rock State Park, most people fly into Portland International Airport (PDX) 3 hours away from Smith Rock State Park. From there, you can fly into Redmond Municipal Airport (RDM) and your guiding service can pick you up at the airport in Redmond (for an additional fee).

Once you and your guide agree on the details of your itinerary, you'll meet your guide at Smith Rock State Park at 1:00 pm, where your climbing and camping adventure begins. The guide will choose the appropriate terrain dependent on conditions and the ability of the group.

At the end of your adventure, your guiding service can transfer you back to the airport in Redmond at any time of the day (for an additional fee).
Get free trip brochure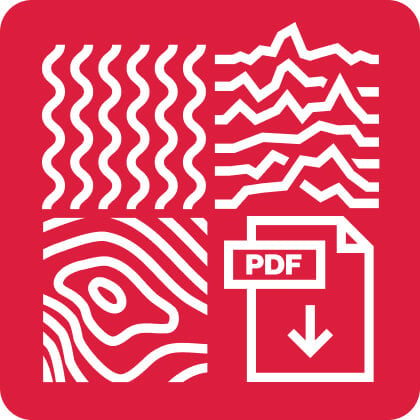 The brochure contains:
Adventure and location overview, itinerary, available dates, what's included, how to prepare, and much more.
Brochure sent, check your inbox
Book a call
with our adventure expert and start planning your perfect adventure.