An Awe-Inspiring Polar Expedition Across Frozen Lake Baikal
Trekking 200 kilometers across the frozen surface of the world's deepest and oldest lake, ending on a remote Siberian island steeped in shamanic mysticism — would you expect anything less from a polar expedition on Lake Baikal?
Lake Baikal is the deepest and oldest lake on Earth. 25-30 million years old and over 5000 feet deep (over 1500 meters), in the winter, it freezes over and becomes a beautful ice-cracked canvas. Wth ice over six feet (two meters) thick, it seems almost alive as it cracks underfoot. With temperatures rising and falling, air gets into these cracks and paints monochrome bubble designs on Baikal's frosty surface.
That very first step I took was terrifying and freeing at the same time. I felt as though there was only a paper thin sheet of ice between myself and ink black vastness underneath me, and yet the silence offers the perfect escape from everyday life. Even after days of walking, you won't get tired of Baikal; the lake never rests and there's always a new wonder appearing before your eyes.
Just when it seems like there's no surprises left, you'll find yourself in a welcoming community of shamans that practice their mystic arts to this day. After almost 30 years of exploring every polar region of this planet, I thought I'd seen it all, but Lake Baikal managed to knock me off my feet.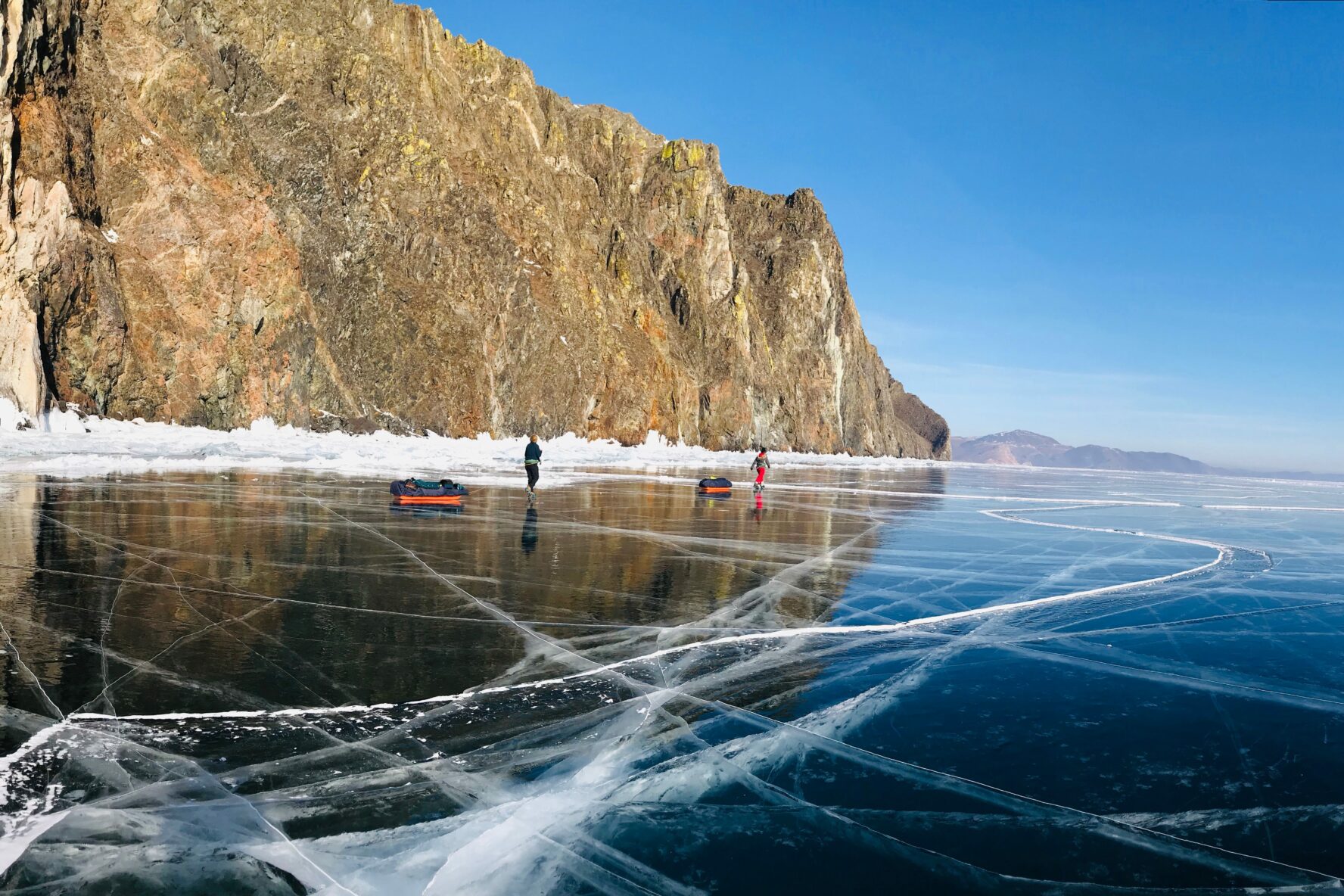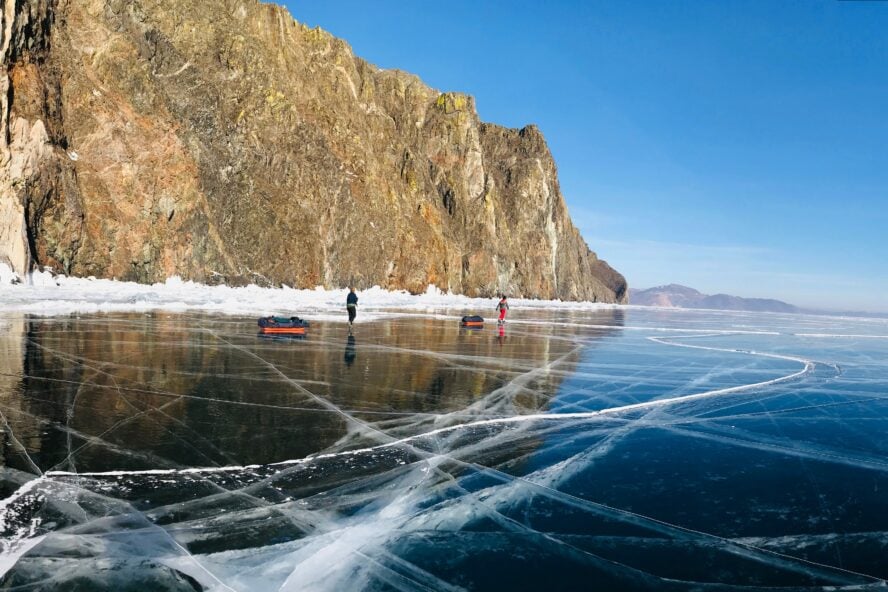 Pros and Cons of Polar Expedition on Lake Baikal
A once-in-a-lifetime adventure in remote, untouched nature
Polar environment like no other in the world
Surprising local culture await you at the journey's end
Requires extensive preparation and months-ahead planning
It's remote! Getting to the start of the adventure is a journey in itself
How I became a polar explorer
Polar exploration has been a bit of a late calling for me. Ever since I was a kid, I've camped in the woods. Here, in Belgium, scouting is pretty widespread and it helped build the foundation for my outdoor spirit. I developed a love for traveling when I was an 18 year old on an exchange program. This was an eye opening experience for me.It taught me how to be open and accept change, yet be resilient. Not long after, I took my first trip around the world and then another one, and I haven't stopped since.
To prepare myself physically, I partook in Ironman Triathlons, had a bout of alpinism in the Himalayas, and then, for some reason or another, I happened to be in Greenland. The massive ice sheet that covers the country amazed me. Normally when you travel, you're always bound to a basecamp, a hotel, a travel agency or other people. Finding myself without a goal or a purpose on an ice cap, in the endlessness of it all, was enormously freeing.
That first trip was in '91, and 30 years later, I'm as equally as excited to go back to Earth's coldest regions as I was when I first started. My adventures have taken me all over the world — from the Arctic to the Antarctic, and just about everywhere in between. I thought I'd seen everything that polar exploration has to offer, until I got to trek across the beautiful frozen surface of Lake Baikal.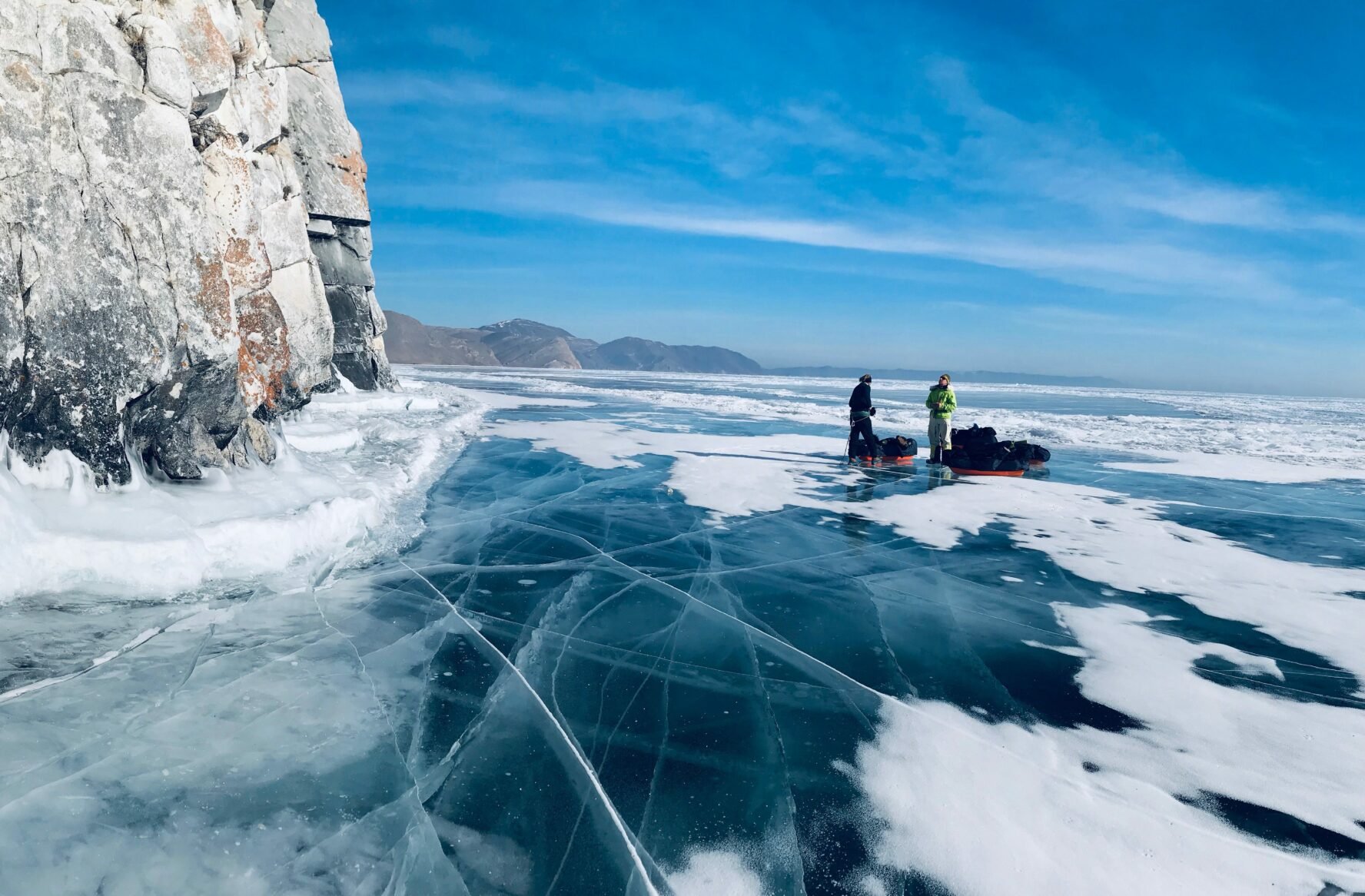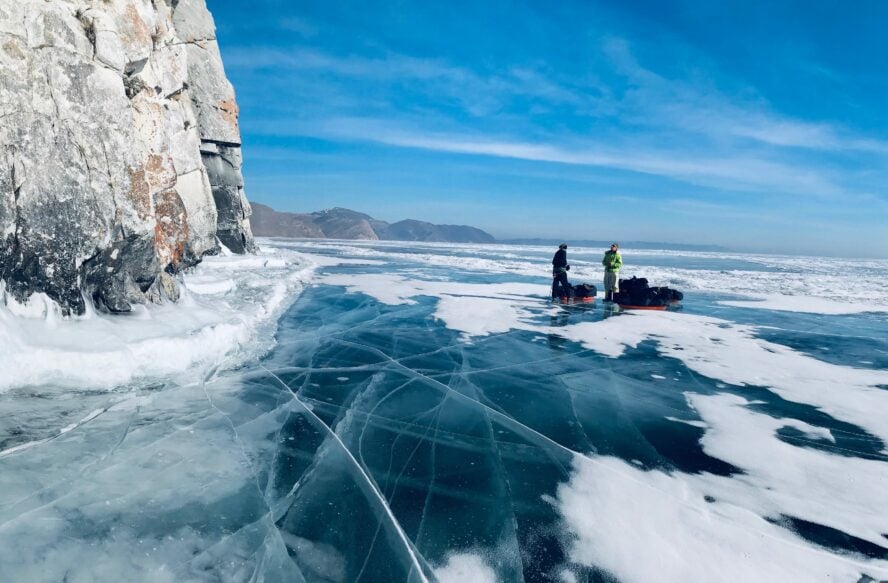 Winter Trekking on Frozen Lake Baikal
What surprises most people is that Lake Baikal's surroundings aren't completely barren. While you're relatively isolated from civilization, you're far from alone. For safety, we don't stray too far from the shoreline, and there's plenty of opportunity for wildlife viewing, where you'll see Lake Baikal's endemic freshwater seals, along with birds and foxes.
From time to time, we'll catch a far-off glimpse of the hovercraft used to deliver supplies between towns. We've seen Russian skaters and groups of Russian students camping on the ice. I have always liked encounters with local folks; very accommodating and kind, they're always offering a bit of food and warmth if you should need it.
When to go on your expedition
February is the best month for polar exploration on Lake Baikal. Midwinter is too cold and too dark, and come March, temperatures are rising, so you miss out on the deep winter experience. April and May are dangerous because the ice starts to melt and crack open. February temperatures are in the -15°C to -20°C (-4℉ to -5℉) range, which is bearable. The weather is pretty reliable and it's standard to expect crisp, but sunny days.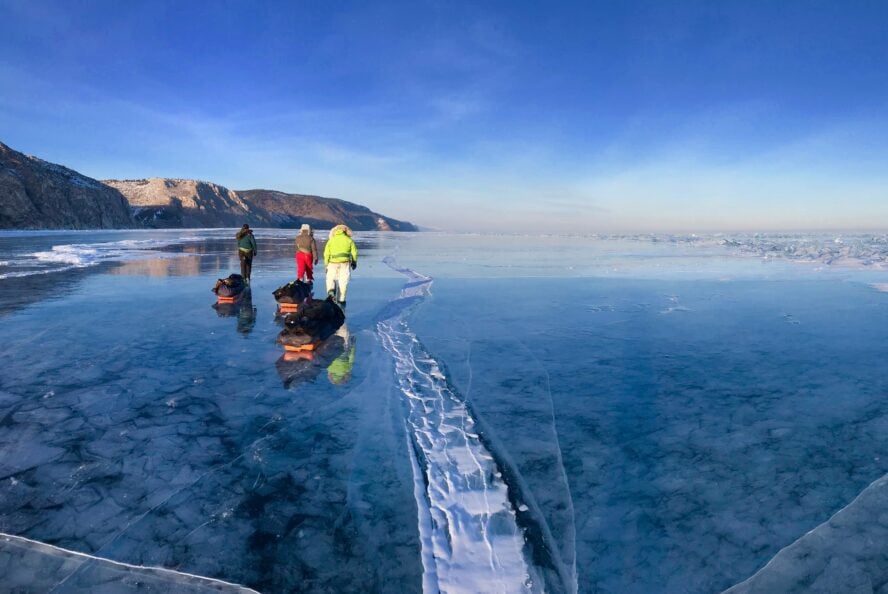 Getting to Lake Baikal is a journey in itself
A journey to Lake Baikal starts in Moscow. That's the rendezvous point for the polar adventures I lead. From there, we board the plane for Irkutsk in Eastern Siberia. Two hours later, we are loading a minivan that will take us to Lake Baikal. The van drops us off on the southern shore, where we set up camp and take our first steps on the frozen surface of the lake. At the end of the expedition, we travel back to Irkutsk from Olkhon, and part ways in Moscow.
What to expect on the Lake Baikal Expedition?
For two weeks, you'll traverse more than 25 kilometers a day for a total of 200 kilometers (15 miles a day for a total of 124 miles), while pulling your own sled that carries your sustenance and survival equipment. After about six hours a day of trekking, in the evenings, get well-deserved rest, cut up some ice to boil and cook your food with, and chat with your companions. Once you get the hang of it and create your own efficient routine, you'll be free to explore the frosty wonderland around you, creating memories you'll remember for the rest of your life. While it might seem like trekking across the ice for weeks at a time might get a little repetitive, the beauty of Baikal never ceases to amaze me. The ever-changing patterns on the ice are just incredible, it's like trekking across a painting.
Sledging across Lake Baikal
The main means of progression on our polar expedition is sledging. Imagine a sled pulled by dogs, and then subtract the dogs. Ice is extremely slick and there's hardly any friction, so everything becomes much easier. The southern part is usually free of snow and it's bare ice, so we don't get to ski very often. You do need to have good mountaineering boots or polar boots that will keep you warm, though. On those, we add little crampons, so you aren't going to slip and slide.
Have you ever heard of snow kiting? I tried to snowkite on Baikal a couple of times. It did work, but since the ice is so slick, it's difficult to stay on the correct course as you get carried away by the wind. I do bring along a smaller kite that people can hold onto without much knowledge of snowkiting, just for the fun of it. If there's an easy, soft wind day, we can play around with it, but we don't use snowkites for progressing.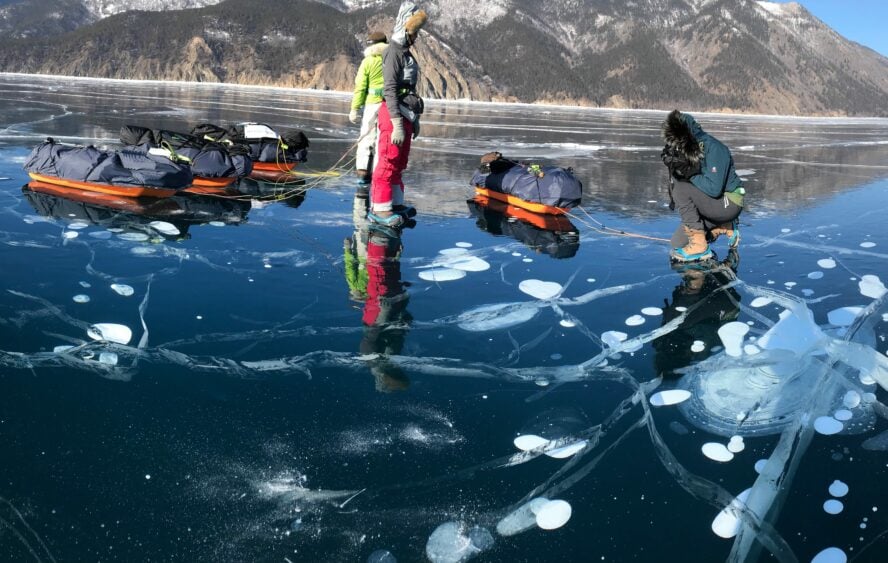 Camping on a frozen lake
Camp life is always a reward after the day's activities. Finally, after hours of walking you immerse yourself in a bubble of warmth, sheltered from the wind, and are able to eat a proper meal, which will warm you up from the inside.
The tents we sleep in are quite large. They are hexagonal domes resembling little igloos. Usually, they are made for 3 to 4 people, but for polar travel, you need a bit more space to spread out your gear and get comfortable. That's why we have two people in a tent, sleeping side by side and helping each other if need be. Everybody gets to work a stove and carve their own ice for cooking. In the beginning, I have to step in, but I want to see everyone progress as a polar explorer. My main goal is for my clients to be as independent as possible.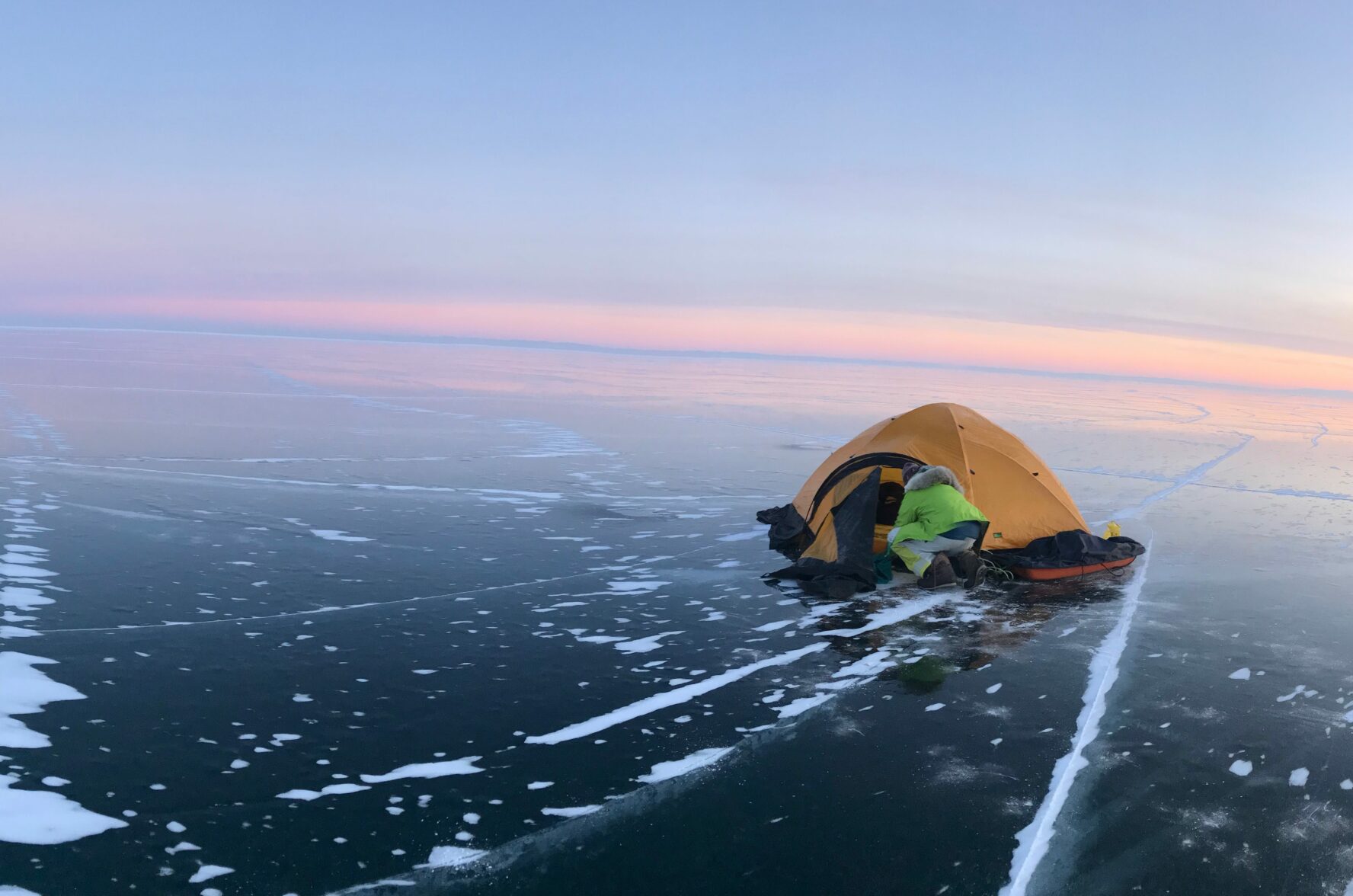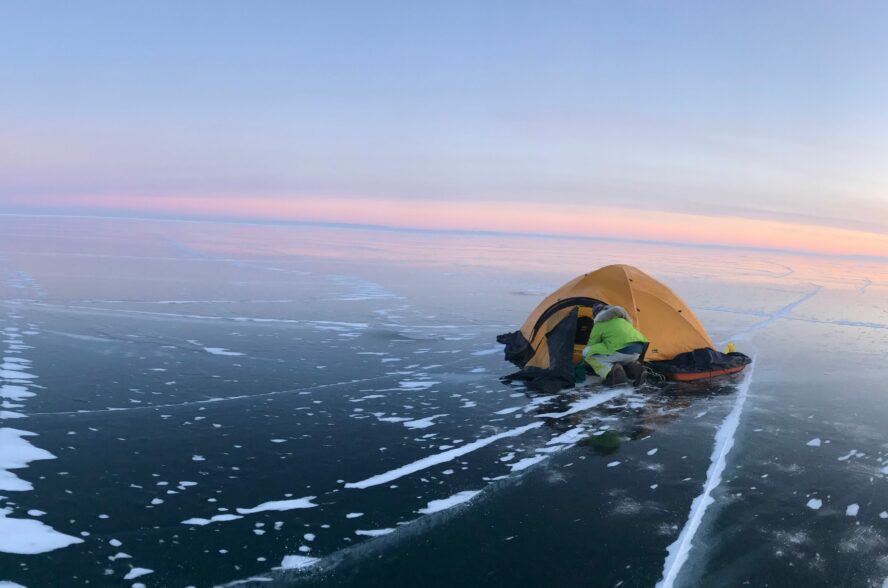 What do you eat on a polar expedition?
Trekking in cold environments, it's essential to eat fatty foods that are high in calories. On a journey like this, you may not be thinking about eating, but it's really crucial to keep that engine going. Expect dehydrated versions of your favorite foods that can be eaten on-the-go. We don't even need to compromise on morning coffee. Everything is separated into daily rations to avoid rummaging around your bags, which only leads to a mess. For maximum efficiency, it's best to have Ziplocs of all sizes. Everything is portioned out, made easily accessible, and we stop often to fuel ourselves along the way. There's no resupplying on an expedition like this, so you have to plan well to ensure your food lasts. When we finish the expedition, there's nothing left in the way of food, which leaves me with a sense of pride. We always have a few days worth of reserves, in case we need to stay out a few days longer, but it rarely happens.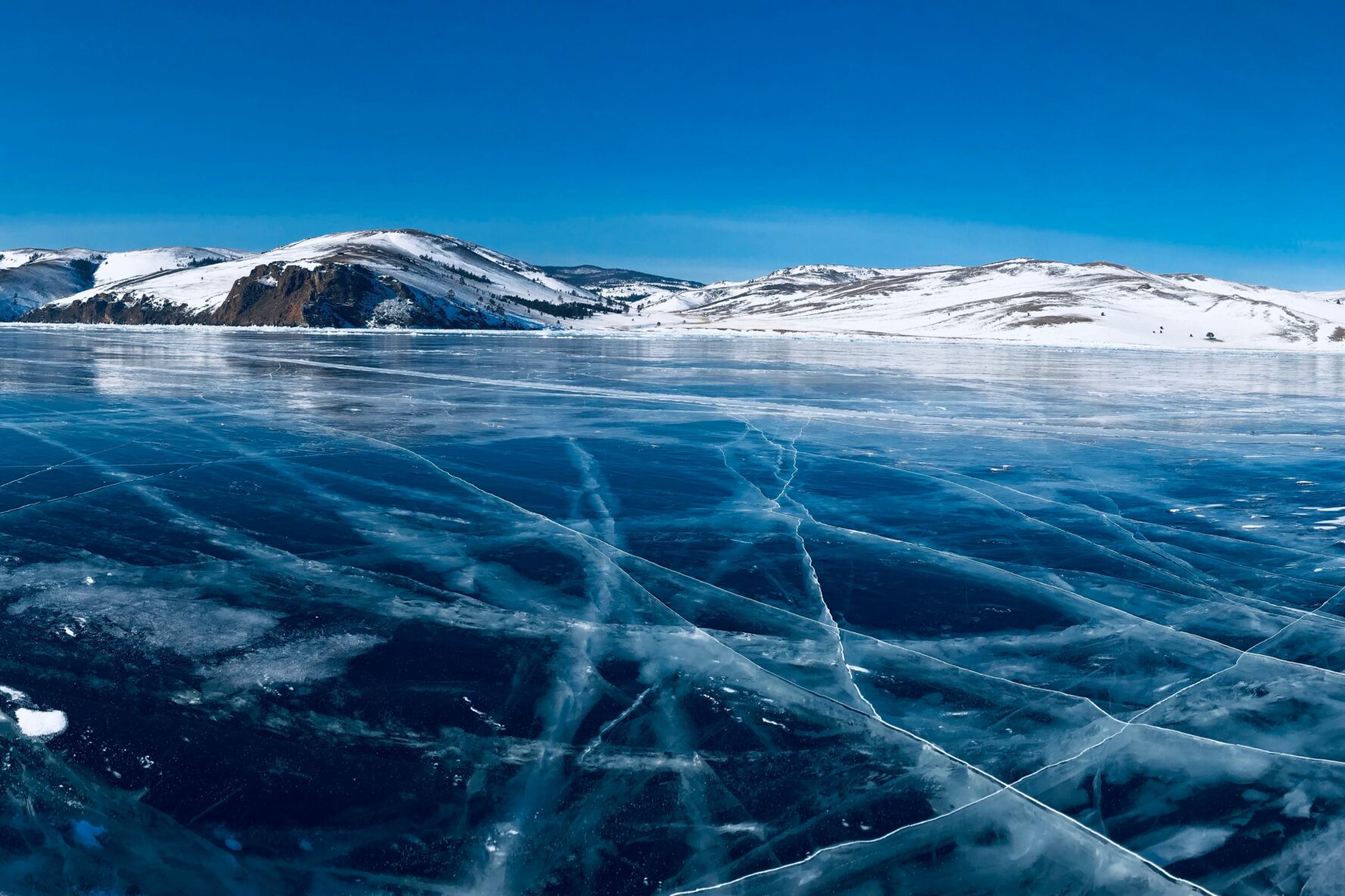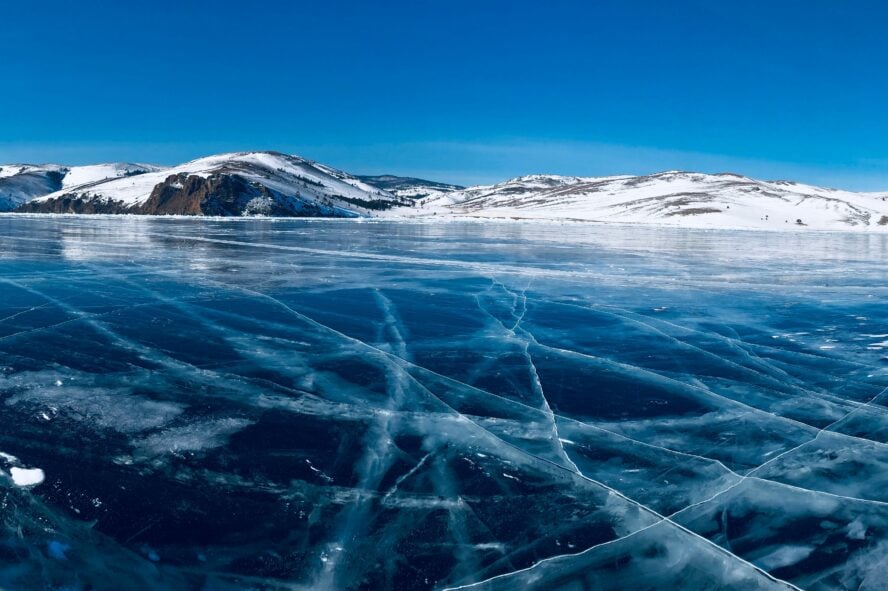 When nature calls
Where do people go to the bathroom?! It's a common question I get asked. At camp, we carve a shape resembling a toilet bowl out of the ice, but it's not much, since the ice is really, really hard. Of course, we always make sure to cover it before we leave. On-the-go, people stay behind and we take their sled. That way, when they trail behind they don't have to rush, they just walk a bit faster than they would with their sled. Within 15 or 20 minutes they catch up to the rest of the pack.
Navigating on Lake Baikal
Navigation is an essential skill for polar exploration. I always try to have people navigate on their own, as they need to know how to do it for future expeditions. I'll tell them, "Look, you have to go this many degrees west and that many north. See you there!" We are never more than 200 meters apart, though. If I'm not in front all of the time, those I'm exploring with get to learn more.
Not only do I let my clients guide the expedition from time to time, I encourage them not to rely on GPS and their compass. I teach people how to orientate themselves based on the clouds, the shades, the sun, and the dominant direction of the wind, which is shown by the cracks in the ice. It's a return to simple, animalistic behavior. Our society can be a little too reliant on technology to get us where we need to go, and it's refreshing to go back to the basics and most people enjoy learning about this more primitive form of navigation.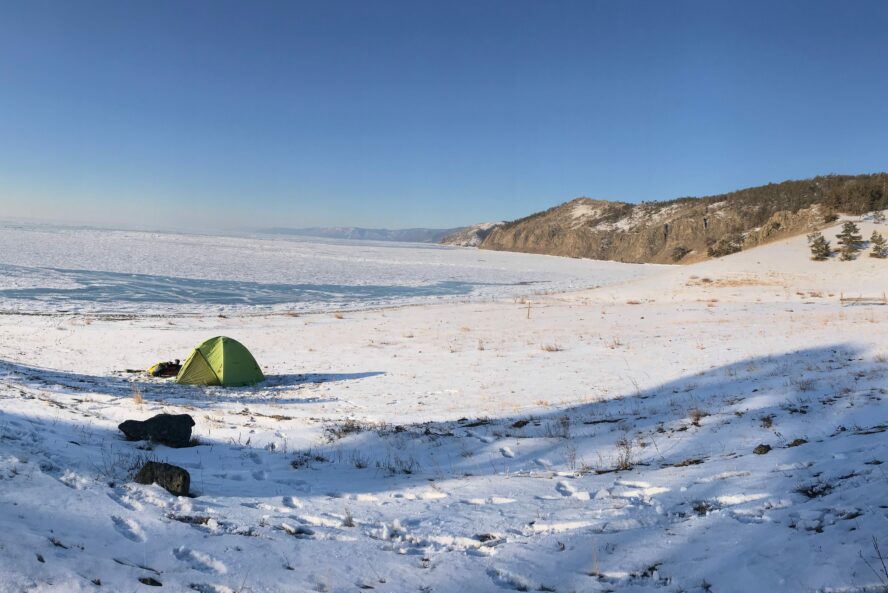 Honesty is the best policy
The goal of the whole experience is to be happy and, in the end, to enjoy yourself. The last thing I want is for my clients to be stressed out or pushing themselves too far. Everyone needs to be honest and let the group know if they're cold or uncomfortable. We'll find a solution together. There's no pride involved and an expedition like Lake Baikal is a great opportunity to leave egos at the door. Sometimes I'm cold and I tell people I need to stop. We take a break, eat some food, warm up, and continue on. In these groups of 6 to 12 people, it's like a big family that needs to be honest with each other. That's the safest option for all, as well.
What happens if there's an emergency
Although it might seem like we're alone on a barren landscape, we're never too far from help. Our partners own minivans that drive on ice. They have our coordinates from the previous night and can easily find us in an emergency situation. We also carry a sat phone and can communicate with first responders should we need to. On Baikal, there's also a hovercraft that moves between the cities. We get weather updates every night. Knowing a storm is brewing, we usually go to shore and camp there. You don't see much snow and it passes quickly, since the wind blows from south to north.
Local Olkhon culture will surprise you
This polar expedition ends in Olkhan, the largest island on Lake Baikal. Named in 2019 as one of the 52 Places to Go by the New York Times, Olkhan is full of surprises. Bustling with shamanic culture, suddenly, you find yourself in mysticism as deep as it can get. Olkhon has everything you need, from grocery stores to souvenir shops where the locals sell their art, clothing and other artifacts. To get you hyped up for your trip, read, The Many Faces of Multilingual and Mysterious Baikal by A.D.Karnyshev. It's a wonderful book that provides in-depth information and history on this interesting community. At the end of our trip, we usually spend a day or so on Olkhan, taking in the culture and sights before making our way back to Moscow.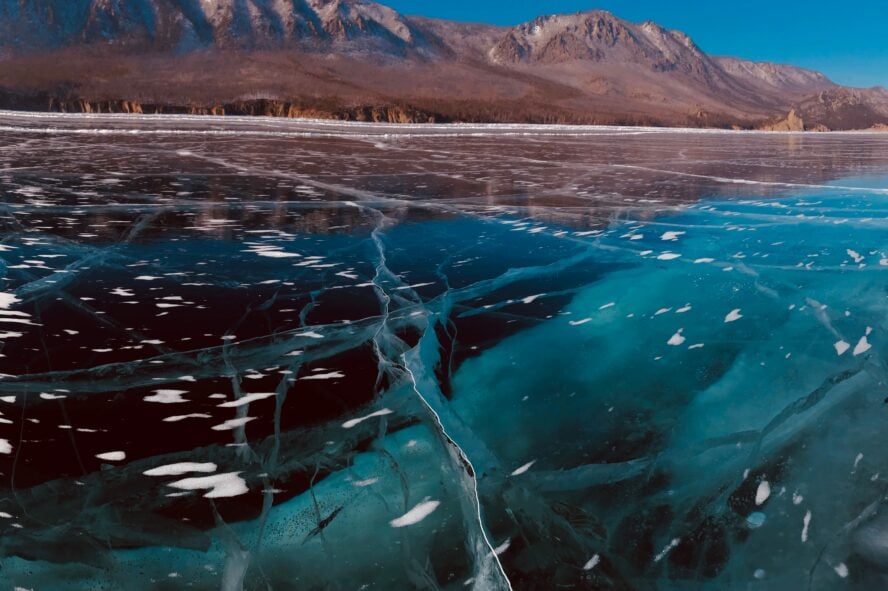 What It Takes To Become a Polar Explorer
The answer might surprise you, but anyone with a bit of grit and some winter camping experience can successfully become a polar explorer. No previous expedition experience is necessary. If you're in good shape — keep in mind, you trek 25 km a day— and have winter camped or done a bit of mountaineering, you'll be at the top of the class. But, there's a few things to keep in mind before you book your ticket to Moscow.
It's all about planning ahead
Polar exploration is a mental and physical game. Some days, it's more physical; other days, it's all mental. One of the biggest challenges that most people think they'll face is isolation. It may seem daunting to be out there in the middle of nowhere, all alone, but once you learn a few tricks of the trade, the objectives seem much more achievable. Thinking ahead about the sequence of actions is important. Polar travel is quite regimented — fun, but regimented. However, efficiency pays off. If you are well organized, you avoid chaos, know exactly what to do, and it helps immensely.
For starters, we trek very strategically. A polar explorer really needs to understand the dynamics of cold. We don't trek to see how many miles we can log in a day or how fast we can cover ground, we trek methodically to reach the end goal. We keep the number of hours spent walking within a reasonable average, even though people can usually go for a few more. We take a 10 minute break every 50 minutes. Any more, and the cold sets in. If we trek too fast, we sweat. And sweat is a polar explorers number one enemy.
Complete a training session first
If it's possible, I always try to meet with my clients beforehand, to go over trip details and squeeze in extra preparation. I found that both my clients and I benefit from an initiation weekend in Belgium or a few days of polar expedition training in the Swiss Alps prior to going to Baikal. This allows adventurers the opportunity to understand the practice behind the theory. Before the trip, we roll up our sleeves and organize everything — all gear, clothes, equipment and food get sorted in various colored bags of different sizes. Everyone finds their own techniques that work, and they practice those techniques at home. If you can find what you're looking for blindfolded, you won't get frustrated when you're searching for that item in the dark and cold, on Baikal.
The gear you need for polar exploration on Lake Baikal
When I lead adventures here, all the technical gear — like tents, sledges, stoves, etc. — is provided. Adventures only need to bring the basics. As I mentioned, sweat is your number one enemy. We always set a slow and steady pace, where you're progressing nicely without sweating. It's called polar plodding. Like I said, strategy has everything to do with succeeding.
While you don't need any special polar expedition gear, layers are crucial. The main thing to avoid is air getting trapped between the layers, where it has the opportunity to become moist and freeze. There's an underwear layer, fleece layer, second layer, and an outer, waterproof shell layer. That's pretty much all you need. If drops of sweat do freeze all over your gear, you brush them off with a hard brush. If prepared accordingly, there shouldn't be much to dry.
On top of that, you'll need the same gear you would take winter camping or mountaineering: headlamp, daypack, medical kit, pocket knife, toiletries, sunscreen, sunglasses, and other items like that. And, this is one adventure you don't want to forget your camera on.
When to book your trip
My partners and I have a set routine, so preparation is pretty easy on our side. The further out you prepare, the easier time you'll have on the expedition. For my clients, I prefer to have them in my bubble for six months prior to departure because of the level of planning required. That gives ample time to crank up both physical readiness and to prepare mentally.
For a more in-depth look at polar exploration with Dixie, watch his 57hours Adventure Talk, where he goes into great detail about his trips and experiences, complete with photos and and advice on how you can train and take on your first polar adventure: