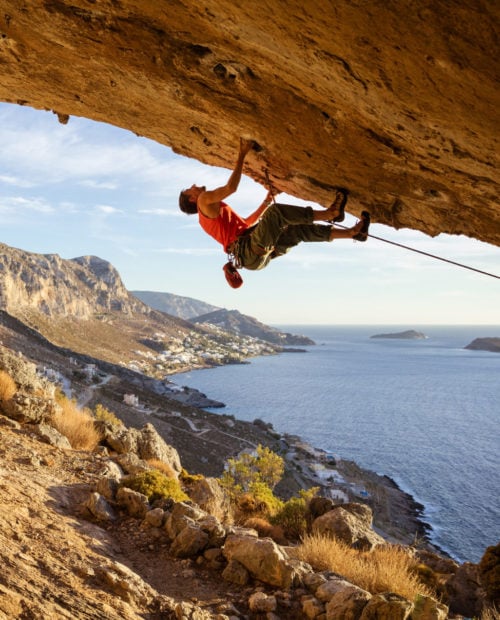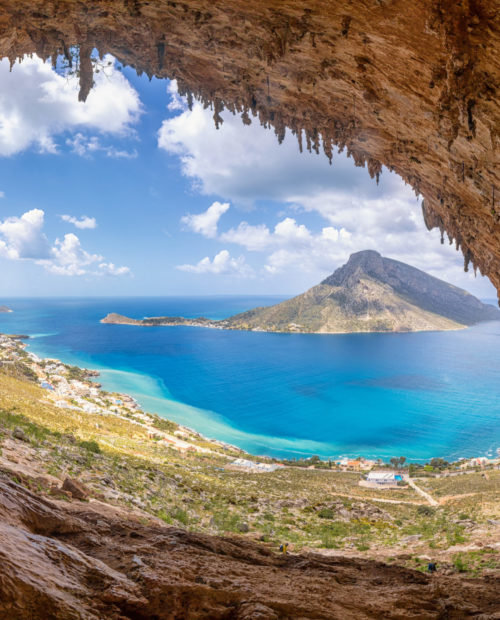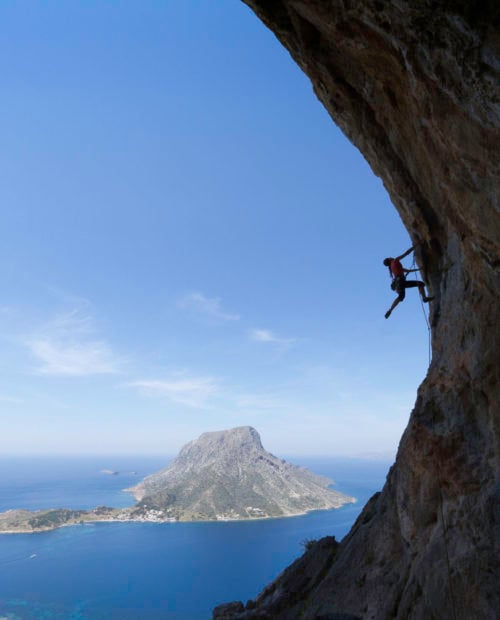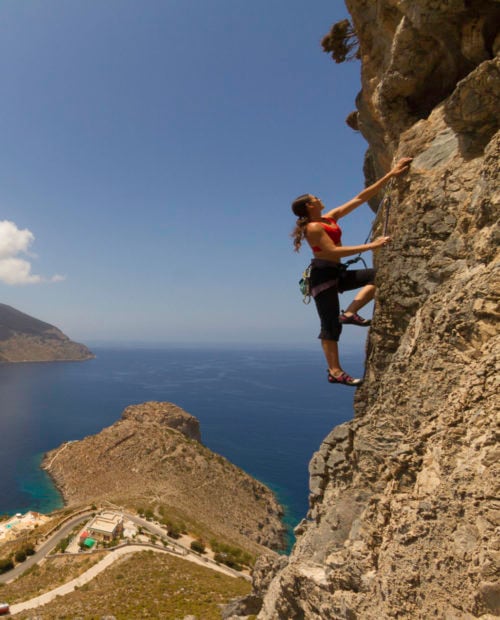 Kalymnos | Greece
Rock Climbing in Kalymnos
Season
Spring, summer and fall are best!
Skill level
There's routes for every skill level
There are more than 2,500 routes to choose from on Kalymnos
And that number is growing! Relatively new to the grand scheme of climbing (the area landed in glossy magazines in 1999), Kalymnos is considered by many to be the greatest sport climbing area. In the world. Most of its gazillion routes have easy access via a scooter and quick hike, so depending on how ambitious your climbing vacation is, there's plenty of tufas and steep routes to go around. Even traveling to the island is easy during the high season, which makes for another tally in the 'pro' column. Lastly, after a day on the crags, or even half a day, going for a dip in the Aegean makes for a pretty good way to cool off.
Most popular packages and classes in Kalymnos
Kalymnos by the Hour
$115 per person
·
Half day
Looking for a quick set up to hit the ground running? This is the perfect way to get the most out of your climbing trip to Kalymnos. Your guide will be there to get you where you need to go, provide gear, and show you the good spots, all tailored to your needs. Longer climbing courses are also available depending on your needs.
Rock Climbing Course Kalymnos
from $520 per person
·
1 - 5 days
Get either one day of privately guided climbing, or 5 days! Whether you want to take advantage of Kalymnos' featured sport routes, or check out some of the area's lesser known multi-pitch climbs, there's plenty of climbing options for your next vacation here in the city of Massouri in Kalymnos.
Things you need to know
What's a typical itinerary?
Usually you'll meet up with your guide, go over gear and beta, and then plan on what routes you want to ascend, or what techniques you want to focus on most.
What about group sizes?
Group sizes are usually between 1 – 6 people with one instructor. Also, remember that the costs decrease as the group grows, so it's the perfect opportunity to surf with friends and family.
What about bad weather?
Inclement weather can always get in the way of climbing, but your guide will know the best spots to move to if and when it rains. If in doubt, though, always ask your guiding service for more information.
Getting there
There are direct flights to Kalymnos via Athens several times per week, though most climbers and vacationers elect to fly to the nearby island Kos. From Kos, climbers can take a taxi to the port at Mastichari and then ferry over to Pothia on Kalymnos. From Pothia, you can take a taxi to Masouri, and start climbing.
Mountain Spirit Guides
Mountain Spirit Guides
Certified IFMGA Guides
Based in the Mont Blanc massif and the Alps, but operating world wide, Mountain Spi...
Kalymnos Climbing
Certified Climbing Instructors
Kalymnos is a must-visit climbing destination for every sport climber. The island i...
Climb in Kalymnos
Rock Climbing Guides
Combine your holiday on the island with the adventure of rock climbing - the fastes...
All the routes have amazing views
The island has lots of picture-perfect spots (how couldn't it, given its location), but it's most iconic spot, is also climbable! Grande Grotto is home to Trela (5.11), and many other high-graded routes, all of which provide an inside-out view to the Aegean from its cavy depths. At Arhi, where the climbing craze began on Kalymnos in 1997, there's a great mix of easier climbs on flat walls Pegaso (5.8) and Arianna (5.8), and harder classics, like Massouri (5.10b/c), Angelika (5.13b) and Mr. Souvlaki (5.12d). If you venture to Odyssey for adventure, enjoy its slabs, tufas and cave features, after all there's fun to be had on The Naughty Nun (5.4) and Marci Marc (5.13a). With so many options, and potentially so little time, hiring a guide is a great way to make the most out of your trip.
Who should climb at Kalymnos?
The only issue any climber really faces at Kalymnos is getting there! Once there, there's routes graded for each and every type of climber, so really, everyone should consider making the trip.