North Rim: North Kaibab Trail to Roaring Springs
Visit the greatest spring in the park as it emerges from its source deep in the cliffs of the Grand Canyon. The North Kaibab Trail passes through almost every kind of ecosystem found from Mexico to Canada. You'll see fir trees at the top of the rim and desert at the bottom as you pass along a (relatively) lush riparian corridor. The Redwall Limestone cliffs and tunnels on the North Kaibab Trail are one of my favorite sections of trail to be found anywhere.
Getting to the spring
Although you're on the North Rim, Roaring Creek supplies water to lodges, residents, and visitors on the South Rim via a pipeline buried under the North Kaibab Trail. Installed in from 1965-1970, this engineering feat crosses the Colorado River under the Silver Bridge on the Bright Angel Trail. This will give you an idea of how much water to expect coming out of this spring, even during drier months.
Descend steeply from the North Rim through a series of switchbacks. Most people find the downhill to be the easier party. They've kicked my butt several times on the return back. I like having hiking poles for both the down and up here.
Hike to Redwall Bridge for the best photo opportunities
After 1.5 miles, you'll drop from the cool, fir forest on the rim to the unforgettable red rock Supai Tunnel. Top off water bottles at the drinking fountain here (check if it's running before you start this hike; it's seasonal and sometimes suffers from pipe erosion). There's also a pit toilet. This makes a fine place to turn around if your legs are feeling the trail.
This hike crosses bridges over the Upper Roaring Springs Canyon. The Redwall Bridge three miles in is a great spot to get 360° views and take epic photos of your friends. The ecosystems along the trail are lusher and more verdant than the South Rim. You may even hear Roaring Springs from Redwall Bridge.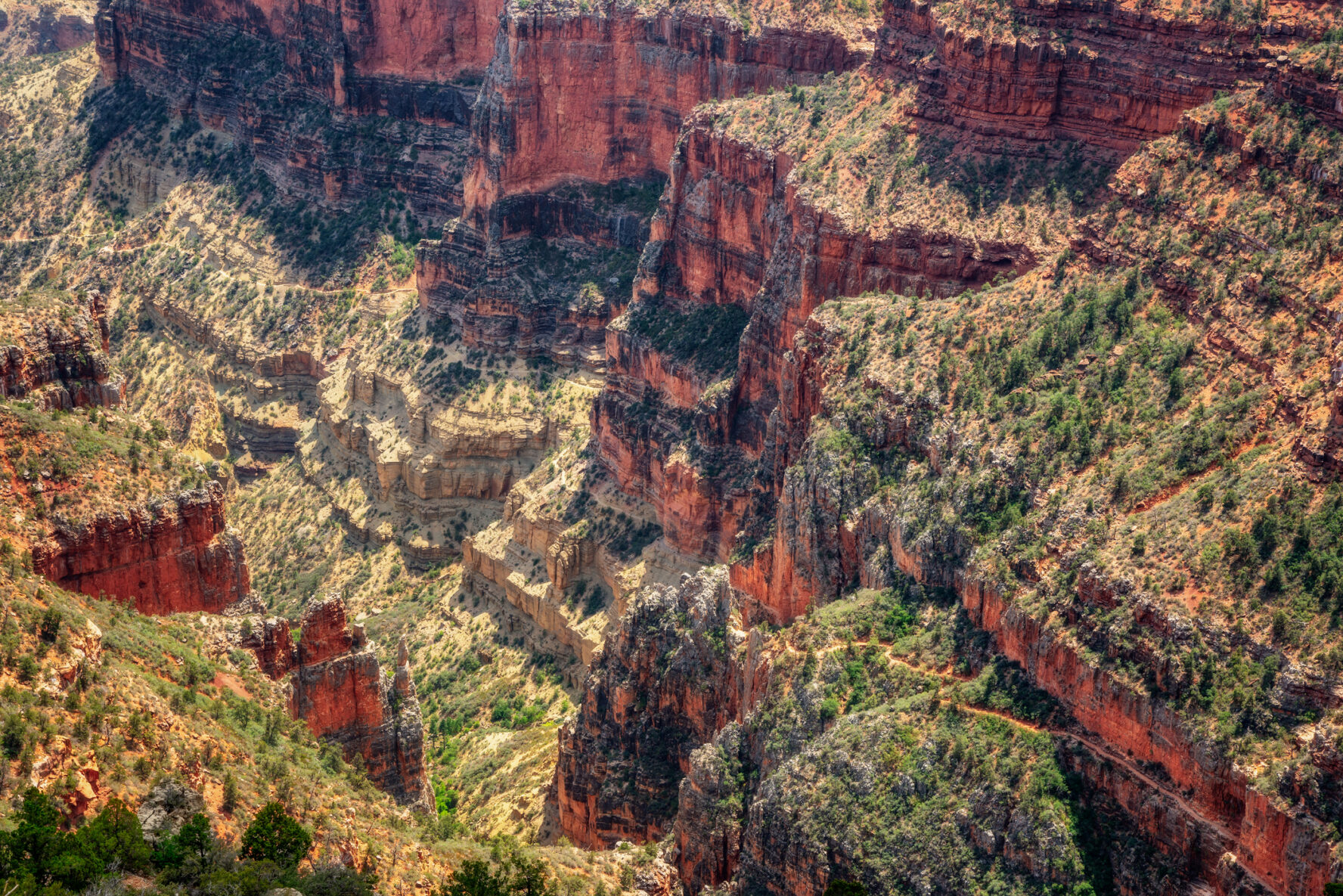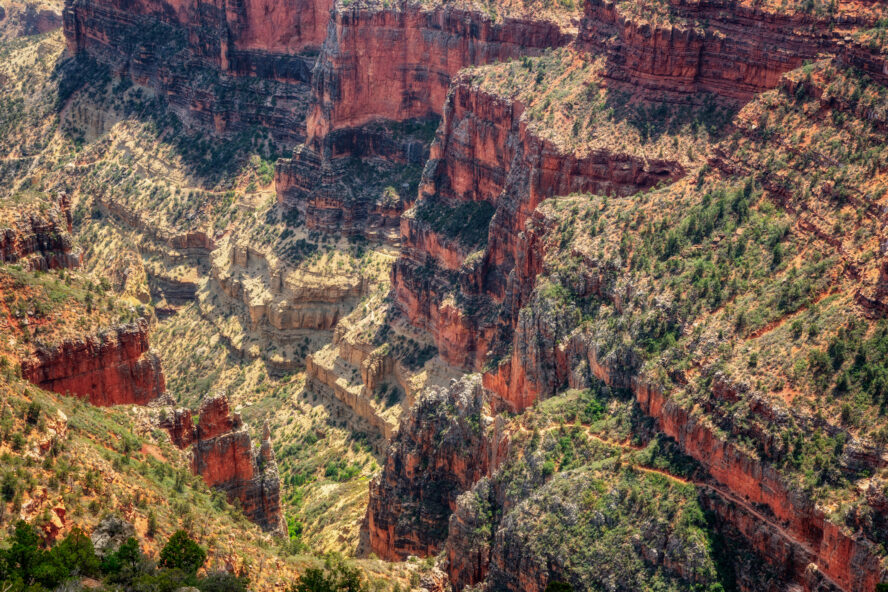 Take in the impressive Roaring Springs
The Redwall Limestone cliffs are one of my favorite sections of trail to be found anywhere. The North Kaibab Trail is an engineering feat. Described by the Park Service as "literally hewn from solid rock in half-tunnel sections," this section is exposed and not for those with a fear of heights. If that's you or someone in your party, you may want to think twice about this trail.
Water and snowmelt from the plateau seep through many layers of rock in the canyon's walls — for thousands of years now. Some layers are harder to penetrate than others, which builds pressure. Between the Muav Limestone and Bright Angel Shale, Roaring Springs bursts from the cliffs and is one of the most unforgettable sights of the Grand Canyon.