Moab's mountain biking terrain, abundance of tracks, climate and adventure community are only four of the numerous reasons mountain bikers put this desert destination on their bucket list. You've heard about Utah's featherlight snow, but Moab makes a strong case for the title of the greatest mountain biking around. You'll find over 900 miles of Moab MTB trails. The majority of tracks are ideal for beginner and intermediate riders — all tucked into and around this quaint town that appeals to a range of tastes.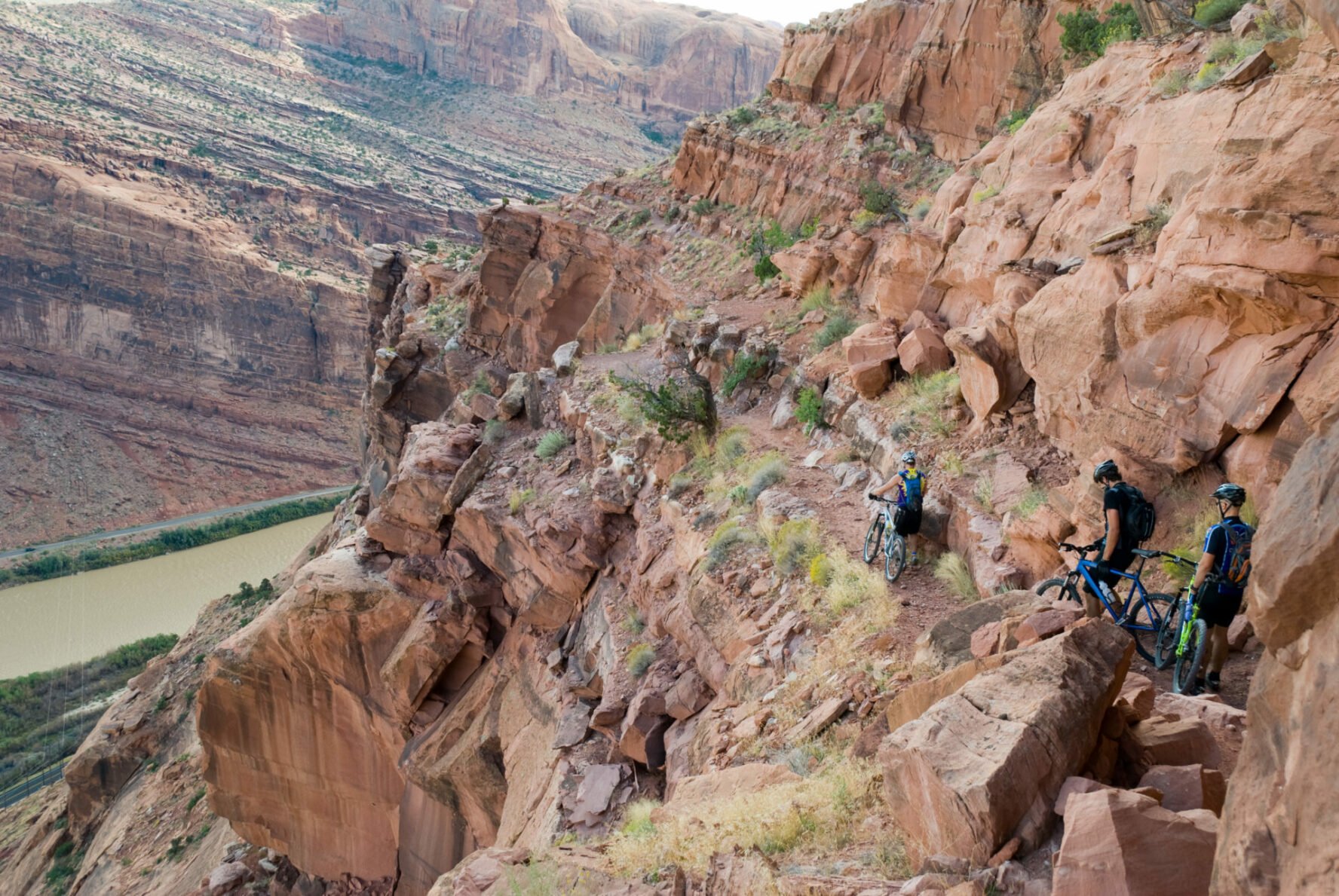 Moab stands out as a major player in the MTB community
The community here plays a strong role in Moab's prominence on the circuit — it actively maintains and builds forgiving and not-so-forgiving routes. Moab, Arches National Park and La Sal Mountains are not only stunning, but also significant due to the rich Indigenous history of the area. Ancestral Puebloans inhabited the Moab area as early as 10,000 years ago, developing farming lands and sacred spaces in the mountains as the backdrop.
Moab mountain biking is the challenging ride you might just need
In the infancy of Moab mountain biking, Slickrock Trail was featured on the cover of
the very first issue of Mountain Bike Action magazine
and the town never looked back. Today, the outdoor destination attracts gearheads, glampers and spiritual vortex seekers alike. While all levels of riders can't get enough out of Moab's sandstone and the feeling like you're riding on another planet, it's the technical, difficult-rated tracks that make Moab stand out from other top-rated destinations in the country. Think of it this way: one mile of technical in the desert can feel like three miles elsewhere. So keep that in mind when you're riding a "short" ten-mile track. New riders don't have to be left out. You can find plenty of options in
Moab for mountain biking to become a better rider
. Keep in mind: the desert climate mustn't be underestimated. Always bring more water than you need, extra tubes, tools and a map. Make sure your bike is tuned. You don't want to be that person in your group who goes home early due to the fact you thought you could wing it without a tuneup.
The Best Mountain Biking Trails in Moab
Moab is situated between Arches National Park to the north and Canyonlands National Park to the southwest, so there's plenty to explore when your body needs a break. If you're not into hiking, there's
rock climbing
, skydiving, motorsports, and backcountry skiing. Yes, you can find skiing in the La Sal mountains if you want to combine your seasons. Moab itself has decent food, breweries, boutiques and shops to take care of rental and repair needs. Some of the shops even have a shower if you're going to be camping. Moab isn't always the easiest last-minute outing. You're really going to want to get your bike tuned up, pack in some extra water, and plan ahead to find camping or lodging. With over 200 trails to choose from, and maybe only 57 hours worth of time to ride, you can always go on a
guided MTB tour
to get a jump on what and where you'd like to ride. I've included some of my favorites.
The Whole Enchilada — a Moab classic
Spanning over 34 miles and almost 8,000 feet of descent makes the
Whole Enchilada
a bucket-list ride drawing people from all over the world. Time of year permitting, the route starts from Geyser Pass in the La Sal mountains and makes its way to the Colorado River. Another standard start is Miners Basin to avoid snow and wet trails in early and late season. You'll want to set up a shuttle with friends, or save yourself some time and hire a shuttle. Some will tell you the Whole Enchilada has supplanted the classic Slickrock Trail as Moab's signature ride. That's for you to decide.
Captain Ahab for technical, difficult riding
Captain Ahab
is located in the Amassa Back Area via Hymasa trail. Intermediate riders should expect to walk in certain sections but worth the challenge. The trail is said to be thought up by a mechanic at Poison Spider Bicycles in Moab, which continues to donate to local land agencies to maintain and develop the track. Captain Ahab is technical and demanding with just enough downhill at the end to forget all the rocky and rugged ups and downs. The lower sections can easily be turned into laps, if you're up for it. To reach Upper and Lower Ahab, you'll need to take the Hymasa trail. Thankfully, it's a quick climb and winding track over slick rock that will only get your heart rate up. Overall, get ready for a really doable ascent. Plus, the views over
Jackson Hole
make you forget about the grind for a moment.
Slickrock is one of the best destinations for a desert riding
Slickrock
is the trail that launched a thousand tracks — and arguably the best mountain biking in Utah. It's also 10.5 miles of physically and technically difficult terrain. The trail really is that good thanks to tacky, weathered-smooth slick rock and stunning scenery. The trail is mostly rock instead of traditional single-track. Riders follow white dashes on the slick rock to help you navigate the trail. It's shocking at first that your tires will hold. A perennial favorite, Slickrock is what put Moab on the mountain biking map. Plus, red sandstone gets along really, really well with mountain bike tires, which may or may not inspire you to try riding vertically up a wall. You'll want to try. Also, bring water. Lots and lots of water. And please leave your dog at home.