1. La Peña de Bernal, Querétaro
The sight of La Peña de Bernal looming proudly above the town tells you straight away—you are lined up for some proper multi-pitching! Heck, this 1,700 foot hunk of granite that you are headed to conquer is the 3rd—or 1st, depending on who you ask—tallest single upright block of stone in the world. Combined with the pueblo mágico, Bernal, right at its base, this place guarantees a magical climbing experience.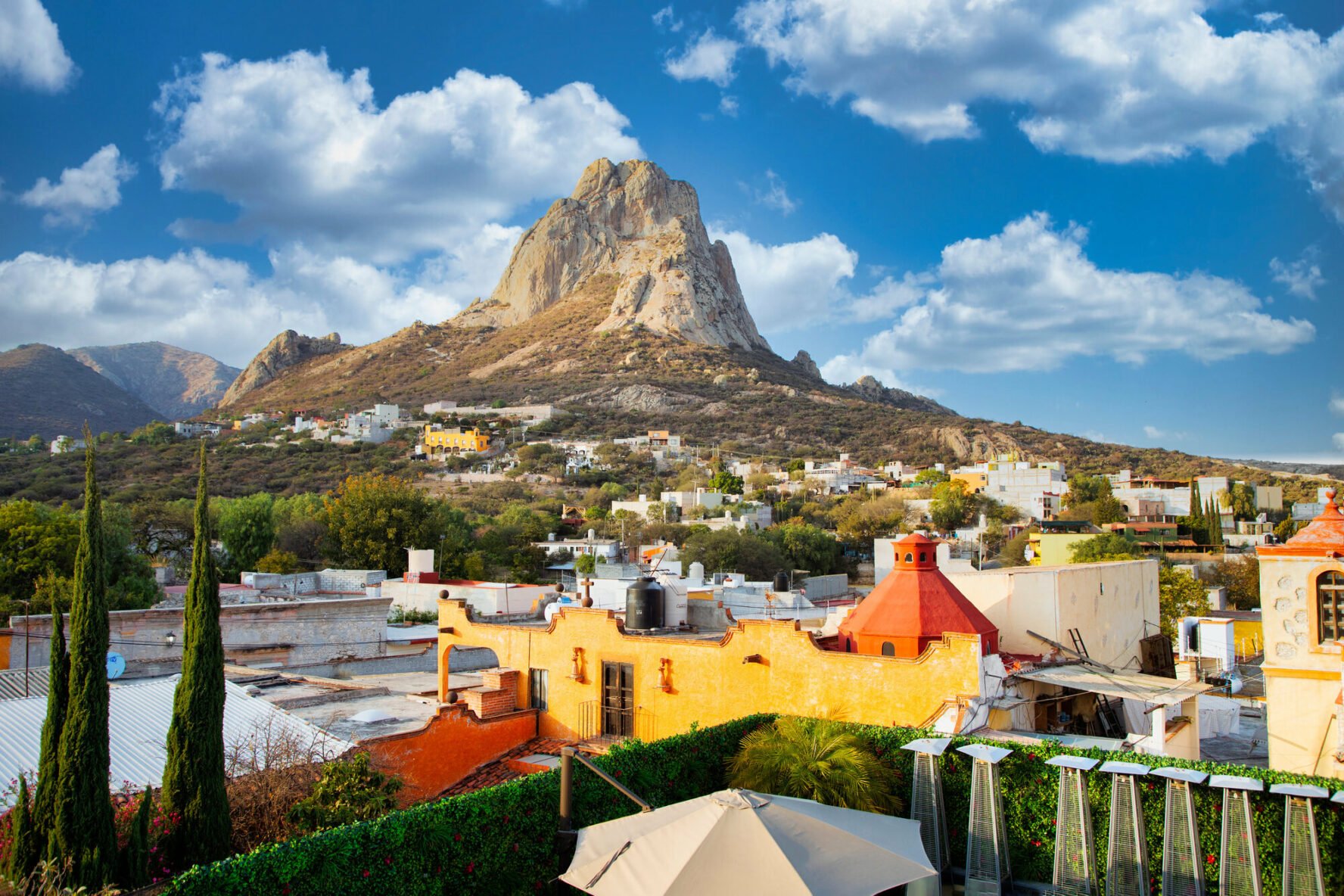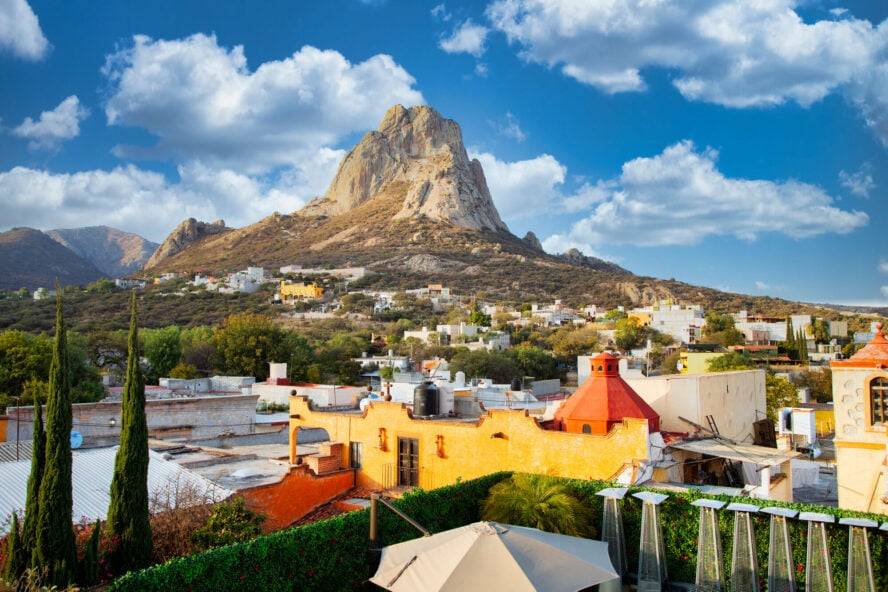 Rock climbing the monolith
The simplicity of logistics for big walling here can compete even with the infamous multi pitch climbing of Riglos in Spain. After completing a dozen pitches, just a few rappels and a short hike stand between you and a delicious dinner down at the bar.
Climbing here is mostly vertical, technical and sustained on skin-friendly porphyritic granite. All sides are climbable and offer over a hundred sport and trad multi-pitch lines. That being said, if you're not accustomed to alpine terrain, I recommend sticking to the sport routes—the trad lines tend to be dirty and runout. To switch things up, you can also find 5.12 and 5.13 overhangs, single pitch routes on the smaller blocks near the base, and some of the best bouldering in the country.
Even though climbing began here in 1963, there is plenty of room for first ascents. As a passionate route developer, having access to such tall, quality stone that hasn't really been touched yet by climbers was a huge draw to me, but not the only thing.
Spend magic days in the magic town
Bernal, Querétaro, founded in 1647, is a pueblo mágico—a magic town of Mexico. This coveted status is awarded to areas that have maintained their original architecture, traditions, and culture. In this town of eternal springtime weather, the energy, vibrant colors, rich gastronomy, and beautiful streets make rest days as equally exhilarating as those on the wall. While passing through the cobbled pathways, make sure not to miss esquites, a special corn dish sold on near every corner.
Prior to the governmental designation, the monolith itself was believed to have magical powers by the Indigenous Otomí-Chichimeca people. Even today, you will see many pilgrims hiking to the highest accessible point on the rock to pray for divine protection. Many locals believe that La Peña is a source of energy, and they might be right: apparently the average life span among the Bernal inhabitants is over 90 years old!
Let's talk about safety
People unavoidably ask me about this. True, some parts of Mexico are dodgy, however, the state of Querétaro, and the areas around there, makes up for that. The city by the same name is considered one of the safest on the continent, and is nearly twice as safe as Chicago according to the crime index at Numbeo.com, for example.
From my personal experience, I have never seen nor heard of any crimes in the small towns of Bernal and Aculco where the climbing is concentrated. Frankly, outside of farmers', tourists', or climbers' business, there are few other interests there.