If you want a quick tour of truly unique geology that rivals the best hikes in Yellowstone, I think it's hard to beat the Discovery Trail. Created in 2012, the Discovery Trail is one of the newest Joshua Trail hiking trails with a distinction that I love: it was built by kids, for kids.
The trail placement and information placards were designed by students from the local Morongo Unified School District to highlight what they found to be some of the neatest rocks in the area. The actual construction was done by high school students in the Youth Conservation Corps. With this backstory, I consider this trail one of the finest ways to get into Joshua Tree National Park hiking.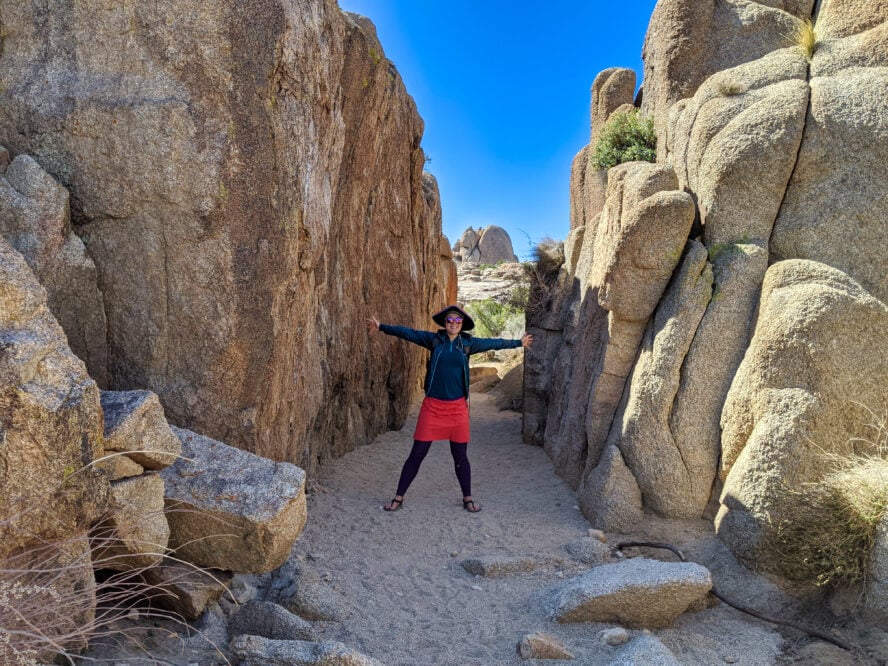 As many times as I've visited Joshua Tree, wrapping my head around the geology can still be overwhelming. I really appreciate the frequent informational placards. I was surprised to discover that the Park Service installed a viewing telescope halfway through this hike. It corresponds with a locator map, so you can identify the named boulders and peaks in the area. The Discovery Trail is a 0.7-mile loop with 8- feet of gain. It requires some scrambling, so may not be suited for everyone.
How to hike the Discovery Trail
Park at the roadside parking for Skull Rock off Park Boulevard. If that parking lot is full, I've found more parking at the nearby Live Oak Picnic Area and the Jumbo Rocks Campground. Connector trails make it easy to link up to the trailhead. See the National Park Service's Joshua Tree Map for exact locations.
Before starting the hike, I recommend visiting Skull Rock along the south side of the road (opposite the Discovery Trailhead). It looks like a skull and is one of the most notable named boulders in the park.
The Discovery Trail starts at the north side of Park Boulevard. A sign and a map showing where the trail goes. I like taking the loop going clockwise, turning left on a trail shared with the Skull Rock Trail (that connects to the Jumbo Rocks Campground).
After 0.14 miles, turn right and uphill towards a viewing telescope with panoramic views to rival those when hiking in the Southern California mountains. An interpretative sign makes it easy to identify nearby points of interest, including Skull Rock in the distance. At an intersection, turn right to return to the trailhead.