Jackson | Wyoming
Backcountry Skiing in Grand Teton National Park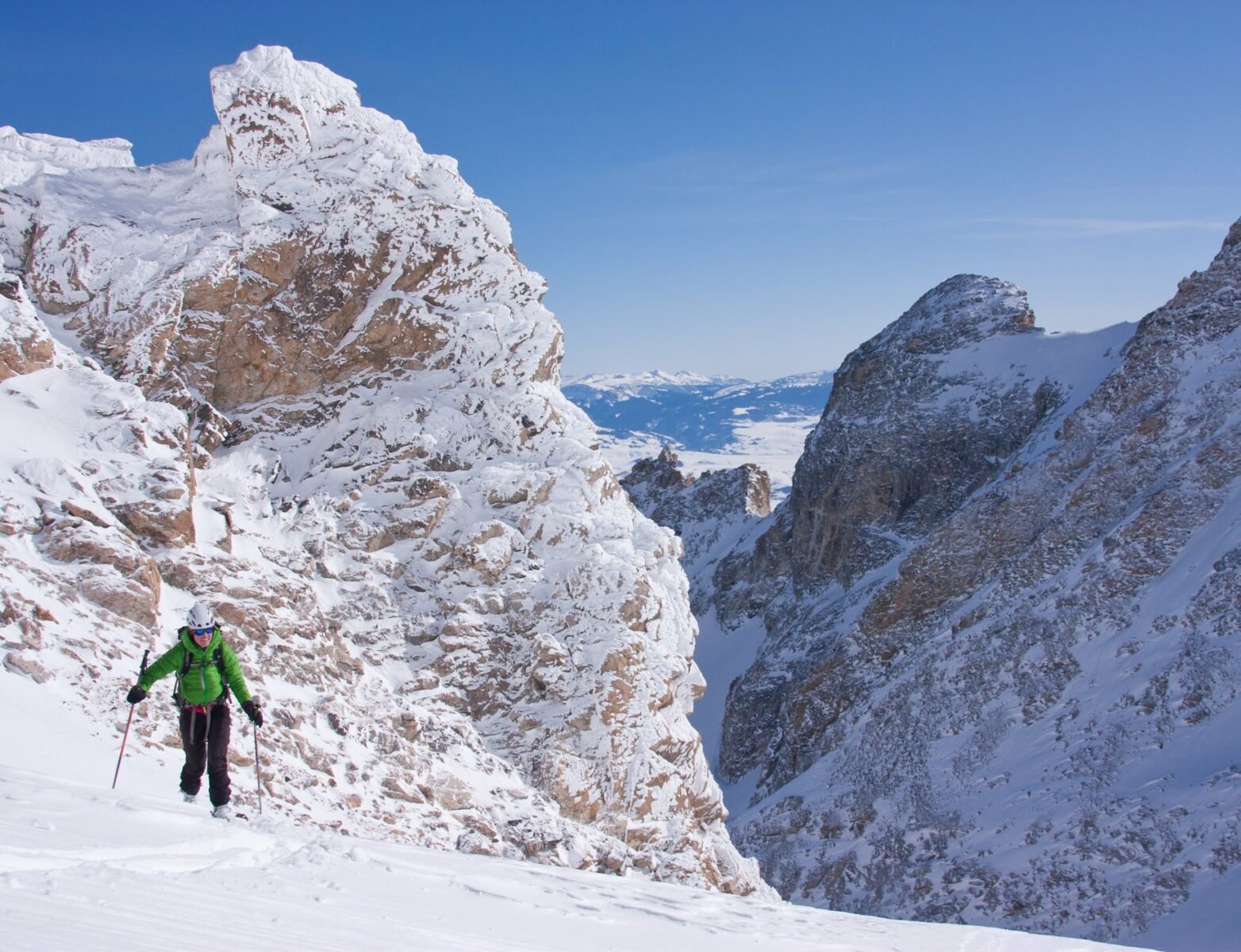 Nearest city
Jackson, WY, is a ten-minute drive from the park
Get ready for big sky and even bigger backcountry in the Tetons
Grand Teton National Park (GTNP) is synonymous with big skies and epic backcountry skiing adventures. There's something for everyone and every skill level. You can ski backcountry tours through tree glades on low-visibility days or push yourself on high-angle couloir runs with scenic summits and high mountain traverses. Depending on your objective, you can expect anywhere from 2,500ft–6,500ft in vertical gain!
This adventure is operated by The Mountain Guides.
The Tetons most popular backcountry skiing adventures
Teton Backcountry Skiing and Riding
from $215 per person
·
1 day
This is the perfect chance to chase powder in Grand Teton National Park's incredible terrain with guides who call the area "home." Whether you want mellow lines to get used to the feel of the area or you're looking for an objective with couloirs and elevation, either objective can be yours depending on how you, your group, and your guide plan your day in the backcountry.
Intro to Touring
$295 per person
·
1.5 days
If you're a competent resort skier looking to explore terrain beyond resort boundaries, this is the program for you. In the classroom, you'll cover the basics of tour planning, avalanche gear and how to use it, and discuss the importance of snowpack before heading out. The following day you'll get to spend plenty of time skiing the storied terrain in Grand Teton National Park with a certified guide.
Things you need to know
When is the best time to go?
The peak backcountry season is from late-December through the end of February.
How fit do I need to be for this adventure?
The better shape you're in, the better time you'll have. Because of the significant amounts of elevation gain — not to mention the starting elevation — physical fitness is very important. All participants must be comfortable skinning while carrying a loaded pack.
Is there a minimum age requirement?
All participants must be 18 years or older.
Group sizes and pricing
Group sizes are small, with no more than a 1:4 guide-to-client ratio. For more advanced tours, group sizes are 1:3. Pricing is per person, with fees decreasing as the group size grows.
What about bad weather?
Inclement weather can often lead to unstable terrain and conditions in the backcountry. Because of this, your guide will decide on what objectives are most suitable and what areas are safe for adventuring on a given day. Avalanche danger is very real and must be respected whenever venturing out for a tour.
Do I need a permit?
There are three types of 7-day passes available for the park. The entrance fee for hikers, bikers, and skiers is $20/person/week. A private vehicle is $35/vehicle/week. Motorcycles are $30/motorcycle/week. There are no day passes available. An annual pass is available for $70.
Getting there
The Jackson Hole Airport (JAC) is closest. The town of Jackson is a 10-minute drive from Grand Teton National Park.
Guides we recommend
The Mountain Guides
The Mountain Guides are ready to see any objective of yours fulfilled. They guide h...
Expect epic runs in powder-covered terrain
If you're new to the backcountry, consider moderate classics like Olive Oil, Wimpy's Knob, or Shadow Peak, where you'll cover thousands of feet of pristine snow before dropping to the valley floor. If you're an adrenaline junkie looking for high-angle descents, go with a guide to some of the range's more famous couloirs like the striking Sliver Couloir on Nez Perce, the Spoon Couloir on Disappointment Peak, or Banana Couloir off of Prospector Peak. No one ever comes to ski at GTNP just once!