Aspen | Colorado
AIARE Avalanche Level 2 in Aspen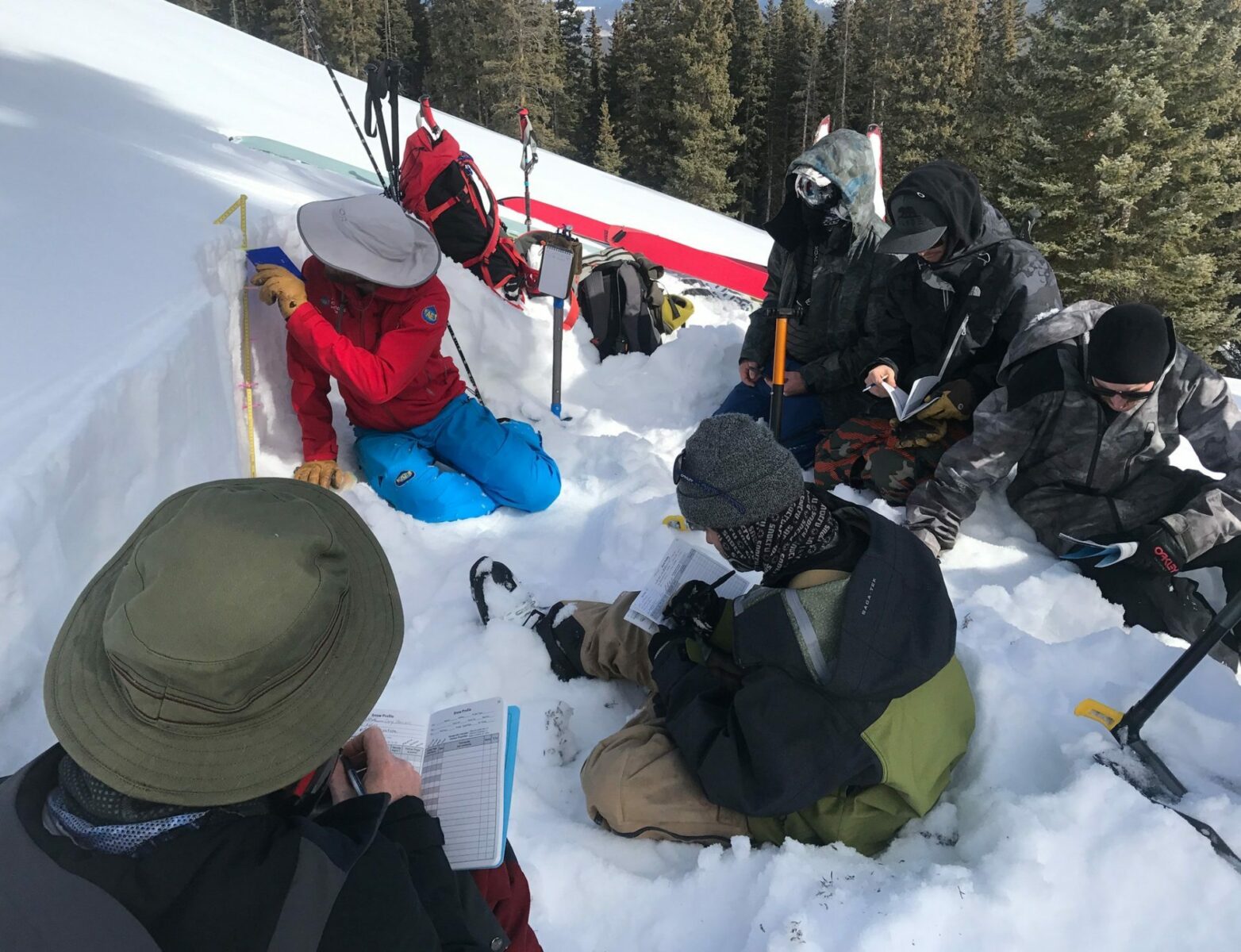 The AIARE Avalanche Level 2 course is designed for those who have an interest in expanding their knowledge and understanding of snow stability and snow stability factors. The material is ideal for snow safety and guiding professionals, people interested in these and related careers, and recreational practitioners and group leaders who are looking for advanced knowledge and skills. Also, it's in Apsen, Colorado, which makes for a stunning classroom.
The American Institute for Avalanche Research and Education (AIARE) is the  standard that  informs your curriculum.
The AIARE 2 Avalanche course is a 3-day program providing avid backcountry users and leaders the opportunity to advance their avalanche knowledge and decision making skills. Participants will develop an understanding of snowpack formation and metamorphism. We'll also go over observation guidelines and recording standards for factors influencing and indicating snowpack.
During the course you can count on learning
Avalanche formation and release
A stability analysis and forecasting processes
Snow Metamorphism
Surface Hoar Formation
Stability Testing
Observation Guidelines
Recording Standards
The snow metamorphism process and how it relates to backcountry snow stability
Weak layer formation in the snow pack
Temperature gradients and their effects on snow
How to make standardized observations and recordings for weather, snowpack and avalanches
Snow testing and interpretation
How to perform a rescue
Prerequisites
Students must be able to travel in avalanche terrain. AIARE Level 1 Course and Avalanche Rescue Course are required, or equivalent training/experience.
Itinerary for the class
First Day: 8:00am – 6:00pm classroom instruction
Second Day: 8:00am – 6:00pm combination classroom and field instruction
Third Day: 8:00am – 6:00pm combination classroom and field instruction
Other things you should know
You will be provided with a pack with a probe, shovel and avalanche beacon. If you need alpine touring ski equipment (AT skis, skins, boots) we can arrange to set you up at Aspen Highlands shop or the night before between 3:00pm and 5:30 pm.
Things you need to know
What's included?
AIARE instructor/AMGA trained/certified ski guide
Use of avalanche beacon, shovel, probe & ski pack
AIARE dues ($15), AIARE field book ($29.95)
3% USFS land use surcharge
What's not included?
Personal skiing equipment (Alpine Touring (AT) ski, or snowboard equipment (available for demo at $15 discount)
Single ride lift tickets ($30 – often the instructors use Aspen Mountain to gain access to higher elevation snow which would require a lift ticket for a one time gondola ride)
Lunch/snack food
Gear. What to bring?
SKI EQUIPMENT
The following items are provided for your day tour:
Day-tour backpack: (airbag available)

Avalanche Transceiver

Probe

Avy shovel: metal blade is a must
CLOTHING
Socks: Wool or synthetic ski socks

Base layers: Synthetic, wool or silk bottom, underwear and top

Mid Layer: Synthetic or wool zip shirt

Hard Shell or Softshell pants: A pair with side vents are best.

Insulated vest or jacket: down or synthetic.
OTHER ITEMS
Water bottle

Small thermos: (Optional)

Sunscreen and lip balm: water/sweat-proof

Headlamp

Toiletries, Personal first-aid kit: for your personal meds/needs

Camera or Smartphone

Lunch/Snack food
Good to know
Aspen Expeditions' professional AMGA certified or trained guides follow both AIARE and AAA international snow education standards. Our expertise combined with years of experience in mountain ranges throughout the world assure you the highest quality instruction available.
Guides we recommend
Aspen Expeditions
IFMGA/AMGA Certified Guides
Since 1977, the mountain guides of Aspen Expeditions Worldwide (AEW) have been reco...