Aconcagua Polish Glacier | Argentina
Climb the Aconcagua Polish Glacier Route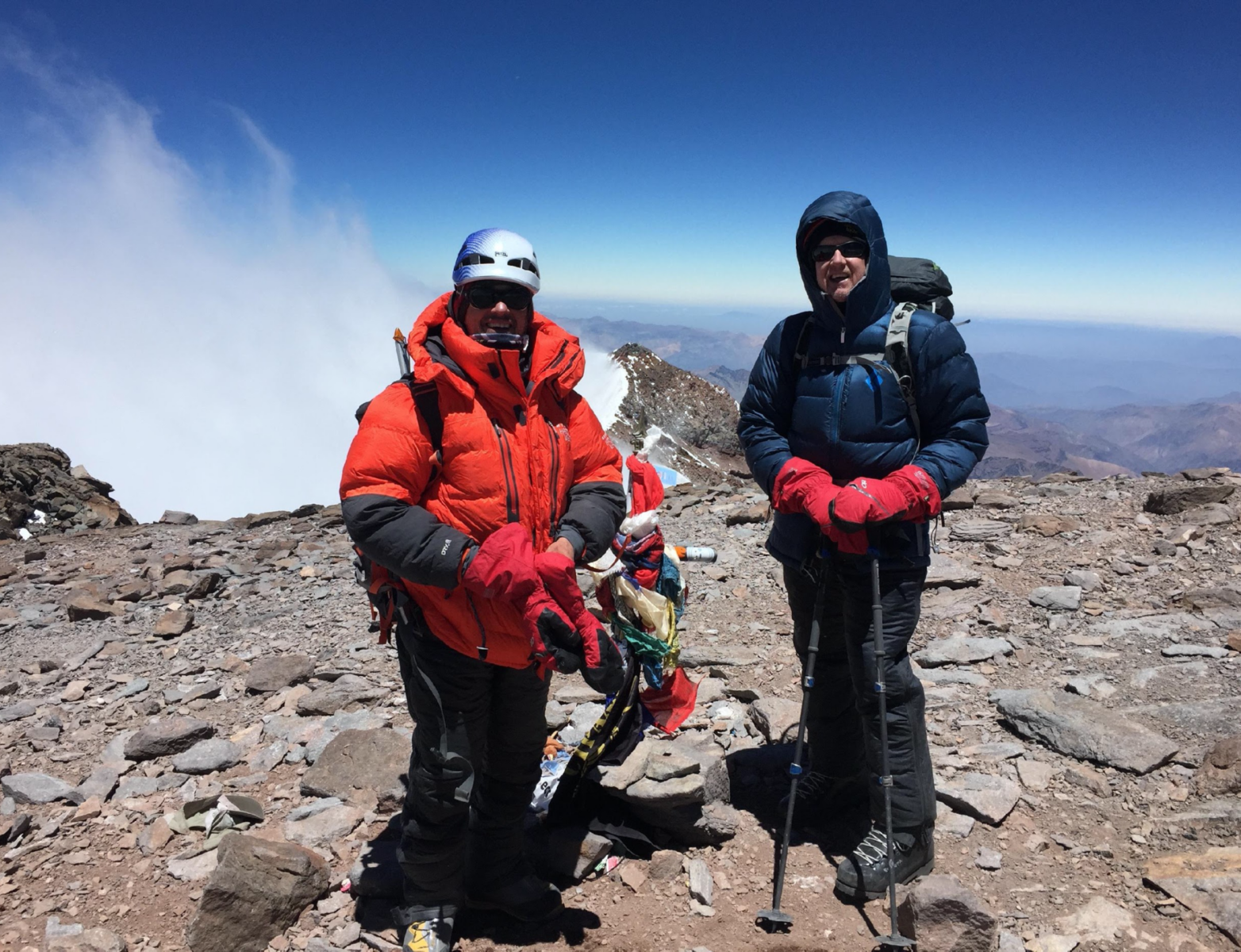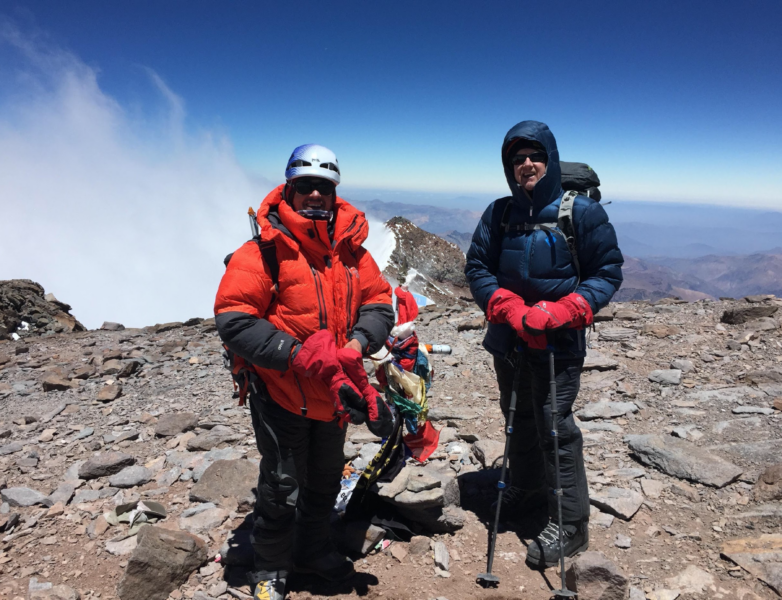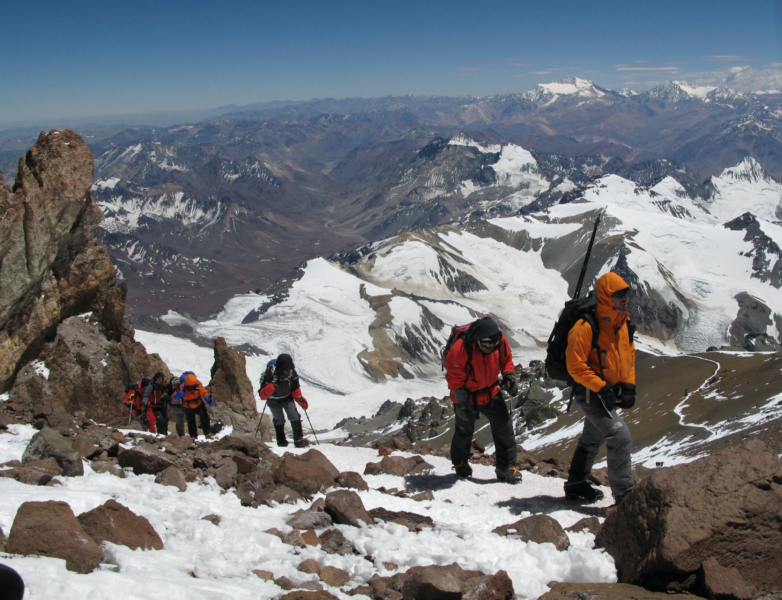 Season

Custom dates (ideally November to March)

Nearest city

Mendoza, Argentina is just over three hours away
Climb Aconcagua — One of the World's Seven Summits
Join renowned IFMGA Mountain Guide Willie Benegas on this challenging expedition to the highest mountain outside of Asia. Set in the Argentinian Andes, Aconcagua is the perfect place for any climbing and mountaineering enthusiast, offering a variety of terrains and routes, but none as rewarding as the Polish Glacier Route. On this 22-day expedition, spend the first two weeks acclimatizing to the area before attempting the famous Polish Glacier Route — a technical, big mountain climb that will prepare you for objectives like Kilimanjaro or Mt. Everest (which Willie has summited an astonishing 13 times!).
Book This Adventure
Climb the Aconcagua Polish Glacier Route
With unimaginable altitudes, this acclimatization adventure will prepare you for your future challenging expeditions, including the famous Mount Everest. It is a unique program for learning about necessary mountaineering skills, technical knowledge, risk management and preparedness for everything you'll encounter on a big mountain climb. See some of the most spectacular places such as Tolosa Valley and Glacier, Santa Elena Peak and Cerro Cuerno while reaching the 22,000-feet-high Summit Ridge offering a magnificent 360-degree view.
Trip Highlights
Explore different areas of the Andes prior to climbing the Glacier and acclimate to the alpine environment Aconcagua offers. Begin your ascent in the beautiful Las Cuevas Refuge, and give yourself a chance to see some of the best views of Argentina! A long day of climbing will take you from Camp Plaza Caluba to the Summit Ridge at 22,000 feet and a 55-60 degree narrow gully with the entire Glacier at your feet. The final ridge is absolutely epic — from there you and your guide will be able to look directly down the 9,000' South Face of Aconcagua, considered one of the great faces of the world!
Itinerary
Day 1: Arrivals in Mendoza (800 m / 2,625')
Your guide will meet you at the airport, and escort you to your accommodation. Mendoza's summer climate is warm and humid; however, the hotel is air-conditioned for your comfort. It is an attractive and prosperous town adorned with European style architecture, lush parks, and street side cafes and bars. This is also the wine-producing center of Argentina, offering winery tours and wine tasting opportunities.
Day 2: Journey to Penitentes (2,580 m / 8,465')
Your second day is reserved for a relaxed morning after long journeys. After lunch, you will take a private bus towards Puente Del Inca. This journey takes approximately three hours to reach your stop a few miles below Inca: the resort of Penitentes. Although this is a ski resort, the weather will be relatively warm and dry. You will stay at the Ayelen Hotel for the night.
Day 3: Drive to Las Cuevas Refuge (3,200 m / 10,499')
On the third day, you will be heading towards the Chilean border to settle in at a small mountain refuge owned by your guide's friends, Don Gerardo. His home will serve as your base for your initial acclimatization process. After lunch, you and your guide will hike up the Tolosa Valley to the base of the majestic Tolosa Glacier and enjoy the spectacular views.
Day 4: Acclimatization Hike and Overnight 1 (3,900m / 12,795')
After a lazy morning, you will start your hike to the Cristo Redentor Refuge at the Border of Argentina and Chile. You can either camp out under the stars, or use the Refuge as your base for the evening. Wonderful views of the upper part of Aconcagua will give you a look at what is to come.
Day 5: Acclimatization Hike 2 (4,200m / 13,800', 3,200 m / 12,795' sleep)
After breakfast, your guide will utilize the beautiful Santa Elena Peak (normally attaining around 4,200m) to continue increasing your acclimatization, later returning to your base at Las Cuevas Refuge, where a well-deserved shower and dinner will be waiting for you.
Day 6: Parque Nacional Aconcagua, Confluencia (3,200 m / 12,795')
On the sixth day, you can look forward to a lazy morning to recover from Stage 1. After lunch, you and your guide will head to the Aconcagua Park gates, enter the park, and trek up the Horcones Valley to the green campsite at Confluencia (3,200m). This is a short day, but the lush camp provides plenty of necessary water.
Day 7: Plaza de Mulas Base Camp (4,200 m / 13800')
Your trek continues on the following day, from Confluencia to the Plaza de Mulas Base Camp, following a broad, stone-covered, valley floor to a steep trail that leads to a terminal moraine. The base camp at Plaza de Mulas is situated on the top of this moraine, just off the Horcones Glacier and beneath a vast west face of Aconcagua. Base Camp is very comfortable, with a huge mess tent and a full-kitchen staff and porters. You will be provided with world-class mountain cuisine that includes vegetarian meals, free-range Argentinian steak, delicious soups, and fresh fruits and vegetables.
Day 8: Rest and Acclimatization at Base Camp (4,200 m / 13,800')
At this point, most people start to feel the altitude after sleeping so high, so you will use your eighth day to rest, acclimate, enjoy stunning views, and experience base camp culture.
Day 9: Transport Supplies to Plaza Don Fernando (4,800 m / 15,748′, 4,200 m/13,800′ sleep)
On the following day, you can carry your load from base camp to Plaza Don Fernando. Throughout your climb of Aconcagua, you will follow the philosophy of 'climb high-sleep low' as you ascend the mountain. From your base camp at Plaza de Mulas, you will follow the trail as it gradually switches back up steep scree slopes to the rock spires that mark Plaza Don Fernando. This is where you will cache gear and food before returning to base camp. This usually takes from 4 to 6 hours (round trip).
Day 10: Rest and Acclimatization at Base Camp (4,200 m / 13800')
Use your tenth day to relax and acclimatize to new surroundings at Base Camp.
Day 11: Climb Cerro Cuerno (5,250m / 17,224', 4,200 m / 13800' sleep)
You will start your day with an early wake-up call to climb Cerro Cuerno by the right side of the face on a steep 35-55 degree ice/snow face to reach the col between Cuerno and Aconcagua. Then, you will follow the East Ridge to the summit — a beautiful peak that is rarely climbed. This will be a good climb and preparation for the main challenge of this expedition, the climb of the Polish Glacier. You will return to Base Camp after this ascent.
Day 12: Rest and Acclimatization at Base Camp (4,200 m / 13,800')
Before returning to Plaza Don Fernando, you will take another rest day at Base Camp, after a long day on the summit of Mt. Cuerno. This will dramatically improve your acclimatization and chances of a successful summit.
Day 13: Move to Plaza Don Fernando (4,800 m / 15,748')
The next day, you will return to Plaza Don Fernando, this time to sleep. You will carry all of our personal equipment as you will not be returning to Base Camp unless forced to by bad weather.
Day 14 & 15: Move to Plaza Don Benegas (5,400 m / 17,717')
On the next day, you will move up to Plaza Don Benegas which will take 3 – 5 hours. You will reach your camp where you can look forward to another day of rest.
Day 16: Climb to Camp Plaza Caluba (5,950 m / 19,521')
This is when you move on up, for approximately 3 to 5 hours, to Grand Plaza Caluba Camp. You will carry three days worth of food, fuel, personal equipment, and tents.
Day 17: Summit Day (6963m / 22,844')
For this big day, you will need to have a very early start. At about 1:00AM, the stoves from the guide's tents will start running to prepare water and you will depart for your Polish Glacier climb a few hours later. You will have a very demanding and long day ahead. A 12 to 16 hours of climbing a day is very much possible when climbing the Polish Glacier. The line your guide will choose will depend on the conditions. If a lot of penitentes (snow pinnacles formed by direct sunlight) are encountered in the lower section of the glacier, you will start by climbing through the scree and rock on the right hand side.
A long day of climbing will take you to the Summit Ridge at 22,000′ after the last steep pitch — a 55-60 degree narrow gully with the entire Glacier below our feet. The final ridge is very long and gentle and above all, awesome! From there, you will be able to look directly down the 9,000' South Face of Aconcagua, considered one of the great faces of the world! At the summit, you will have a spectacular 360-degree view. All around, you will see the Andes Mountains consisting of several 20,000' peaks, including another of the highest peaks in South America, Mercedario. To the west lies Chile and the Pacific Ocean, and, to the east, the pre-Andes and plains of Argentina.
After summiting, you will descend quickly via the Normal Route, where at Independencia (20,790 m ) you will traverse west back to your High Camp — the Grand Plaza Caluba Camp — for rest and rehydration.
Day 18: Descend to Base Camp
This is when you descend from Plaza Caluba to Base Camp. You will probably have some equipment and food to pick up along the way.
Days 19 – 21: Contingency Days
These are spare days which are included in case of any bad weather.
Day 22: Trek Out and the End of BBE Services
On your twenty second day, you will walk out from Base Camp to the trailhead at Horcones. The walk, which took days to accomplish on the way in, will take about 6 to 7 hours. At the trailhead, you will travel by private bus back to Mendoza, arriving in time for a late dinner, but you will be rewarded with a hot shower, drinks, and a delicious meal at the hotel. Time to celebrate!
Day 22 late or 23: Departures from Mendoza Airport
It is time to head home following your big success!
Note: This itinerary is intended to be a guideline only, weather days and necessary extra rest days are always a possibility whilst on a climbing expedition.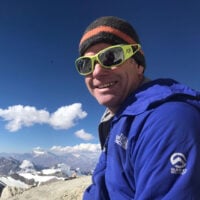 Willie Benegas
IFMGA mountain guide
Based out of Sandy, Utah, his home in the Wasatch Mountains, Willie is the co-found...
View details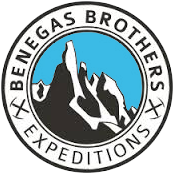 Benegas Brothers Expeditions
Benegas Brothers Expeditions
Benegas Brothers have focused on small strong teams, an unrivaled family feel, and ...
View details
Things you need to know
Covid measures in Argentina
57hours is committed to providing safe outdoor adventure experiences. We require all guides using our platform to have a COVID-19 safety plan and to make the details of that plan accessible to travelers. In most cases, group sizes will be reduced, guides will avoid overcrowded locations, and other safety measures will be met depending on the location and activity.
We also expect clients to respect local regulations and take measures to protect themselves, guides and the communities they're travelling to. For more information on COVID-19 measures in Argentina, please refer to the websites of the Center for Disease Control and Prevention and Argentina's Ministry of Health.
Please contact us if you have any questions or require further information. We are happy to provide you with the most up-to-date information!
Why should I book with 57hours?
With us, it's all play and no work for you! 57hours is an open platform that connects you with trained and certified outdoor adventure professionals all over the world. Using our tech-savvy, we make it super easy to find and book adventures worth tackling, with guides worth booking, all gathered from the first-hand experiences of the locals who adventure in these amazing locations.
What if I've never alpine climbed before?
This 22-day expedition is only for qualified climbers. The Polish Glacier Route is a technical and physically demanding climb that incorporates all the logistics of climbing a big mountain. You will gain experience of technical climbing at high altitudes that will enable you to move on to even bigger objectives, but you must already have completed an advanced ice climbing course and have completed multiple ice climbs. After more than two weeks of preparation in the surrounding area, you will spend 12-16 hours attempting to summit Acongua via the Polish Glacier Route.
If you're new to alpine climbing, there are plenty of options to prep you for an expedition like this. Mount Superior in the Wasatch Mountains make for a great training ground to get the experience to move on to an expedition of this level.
What's included?
What you get in this adventure:
An IFMGA licensed Mountain Guide
22 days of alpine climbing
All scheduled ground transportation during the expedition
Hotel accommodations in Mendoza for one night before climb based on shared occupancy (climbers descending early may incur extra hotel fees). Climbers pay for hotel rooms upon return to Mendoza
Hotel accommodations before the climb and in Penitentes
BBE pays for meals all meals form the first night's dinner (schedule dates) until departure from the mountain. Members pay for their own meals upon return to Mendoza and the end of the expedition. BBE covers meals in Penitientes
All food whilst in the mountain, base camp services, and all group climbing equipment
Mule supported trek to Base Camp
What's not included:
Technical alpine climbing equipment
Trip insurance
International airfare
Snacks and supplements
Transportation (to and from the airport, and in general)
Additional room charges
Aconcagua Climbing Permit Fee ($850 – $1250, depending on season)
Argentina Entrance Fee: Reciprocity Fee
Personal Gear
How fit do I need to be?
This adventure is for qualified advanced climbers. You will need an excellent level of fitness and stamina for big mountain climbing. Climbers attempting this route need previous ice climbing experience and must acclimatize well to altitudes over 22,000'. They also must have completed an advanced ice climbing course and have completed multiple ice climbs. Be prepared for multiple days of strenuous climbing and backpacking.
Note: Guides may decide not to take climbers up the Polish route if their skill level or fitness are deemed inappropriate during the climb, and instead will switch to the Regular Route to the summit.
What equipment do I need to bring?
For technical alpine rock climbing gear, you will need to bring:
Helmet
Climbing harness with a locking carabiner, belay device and chalk bag
Perlon
Ropes
Climbing hardware (quickdraws, cam devices, stoppers, etc.)
Ice axe, steel crampons with anti-bot plates
Trekking/ski poles
Headlamp
For personal items, we recommend bringing:
Fleece or wool hat
Balaclava and a buff
Neck gaiter
Hardshell jacket with hood (Gore-Tex or equivalent)
Expedition-weight bottoms
Lightweight wind shell
Down or synthetic jacket with hood
Long-sleeved base layer
Gloves: lightweight synthetic, windstopper gloves, big mountain gloves and mittens
Long base layer pants
Lightweight trekking pants
Expedition-weight bottoms
Hardshell pants
Softshell pants (wind-proof or wind-resistant)
Quick-dry shorts
Leg gaiters
Liner socks, hiker socks and warm socks
Mountaineering boots that work with crampons
Hiking shoes
Climbing shoes
Two internal frame backpacks (one 35-45L and one 65-75L backpack)
Two duffle bags
One small duffle bag
Sleeping bag and pad
Compression Stuff Sacks
Chemical Hand and Toe Warmers
Glacier glasses and goggles
Water bottle or hydration pack
Plastic bowl, spoon and coffee mug
Food you can eat on-the-go
Pocket knife
Toiletries (sunscreen, hand sanitizer, blister kit, toilet paper, pee bottle, etc.)
Camera — optional
For more information on needed equipment, please visit the Aconcagua Equipment List.
What is the minimum age requirement?
Everybody over the age of 18 is welcome to book this backcountry skiing adventure.
Participants younger than 18 may be permitted to join private tours on a case-by-case basis if they are accom­pa­nied by a legal guardian and they have the required experience to join.
If your group has climbers under the age of 18, contact us prior to booking to make arrangements.
What about group sizes and pricing?
For this adventure, the max client to guide ratio is 2:1. A deposit of $1,500 per group is needed to secure your spot.
Contact us to make arrangements for private guiding.
What about bad weather?
As the saying goes, "there's no such thing as bad weather, only bad preparation." This expedition is scheduled to fit with ideal weather and climbing conditions for summiting the Polish Glacier Route. You can expect some inclement weather, as on any big mountain expedition, but your guide will be fully prepared for anything and contingency days are built into the itinerary to accommodate for unfavorable conditions.
Do I need an insurance policy?
Travel Insurance & Rescue Insurance:
This adventure requires the purchase of emergency medical and travel insurance to protect you from the unexpected. Please consult with your insurance company with any specific questions regarding coverage and policy details.
With medical insurance, if you have an accident or medical emergency on or off the mountain, you'll avoid paying out of pocket for costly expenses. This covers everything from hospital treatments to emergency air transportation and more.
As we've recently seen, travel plans can be abruptly halted, so it's a good idea to purchase travel insurance that covers cancelled flights, natural disasters and other scenarios that may interrupt your travel plans.
General Travel and Trip Coverage:
Travel Guard (US Toll Free 800-826-4919) provides coverage to protect against trip cancellation, interruption, or delay due to unforeseeable sickness, injury, or death of you or a family member. Coverage also includes trip cost default protection; stolen or damaged luggage; and trip or baggage delay protection.
Coverage should include lost or damaged baggage, BBE is not responsible for the personal items or baggage of its members at any time.
If you need assistance selecting the right insurance for your group, let us know and we will be happy to help!
Cancellation policy
With 57hours, you benefit from both our own cancellation policy as well as that of the individual guiding service that delivers your adventure. All policies regarding cancellation will be clearly laid out by your guide after booking your adventure, but rest assured that our own cancellation policy will work on top of what is provided by your guide.
For this adventure, 57hours offers an Expedition Cancellation Policy, which states:
If Client cancels the Booking anytime prior to one hundred twenty (120) calendar days in advance of the trip contemplated by the booking, Client is entitled to a full refund. For cancellations ninety (90) to one hundred nineteen(119) calendar days in advance, Client is entitled to a refund in the amount of fifty percent (50%) of the total amount paid when Booking. For cancellations seventy five (75) to eighty nine (89) calendar days in advance, Client is entitled to a refund in the amount of twenty-five percent (25%) of the total amount paid when Booking. After that deadline, Client is not entitled to any refund. Any reimbursable expenses arising out of the Booking incurred by Guide prior to the date of cancellation (including but not limited to plane tickets, car rental payments, and lodging or transportation fees) are non refundable as soon as they are incurred by the Guide.
For more information on terms and conditions, please visit our Terms of Service page.
Getting there and meeting location
To get to Mendoza, Argentina, most people fly into Mendoza International Airport. Flights generally arrive late in the evening on Day 1 of the itinerary. Your guide will meet you at the airport, and escort you to your accommodation. From there, you will arrange other details of your itinerary and make further plans in more detail.