Marinel will cover:
The lives and challenges of porters and expedition workers in Nepal, Peru & Tanzania
Why workforce equity matters and gender-related issues plaguing the trekking industry
How to recognize an equitable and inclusive tour operator
Using your voice to advocate for equity and create a positive impact on local communities
Finding useful resources that will help you promote the cause
Porters are the unsung heroes of the travel industry. Treks like the Inca Trail and expeditions in the Himalayas and Kilimanjaro are inconceivable without their strong backs and helping hands.
The trekking industry has long been plagued by issues of inequity, mistreatment, and gender inequality. For porters, the essential workers of the business, the stories of this backbreaking work—and the unfavorable working conditions they are carried out under—has rarely been shared.
Thankfully, this is beginning to change.
Marinel de Jesus, a former civil rights attorney, has traded the courtroom for the mountains after years of hiking in Peru, Nepal & Tanzania. With this webinar, Marinel aims to shed light on the lives and stories of the porters in Tanzania, Nepal, and Peru. Through first-hand accounts and Marinel's own experiences, uncover the issues and injustices plaguing these communities, and learn how you can contribute to workforce equity in the trekking industry.
This is one of our most important webinars to date. If you want to hear the voices that have been silenced for years and help make the world a better place, don't miss this!
Webinar host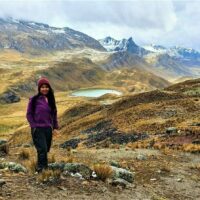 Marinel M. de Jesus
Writer, social entrepreneur, and human rights advocate
After 15 years of working as a civil rights attorney in Washington DC, Marinel de Jesus discovered her passion for mountain trekking. In 2017, she left her life and accomplished legal career to pursue adventure as a global mountain nomad. In 2016, she founded the social enterprise Peak Explorations (now Equity Global Treks) to inspire others to go trekking, as well as promote the inclusion of women and indigenous communities in the industry. A lifelong activist, she also founded a non-profit, the Porter Voice Collective, which aims to amplify the voices of porters and advocate for better working conditions in Peru, Nepal, and Tanzania.