Partner

Dixie & Matthieu will share:
Dixie will share photos and videos of how he teaches the sport, with extra bonus imagery of his exclusive snowkite expeditions!

What is snowkiting and how to train for snowkiting

The learning curve and snowkiting progression

The equipment you need to get started — from kites to harnesses, skis and boards

Matthieu will share his story from beginner to expert snowkiter

The best snowkiting locations and much more!
Snowkiting is an exhilarating sport that can be embraced by anyone. Whether you're playing in your own backyard or being pulled across the frozen Arctic, nothing beats the rush of gliding across the snow being pulled by the power of the wind. 
Nobody knows this better than Dixie Dansercoer, world-renowned polar explorer and expert snowkiter, who has travelled to furthest reaches of the planet, often pulled by his snowkite along the way. Dixie has written the definitive book on snowkiting, Snowkiting: Freedom of Flow, and we're giving away a copy during the webinar. 
An expert on the sport, and Dixie will share the ins and outs you need to know to get started. With the right gear, a little preparation and some tips from this snowkiting expert, you'll be ready to start snowkiting in no time. Joined by his former client turned adventure partner and avid snowkiter, Matthieu Tordeur, you'll hear his journey of how Dixie helped him progress from a beginner to snowkiting in Antarctica. For backcountry skiers looking to climb faster and further, to kiteboarders looking to practice throughout the winter, to outdoor adventurers just looking to have fun, this is the webinar for you.
Find out what it takes to get you started on your snowkiting journey and join us Tuesday, November 24th for this free webinar.
Webinar hosts
Dixie Dansercoer
IPGA Master Guide, Expert Snowkiter and Author
Author of Snowkiting: Freedom of Flow, Dixie Dansercoer is a world-renowned explorer and IPGA Master Guide. During his 30+ years of adventuring, Dixie has earned a number of world records for his epic feats. He's completed a world record snowkite circumnavigation of Greenland and broke the world record for the longest non-motorized expedition in Antarctica — snowkiting for more than 5000 km total! He's also been to the poles more than 40 times and is one of only a few people to have crossed the complete Arctic Ocean and continent of Antarctica.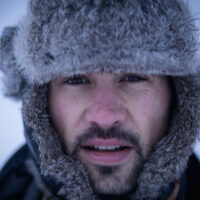 Matthieu Tordeur
Adventurer, Author and Public Speaker
Matthieu Tordeur is an adventurer, photographer, and lecturing member of the Society of French Explorers. He's led expeditions all over the world, with his adventures taking him through 90 countries on all seven continents. In 2019, Matthieu set a Guinness World Record as "the youngest person to ski to the South Pole alone and unsupported." Snowkiting has opened a world of new adventures to Matthieu, as it is the fastest way to travel across snow and ice.