Klemen covered:
What is ice climbing and who is it for
Where and when should you start
The techniques you'll need to master
The gear you'll need and how to use it
How to pack for your first ice climbing adventure
The secrets to staying cool during your climb
For many climbers, the first sign of snow means climbing season is over.
However, it doesn't have to be.
Ice climbing is the ideal way to get your fill of route-topping thrills in the colder months. It's not only a thing to do while waiting for the snow to melt — it's an opportunity to try cool tools, master fun techniques, and explore a brand new dimension of climbing.
While scaling a frozen waterfall may seem terrifying at first, it's actually quite easy to get into — all you need is some spunk, enthusiasm, and a good teacher. While we can't provide the first two, we've got just the right IFMGA Guide for the job!
Looking to find your footing in the world of ice climbing? Tune in to this FREE WEBINAR! You'll learn about the gear you'll need, the skills you'll acquire, and the best spots to get your first picks in.
If you've been meaning to take a swing at ice climbing, this webinar is axe-actly what you need.
Webinar host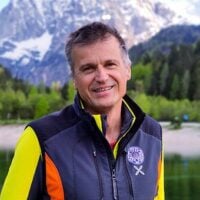 Klemen Gricar
IFMGA Mountain Guide
Slovenian IFMGA Mountain Guide Klemen Gricar has 20 years of experience guiding rock and ice climbing, backcountry skiing, and mountaineering tours. Based out of the Julian Alps, he's also an avid mountain photographer, a member of the Kranjska Gora mountain rescue team, and was even president of the Slovenian Mountain Guide Association between 2009-2013.