Vartan will cover:
Getting to East Greenland and why it gets tricky
The challenges and rewards you can expect on your Arctic adventure
The unexpected wealth of wildlife awaiting you at the ends of the Earth
The native Inuit culture and how it persisted for hundreds of years
Cool stories from his previous voyages
Pro tips for planning your trip to Greenland
As both the largest and the least populated island on Earth, Greenland is no stranger to extremes. Knowing this, it's no surprise that it also houses some of the most impressive fjords in the world.
Look past East Greenland's inhospitable facade and you'll find an icy empire of solitude and spectacle begging to be explored. If you can handle the cold, that is!
Follow in the footsteps of settlers and swashbucklers — sail the towering mountains and timeless icebergs of the Sermilik and Tasiilaq fjords. Along your Arctic odyssey, you'll encounter no other life besides the Belugas, walrus, polar bears, and the thousand-some locals scattered across the most remote settlements in the world. Facing the silent greatness of Greenland is one of the most humbling experiences you can have in the great outdoors.
If you want to learn how to execute a saga-worthy sailing tour of Greenland and see what awaits you at the ends of the Earth, tune in to Vartan's FREE WEBINAR.

Live Q&A sesssion
Vartan will follow up with a live Q&A session, where you can ask him anything you want to know about sailing in Greenland. Get free professional advice from a seasoned sailor with three Atlantic Ocean crossings under his belt!
Webinar host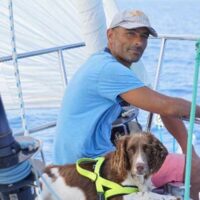 Vartan Ibranyan
Sailor and trip logistician
Once the head of a successful finance company, Vartan Ibranyan now uses his logistical expertise to organize outdoor adventures all around the world. Following a life-changing sailing trip across the Atlantic, Vartan decided to dedicate himself to bringing outdoor experiences to fellow adventurers. He now spends most of his time doing endurance sports, skiing, sailing, and prepping his boat for journeys to come!