Vartan covered:
What it takes to sail and explore the furthest reaches of the Earth
How to know if you're ready for a sailing trip to Greenland
The lessons he learned from his previous voyages
The day-to-day aboard a sailboat in the middle of nowhere
Common logistical issues and how to handle them
Useful technical tips for your own future odyssey
As both the largest and the least populated island on Earth, Greenland is no stranger to extremes. Knowing this, it's no surprise that it also houses some of the most impressive fjords in the world.
Look past East Greenland's inhospitable facade and you'll find an icy empire of solitude and spectacle begging to be explored. If you can handle the cold, that is!
Let seasoned sailor Vartan Ibranyian run you through a sailing tour of East Greenland's Sermilik and Tasiilaq fjords in this FREE WEBINAR.
In an hour-long session, you'll hear about the thrills of sailing and exploring remote lands, learn how to handle the inevitable logistical hassles, see what life is like on an Arctic expedition sailboat, and enjoy some awesome anecdotes from his prior expeditions to Iceland and Svalbard.
Want to know what it takes to execute a saga-worthy sailing tour to the ends of the Earth? Don't miss out on this one.
Webinar host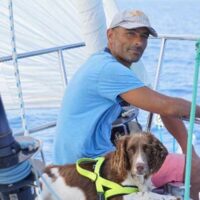 Vartan Ibranyan
Sailor and trip logistician
Once the head of a successful finance company, Vartan Ibranyan now uses his logistical expertise to organize outdoor adventures all around the world. Following a life-changing sailing trip across the Atlantic, Vartan decided to dedicate himself to bringing outdoor experiences to fellow adventurers. He now spends most of his time doing endurance sports, skiing, sailing, and prepping his boat for journeys to come!