A Guide Explains: What Is a Professional Mountain Guide?
If you've ever wondered what it means to be a certified mountain guide—and why you might care about hiring one as a client—this article is for you.
When I first met Jean Pavillard I had no idea what a mountain guide was.
It was 1993 and we crossed paths on a flight returning from Costa Rica. We shared the same row of the cramped airliner, got to chatting, and he told me about his life as a mountain professional. What's that?, I asked.
I'd just graduated college and his gig sounded cool—plenty of travel, adventurous work, taking clients up big rock and snow faces. The idea stuck.
Twenty-one years later I saw him again, this time on stage at my "pin" ceremony, in Boulder, Colorado. He emerged from the audience, removed the small, silver pin from his sweater, and fastened it to my shirt.
"Robert, do you remember me?", he inquired, as he christened me with the badge of an internationally licensed mountain guide.
"Absolutely, monsieur Pavillard," I smiled.
Since then, I've guided for nearly two decades and been IFMGA-certified for almost one. But it's a funny thing, even now when I tell people that I'm a mountain guide, I'm often met with that same question I asked Pavillard: What's that?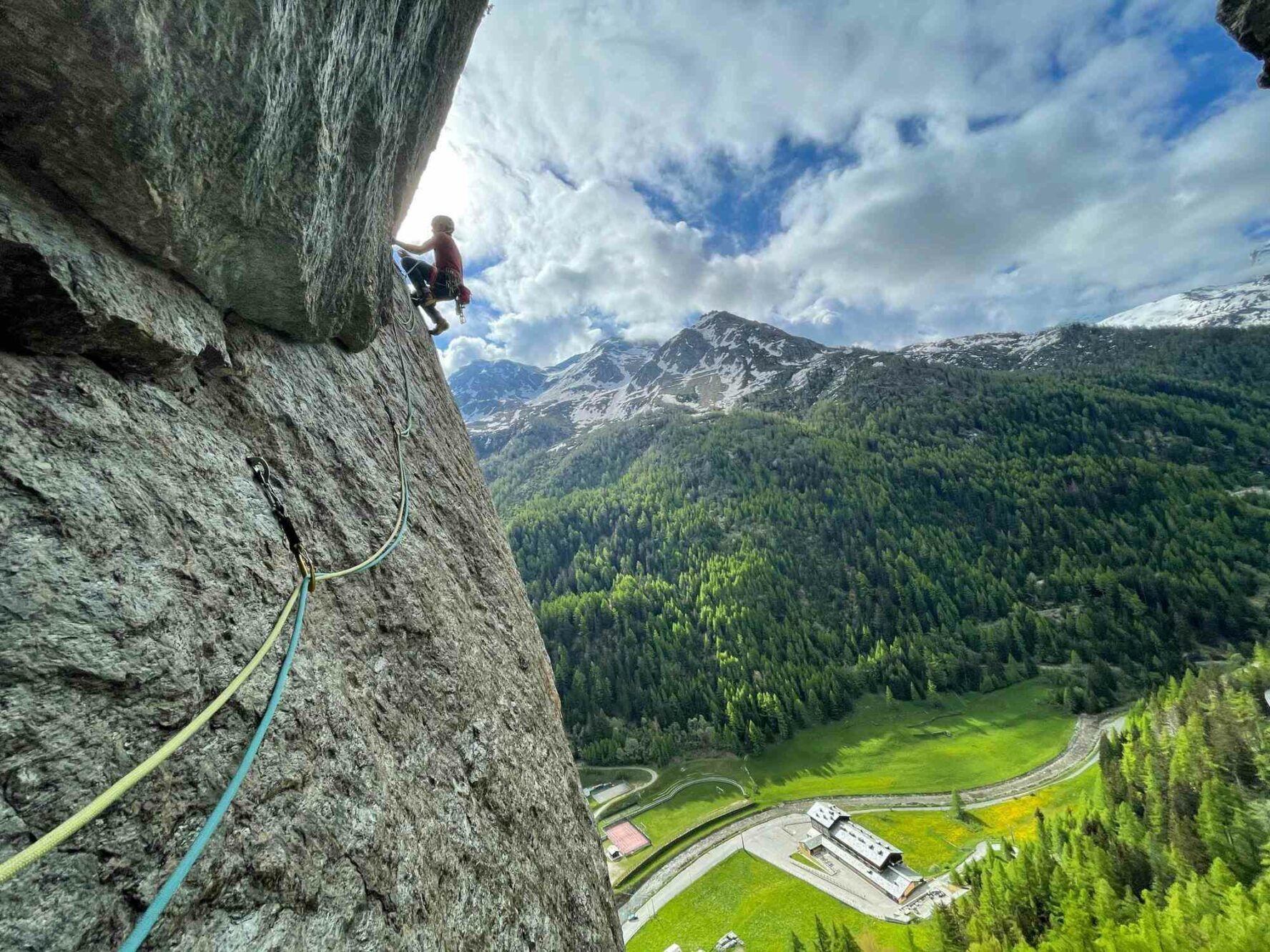 A Brief History of Guiding and the IFMGA
Some of the first mountain guides were crystal hunters in the Alps. They began searching for gems on the cliffs above Chamonix and along the flanks of glaciers on the Mont Blanc. Soon, upper-crust explorers hired the rockhounds to show them the way to lesser peaks and eventually the summit of Mont Blanc itself … in 1786!
While certainly not mainstream, more people began climbing in the mountains, running the gamut from Victorian era gentry to the working class, and across gender—Marie Paradis, the first woman to summit the 15,770-foot Mont Blanc did so in 1808. In 1821, mountain guiding became an established profession with the creation of the Compagnie des Guides de Chamonix.
Guiding grew in other European countries, too. The original "Alpine countries"—France, Switzerland, Italy, and Austria—founded the International Federation of Mountain Guide Associations (IFMGA) in 1965. As the years went by, countries outside the continent, like Canada, New Zealand, and eventually the United States—in 1997—were admitted. Today, more than 20 countries belong to the IFMGA.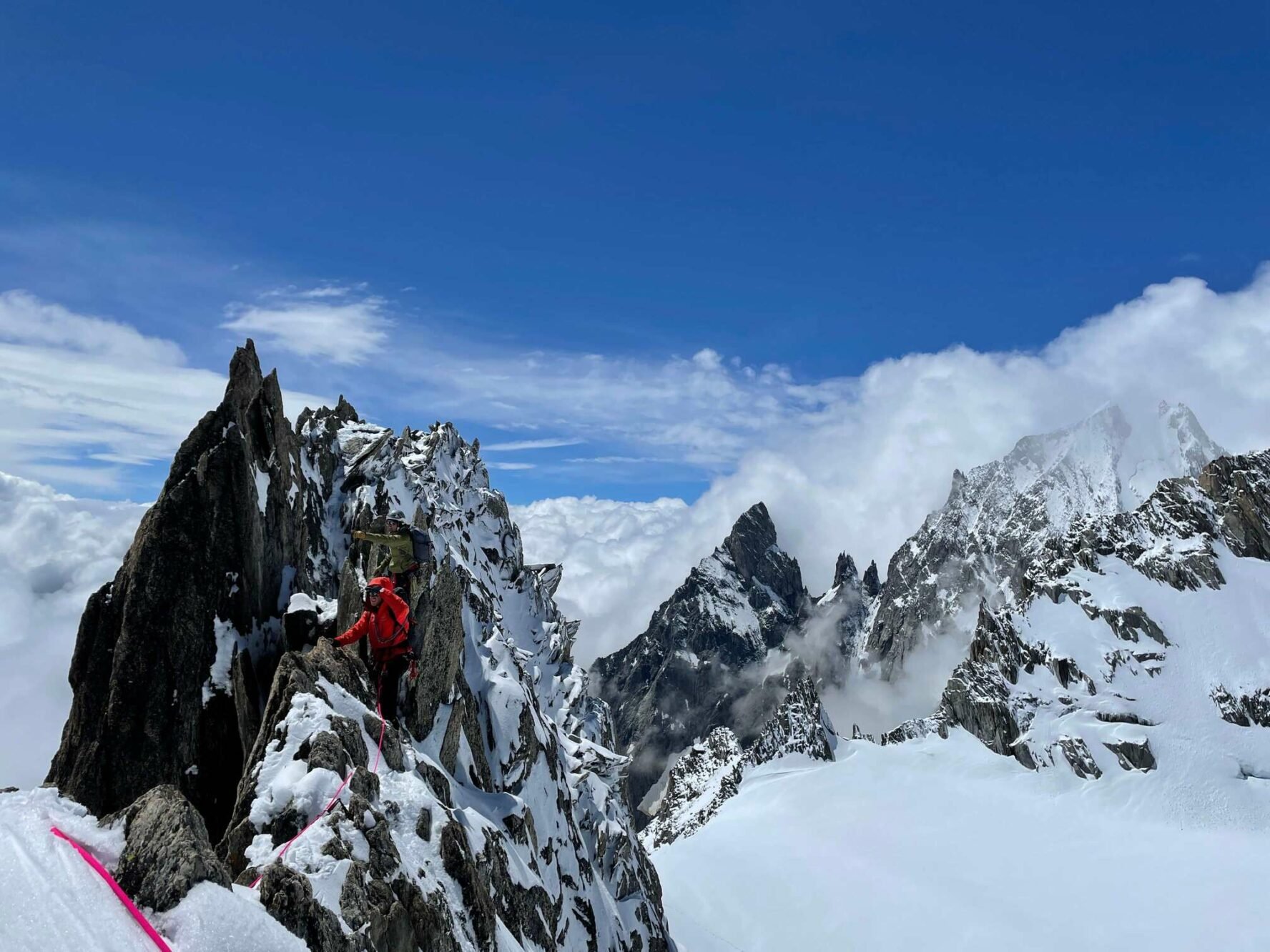 Breaking it Down: IFMGA, AMGA, Single Discipline Guides, and SPIs
As the IFMGA has expanded, the guiding scene has gotten more complicated; many country's rules and regulations differ which means the definition of a mountain guide—and what their skillset entails—varies between countries too.
To help clear things up, let's talk about the two largest organizations, the IFMGA and AMGA, as well as some insight into the industry in both North America and Europe.
(A quick note about what I'm not talking about when it comes to Mountain Guides: There are many mountain-based and mountain-adjacent sports and endeavors—such as hiking, mountain biking, trail running, canyoneering, etc.—that have their own standards and accreditation, but which don't fall under the classic idea of a "mountain guide". What I'm talking about below fall under the categories of skiing, rock and ice climbing, and mountaineering.)
International Federation of Mountain Guide Associations (IFMGA)
The IFMGA is the international umbrella for mountain guide associations from more than 20 countries in Europe, Asia, the Americas, and Oceania. Their aim is to provide standardization for training and regulation on a global scale. In total, they represent nearly 6,000 guides.
For most of the western European countries—Germany, Switzerland, Austria, Italy, France, and Slovenia—it's all or nothing; you're either a mountain guide or you're not. You either have full IFMGA certification or you don't.
This plays out for permitting: to guide the iconic classics in Europe—the Matterhorn, Eiger, Mont Blanc, Grossglockner, etc.—one must be an IFMGA mountain guide.
There's a logic to it: in a place like Chamonix, for example, you could be rock climbing in the morning in town, at 1,000 m, and then take the tram up to 3,842 m and go ski on a glacier. The terrain and access is such that maintaining expertise in multiple domains makes sense.
To become IFMGA-certified within the European framework, one completes three disciplines—Rock, Alpine, and Ski—as part of one program; you cannot obtain an individual certification. Again, it's all or nothing.
Further, an IFMGA certification allows a guide to work in any of the core European countries (and the other member countries as well, with some caveats). Typically, if a guide receives certification in their home country, but has not achieved IFMGA status yet, they can only guide within their own country. For example, an AMGA certified Rock Guide cannot guide in France.
American Mountain Guides Association (AMGA) and Single Discipline Guides
Compared to many European countries, the U.S. and Canada are very large geographically and have diverse terrain. As such, the model here is more flexible; guides can pursue certifications in whatever disciplines—Rock, Alpine, or Ski—are relevant to where they live and work.
Imagine living in Las Vegas and guiding in Red Rock nearly year 'round—forcing that guide to pass a Ski Exam doesn't make sense. Or working in Revelstoke, BC for the winter—that guide might make a great living skiing, but then do forestry in the summer. Asking her to become a Rock Guide doesn't really fit.
In other words, an AMGA-trained guide might have only one of the disciplines under their belt. However, if they want to become a "full mountain guide", they will have to get certified in all three disciplines then apply for recognition through the IFMGA.
Some Complicated Nomenclature: AMGA "Apprentice" and "Aspirant" Guides
In the U.S., we use different titles to describe guides who are working through their coursework.
Here is an example: if a guide has completed the entry-level, 10-day "Rock Guide Course", they're considered an "Apprentice Rock Guide." If they complete the next tier—the seven-day "Advanced Rock Guide Course", plus its corresponding three-day "Aspirant Exam"—they're now an "Assistant Rock Guide." They might also be referred to as an Aspirant Rock Guide.
(The term "aspirant", derives from the French term for a guide who has begun training, but is not yet certified—they're "aspiring" to be a full mountain guide, but have not yet arrived.)
Prospective mountain guides can pursue one or multiple disciplines at a time, and it is common for someone to be at various stages in the process. I.e., a guide might be a fully certified Rock Guide but only an Assistant Ski Guide, and perhaps they've only just completed the Alpine Guide Course (the very first step in that track).
I worked my way gradually through all three disciplines, knowing I wanted to attain IFMGA certification. Since my father is from Italy and I enjoy Europe a ton—not to mention the skiing and climbing there are wonderful—I knew I eventually wanted to go for the full international licensure.
Recap
If you're an IFMGA guide, you've passed exams in all three disciplines: Rock, Alpine, and Ski.
An "AMGA-certified" guide might hold only one of those certifications. Within that discipline, though, they have endured the same training and examinations as an IFMGA guide within that individual specialty.
Oh, and one more thing, there are lower-level certs too…
Certifications such as the SPI and MPI
Within the rock and alpine disciplines, the AMGA offers lower-level certifications. Take rock, for example, you can become a "Climbing Wall Instructor", "Single-Pitch Instructor" (SPI), or a "Multi-Pitch Instructor" (MPI). The SPI (a three-day course and two-day exam) trains a guide to work at a toprope site outdoors and instruct basic climbing. However, according to the AMGA's scope of practice, they are not permitted to work in multi-pitch terrain. A Multi-Pitch Instructor can work on routes shorter than 400 feet and at 5.9 or below.
These lower-level certs are for people who don't foresee guiding in more complicated or bigger terrain, but want specialized training from a regulating body. They are not required for someone pursuing their Rock certification.
Got all that?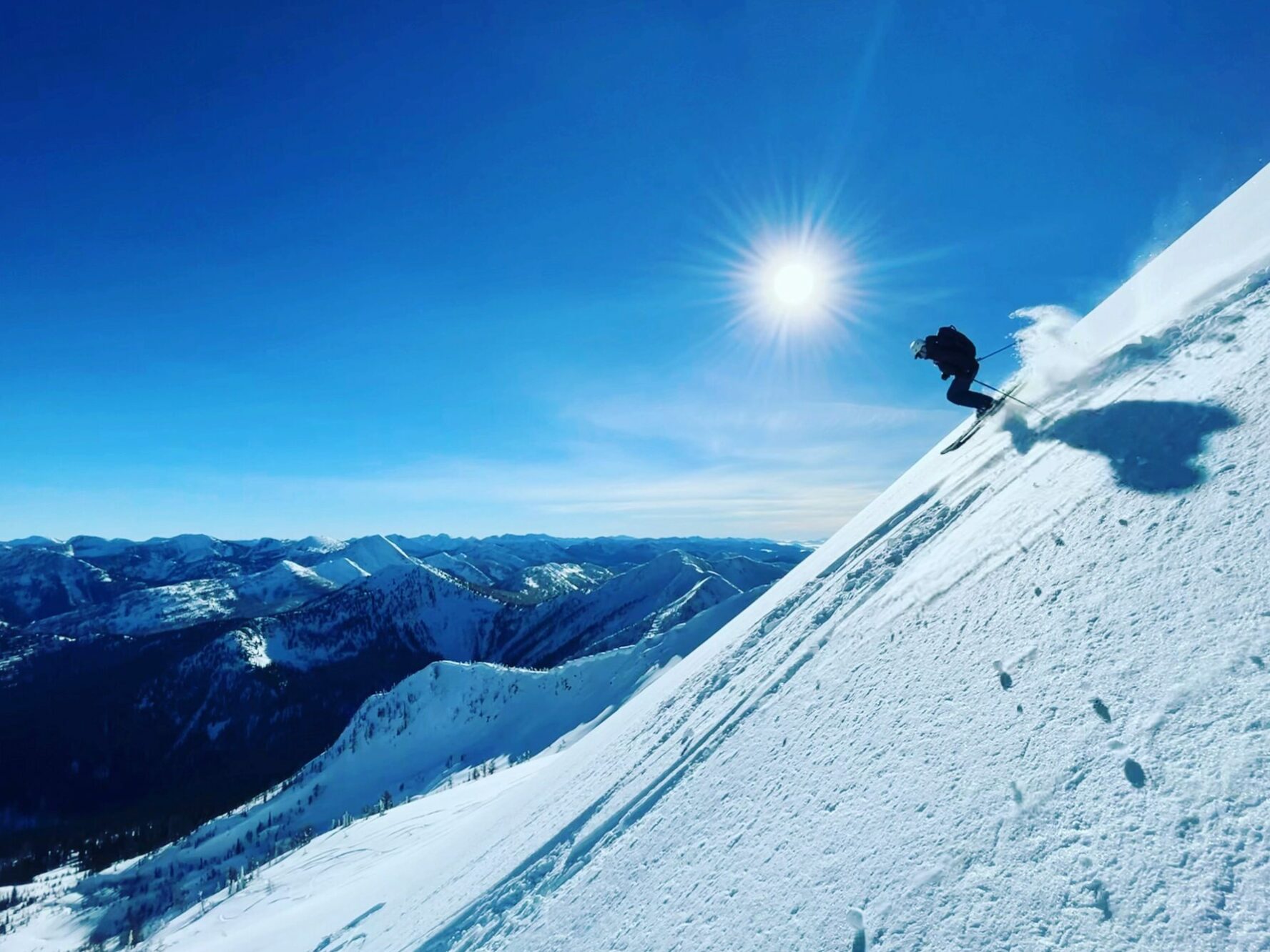 Here's Where Things Go Sideways: Land Managers, Permits, and Insurance
In the U.S., you do not need any training whatsoever to call yourself a "mountain guide".
You read that correctly.
In fact, to guide in most places in the U.S.—from rock and ice climbing to mountaineering—all you need is liability insurance and basic first aid training (specifically, a "WFR", or Wilderness First Responder course).
Land managers decide who can guide
It really comes down to land managers, the people who oversee commercial activity on National Forest, National Parks, state parks, and Bureau of Land Management parcels. Almost universally, they do not require guiding companies or guides to have certification from the AMGA to take clients out on their terrain.
What does matter is holding a permit to conduct business on that particular piece of public land. Meanwhile, the AMGA and IFMGA have no input to whom those permits are awarded.
In popular national parks like Yosemite, Rocky Mountain or Mount Rainier, guiding companies may or may not be AMGA-certified, and if they are not that means that the company determines their own standards for safety and necessary experience for its guides.
Let's compare this to Europe: if you hire a guide to climb a classic Alps peak, you are certain of their IFMGA credentials. In the U.S., the guide's experience and training can be highly variable.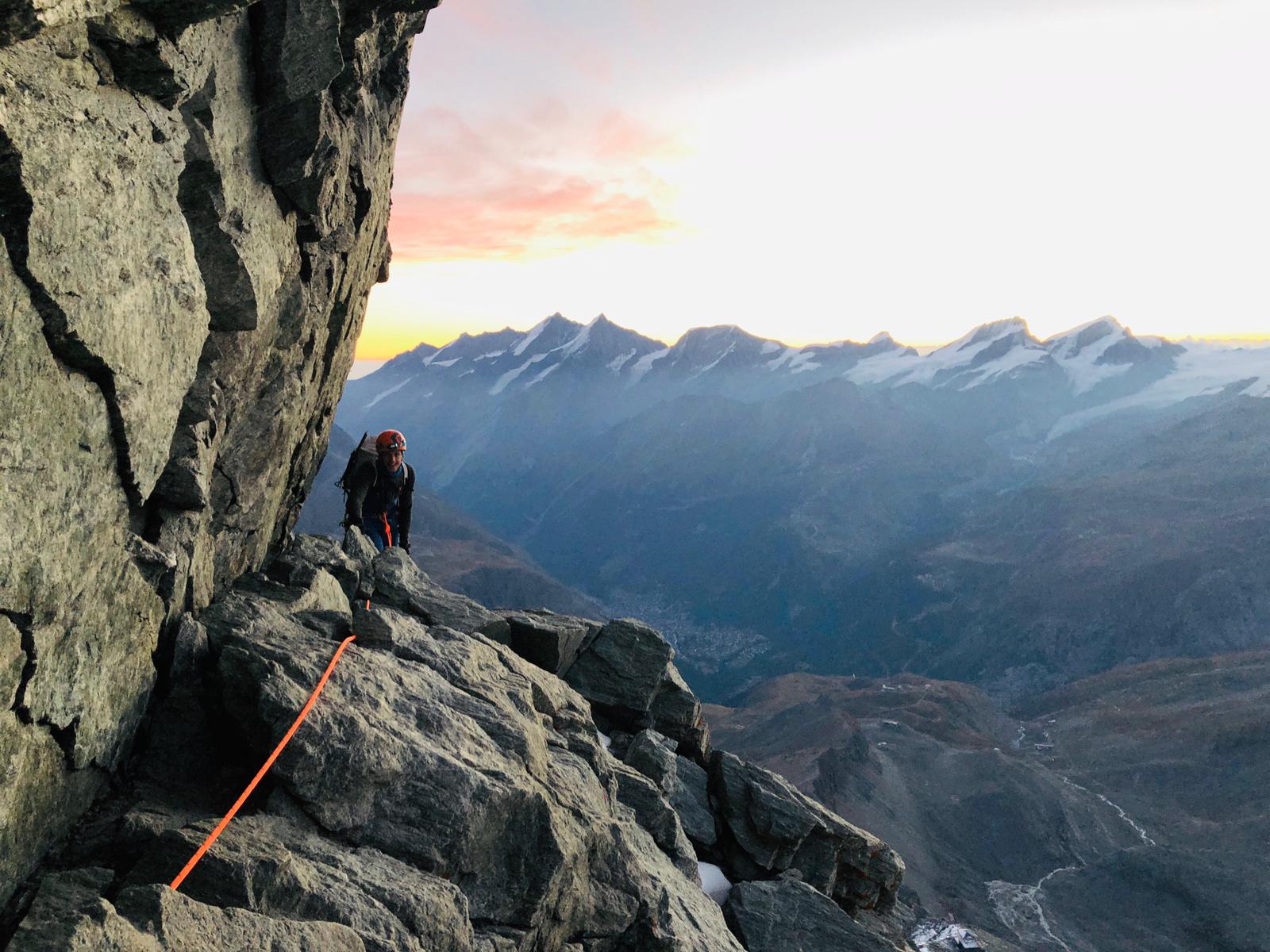 Why Climb with a Certified Guide?
Sure, as mountain guides we don't do surgery and it doesn't require the intellectual horsepower of a doctor, or lawyer, or engineer—but ask yourself: are the consequences of an avalanche or climbing accident any less than a botched surgery or shoddy bridge?
Hiring a certified guide means you're going out with someone who has been trained to a vetted international standard—a standard arrived at after two centuries of collaboration from 1,000s of guides in more than 20 countries.
I'm not saying it isn't possible to learn the craft of mountain guiding from mentors and "on the job" training, but that approach varies wildly between people and companies. It's just not a reliable approach to learning a high-consequence skill.
Evaluating your next guide
It's okay, and even encouraged, to ask your potential guide about their certifications, history, specializations, and experience.
Just as you want to be informed when evaluating, say, which school to go to or purchasing a used car, you want to have the information you need to make a considered decision. Likewise, talking with past clients and reading client testimonials will offer insight into other factors such as communication style, adaptability to the client's skill level, instruction, and other factors of the client-guide relationship.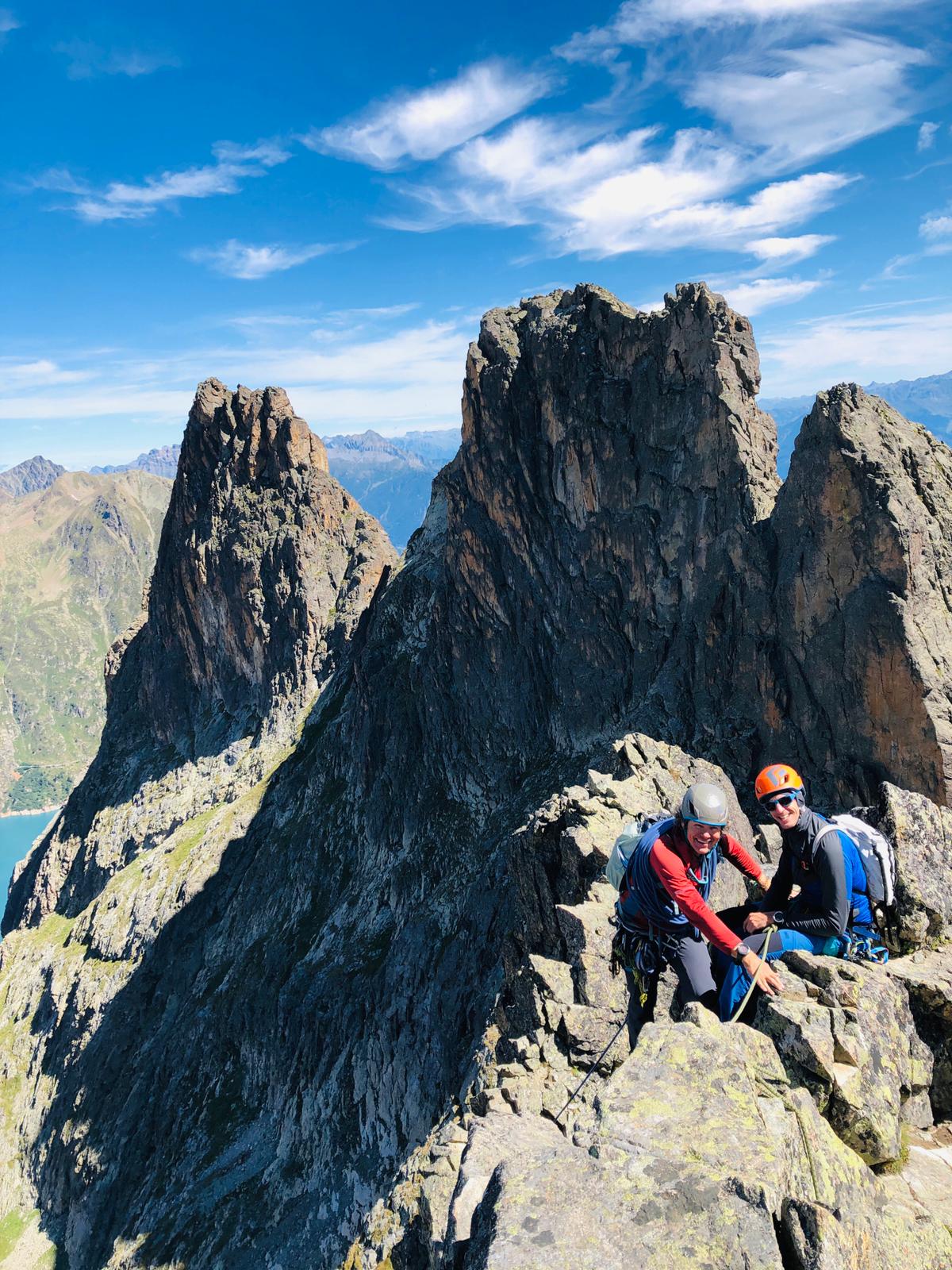 It's more fun, anyway!
Besides all this, certified guides tend to know the lay of the land intimately, which can mean finding superior snow or ice lines that are in condition, knowing obscure, but should be classic rock routes, and teaching tried-and-true practices, in addition to safety considerations. Heck, even pro guides hire guides when going into new or unfamiliar terrain.
Part of the tradition of mountain guiding is developing trusting, enjoyable relationships with guests. After all, it's good business, too—a happy, satisfied skier or climber tends to come back to the same guide, year after year.
The Long Route: It Never Ends
Every year or two, I swap a note with Jean Pavillard, just to keep up on his whereabouts. He's guided the Seven Summits, spent thousands of days out around the world with clients, and he just keeps going. Someday I'd love to work with him, just to absorb some of his wisdom earned across decades in the profession.
Today, when people ask me what a mountain guide does, I think of Pavillard. Truth is, being a mountain guide is a continual process of learning and acquiring skills—it's like an endless rock climb, with occasionally cruisy bits and then a devious crux thrown in.
Most of all, mountain guiding helps other people discover what's possible in the mountains and within themselves. Is it a noble calling? Ah, I'm not sure I'd go that far, but it is rewarding when I team up with a guest and together we go farther—literally or emotionally or psychologically—than they might have on their own. I love that part of the job.
So here we are, a bunch of motivated, fun, competent guides on 57hours, just waiting to go beyond… with you.