Access Is Not Equal: The Case for Adaptive e-Bikes on Trails
E-bikes create opportunities for disabled riders to hit the trails—but land regulations often exclude electronic cycles from being used. What's being done, and how can you help make a difference?
"We can ride those trails, but you can't use your battery."
The disappointment evident by the sinking expressions of the group, frustration at yet another barrier around accessibility.
As a non-disabled rider, I felt like a complete jerk delivering the news, knowing how helpful the e-assist is and that it wasn't worth the work to ride without it. The battery in question helps power an off-road handcycle, a singletrack mountain bike built specifically for people with spinal cord injuries and other similar disabilities. These bikes increase access to miles of trails… in theory.
Many of those trails are still off-limits however, because of rules preventing e-bikes from being ridden on singletrack; they fall into the same category as off-road motorized vehicles—a laughable comparison. Adaptive e-bikes are a game changer for people with disabilities, not only because they allow people to ride farther and longer—or at all—but it also brings enormous benefits to that person's mental and emotional health too.
The Adaptive Industry Is a Creative Industry
I became a part of the adaptive industry after turning down my dream job at a rehabilitation hospital in the southeast and moving west. With my fresh Therapeutic Recreation degree in hand, I took a chance at interning with a non-profit in Utah that provided outdoor adaptive recreation for people with disabilities. After those three months, I stayed for nearly 13 years, teaching people of all ages and abilities to ski, ride horses, and mountain bike, among many other sports.
For me, it is the teamwork and creativity of the adaptive industry that has kept me engaged and wanting to do more. No two people are the same, and no two disabilities or diagnoses are the same; it takes working together and problem solving to find the right approach to get someone out on the trails in a safe and successful way. That goes for adaptive mountain biking too. The bikes that are used today were developed from real people's needs: to perform better, last longer, and work with their disability.
Trails are now heading in the same direction. Trail builders are learning what works and what doesn't to support adaptive riders. Now that more people are able to get out on bikes thanks to advancements in equipment, grants, and an increase in rideable trails, the final step is getting e-assist bikes legal access to the trails themselves.
I'm Not Your Inspiration, Thank You Very Much
The ride that we chose to do instead took place at the local ski resort across town because it had lift access to the trails. Riding the lift is a huge benefit to off-road handcycles (and other adaptive bikes, like foot-pedaled recumbents) because they can be loaded right into the carriage. This eliminates a lot of exhaustive sans e-assist pedaling.
It was a Saturday in late summer, so the resort was busy with bikers and hikers. Our group was a mixed bag of skill levels and we split up in the morning to ride some downhill flow trails with the handcyclists while the beginner upright riders rode cross-country. The ladies I was riding with had biked with us a month earlier at a womens-only mtb camp and were working on building up their skills in order to tackle more difficult trails later in the week.
As we were discussing some upcoming features—bigger berms, narrow sections, and some rock gardens—we encountered a couple of hikers who very clearly had never seen a handcycle out on the trails before.
"Wow!", they exclaimed.
"Good for YOU!"
"I love seeing you out here, way to go!"
I saw both riders cringe at the unnecessary and unwanted attention. "Good for you for getting out too", one of the ladies from our group mumbled under her breath.
This reaction isn't new to people with disabilities. In the TED Talk, "I'm Not Your Inspiration, Thank You Very Much" by the late Stella Young, she says in response to an award nomination:
"I wasn't doing anything out of the ordinary if disability was taken out of the equation."
People are often inspired—and surprised—by someone with a physical disability doing ordinary tasks like grocery shopping, getting gas, or even parenting children, because they visibly are doing it differently. Recreating with a disability seems to catch even more attention.
Is it harder for someone with a disability to do these things? Yes, it is. Can you be personally motivated to try something after watching someone else do it? Sure! But, does someone with a disability want excessive praise for living their daily life? From my conversations with friends and students, that doesn't seem to sit well.
The Realities of Riding a Handcycle
After lunch we met back at the resort with the whole group and chose to ride a cross-country trail that would keep us all together. While the facility is an incredible supporter of adaptive recreation, e-assist still wasn't allowed on their trails.
After a short downhill, we started to encounter a long, gradual climb.
We all expected it, but that didn't make it any easier for the two riding their adaptive mountain bikes. Pedaling a handcycle is slow and laborious without an e-assist, which adds power and propulsion for each pedal stroke they put in.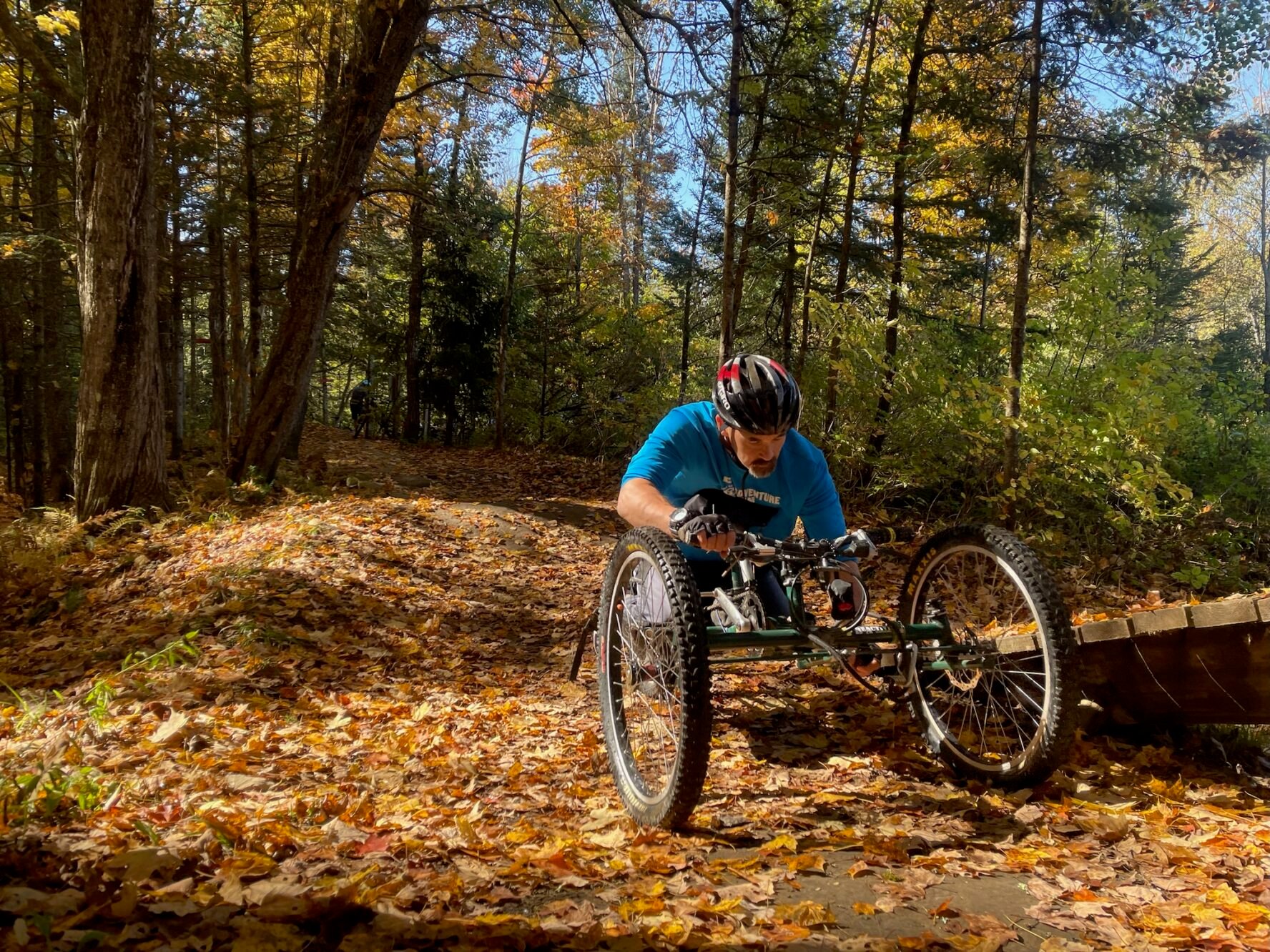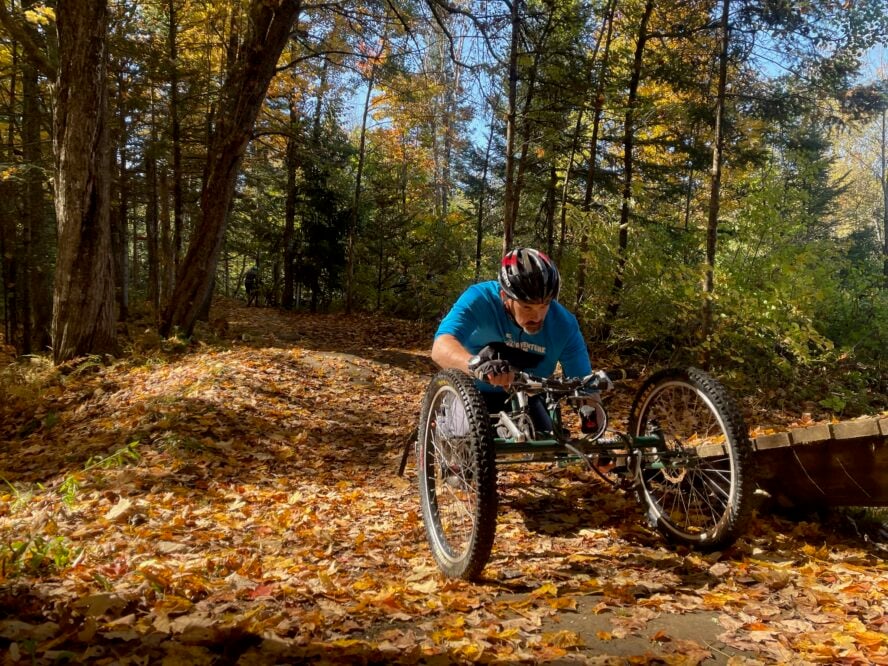 If you're not familiar, an off-road handcycle is built to give someone with limited mobility a different mechanical advantage when pedaling while seated. The seat position can either be upright, similar to a chair (like this Nuke or Lasher), or in a prone position that allows a bit more power when pedaling and gives a similar feel to an upright biking position when descending (like this Bomber). The Nuke and the Bomber both have the steering mechanism in a different location from the cranks, so there are times when one arm is pedaling and the other arm is moving to steer, often causing a loss of momentum.
And did I mention they are heavy?
While my mountain bike is just over 30 pounds, these bikes are around 50 pounds without the added battery and personal gear. If you think about that, plus the weight of the rider, and then envision getting stuck on a rock or root mid-climb (or even just coming to a stop on a hill), using your arms to re-engage is really difficult. With the e-assist, a rider can use it as a tool to support their momentum to move past these obstacles.
To learn more, this video from the National Ability Center and the Kelly Brush Foundation shows a few different off-road handcycles and how they are used.
As the riders pedaled, those of us on upright bikes offered our support—only if asked for it. Otherwise, we kept a balance of keeping a casual conversation going while also respecting the incredible amount of work they were putting in.
When we reached a split in the trail, our upright riders continued the climb without much thought, while the handcyclists quickly chose the downhill trail, despite learning earlier that it was unkept and likely too narrow for their three-wheeled bikes.
The trail had been updated several years ago to accommodate wider adaptive mountain bikes, but without regular maintenance to keep it at the appropriate width, it was overgrown and unpleasant to ride. Descending, their bikes were tossed around as they hit edges of the trail or the rocks and rivets hidden by the overgrown grass. At a certain point, their tires were actually mowing down the stalks that were taller than their helmets, leaving them covered in all sorts of stems, seeds, and leaves by the end.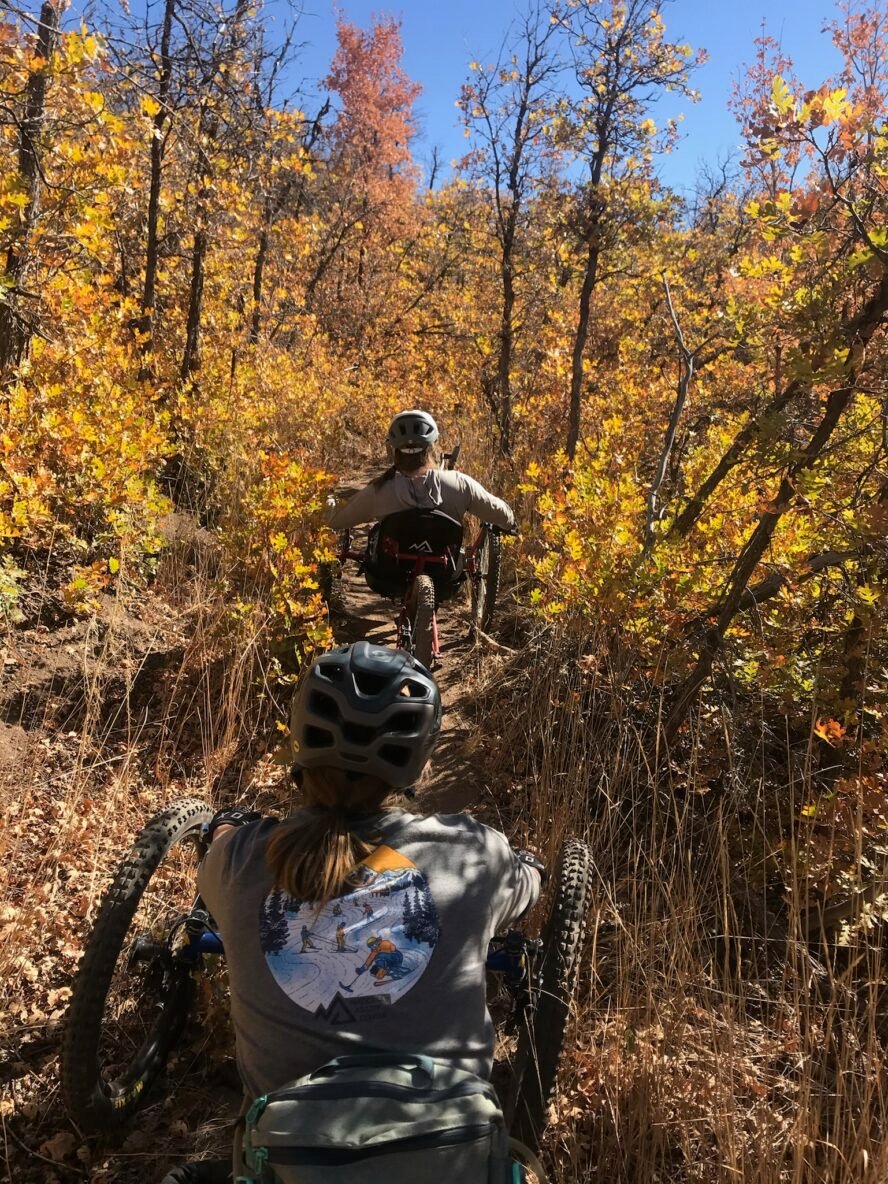 Trails Can Be Made Accessible Without Drastic Changes
Accessible trails mean different things to different people and for different pieces of mobility devices.
Generally, most people think "accessible" means wide packed, paved or groomed trails that are relatively flat and short. For some people, yes, this is exactly what they are looking for and what they might need to be independent, or to enjoy a hike with assistance. For others, they want to ride hard and technical—to enjoy the same trails that their non-disabled friends are riding.
Many trails can be made accessible for off-road handcycles with a few modifications
These adaptations do not mean removing rock gardens or clearing away roots and other challenging features. What it does mean is modifying barriers such as pinch points, which are sections of trail that are too narrow (or too off-camber) for a handcycle to pass through, widening trails and bridges slightly to accommodate three-wheeled bikes and creating access at the start of the trail.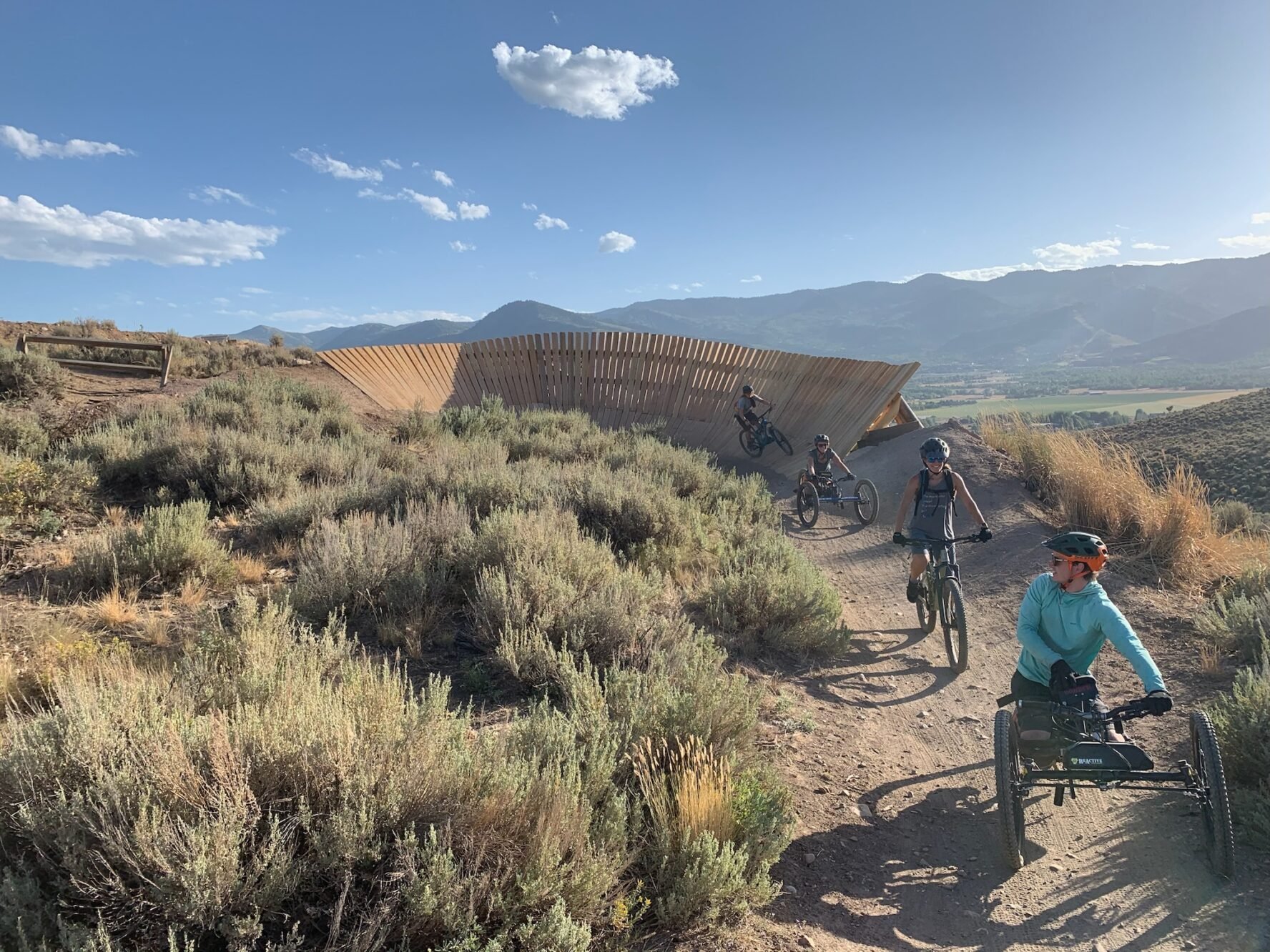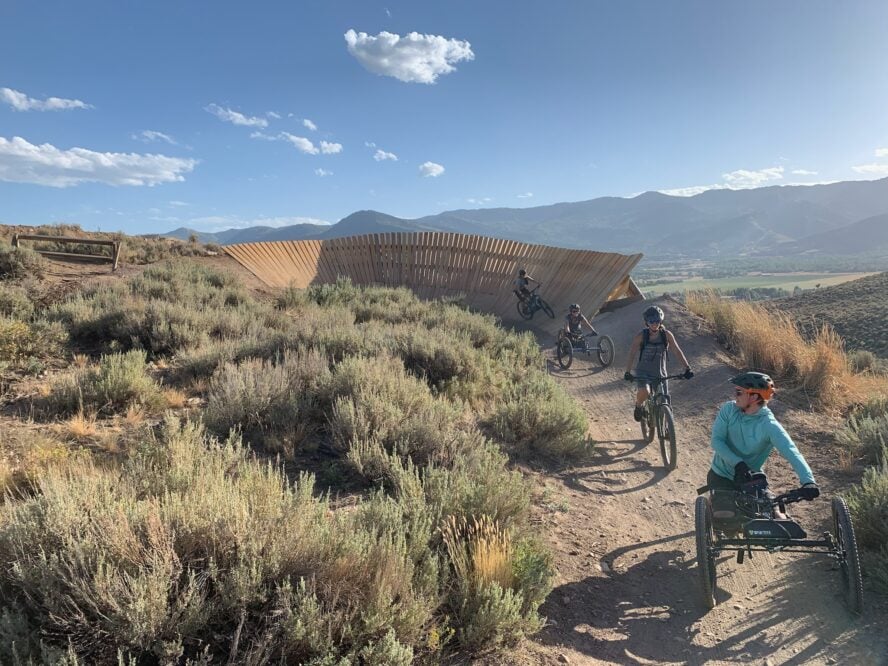 Remember, someone who is riding an adaptive mountain bike (usually) cannot just hop out and walk through a tight spot or over a downed tree. If they encounter an obstacle they cannot get past, they likely have to turn around—a task that is nearly impossible to do on a single-track trail independently.
According to the Adaptive Mountain Biking (aMTB) Standards outlined by Kootenay Adaptive, a an inclusivity-focused non-profit based in Nakusp, British Columbia, the minimum width of an adaptive mountain bike trail should be 40" wide, with an optimal width of 48". This provides some wiggle room as most handcycles and recumbents are around 32" wide, wheel to wheel.
Parking and trailhead considerations
This includes the entrance and exit of the trail too. Often, boulders, gates, cattle guards, or other barriers are located at the start of a trail to keep larger off-road vehicles out or livestock in. If these are too narrow, it can be a no-go for riders from the get-go.
Parking at the trailhead needs to be considered too. It's uncommon to see accessible parking spots at trailheads like you see in paved, standardized parking lots; often trail parking is on the side of the road or in a small gravel lot with little direction on where, or how to park (first come-first decides!).
Most of us don't think twice about it, but if someone who uses a wheelchair needs to park there, there are lots of factors they need to consider:
Do they have adequate space to get their wheelchair out and transfer into it?

Is the lot flat or is it at an angle that's challenging for someone who's managing lots of wheels at once?

Do they have space to unload their bike from inside or off a custom rack?

What is the bathroom situation?

And, when they get back from their ride, will they be blocked in without space to repeat those steps to get home?
Changes Are Underfoot and Wheel
At the end of the day, we debriefed and planned for future rides.
One of the ladies was registered for an adaptive downhill mountain bike race the following week and was discussing her next steps to ride more challenging trails leading up to it. Part of this discussion was how—and where—to ride with her e-assist. She has a high level spinal cord injury, and even with her e-assist, without full use of her arms, hands, and shoulders, pedaling without e-assist is challenging and exhausting. If she wanted to get multiple rides in before the weekend, her arms could be spent before the race event started.
Later that week, another adaptive rider took to social media to advocate for the use of e-assist at the resort.
The adaptive community and allies rallied around him, demanding change. After three days, the resort changed their stance, announcing that effective immediately, adaptive three and four wheeled e-bikes could now be used on resort trails.
Reflecting on this, I wondered what the history had been prior to this exchange. Were all of the right questions asked? How long ago was the last "no" given and why? Is having an adaptive rider fighting for personal access what it took?
While we could all end up in this demographic one day, that shouldn't be our motivation. For those of us without a disability, why aren't we making more noise when we encounter a barrier that will stop our peers, friends, and community members who do have one from accessing outdoor places?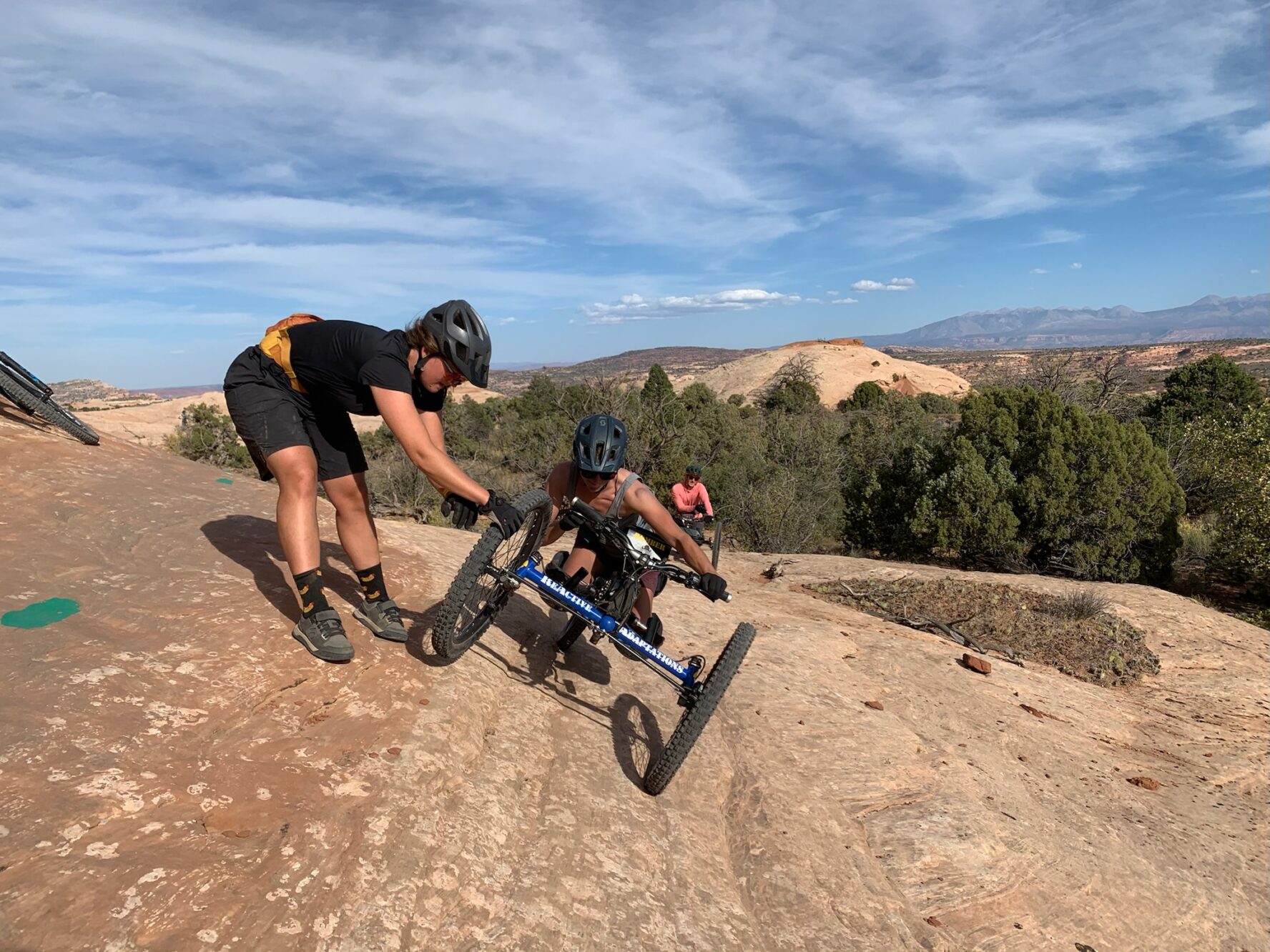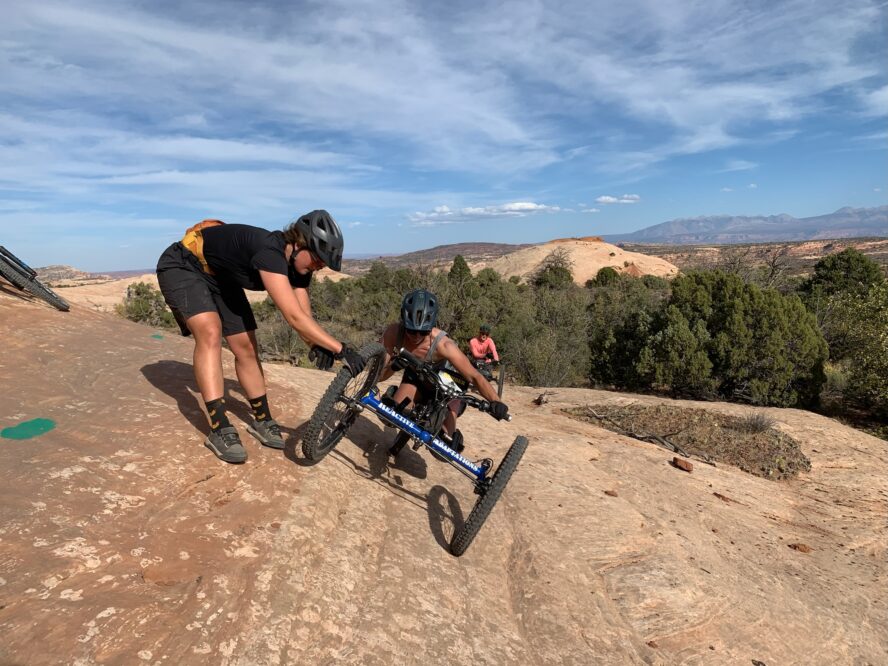 With that said, a lot of people and organizations are doing these things.
In 2019, The National Park Service announced that pedal assist e-bikes were allowed in all places standard upright bikes are, as long as the motor is used as an assist in addition to pedaling, meaning no throttling. Many trail foundations are working with local adaptive organizations to modify existing trails or build new ones that meet adaptive trail standards.
In 2021, Vermont Adaptive partnered with five different organizations to assess their local trails and plan for new adaptive-friendly ones. Millstone Trails Association went even farther and installed accessible bathrooms and parking at their trailhead! To provide additional resources, the Adaptive Trails Coalition was formed just in the last year by bringing together collaborative minds in the adaptive mountain bike industry to provide resources for trail builders, adaptive riders, and more.
After I wrote this, I decided to follow my own advice.
A new, wide and flat path that had been built in my town was actually inaccessible because of one remaining guardrail. "This isn't accessible!", I complained the first time I encountered it, but did nothing—until today. I wrote an email to our city asking for the guardrail to be modified. I'll let you know how it goes.
How to Support More Inclusive Access to the Outdoors
If you want to be a part of creating more access and inclusivity in the outdoors, whether on the mountain, your local trails, or even at the gym, here are some ways you can get involved.
Support your local adaptive program
In many places across the country, you will be able to find an adaptive organization that is doing incredible work to provide lessons and education for people with disabilities and their communities. These organizations range from small, volunteer-run programs to large non-profits, and they all can use an extra hand.
By volunteering, donating, or supporting in other ways, you will not only learn more about adaptive recreation, equipment, and disabilities, but you will also help in growing and sharing their mission that recreation is available to everyone.
Move United and the Kelly Brush Foundation are two different adaptive organizations that do an incredible job at providing resources for the adaptive community. Move United uses sport to show people what is possible and has over 200 adaptive sport and recreation member programs across the country. They support people with disabilities through grants, sporting events, educating adaptive professionals and more.
The Kelly Brush Foundation supports people with spinal cord injuries to lead an active lifestyle through equipment grants, education, and connecting people who have an SCI with local adaptive programs. If you are ready to get involved, visit either of their websites, or find an adaptive program near you!
Get involved with your local trails foundation
By supporting dig days, maintenance and clean up, and getting to know the people who are building your local trails, you can learn more about what they are doing to make their trails accessible. Remember, adaptive trails don't have to be easy or "dumbed down", they just need to have the issues that were mentioned above addressed.
Educate yourself about the benefits of e-assist
E-assist. It's a hot topic these days, and one that people have opposing views on. Before you decide against e-assist as a blanket category, learn a little more about how e-assist aMTB bikes benefit and open up more opportunities to adaptive riders first.
Read first-hand experiences, such as this one from People for Bikes. Further, if you are concerned about the presence of a motor on a trail, be sure to know the rules about what is allowed before speaking up; e-assist restrictions may not apply to adaptive equipment there.
Share your footage
Often, adaptive riders will watch ride previews on YouTube or other sites to look for pinch points and other factors that determine if a trail is good to go. If you like to film your activities, post them and share them to commonly used sites so people can reference them. This is the same for hiking and climbing too! It doesn't need to be specifically for an adaptive athlete, but if you have clear videos that show the route and approach from start to finish and are detailed about the location, it can be a useful tool.
The UNPavement is one example of how trails are filmed specifically by, and for, adaptive mountain bikes. Jeremy McGhee, a paraplegic and adaptive mountain biker, started the project to give resources and support to fellow adaptive riders by filming his rides across the country. He also created an adaptive rating system that is now used on Trailforks to support other adaptive bikers. He uploads his experiences and rides on his YouTube channel, providing awareness about the challenges and realities of riding an off-road handcycle.
Treat everyone how you want to be treated
It sounds too simple, but the Golden Rule goes a long way. Say "hi" on the trails, give a nod or "have a good one" and don't offer help just because someone is in adaptive equipment—unless they ask.
Think to yourself, does the task warrant true praise or are you just unsure of what to say? What would you want someone to say to or do for you?
A Place for Everyone on Our Trails
The more that we open our eyes to different perspectives and support all trail users the more everyone gets a chance to play and enjoy the outdoors in a way that allows them to get outside. Let's be sure there is a place for everyone on our trails, no matter how big or small people want to send it.