Upper and Lower Yosemite Falls
At 2,425 feet, Yosemite Falls is the tallest waterfall in North America. Yosemite Valley wouldn't look like it does without these monster falls in the backdrop. On this classic Yosemite hike, you'll walk from the base of Yosemite Falls to above the Upper Falls. It's one of two places where you can see all the valley waterfalls from one viewpoint. It also has some of the best views of Half Dome anywhere, and the panoramas are as expansive as some of the best hikes in Yellowstone. This is my go-to hike for a good workout and to feel like I earned that trip to the Curry Village buffet.
From the top, you can watch Yosemite Creek drop thousands of feet from a hanging valley in Eagle Creek Meadows. In the spring or early summer, the roaring flow is deafening and I'll feel cooling mist as I climb the lower switchbacks. But when I've been back in the autumn, the flow isn't as intense and the spray doesn't reach the trail. In drought years, it can dry up.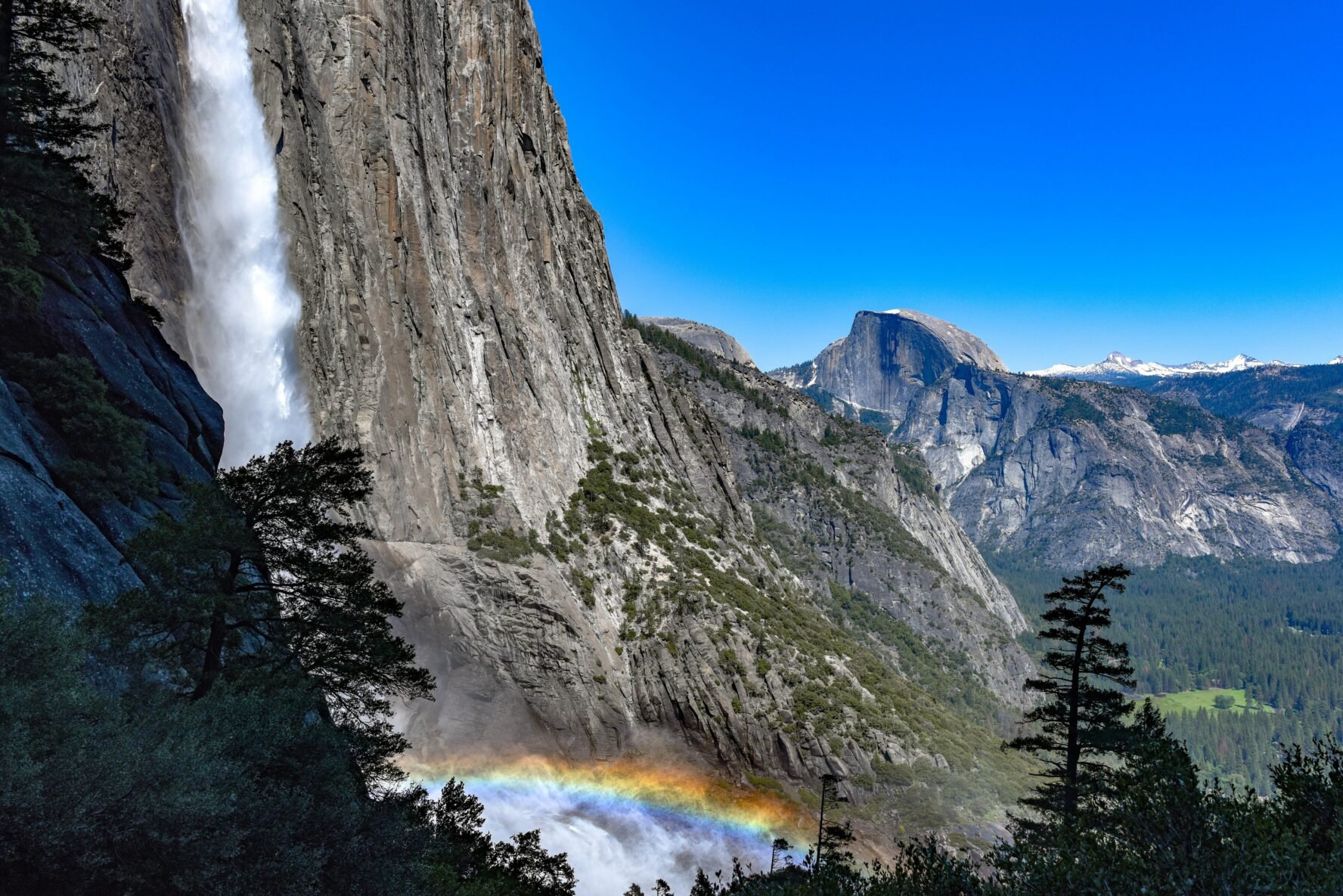 Started from the bottom, now I'm here (the top of Yosemite Falls that is)
When I first got into hiking as a kid, I found the Yosemite Falls climb challenging. For 10-year me, the scenic guardrail-protected view of the Lower Falls from Columbia Rock (a little more than a mile and 1000 feet of gain from the Yosemite Falls trailhead) was a fine end destination. As I became an intermediate hiker in my twenties, I was thrilled to make it higher to the guardrail-protected Lower Yosemite Falls Overlook. It's possibly the only safe spot to get the rare view of the Upper, Middle, and Lower Falls. Now, as an advanced hiker, I enjoy the challenging climb to the top of Upper Yosemite Falls. I can't help but feel alive looking at the point where the falls drop thousands of feet off a cliff.
Tailor your hike to Yosemite Falls based on your party's energy level. Whether you visit Columbia Rock or the tippy top, it's an experience you won't forget. Humans are so small next to that much flowing water. There are plenty of fenced viewpoints along the way, but take care near the water's edge and near steep drops.
A transportation tip — take the shuttle or ride a bike
To avoid the parking hassle and Yosemite Valley traffic (yeah, it's a thing), I always take the free shuttle bus to the trailhead (either Lower Yosemite Falls or Yosemite Falls Trailhead stops). If you rent or have a bicycle, the Yosemite Valley paved bike trail goes to both trailheads, too. There are even racks to lock up.