The top of Cucamonga Peak (8,859') is one of the most photographed hiking destinations among Southern California's mountains. Hikers love to grab selfies from the epic cliffy summit where the Inland Empire and Apple Valley sprawl endlessly below. You'll also be able to see other notable peaks including Baldy (Mt. San Antonio), San Jacinto Peak, Santiago, and San Gorgonio. But this trek isn't just about getting to a destination—I think every mile of this hike has some of the best views in Southern California, as vast as along the best Grand Canyon hikes.
With such amazing sights from the summit, a commonly asked question is, can you camp at the top of Cucamonga Peak? You can and there are plenty of flat areas both under trees and out in the open. Note that no campfires are allowed though, and if you plan to use a stove, you'll need a campfire permit. Another consideration is the weather on Cucamonga Peak. Because it is more exposed and higher elevation it is typically 5-10 degrees cooler than the surrounding cities so plan accordingly.
It's called Ice House Canyon for a reason
First things first, before heading out on the 12 mile round trip Cucamonga Peak hike you need a permit. You can grab a free day-use pass at the Mt. Baldy Ranger station, San Gorgonio Wilderness Association, or a self issue permit (if available) at the trailhead.
You'll start at Ice House Canyon, which gets its name because it supplied ice to Los Angeles as early as 1859 before refrigeration. The trail follows the peaceful and wooded San Antonio Creek past old-timey cabins made of arroyo rock. In November, when the cottonwood and big leaf maples turn golden, Ice House is one of my favorite local places to catch some fall color.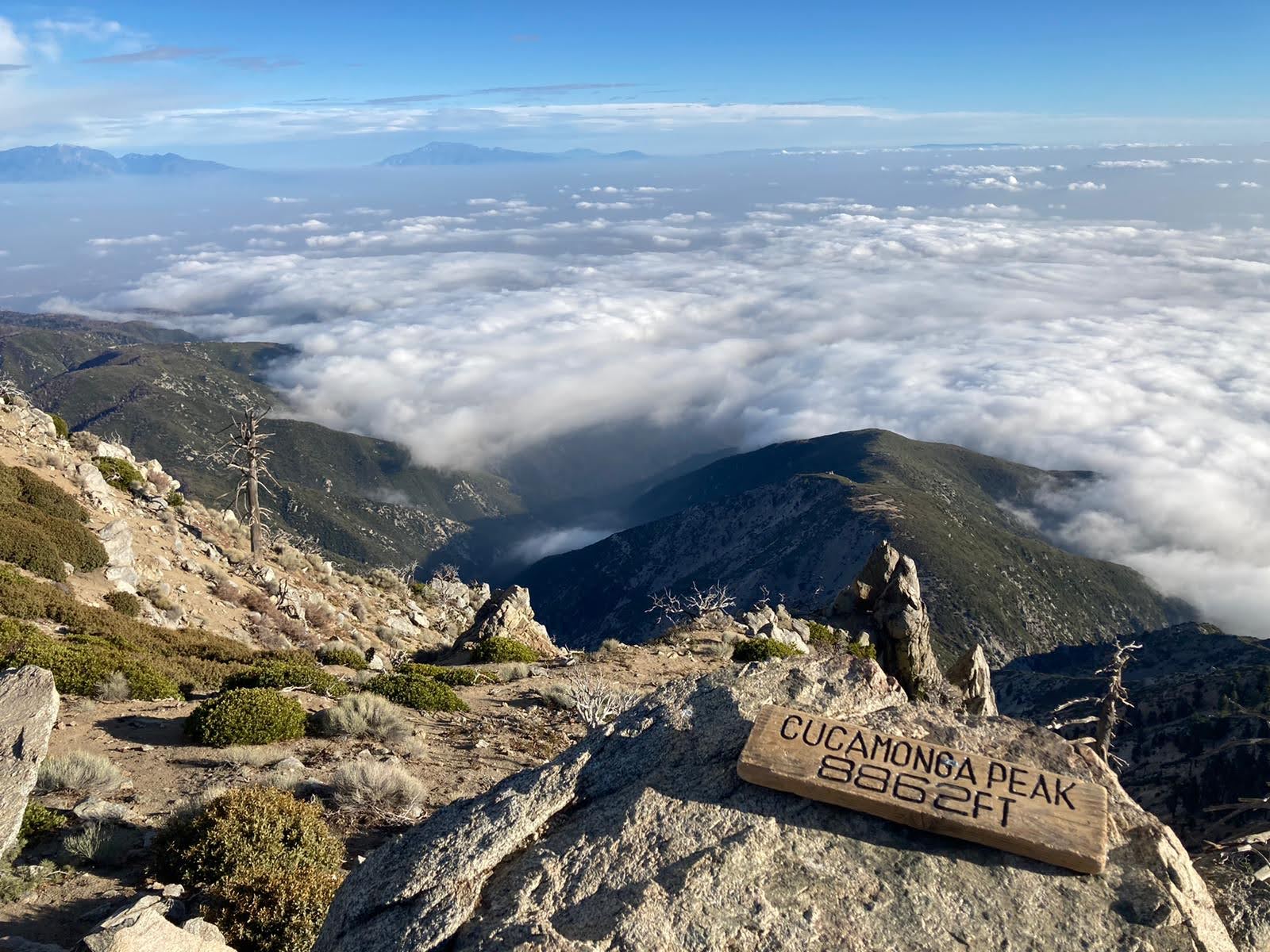 Navigate the switchbacks like a local Bighorn
After about a mile, you'll climb switchbacks, pass my favorite year-round spring in SoCal (top off your water here if you have a water filter) and reach Ice House Saddle. This is a great place for a snack break. If you're still feeling energetic, follow signs for Cucamonga Peak.
The trail weaves along the mountain slope—sometimes with big drops right below. You'll reach a notable saddle with views of Bighorn peak to your right and many switchbacks up Cucamonga to your left. Take those switchbacks, which are usually in decent condition but can be icy early and late in season. Continue up until you reach a post to a wide side trail on the right that leads to the broad summit.
One of my favorite things about Cucamonga is that despite being one of SoCal's most popular summits, you can usually still find a shady and secluded area for picnicking away from the crowds. The highest point is the rocky outcrop, where you'll likely see others grabbing photos that look like they're standing on the edge of a cliff above all the sprawl. You may even get cell service to text your friends proof of your accomplishment.