Renowned for its legacy, which dates back nearly as far as mountain biking in California, Tsali was one of the very first mountain bike systems that came to exist in the country and one of the first places I rode a mountain bike in the early 90s. This area sees a lot of folks on the weekends due to its long-known history, and it definitely lives up to the hype. The Tsali Recreation Area is also a simple hour and a half drive from Asheville. There aren't as many trails as you'd find in Dupont, but you still get over 40 miles of fun singletrack along the edge of Lake Fontana. Each and every North Carolina bike trail promises a wicked ride.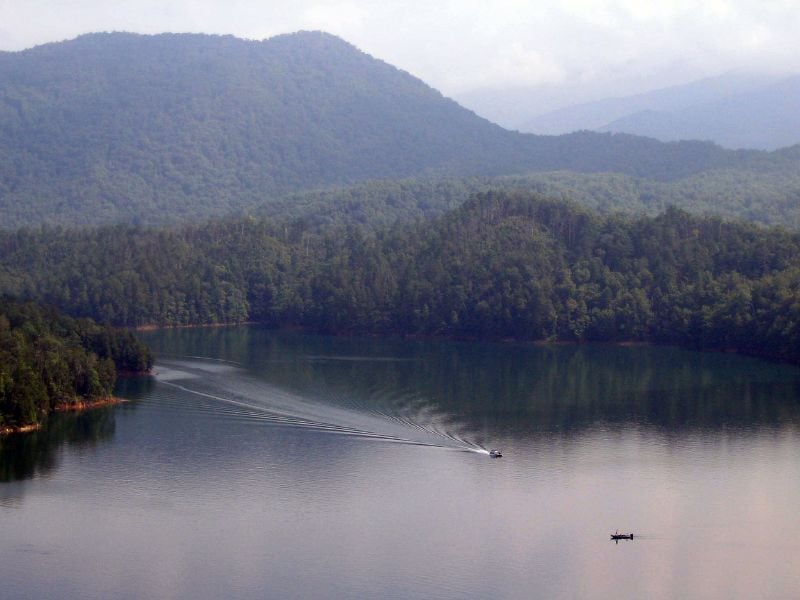 Head to Left Loop for the best singletrack
Left Loop
is the crowd favorite. Together with the Right Loop, you get 25 miles of singletrack. Don't let its basic name dissuade you. Once you ride on this scenic, flowy trail, you'll see why the bikers were too preoccupied to name it. Expect not so steep uphills and rolling, fun downhills with a few technical patches that are easily avoidable if you're not up for the challenge. The trail cooks an endless amount of turns as it contours along the lake. I recommend riding anti-clockwise to take advantage of a dip in the lake near the end of the trail.
The entire trail system is divided into two halves. Each day, half of the trail system is opened to MTB riders and the other half of the trail system is open to horses. The schedule changes daily. It's a bit of a bummer to have half the trails closed each day, but you'll appreciate not running into horses on the narrow bench-cut singletrack.