3. Landmannalaugar Valley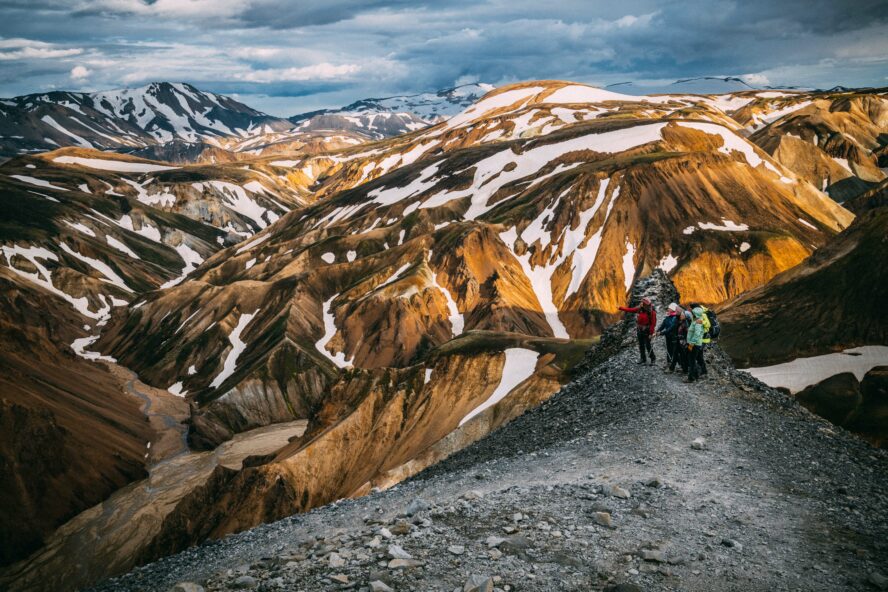 As the start of the Laugavegur Trail, Landmannalaugar Valley is possibly the best-known place in the Highlands, and generally one of the best places for hiking in Iceland.
It was created by a collapse of an enormous caldera a few thousand years ago, involving the eruptions of rhyolite lava—resulting in today's orange, red, and yellow mountains There used to be a large ice cap covering the valley, the geothermal activity leaving its legacy in the form of hot pools. The subsequent eruption constituted the more common basalt—the black lava fields.
Historically, the area has been used as an oasis by shepherds traveling on horsebacks as Landmannalaugar is also full of pastures—and because they learned the advantages of hot pools early on.
More than just the start of the Laugavegur Trail
I used to work as a warden here and I know every single nook and cranny of Landmannalaugar. You can basically stay in the area for a week without having to repeat a single hiking route.
Most people visit by bus for a day trip from Reykjavik and stay in Landmannalaugar for some 5 hours, or to begin the Laugavegur Trail. That's fine since there are great hikes that can be done in 2 to 3 hours by everyone—even the elderly. Taking a
Landmannalaugar day hiking tour
is also the simplest and the cheapest option as you don't need to rent a car and equipment, or pay for accommodation.
Nevertheless, I suggest devoting at least two days. You should definitely hike up the Blahnúkúr—"Blue Peak"—one of the most fascinating sights in the area. Also, make sure to get some views of the Laugahraun lava field, traverse the colorful rhyolite mountains, and, of course, take a dip in the hot springs. If you seek the best possible views, you will have to go on more challenging—and much longer—hikes.
You can stay at the campground or in a mountain hut—book in advance and don't expect luxury. There is a kitchen, a toilet and a shower, but unlike many huts in other parts of Europe, meals aren't provided. If you are camping, you can still use the shared kitchen, but make sure to bring your own utensils.
Occasional storms
One of my most memorable experiences in the area was a storm which lasted for approximately 15 hours. Tents were broken and drenched and the campground looked like a battlefield—overnights sometimes get rough.