Mount Baker is as snowy as it gets — literally. A record-breaking 1,140 inches of snowfall in the '98-'99 ski season put Mt. Baker backcountry skiing on the map. My favorite thing about Mt. Baker backcountry has to be its accessibility. Not only is it well-connected by roads and metro alike, its ridges are less than an hour away by skinning. It always strikes me just how fast you're in the terrain. For beginners, this almost instant drop into thousand-feet-high terrain can be intimidating. If you feel iffy in the backcountry and need practice, head to Swift Creek. This section of Mt. Baker backcountry is a great classroom for those looking to master skinning on mellow, doable angles. After the climb up, you'll be ready for some quick, fun laps.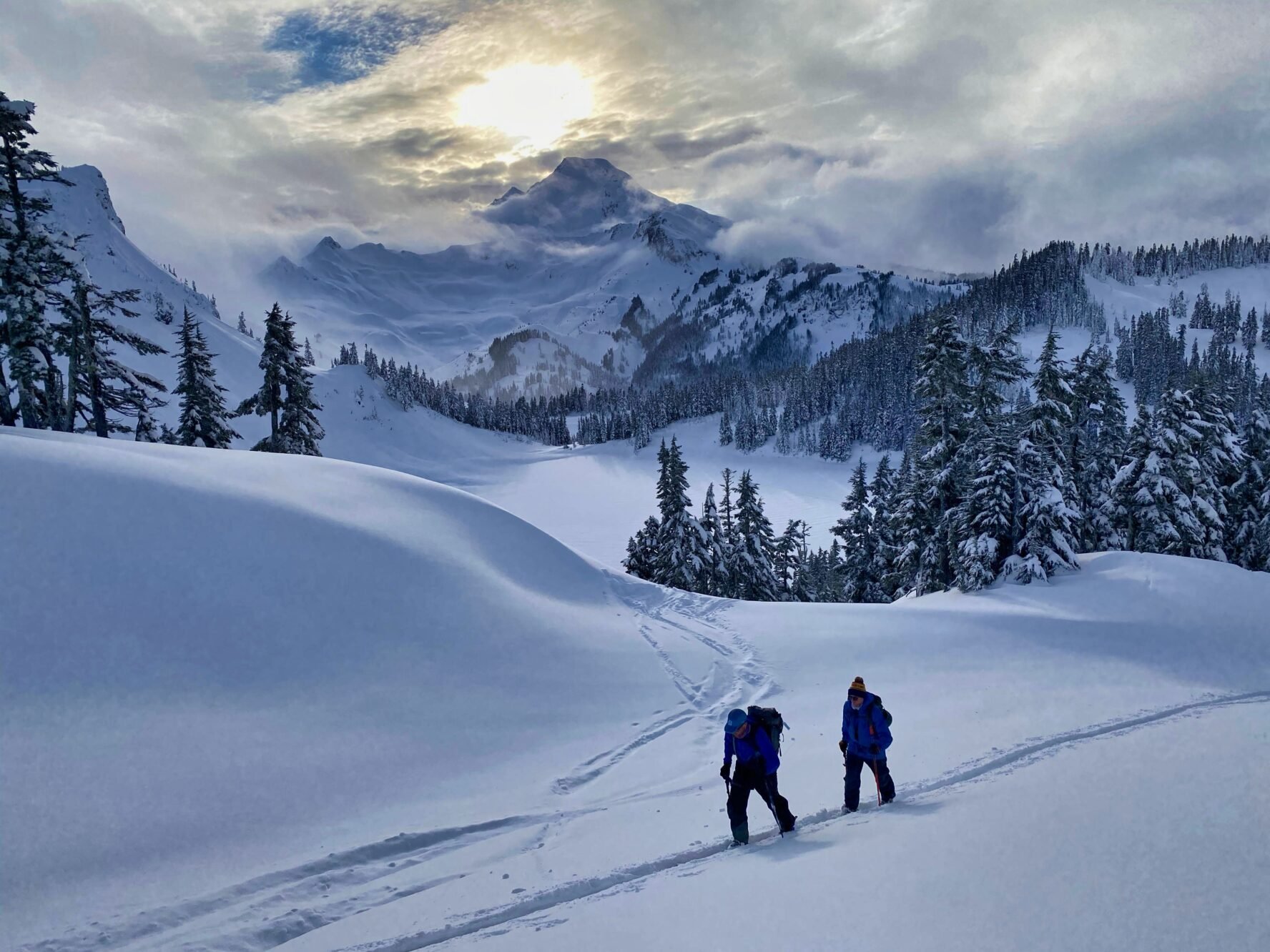 Easy access to Mt. Baker sidecountry features terrain for all skill levels
Mt. Baker has two parking lots that serve as access points and are connected by a lift. To use it, you need to buy a lift ticket. Beginners are welcome to head out to Mt. Baker, but need to keep in mind the terrain gets steep fast. More advanced skiers won't be disappointed by vertical couloir drops, which are accessed from the upper lot. It's also the go-to starting point for all-day touring.
Herman Saddle and Table Mountain are intermediate skinning tours
Mount Herman stands just above the parking lot. It's a big mountain with a south face that's a crowd favorite. Behind the summit are a couple of deep back bowls. Lines there include Rampzilla, Little Switzerland and Boulderfield. Keep skinning west if you want to cover the Iceberg Lake area. The highlight of the area is the Herman Saddle. Skinning there is challenging, but doable for intermediates. Another popular route is the Table Mountain Circumnavigation. Table Mountain faces the parking lot and houses tons of amazing routes.
More famous runs are set in advanced, steep terrain. You can also find stellar beginner options. One thing to keep in mind — these trailheads fall under true backcountry territory. The only way to access these routes is by skinning. Expect alpine landscapes with almost no trees in sight, as if you were backcountry skiing in Jackson Hole. Most access points aren't directly located on the volcano itself, but grab a camera as you're riding the ski lift to snap photos.