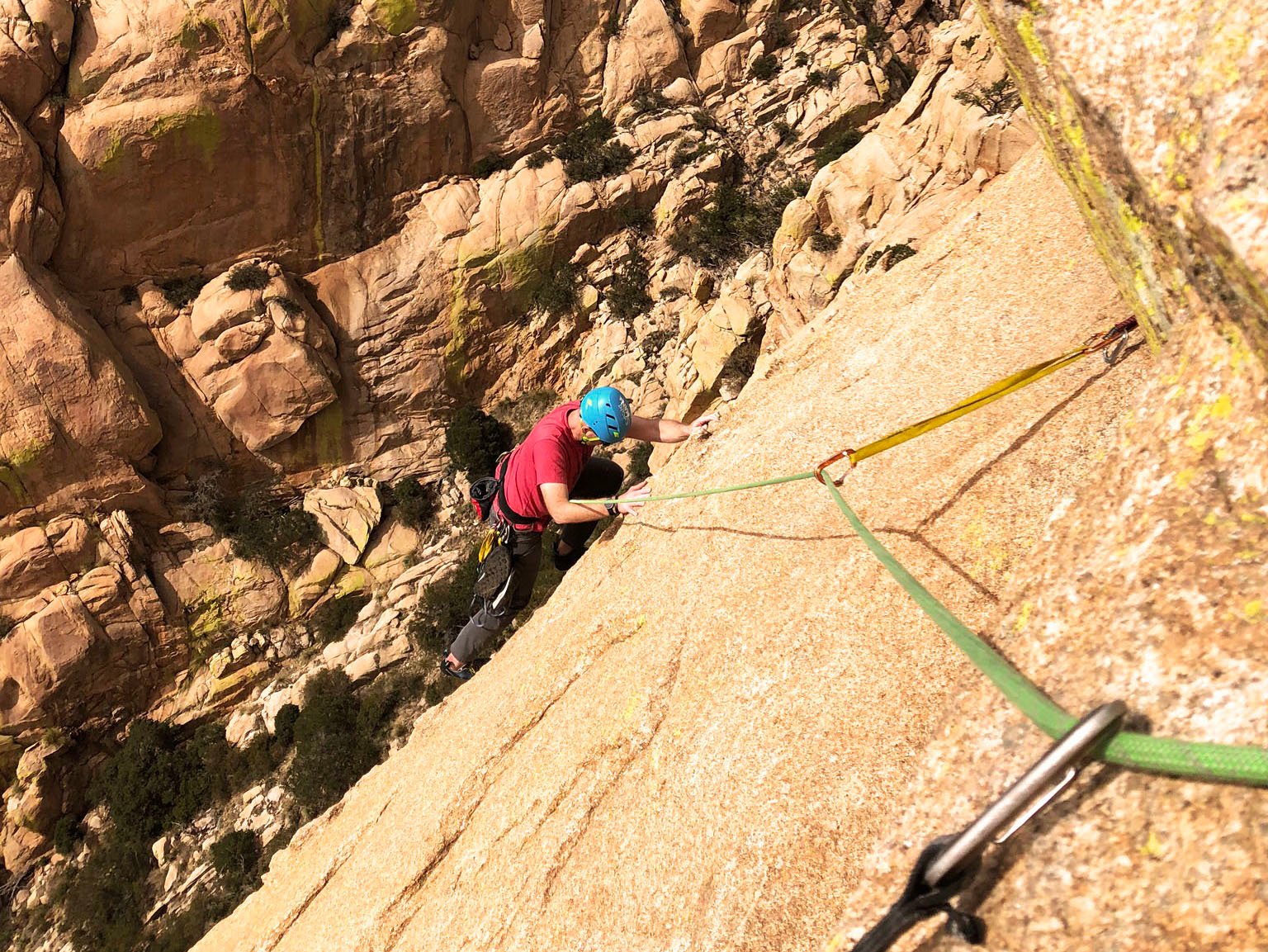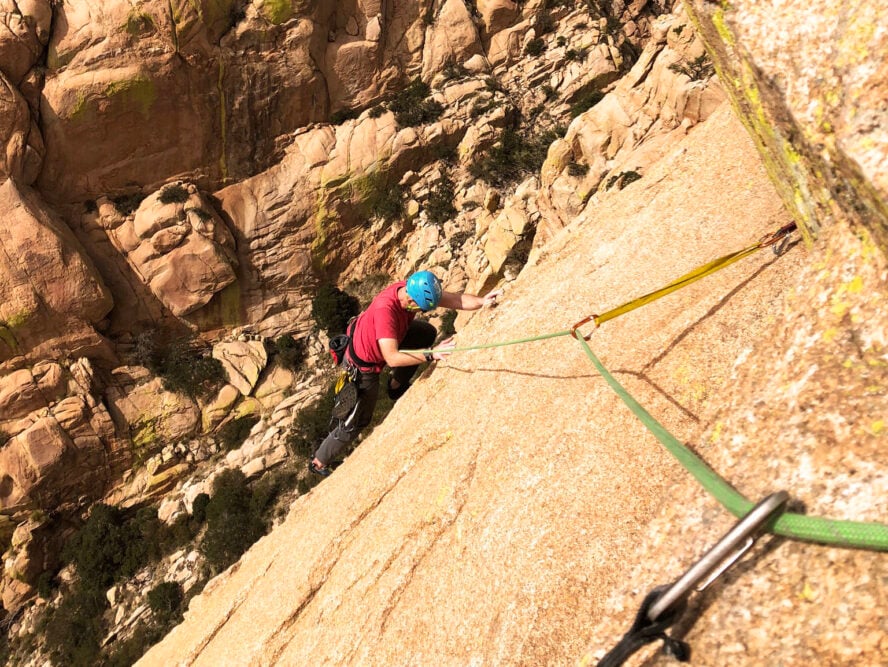 A Serengeti of the southwest
Entering Cochise, I feel like I'm in the Serengeti. As a transition zone between the climate of the Sonoran desert and higher elevations, there's scrubby trees and tall native grass that resembles the grasslands of Africa. Named after the Chiricahua Apache Chief, Cochise, this rock fortress was his and his followers's home for some 15 years in the mid-1800s as they evaded and fought against the U.S. army. In modern day, Cochise is a beautiful wilderness setting where you can spend a day climbing even the most classic routes without seeing a single other person.
Climbing at Cochise Stronghold
is all about having a remote desert experience and getting high off the ground on one of its many multi-pitch options. You can keep it low-commitment by cragging, maybe getting on some slab, or go for a bit of an adventure on a run-out granite face climb up one of the domes. There are also a lot of cool routes perfect for an introduction to moderate multi-pitch climbing on impeccable rock with incredible views. Overall, the vibe here is old-school adventure climbing, with longer approaches and a plethora of high-quality crack climbs. The majority of the routes are trad, with 600-plus routes on the yellow and pastel green formations that reach up to 800 feet. There's also plenty of bouldering and sport for those who want it. With Arizona's temperate climate, Cochise Stronghold is climbable year-round, though conditions are most comfortable in spring and fall.
Take a tourist rest day at Tombstone
Tombstone is one of the many southeastern Arizona towns shaped by the unpredictable economy of mining, and formerly by gold. In a wilder era, the town was known for its residents, both outlaws and lawmen such as the Cochise County Cowboys and Virgil Earp. Today, while a bit cheesy, it's a fun place to grab a bite to eat, drink a beer, and watch people walk around in period clothing after a long-day of climbing at Cochise Stronghold. You can also catch the daily high noon gun battle.
Recommended climbs at Cochise Stronghold
What's My Line — 5.7
Three-pitches which starts with a required pendulum before bringing you out of a gully with 250' feet of open air below you. This route is great because while the climbing is easy, the exposure is on par with something three grades harder due to the start.
Ewephoria — 5.8
Another good, slightly longer climb comprised of 5-pitches of crack and face climbing. After the first pitch, it is mostly bolted, though you can place gear if you want to run it out less. Finish going over an overhang and end a sharp arete.