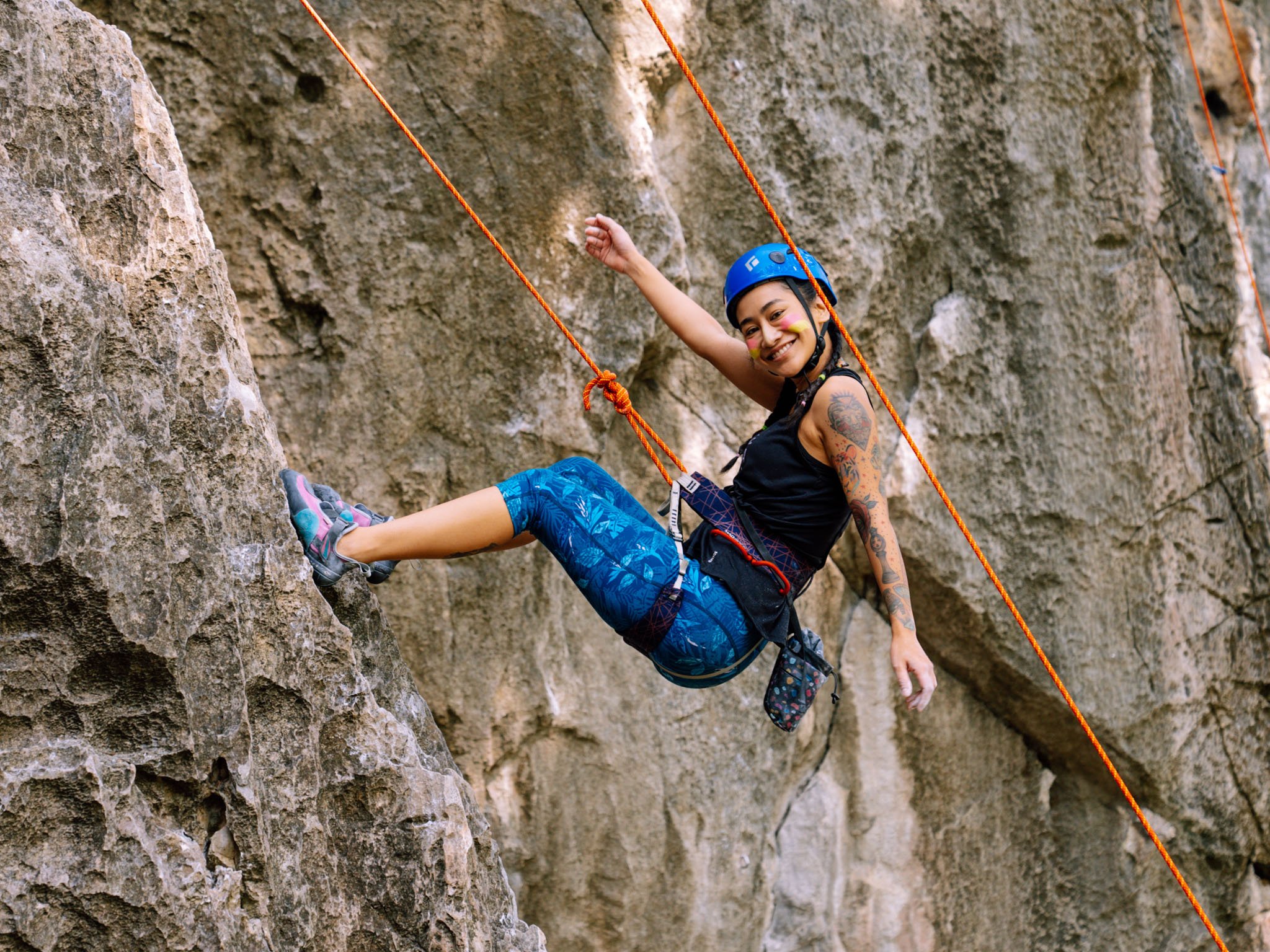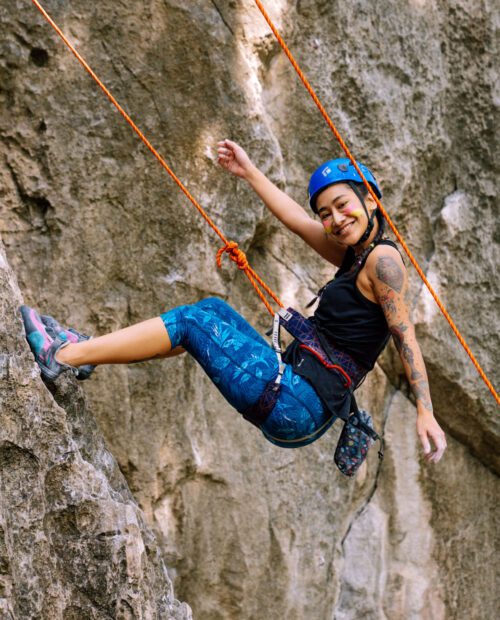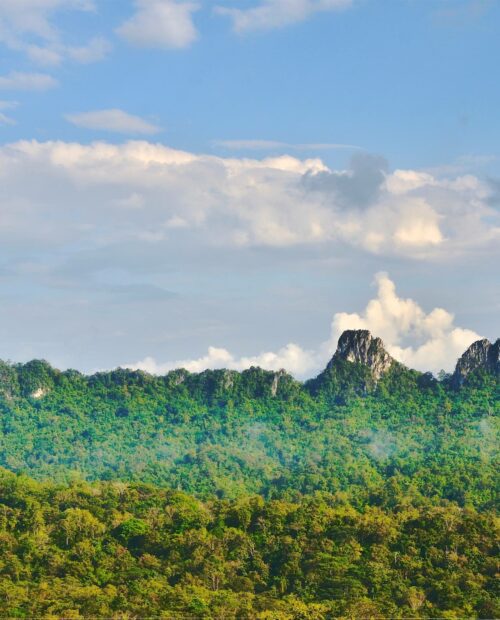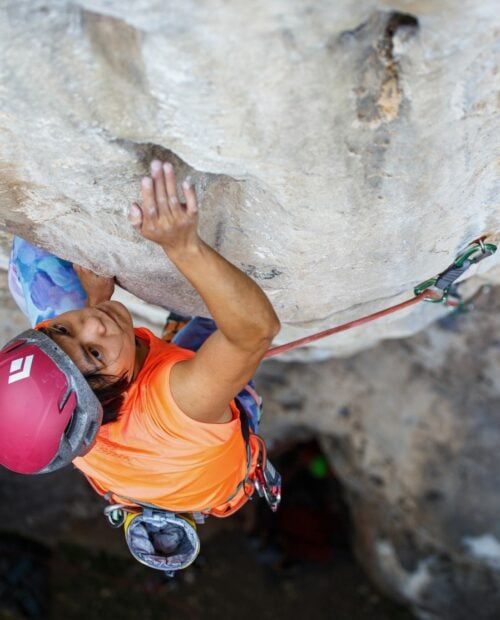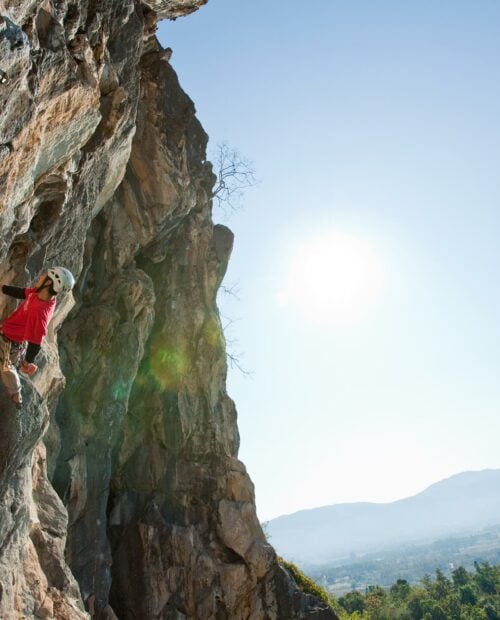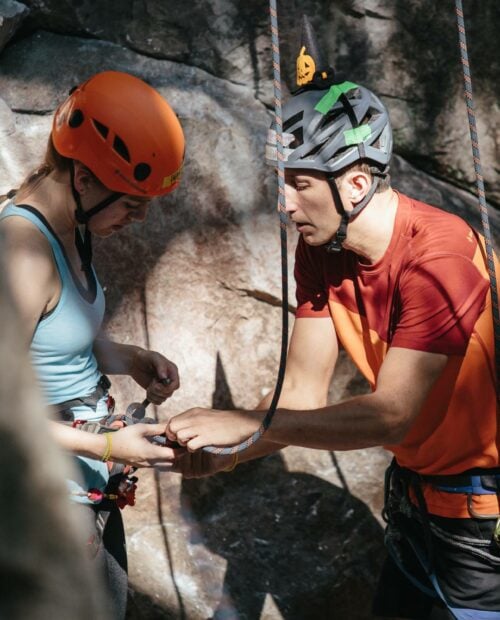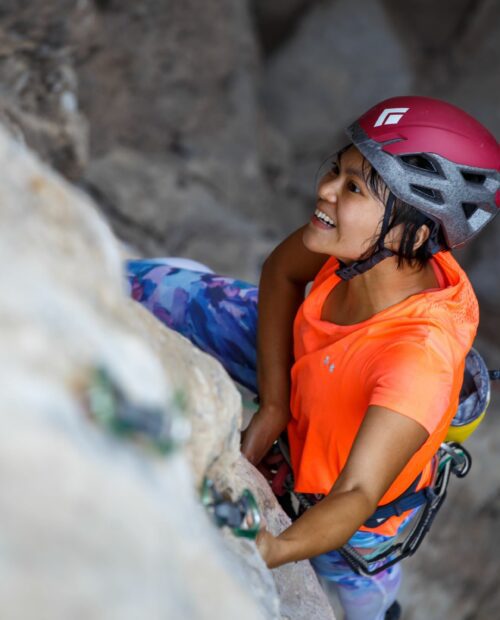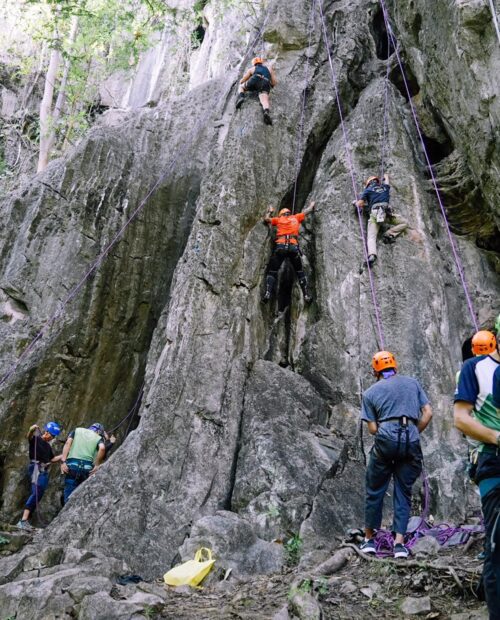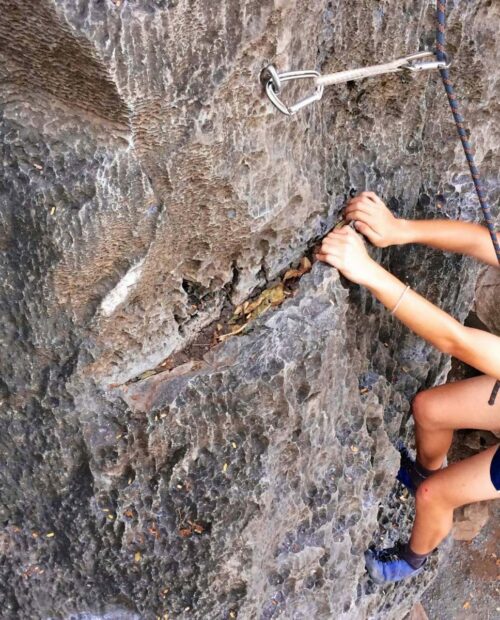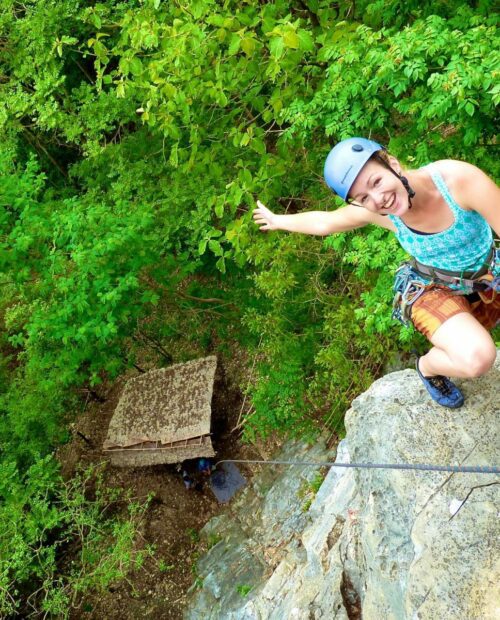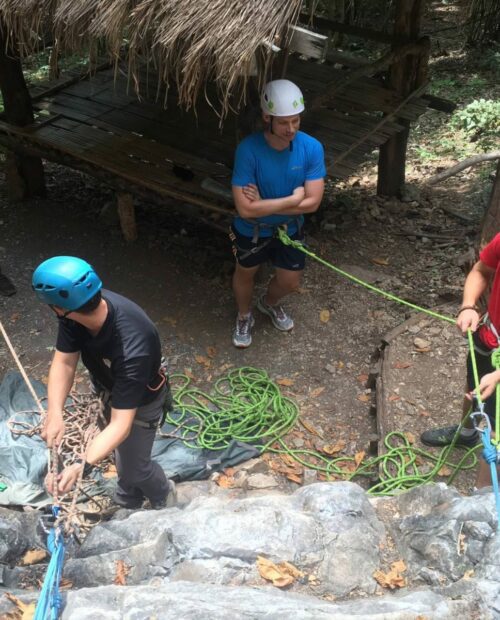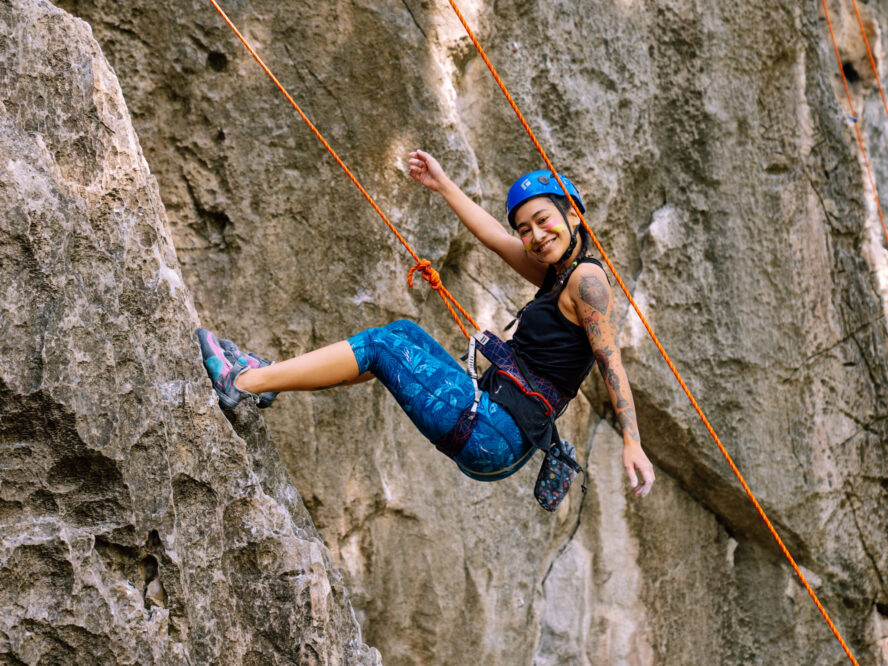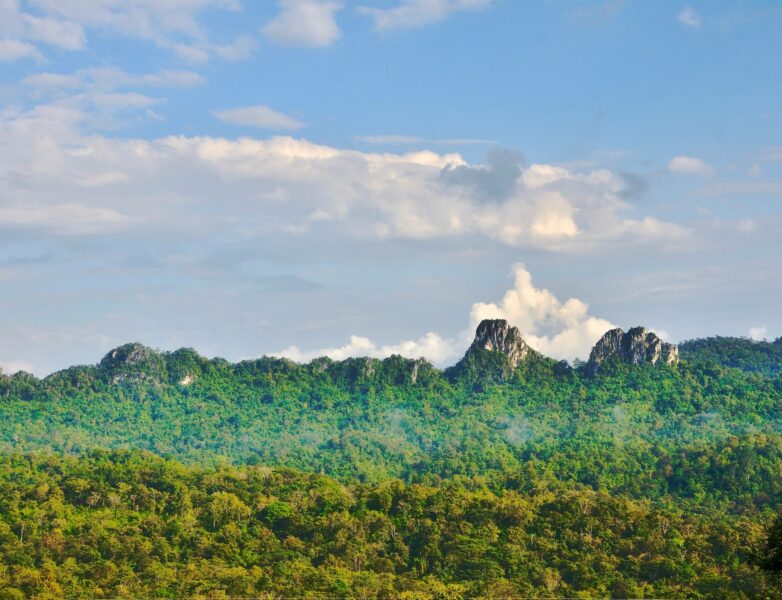 Rock Climbing in Northern Thailand
5.00

()
Sure, there are plenty of premier climbing spots all over the world—but where else can a monkey pop up to say hello while you're searching for a crinkle on the crag? This is Chiang Mai, Thailand's second largest city, where ancient temples of the past and modern skyscrapers of the present seamlessly merge. Just outside of the metropolis, there's a climbing gem not yet swarmed by the masses like the south of Thailand: with Crazy Horse as its most popular crag, you'll find the whole area, including Lampang, addictive. Routes range from 5.7 to 5.13c on limestone slabs, cliffs, steep tufas, faces, and many other formations, meaning that Northern Thailand hides spectacular crags for a day of guided rock climbing. Total beginners and experienced climbers alike, what are you waiting for? Get to grips with Thailand's soaring rocks!
More than 300 routes and counting—new ones going up all the time

Don't miss out on Chiang Mai's trad handicrafts, bustling markets, and ancient temples

Slowly and sustainably becoming one of Asia's top climbing destinations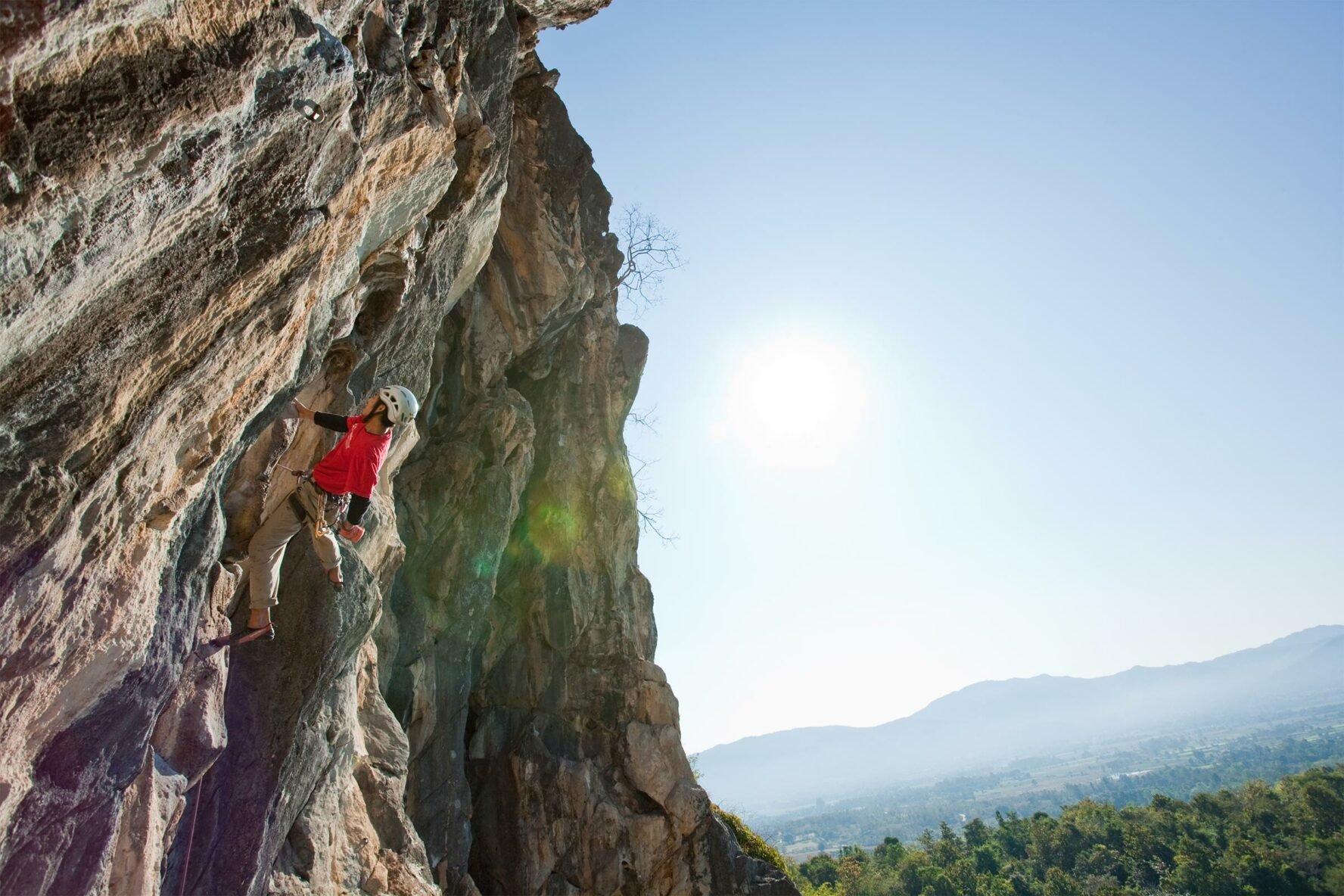 Fun Climbing Day on Northern Thailand's Premier Crags
If rock climbing hasn't yet entered your field of interests, an exciting day in Northern Thailand is bound to change that. Chiang Mai, the capital of the country's north, and Lampang hide spectacular routes, with many of them ideal for total novices. If you're looking for a guided day of rock climbing without the hassle of learning rope and belay skills, this course is perfect for you. Head to Chiang Mai crags with your AMGA/WMA certified guides, whose focus is on giving back to the local community—so you'll enjoy a local Thai lunch in between to climbing sessions.
Top Rope Essential Skills in Northern Thailand
Take your first steps climbing outdoors while learning belaying, setting up anchors, and cleaning climbs. This is a full-day rock climbing course in Northern Thailand's Chiang Mai and Lampang teaching you the basics of setting up top rope climbs on your own. Your AMGA/WMA certified guides will help you identify which crags are accessible for top rope, help you set up rope anchors without needing to lead climb, and retrieve all your gear safely at the end of the day. You can expect two climbing sessions with a local Thai lunch included!
Transition From Gym to Rock in Northern Thailand
Whether you've never had the chance to climb outside or you're finding it a bit daunting to leave your local climbing gym, this course is meant to show you how spectacular the outdoors can be. This rock climbing course around Chiang Mai and Lampang is designed to introduce you to key differences between indoor and outdoor climbing and equip you with essential skills for climbing safely outside. From mastering the belay system and tying knots to identifying potential hazards and finding the right route, your AMGA/WMA experienced instructors will guide you every step of the way. A local Thai lunch in between two sessions is included!
Intro to Rock Climbing on Northern Thailand's Crags
Have you been craving to finally see what the rock climbing hype is about? Your AMGA/WMA guides won't just teach you about climbing, but also about top-rope climbing—the easiest and the safest way to climb. The morning portion of the climbing course in Chiang Mai and Lampang will be spent learning basic mechanisms and belaying techniques of top-roping. Following a local Thai food lunch break, you'll get a chance to learn the basics of rappelling and help build a rappel, stepping over the edge, and lowering yourself to the ground.
Intro to Lead in Northern Thailand
Chiang Mai's and Lampang's crags are the perfect place to take your climbing skills to new heights. While lead climbing opens up a whole new world of routes and more freedom, this also means more responsibility—in come your experienced AMGA/WMA guides. Spend a whole day on Northern Thailand's rocks, separated into two portions with a delicious Thai lunch break in the middle. This course is meant to ensure you have the necessary skills and knowledge to lead climb safely and responsibly, so sign up if you're an experienced climber ready to take the next step! 
Get free trip brochure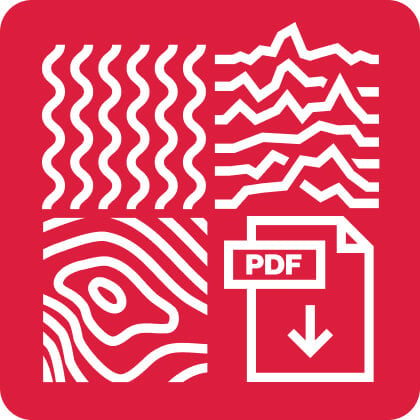 The brochure contains:
Adventure and location overview, itinerary, available dates, what's included, how to prepare, and much more.
Brochure sent, check your inbox
Talk with us
and let one of our adventure experts help you plan your perfect adventure.
Meet your guide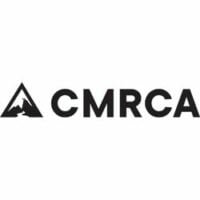 Chiang Mai Rock Climbing Adventures
CMRCA was founded in 2002 in Chiang Mai, Thailand, by a group of local climbers. Their team consists of experts in climbing, caving, and recreation. Sustainability actions, the highest safety standards, and giving back to the community are the focus of CMRCA's climbing community. They are passionate about sharing their love for the mountains, caves, and valleys with their clients—and along the way they help them become more confident climbers and achieve their goals.
James P
(source: Tripadvisor)
30 minute drive to the climbing area, north west of the city, part of a ridge of hills overlooking a rural valley. Apart from one other couple we had the whole place to ourselves. Scores of climbs to choose from. Wide spectrum of difficulty. Our guides were super – super friendly and very knowledgeable- felt super safe all day. Climbed all morning, stopped for lunch and then cracked into again after – moving to keep out of the sun. We finished our day with a 55m rappel into a cave. Super professional outfit. Thanks for a great day.
Hsin-Ti L
(source: Tripadvisor)
Great way to get the fullest of experience climbing in the nature if you are from outside of the country. And it is the best way to give back the both the local community and the crag developers. The price is way worth it's value!
Excellent rock climbing.
Brynde K
(source: Tripadvisor)
Beginner friendly and also suitable for more advanced climbers. Rigorous safety standards and friendly guides. A great way to view Chiang Mai forests from above!
Ruthjf
(source: Tripadvisor)
My family of three spent a day rock climbing in Lampang with CMRCA. They were great and I would definitely recommend them. Our guide was extremely knowledgable, supportive, fun, and did a very good job meeting the different climbing skills of the three people in our group.
Great climbing and excellent instruction on our two day course.
Taylor C
(source: Tripadvisor)
My partner learned to lead climb and we both learned anchor building and rescue techniques, which was a big level up for me even after years of lead climbing experience. Can't say enough about the quality of these guides and instructors!
Things to know
What you get on this adventure:

AMGA/WMA experienced, local rock climbing guide with extensive knowledge of the area

Climbing equipment

Full day of rock climbing

Climbing insurance

Lunch & water

Transportation to and from the climbing site from Progression Vertical climbing gym

What's not included:

Transportation to Thailand

Transfer from hotel to Progression Vertical climbing gym (available at an additional cost)

Accommodations

Guide gratuities — optional

If you can climb a ladder, you're good to go. Being in good shape is always a plus but far from necessary. Rock climbing is all about using good movement technique rather than muscling up a cliff using brute strength. You can choose between several courses, some beginner and some intermediate. To ensure you have a fun day, your guide will choose routes that best suit your skill and fitness level.

If you're eager to rock climb in Thailand, check out some of our other adventures we offer: rock climbing tour in Railay or rock climbing in Lopburi.

No prior experience is necessary. Whether you've never donned a harness or you're a seasoned climber, a guide will help you meet your individual objectives. Above all, your instructor's number one priority is your safety. As long as you listen to the given instructions, you'll succeed in completing your climb. Don't worry if you're an intermediate climber, though, there are also plenty of options for you!

All technical climbing equipment will be provided by your guiding service. However, if you have your own gear, feel free to bring it. You'll need:

Helmet

Harness with a locking carabiner, belay device, and chalk bag

Ropes

Rock shoes (included in the price, but we recommend bringing your own if you have them)

Climbing hardware (quickdraws, cam devices, stoppers, etc.)

Here's a list of the equipment we suggest you bring:

Day pack large enough to carry all the items listed (around a 40L bag)

Athletic clothing

Closed-toed shoes and socks

Water bottle

Food you can eat on-the-go

Toiletries (sunscreen, bug spray, toilet paper, etc.)

Sunglasses

Camera — optional

Dress comfortably and for the weather in clothes you can move in. We suggest bringing clothing appropriate for the season. Layers are best and don't wear jeans.

Group sizes and prices:

For these group courses, the maximum group size is 8. The usual client-to-guide ratio is 3:1.

The cost per person does not decrease.

Rock climbing in Northern Thailand can be arranged for larger groups. Contact us to make arrangements.

Min. age requirements:

If you are older than 18, you're good to go.

Minors younger than 18 may be permitted to join the hike on a case-by-case basis, but must be in the presence of a parent or legal guardian.

If your group has climbers under the age of 18, contact us prior to booking to make arrangements.

To get to Chiang Mai, most people fly into either Chiang Mai International Airport (CNX) or Suvarnabhumi Bangkok International Airport (BKK). If you fly into Chiang Mai Airport, a 10-minute drive takes you downtown. If you fly into Bangkok Airport, you've got several options—a train and a bus ride would take more than 9 hours, you can also rent a car, or you can also hop on a flight to Chiang Mai airport.

Once you and your guide agree on the details of your itinerary, your guide will suggest the best place to meet, though it will most probably be the Progression Vertical climbing gym in Chiang Mai.

57hours is committed to providing safe outdoor adventure experiences. We require all guides using our platform to have a COVID-19 safety plan and to make the details of that plan accessible to travelers. In most cases, group sizes will be reduced, guides will avoid overcrowded locations, and other safety measures will be met depending on the location and activity. 

We also expect clients to respect local regulations and take measures to protect themselves, their guides, and the communities they're traveling to. For more information on COVID-19 measures in Thailand, please refer to Thailand's travel restriction updates.

Please contact us if you have any questions or require further information. We are happy to provide you with the most up-to-date information!
Get free trip brochure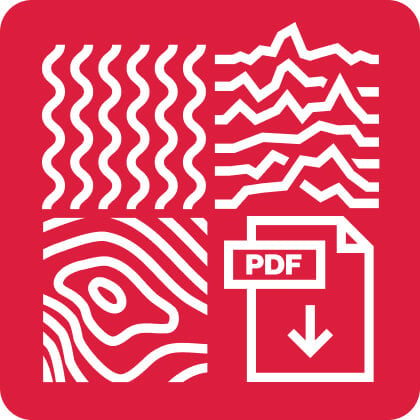 Adventure and location overview, itinerary, available dates, what's included and much more.
Brochure sent, check your inbox
Talk with us
and let one of our adventure experts help you plan your perfect adventure.
Other things to do in Thailand