Private Climbing Courses at Exit 38
EXIT 38 | Washington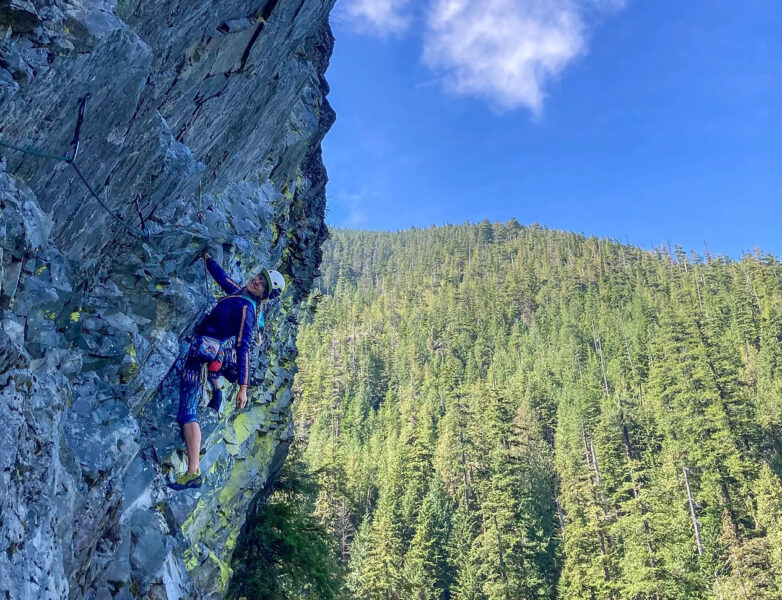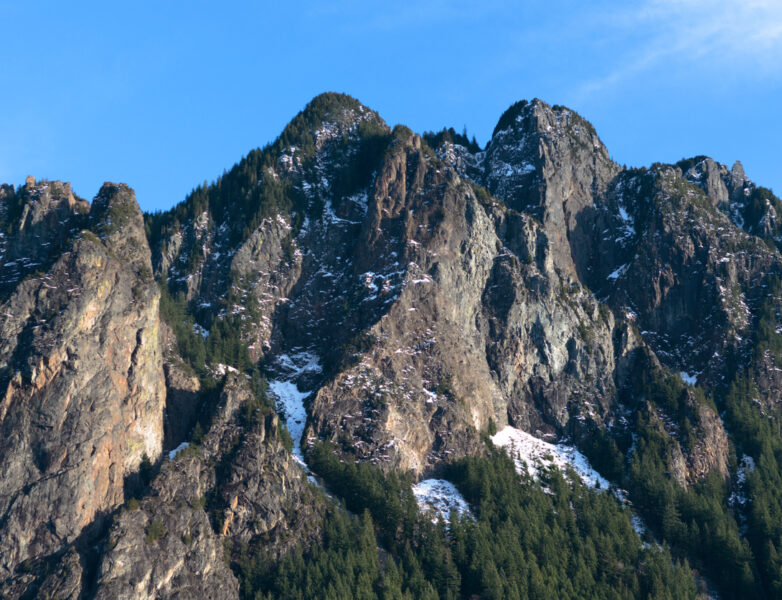 Top reasons to take a rock climbing course at Exit 38
Excellent accessibility thanks to recently developed hiking trails

Enjoy panoramic views of Washington's colorful forests

The routes are generously bolted and perfect for improving your climbing skills
Known as Washington's sport climbing haven, Exit 38 is a pretty straightforward climbing area. You'll find few trad climbs here, and even fewer cracks. However, the sport routes on steep faces with phenomenal views of the surrounding forests are top-notch! The scenic verticals up big jugs, well-bolted slabs, and sequenced bouldering routes provide the ideal environment for improving your climbing skills or leading your first climb. The more experienced climbers will appreciate the steep face challenges that abound in this quaint and severely underrated climbing area. Put your skills to a test on routes ranging from 5.5 to 5.12c and let your guide teach you some new techniques and movements before you move on to bigger challenges.
Nearest city

Seattle, WA, is an hour away
Choose how you spend your days
Private Intro to Outdoor Climbing
If you're new to climbing or are looking to transition from the gym to the rocks, this course is the way to go! Your experienced, AMGA-certified guide will go over everything you need to know to start outdoor climbing, such as knot and hitch fundamentals, top rope belaying, and proper movement techniques on the rocks.
Prerequisites: No prior experience necessary!
Private Sport Climbing Course
Learn to safely and efficiently lead sports climbs over two days in Washington's magnificent Exits! Upgrade your sport climbing skills to the next level under the watchful eye of a seasoned, AMGA-certified climbing instructor. Master fundamental sport leading skills such as rope management, safe lead and top rope belaying techniques, and the mental techniques required for reliable leading.
Prerequisites: You must have prior experience top-roping 5.7 outside or 5.9 in the gym.
Private Multi-Pitch Sport Climbing Course
This comprehensive day-course provides everything you need to start leading multi-pitch sport climbs on bolted routes. From efficient multi-pitch transitions to belaying methods and considerations, you'll learn to lead climbs with skill and confidence. With an AMGA-certified climbing instructor by your side, your lessons will go by productively and without a hitch.
Prerequisites: You're expected to have completed a sport climbing course or have experience leading sport climbs at a grade of 5.6 or higher
Private Technical Self Rescue Course
Join an AMGA-certified climbing instructor for a self-rescue essentials course in Exit 38! Take on a wide range of improvised rescue systems and learn fundamental self-rescue techniques, such as improvised lowering with an ATC, tandem and counterbalance rappelling with an unconscious partner, and managing stuck ropes. Master potentially life-saving skills and become a safer climber!
Prerequisites: You're expected to have experience climbing multi-pitch routes.
Itinerary
Intro to Outdoor Climbing
This course is meant to teach you the fundamentals of outdoor climbing, such as:
Knots and hitches including figure 8 follow-through, overhand on a bight, fisherman's
Safe top rope belaying techniques
Outdoor climbing movement
Anchor building and cleaning bolted anchors
Climbing commands and rappelling
Sport Climbing Course
This course is meant for climbers looking to learn how to lead sport climbs outside. As such, you'll learn outdoors sport climbing skills such as:
Knots and hitches including figure 8 followthrough, overhand on a bight, flat overhand, fisherman's, double fisherman's, bowline, munter, clove, prusik, autoblock, Klemheist
Appropriate gear selection
Anchor building and cleaning for a sport climbing setting
Rope management for leaders and safe leading techniques for sport climbing
Safe lead and top rope belaying techniques with an assisted braking device
Rappelling and safe falling techniques
Face climbing and sport climbing movement
Mental techniques for leading
Multi-Pitch Sport Climbing Course
After a short review of your sport climbing skills, you'll learn everything you need to know to successfully lead multi-pitch routes with bolts, such as:
Appropriate gear selection
Anchor building for multi-pitch climbing with bolted anchors
Methods to belaying a follower
Efficient multi-pitch transitions and rope management
Considerations for belaying a leader on a multi-pitch climb, including fall factors
How to rappel a multi-pitch climb and basic multi-pitch self-rescue techniques
Technical Self Rescue Course
Following a review of fundamental knots and an introduction to less common knots, bends, and hitches, you'll go through:
An introduction to load releasable systems, the munter mule and block-and-tackle
Belay escapes, knot passes, improvised hauling
Simple, compound, and complex pulley systems
Lowering systems with an ATC, assisted braking device, and munter hitch
Improvised lowering with an ATC in "guide" mode
Improvised rappelling devices and techniques
Rappelling with a pull cord and managing a stuck rope on rappel
Tandem and counterbalance rappelling with an unconscious partner
Rope ascending techniques and single-pitch pick off techniques
Rescue mindset for climbers
Meet your guide

The Climbing School
The Climbing School is an organization of AMGA Certified Rock Guides dedicated to teaching climbers how to safely and efficiently spend time in the mountains or at the crag. They enjoy sharing their experiences with new and old friends and love pushing themselves and their guests to improve their skills in the mountains.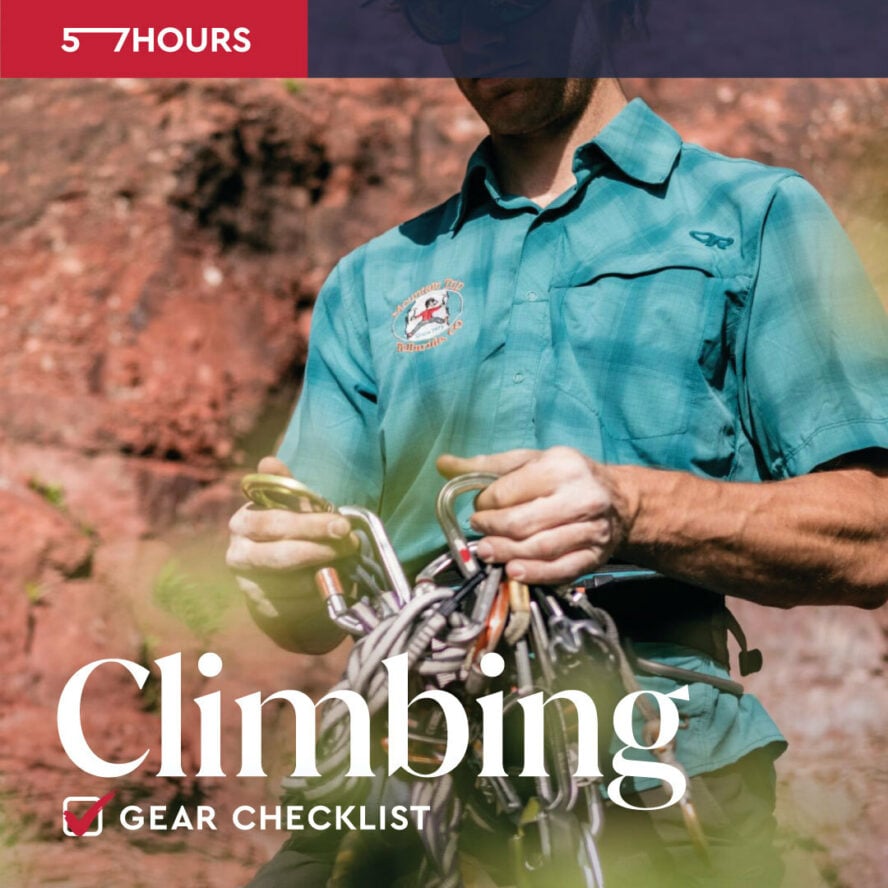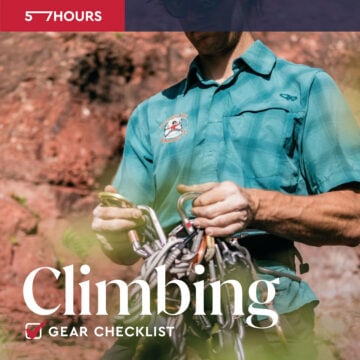 Download rock climbing gear checklist
Prepare for the trip.
Check your inbox
Things to know
Covid measures at Exit 38, Seattle, Washington
57hours is committed to providing safe outdoor adventure experiences. We require all guides using our platform to have a COVID-19 safety plan and to make the details of that plan accessible to travelers. In most cases, group sizes will be reduced, guides will avoid overcrowded locations, and other safety measures will be met depending on the location and activity.
We also expect clients to respect local regulations and take measures to protect themselves, their guides, and the communities they're traveling to. For more information on COVID-19 measures in Washington's Exits, please refer to the US Government's international travel guidelines and the Washington State Department of Health's COVID-19 safety guidelines.
Please contact us if you have any questions or require further information. We are happy to provide you with the most up-to-date information!
What's included?
What you get on this adventure:
An experienced, local rock climbing guide with extensive knowledge of the area
One or two days of rock climbing courses depending on your chosen itinerary
What's not included:
Transportation
Accommodations
Food and snacks
Technical rock climbing equipment
How fit do I need to be?
If you can climb a ladder, you're good to go. Being in good shape is always a plus but far from necessary. Rock climbing is all about using good movement technique rather than muscling up a cliff using brute strength. To ensure you have a fun day, your guide will choose routes that best suit your skill and fitness level.
What if I've never climbed before?
Exit 38 has plenty of options for beginner climbers. Whether you've never climbed before or are transitioning from the gym to outdoor climbing, the Private Intro to Outdoor Climbing is perfect for you. With a guide by your side, you'll learn something new, stay safe on the rocks, and most importantly, have fun!
For intermediate to advanced climbers, Exit 38 has loads of routes to spend the day on. Let your guide plan the day so you can focus on developing your skills while climbing the classic routes or best hidden gems the area has to offer.
What about required equipment?
When it comes to technical climbing equipment, you'll need:
Helmet
Harness with a locking carabiner, belay device, and chalk bag
Ropes
Climbing shoes
Cord — 7 mm, 15 feet
Prusik cord
Sling — 120 cm
Climbing hardware (quickdraws, cam devices, stoppers, etc.)
Here's a list of the equipment we suggest you bring:
Day pack large enough to carry all the items listed (around a 40L bag)
Water bottle
Food you can eat on-the-go
Hiking or approach shoes
Toiletries (sunscreen, bug spray, toilet paper, etc.)
Sunglasses
Camera — optional
You will be provided with a more detailed equipment list upon booking your desired course.
Some additional equipment, such as the assisted braking belay device, quickdraws, alpine draws, and micro-traction style device, can be provided by your guide.
Dress comfortably and for the weather in clothes you can move in. We suggest bringing clothing appropriate for the season. Layers are best and don't wear jeans.
Group sizes and age requirements
Group sizes and prices:
The max guest-to-guide ratio for the Private Intro to Outdoor Climbing, Sport Climbing Course, and the Technical Self Rescue Course is 4:1.
The max guest-to-guide ratio for the Multi-Pitch Sport Climbing Course is 3:1.
For these private courses, costs per person decrease as the group grows, so it's the perfect opportunity to climb with friends and family.
Climbing courses in the Exits can be arranged for bigger groups. Contact us prior to booking.
Min. age requirements:
If you are older than 18, you're good to go.
Minors younger than 18 may be permitted to climb on a case-by-case basis, but must be in the presence of a parent or legal guardian.
If your group has climbers under the age of 18, contact us prior to booking to make arrangements.
Getting there and meeting location
To get to Exit 38 in Washington, most people fly into Seattle-Tacoma International Airport an hour away. From there, you can rent a car or take a bus.
Once you and your guide agree on the details of your itinerary, your guide will suggest the best place to meet, whether that's at the guide shop or a predetermined location. The guide will choose the appropriate terrain dependent on conditions and the ability of the group.