Mount Baker | Washington
Multi-Day Alpine Climbing on Mount Baker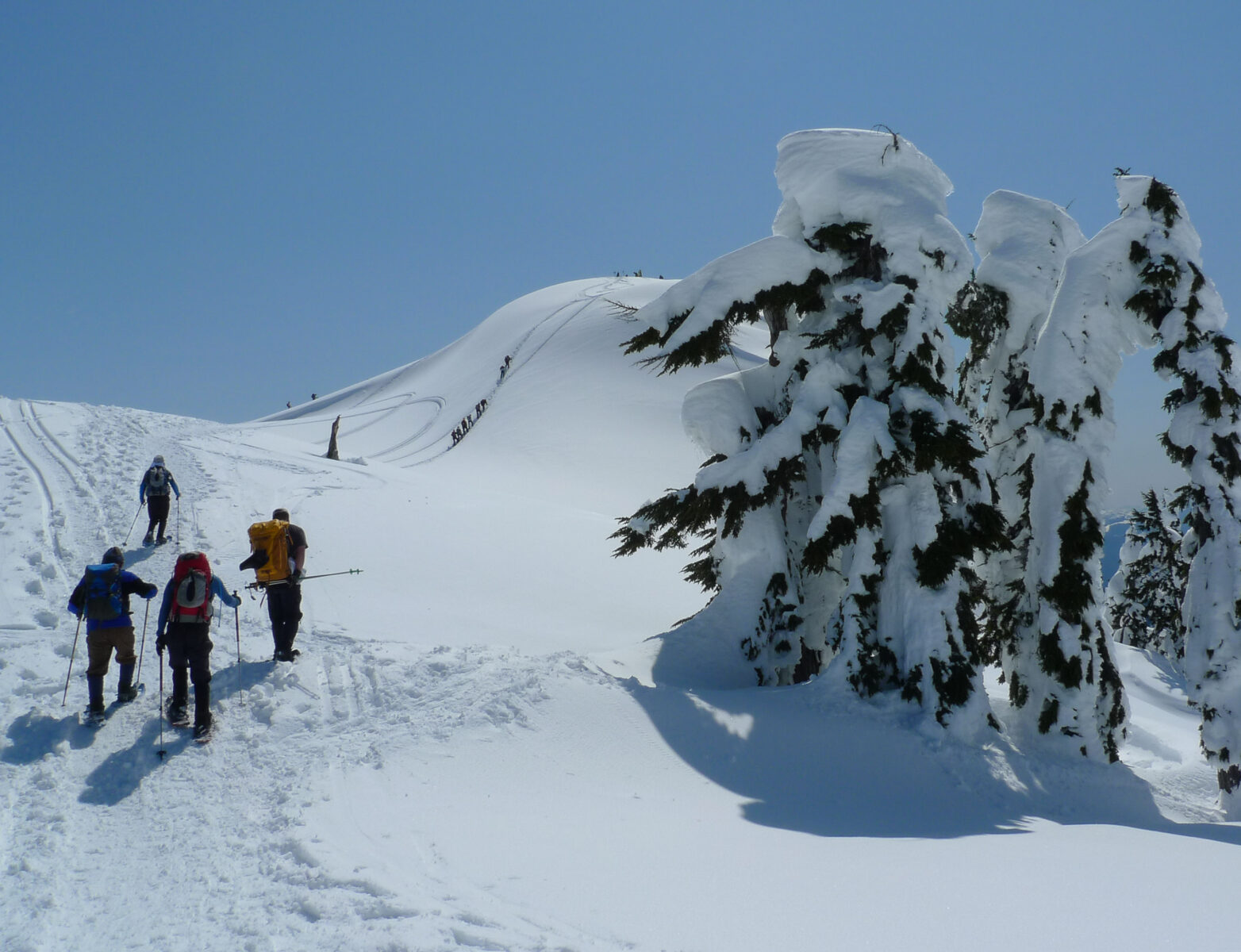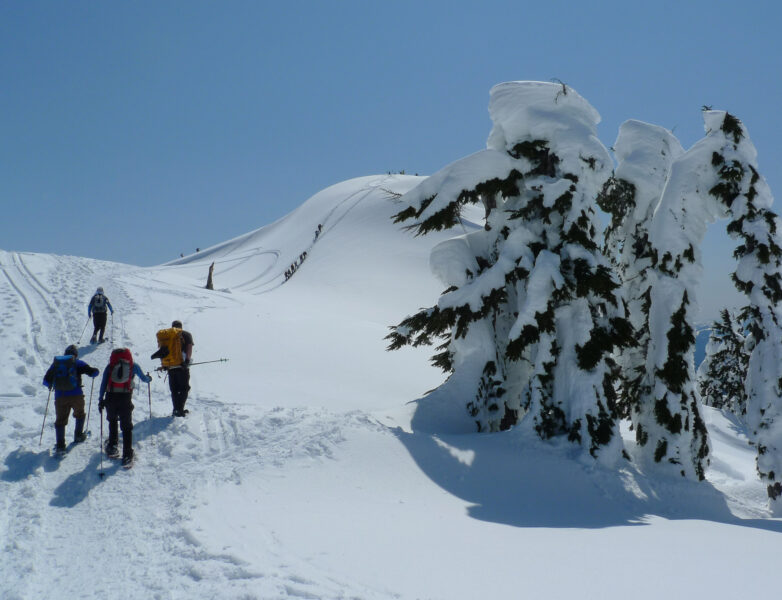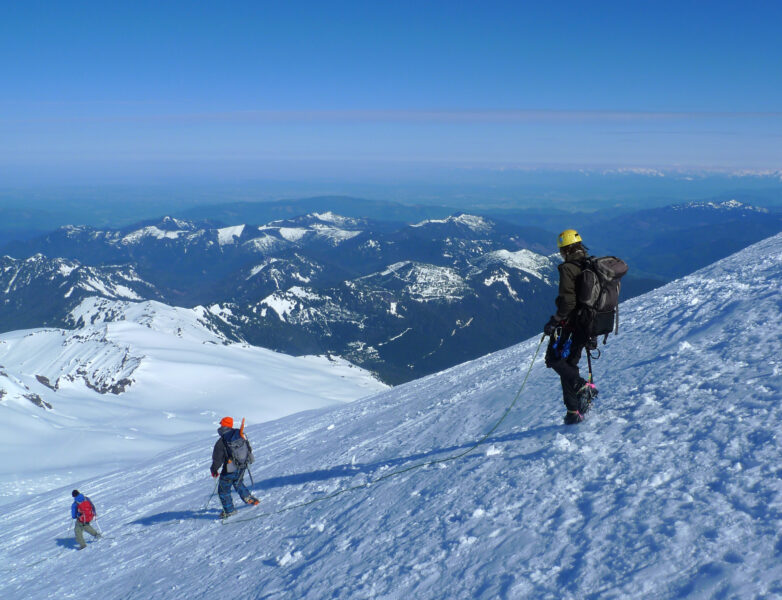 Nearest city

Bellingham, WA is just over an hour away
Climb the second largest glacier system in the lower 48!
This Cascadian Volcano with twelve active glac­i­ers and breath­tak­ing views is a paradise for any alpine climber! With 10,781 feet, Mount Bak­er pro­vides chal­leng­ing but extreme­ly reward­ing moun­taineer­ing expe­ri­ence for alpine climbers of all skill levels. It is a perfect introduction to roped glacier travel on snow and ice, and to one of the classic North Cascades summits. The highest peak of Wash­ing­ton State's North Cas­cade is filled with ice­falls, ser­acs, and large crevass­es that will leave you breathless. Try out classic Easton Glacier or Coleman-Deming routes, and reach the summit with a helping hand from well-experienced and friendly guides!
Most Popular Itineraries
Easton Glacier Baker Climb
The Easton Glacier Route is the easiest way up the challenging Mount Baker. It is the best route for first time climbers as it offers a direct and relatively moderate route up the south side of the mountain with the fewest technical difficulties. If you are unsure of your readiness for a first time climb of Mt. Baker, the Easton Glacier is the perfect choice for you! This adventure involves training with crampons and an ice axe, and it covers travel in glacier terrain and fundamentals of crevasse rescue. This is a good introduction to glacier travel for all first timers or a comprehensive refresher course for those with previous experience looking for a spectacular glacier ascent. Reach the summit crater and enjoy the spectacular view of the surrounding Cascade Range!
Coleman-Deming Glacier Climb
Although a little steeper and more demanding than the Easton Glacier, the Coleman-Deming Glacier route is a beautiful approach taking you through pristine forest up to the base of a breathtaking glacier. On your second day, instruction will be provided in use of the ice axe, cramponing skills and roped glacier travel. The views from the summit stretch north up to Canada and west over to the San Juan Islands so the ascend will definitely be worth the time! Coleman-Deming is the most popular route on Mt. Baker and a great way to summit Mt. Baker for the first time. If time permits, you might even take a crack at ice climbing, taking advantage of the terrain at hand!
Private Customized Guided Tour of Mt. Baker
Mount Baker offers everything an aspiring mountaineer could wish for: a beautiful hike into the alpine zone above 5500 feet, incredible terrain ideal for advancing your glacier travel skills, and breathtaking views from the summit stretching all the way to the San Juan Islands. Make the most of your time on the mountain with a private guide who will tailor the trip according to your wishes, and enjoy the ascent onto the second largest glacier system in the lower 48 states!
Itinerary
Day One: Reaching the camp
After the group meets at the predetermined location in the North Cascades at 8:00 a.m., the guides will conduct a final pack check and issue of team equipment. You will drive together to the trailhead.
The trailhead for the Easton Glacier is at Schreiber's Meadow and sits at 3,200 feet in elevation. Hike up into the impressive alpine zone where you will make camp at approximately 5,500 feet on the edge of the Easton Glacier.
The Heliotrope Ridge Trailhead for the Coleman-Deming Glacier is at approximately 3,700 feet in elevation. Hike up the well maintained trail up into the stunning alpine zone where the path turns into a climber's trail that leads to the base of the Coleman Glacier and camp at approximately 5,900 feet.
Both of these are good hikes with up to 50 lb. packs and approximately 3-4 hours in duration. After setting up camp, enjoy the rest of the day and recharge your batteries for tomorrow!
Day Two: Training for the summit
Use your second day for training! After a hearty breakfast, head out with your guide to the nearby slopes for a day of training in crampon skills, ice axe arrest, roped glacier travel, snow anchors and the elements of safe team crevasse rescue. This will be an informative day — the skills you learn and develop will help you in your future adventures!
Day Three: Reaching the summit
Get up well before dawn and after a quick breakfast of hot drinks and cereal, strap on your crampons and harness, and head for the summit!
The Easton Glacier route is generally moderate with some navigation around crevasses required. Once you reach the crater rim, continue to the true summit for a breathtaking 360 panorama of the North Cascades! After a brief rest, return to the camp, rest for a bit and pack up. After a full day of getting to the summit and back, perhaps 6 hours up and half that time in descent (around 10 hours total), you will return to your starting point by late afternoon, with plenty of memories and photos that will remind you of this conquest for the rest of your life!
The route to the Coleman-Deming Glacier heads up to a saddle between the summit and Colfax Peak. Continue generally eastward, and head up onto the upper Deming Glacier. This climb is more steep towards the summit plateau. After crossing the plateau to its northeast edge, you will reach the true summit with amazing vistas over the surrounding nature. The summit day takes a total of 6-8 hours up, with half that time heading back down again (around 10 hours total). When you are done with admiring the wonderful views from the summit, take a brief rest, head down to the trailhead, and reach the cars by mid to late afternoon!
Note: the guides may determine it is more favorable to climb on Day Two due to weather, route conditions or team ability. In this case, the guides will conduct essential training the first afternoon, with additional training during the course of the ascent. On the final day, there will be time for additional skills training prior to descent for those who are interested.
Things you need to know
Covid measures on Mount Baker
57hours is committed to providing safe outdoor adventure experiences. We require all guides using our platform to have a COVID-19 safety plan and to make the details of that plan accessible to travelers. In most cases, group sizes will be reduced, guides will avoid overcrowded locations, and other safety measures will be met depending on the location and activity.
We also expect clients to respect local regulations and take measures to protect themselves, guides and the communities they're travelling to. For more information on COVID-19 measures on Mount Baker, please refer to the Mount Baker or Washington State webpage.
Please contact us if you have any questions or require further information. We are happy to provide you with the most up-to-date information!
What's included?
What you get in this adventure:
An experienced, local mountain guide with extensive knowledge of the area
All technical climbing gear
All group equipment including shared tents, stoves, etc.
Climbing ropes and hardware
Climbing permits
What's not included:
Transportation
Parking pass
Lodging prior to the start of the climb or on the last night of the trip
Travel Insurance with trip can­cel­la­tion, med­ical and evac­u­a­tion policy
Technical gear list
Most of the technical climbing can be rented from your guiding service. If you have your own gear, feel free to bring it. You'll need:
Helmet
Harness with a belay device and chalk bag
Two locking carabiners (not available for rent)
Ice axe, steel crampons with anti-bot plates
Trekking poles
What do I need to bring?
Here's a list of the equipment you need to bring:
Fleece or wool hat
Neck gaiter
Face mask
Lightweight and midweight gloves
Hardshell jacket with hood (Gore-Tex or equivalent)
Lightweight wind shell
Down or synthetic jacket with hood
Long-sleeved base layer
Long base layer pants (tights work well in the summer)
Hardshell pants
Softshell pants (wind-proof or wind-resistant)
Leg gaiters (ankle to mid calf height works best in summer)
Liner socks and wool socks
Underwear
Mountaineering boots that work with crampons
Climbing shoes (available for rent)
Daypack large enough to carry all the items listed (around 40L)
Sunglasses or a visor hat
Headlamp
Sleeping bag (available for rent)
Sleeping pad
Water bottle or hydration pack
Food you can eat on-the-go
Bowl, mug, and spork
Toiletries (sunscreen, hand sanitizer, blister kit, toilet paper, etc.)
Pee bottle — optional
Ear plugs — optional
Camera — optional
Can I rent equipment?
All mandatory gear can be rented if you don't have your own. You can rent:
Any camping equipment including clothing, internal frame backpack, snowshoes, and poles can be rented from your guide
Ice axe and crampons can be rented from your guide
If you need to rent gear, let us know and we can help make arrangements.
What if I've never alpine climbed before?
Mount Baker is suitable for first-time alpine climbers, but good fitness and aptitude is required to accomplish this climb. If you have some experience in rock climbing, there are great routes that you can successfully complete with the help of a guide. Even though rock climbing is all about using good movement techniques rather than muscling up a cliff using brute strength, Mount Baker will test you. Be prepared for full days of strenuous climbing.
How fit do I need to be?
Mount Baker is suitable for beginner to experienced climbers, but you will need a good level of fitness to accomplish this climb as you will be moving for a minimum of three hours on the rocks plus some additional hiking. Your abil­i­ty to enjoy the adven­ture depends on your health and fit­ness. Your trip will be more reward­ing if you pre­pare for it by con­di­tion­ing prop­er­ly well in advance. You will backpack a full load of gear into base camp.
There is a possibility of snow on the approach that may require ice axes and crampons, and exposed alpine rock. To ensure you have a fulfilling day, your guide will choose routes that best suit your skill and fitness level. Prior training in roped glacier travel will help with this adventure, but if you are fit and have good aerobic endurance, training during the trip will be sufficient to prepare you for the ascent.
The need to train for this climb cannot be overstressed. For several months prior to the start of the climb, training should include lots of long, slow, distance runs, hikes or biking over hilly terrain, an hour or more in duration. Add additional weekend outings working up to carrying a heavy pack (35-50 lbs
What is the minimum age requirement?
Everybody over the age of 18 is welcome to book this backcountry skiing adventure.
Participants 15 years or old­er may be permitted to join private tours on a case-by-case basis if they are accom­pa­nied by a legal guardian.
If you plan to climb with anyone under the age of 18, please contact us prior to booking to make arrangements.
What about group sizes and pricing?
For these adventures, the max client to guide ratio is 9:1, with 3 guides, and cost is per person.
Costs per person will decrease as the group grows for the private tour listed above, so it's the perfect opportunity to climb with friends and family. For Easton Glacier Baker and Coleman-Deming Glacier adventure, all pricing is per person and the price does not decrease.
Climbing days can be arranged for larger groups. Contact us to make arrangements.
Why should I book with 57hours?
With us, it's all play and no work for you! 57hours is an open platform that connects you with trained and certified outdoor adventure professionals all over the world. Using our tech-savvy, we make it super easy to find and book adventures worth tackling, with guides worth booking, all gathered from the first-hand experiences of the locals who adventure in these amazing locations.
What about bad weather?
As the saying goes, "there's no such thing as bad weather, only bad preparation." You can expect your guides to be fully prepared for anything. Inclement weather can always get in the way of climbing, but your guide will know the best spots to move to if the weather takes a turn.
On the rare occasion of truly bad weather, your guide will present you with suitable alternatives. The most common practice is to move to a nearby location if it exists, or to reschedule your climbing to a more favorable day.
If climbing is not possible on your scheduled day and no options presented are viable, you will be issued a full refund.
Do I need an insurance policy?
We highly recommended that you cover all your bases with both emergency medical and travel insurance. With medical insurance, if you have an accident or medical emergency on or off the mountain, you'll avoid paying out of pocket for costly expenses. This covers everything from hospital treatments to emergency air transportation and more.
As we've recently seen, travel plans can be abruptly halted, so it's a good idea to purchase travel insurance that covers cancelled flights, natural disasters and other scenarios that may interrupt your travel plans. For peace of mind, we suggest you consider both options of insurance.
If you need assistance selecting the right insurance for your group, let us know and we will be happy to help!
Cancellation policy
With 57hours, you benefit from both our own cancellation policy as well as that of the individual guiding service that delivers your adventure. All policies regarding cancellation will be clearly laid out by your guide after booking your adventure, but rest assured that our own cancellation policy will work on top of what is provided by your guide.
For this adventure, 57hours offers a Expedition Cancellation Policy, which states:
If Client cancels the Booking anytime prior to one hundred twenty (120) calendar days in advance of the trip contemplated by the booking, Client is entitled to a full refund. For cancellations ninety (90) to one hundred nineteen (119) calendar days in advance, Client is entitled to a refund in the amount of fifty percent (50%) of the total amount paid when Booking. For cancellations seventy five (75) to eighty nine (89) calendar days in advance, Client is entitled to a refund in the amount of twenty-five percent (25%) of the total amount paid when Booking. After that deadline, Client is not entitled to any refund. Any reimbursable expenses arising out of the Booking incurred by Guide prior to the date of cancellation (including but not limited to plane tickets, car rental payments, and lodging or transportation fees) are non refundable as soon as they are incurred by the Guide.
For more information on terms and conditions, please visit our Terms of Service page.
Getting there and meeting location
To get to Mount Baker, most people fly into Seat­tle-Taco­ma Inter­na­tion­al Air­port, which is 2.5 hours away. From there you can rent a car or take a scenic bus or train ride to Bellingham. From Bellingham you can take a bus to the Mount Baker ski area.
Once you and your guide agree on the details of your itinerary, your guide will suggest the best place to meet at the predetermined location in the North Cascades at 8:00 a.m., Once there, the guides will conduct a final pack check and issue of team equipment. You will drive together to the trailhead.